Super Comforting Lentils and Rice with Caramelized Onions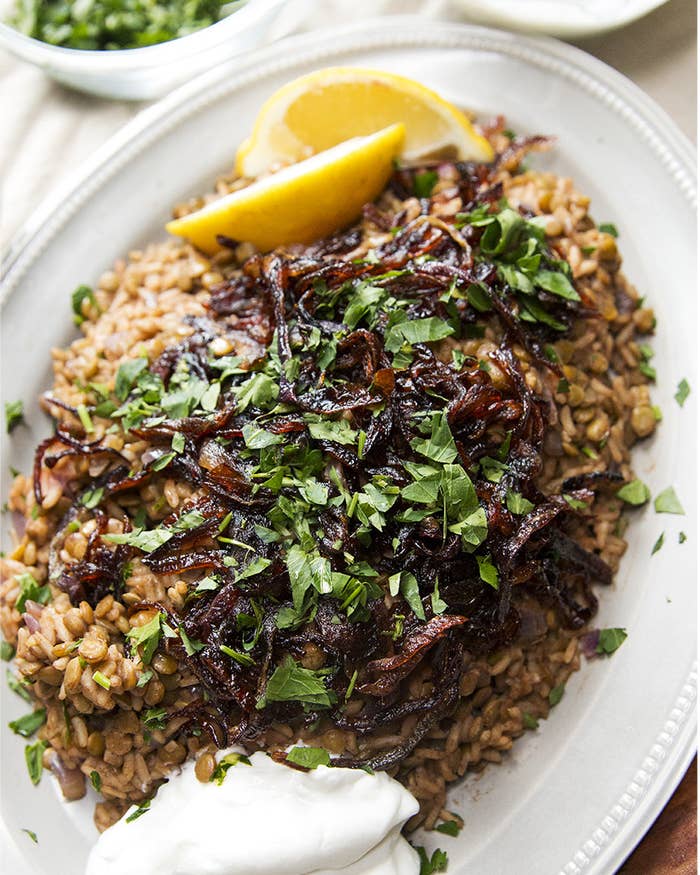 INGREDIENTS
Servings: 4-5
For the caramelized onions
1 medium red onion, thinly sliced
1 tablespoon of olive oil
For the lentils and rice
½ medium red onion, diced
2 cloves of garlic, minced
1 tablespoon olive oil
1 cup green lentils
1 cup long grain rice
1 teaspoon salt
1 teaspoon cumin
½ teaspoon cinnamon
1 bay leaf
For serving
1 bunch fresh parsley
1 lemon
½ cup Greek yogurt
PREPARATION
1. Heat a tablespoon of olive oil over low heat and add the onion slices, stirring occasionally until completely soft, dark brown, and caramelized. This will take about 30 minutes. The onions should become very dark and tacky when finished. Stir often to avoid burning.
2. In a large pot, sauté the diced red onion and minced garlic in 1 tablespoon of olive oil until translucent, about 5 minutes.
3. Add 3.5 cups of water, the salt, and the green lentils to the large pot. Bring to a boil, then cover with lid and simmer for 10 minutes.
4. Add the rice, cumin, cinnamon, and bayleaf to the lentils. Stir and cook covered for about 15 minutes, or until rice is cooked.
5. Serve lentils and rice topped with the caramelized onions, chopped fresh parsley, lemon wedges, and Greek yogurt if desired.