Apple Slab Pie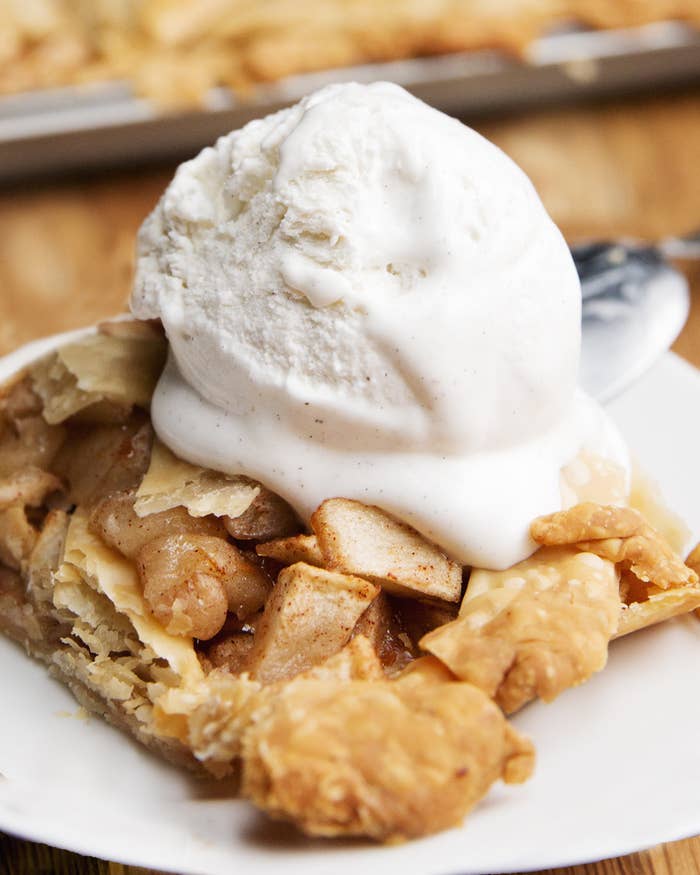 INGREDIENTS
Servings: 12
5 cups Granny Smith apples, chopped (about 8 medium-sized apples)
¾ cup sugar
3 tablespoons cornstarch
2 teaspoons cinnamon
Pinch of salt
Zest of 1 orange
4 8-inch refrigerated pie crusts
PREPARATION
1. Preheat oven to 400°F/200˚C.
2. Peel, core, and cut apples into ½-inch chunks.
3. In a bowl, mix the chopped apples, sugar, cornstarch, cinnamon, salt, and orange zest. Set aside.
4. On parchment paper, stack 2 pie crusts on top of each other. Roll out to 17 inches by 12 inches. Cut diagonally into ¾-inch strips.
5. Roll out another 2 pie crusts. Place on a 15 inch by 10 inch by 1 inch baking sheet.
6. Spread out apple mixture into the crust, then form a lattice top with the pie crust strips. Tuck the crust inward around the edges, and bake for 35-40 minutes at 400°F/200˚C.
7. Serve warm with ice cream.
8. Enjoy!