This picture, which is reportedly of Air China's inflight magazine, has been making rounds on the internet.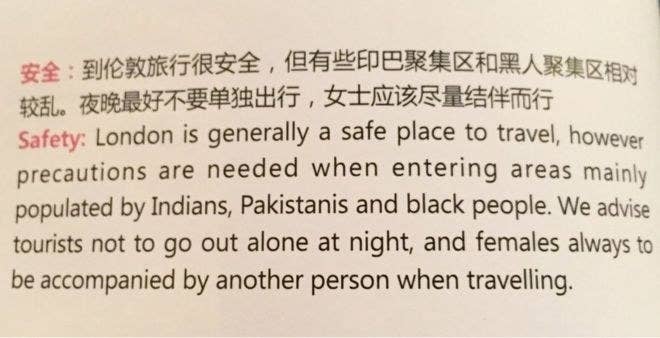 The magazine allegedly states that London is generally a safe place, save for areas that are highly populated by "Indians, Pakistanis and black people". The magazine further advises people not to go out alone, and for women to have someone with them while travelling.
After the screenshot hit the virtual airwaves, several people have been appalled by the guidelines in the international airline's magazine.
Farhan Akhtar also tweeted about the racist instruction.
Actor Rahul Kohli, whose tweet has gone massively viral, has been facing abuse from Chinese locals.
BuzzFeed has reached out to Air China for comment, and is awaiting a reply.
UPDATE
Wings Of China, which is the inflight magazine present on Air China has just issued an apology: