This Is What Happened After An Actress Told Arnab Goswami To Shut Up On Live TV
Actress Mita Vashisht walked off Goswami's show after he accused her of being disrespectful to war veterans.
On the September 30 episode of The Newshour, Arnab Goswami held a debate in which the panelists discussed the recent ban on Pakistani artists made by The Indian Motion Pictures Producers' Association (IMPPA).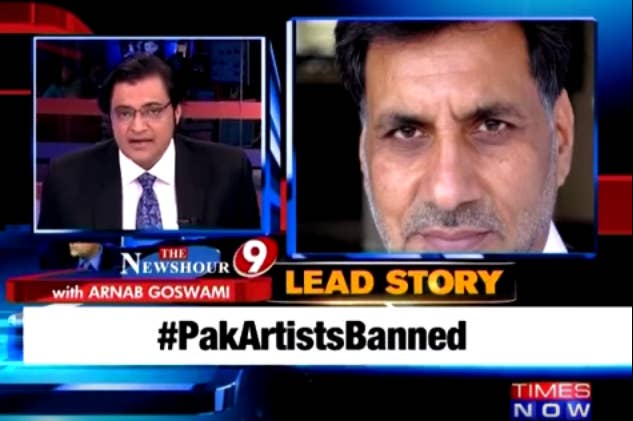 While not part of the main debate, actress Mita Vashisht appeared on the show and spoke against the ban while army colonel V.N. Thapar spoke in support of the ban.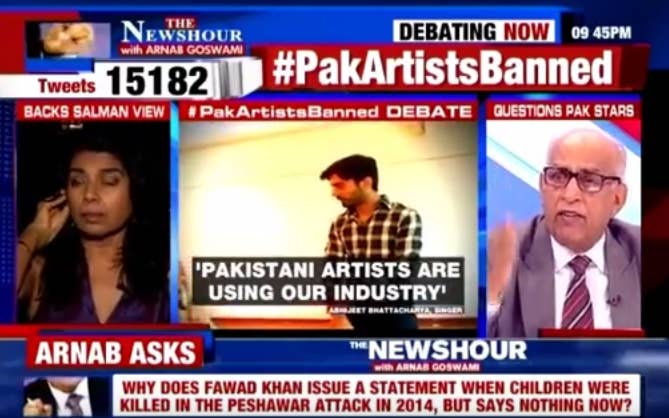 Here's a clip of the moment that Vashisht was thrown of the show by Goswami. He stated that she was speaking over Thapar and was disrespectful of army veterans.
Here's what Goswami said:
"Now, Mita Vashisht, for the last time I'm telling you. Get me loud and clear. You are speaking over Col. V.M. Thapar. I am taking you off the show right now till you learn to talk with respect to an army officer whose father is a martyr. Thank you very much. Can I have her off the show please. These are not the manners I appreciate. Mita Vashisht, you can leave. This is what Bollywood does."
After being told to leave, Vashisht did just that, right before telling Goswami to "shut up".
After the episode aired, people took to Twitter to discuss it, and the opinions were quite divisive.
Some lauded Goswami for throwing Vashisht off the show.
While others defended her.
After a few days the issue seemed to have died down until, on October 2, Mita Vashisht wrote a rebuttal titled "Why I Told Arnab Goswami To Shut Up And Left His Show" on the DailyO.
In the blog post, Vashisht explained what happened and what points she was trying to make:
"Now let me make it clear why I said this whole debate is a non-issue as far as I am concerned. I will start by saying what I said on the show last night.

I had said: "I am not interested in Fawad Khan or Pakistani actors. Their presence or absence in Bollywood is not important to me. Bollywood producers cast them because they wanted to and if the producers' body is now screaming for their ouster from the country in order to display their angst about our soldiers in Uri, wouldn't it be better if they put their energies into collecting funds for the families of the Uri martyrs, shouldn't our energies be directed towards actually connecting with them - the widows, children and parents of those killed? Asking how they are and what can we do for them.

Then I said (or tried to, with Arnab constantly screeching in my ear) that India and Pakistan have never been friends, we have always been enemies, so what is the big hullabaloo now?"
She also referenced her father, who was a war veteran.
"I suffer deeply every time Army personnel are used and then discarded - whether it is in times of actual war or while they are guarding our borders, or saving lives during the floods in Kashmir or during earthquakes - it is only the soldier who is at the forefront and always ready for duty of any kind in any situation (war or no war).

My father, my beloved army man father, fought on the front in all three wars. My brave Army wife mother would tell me in 1971: "If daddy doesn't come back, it is because he will be going to God." And she would continue to work with me on my homework for the next day's school even as the air-raid sirens were screaming overhead.

I have not forgotten 1965, I have not forgotten 1971 and I have not forgotten 1999. Why, after all this, were Pakistani artists allowed to come and perform?"
She further stated that a few hours after the debate, people were questioning why she said "shut up" to a war veteran. She stated in her post that the "shut up" was directed towards Goswami, and not toward Thapar.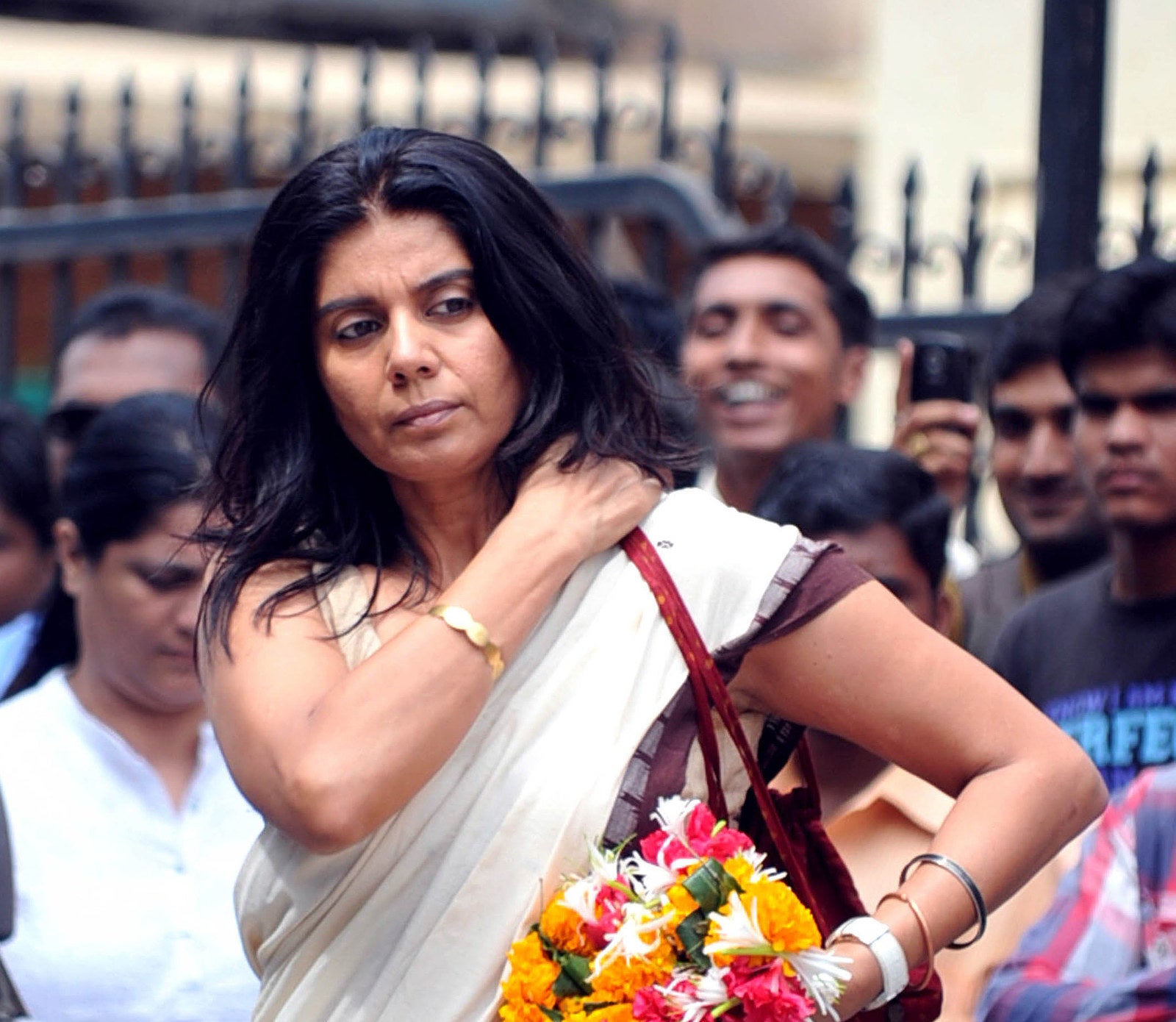 After Vashisht's rebuttal piece, the conversation quickly turned positive, as the internet began celebrating her walk off.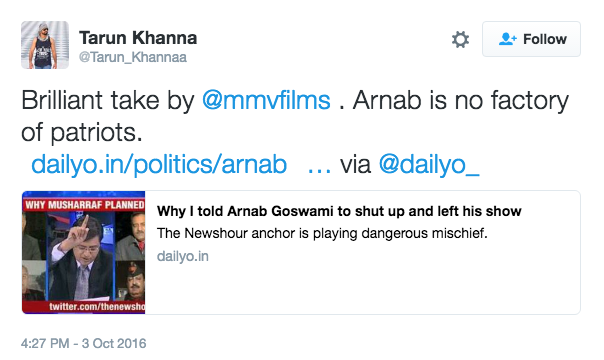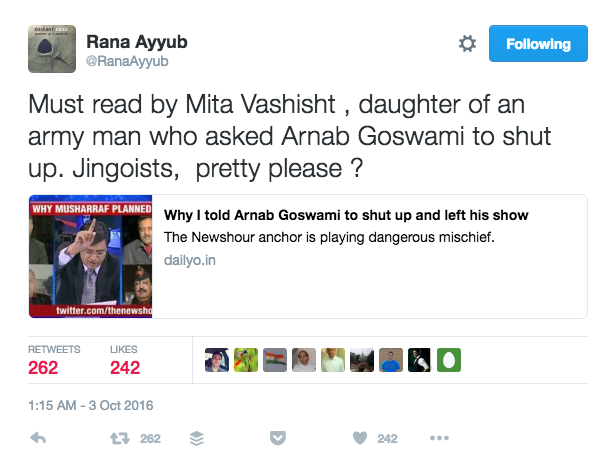 People even went back to their timelines and tagged others who had first blasted Vashisht.