Police Drones To Patrol Delhi Streets After Alleged Uber Rape
Police announced that the drones, likely outfitted with thermal and night-vision cameras, will patrol the north district as early as next month. The decision to deploy them was made, in part, after an Uber driver was accused of raping a woman.
Police in India said Thursday they will deploy small drones with night vision cameras to regularly patrol the streets of New Delhi. The police previously used the devices to monitor specific incidents.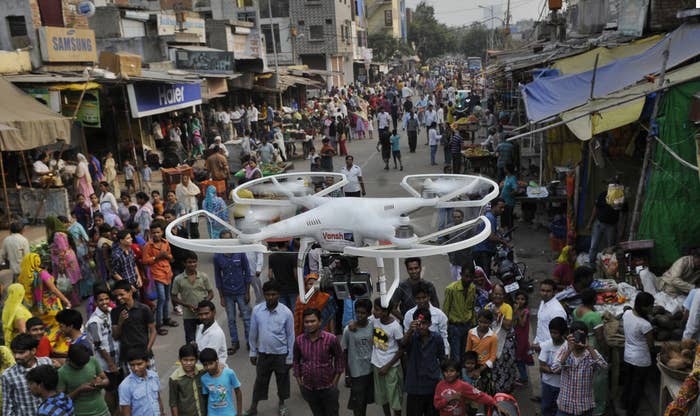 The plan should make the streets of India's capital safer, police said, especially in light of a twenty-something finance executive who said this weekend that she was raped by an Uber cab driver.
That incident led the police to find new ways to patrol the crime-prone areas of the city.
The project will be launched as early as next month in the north district area, dna reported, and the drones will most likely be fitted with thermal imaging night vision cameras.
"With this project, North Delhi will become the first district with complete camera surveillance in Delhi. This would be achieved with the combined range of with CCTVs and drones. The only areas which will be kept out of it will be the LG House, Delhi Assembly and Metcalfe House," said a senior police official, in the dna report.
The drones will fly at about 200 meters of the ground and will cover a hexagonal area of three to four kilometers, dna reported.
"We can further enhance its capabilities by linking each drone to a Quick Response Teams (QRT). The video can be streamed to the QRT vehicle which will monitor it in real time and respond quickly if it sees something wrong," a police official told dna.
Drones have been used before in the north district, primarily to monitor immersions of Durga and Ganesha idols at the Yamuna ghats in the area.
The drones "will also have anti-shaking software which will cancel any tremble in the video caused by the rotating blades of the flying machine and provide us steady picture," a senior official told the news agency. "It will be capable to operate under all weather conditions. We will deploy three to four drones in the entire district and each one of them will cost around 10 lakh."
"If we deploy a drone at all the entry routes of the district, we will be able to keep a tab of every vehicle entering the area. Once it's successful in north Delhi, it can be implemented in other areas as well," the official added.
The Delhi police had deployed drones in a riot-affected area in October. A similar one will be used to patrol the streets at night.