These Three Single Mothers Are Chennai's Most Badass New Rickshaw Drivers
Meet Bhuvaneshwari, Adhilakshmi, and Jayanthi, your new heroes.
Meet S. Bhuvaneshwari, I. Adhilakshmi and S. Jayanthi — three single mothers who recently became auto-rickshaw drivers in order to earn a livelihood and send their children to school.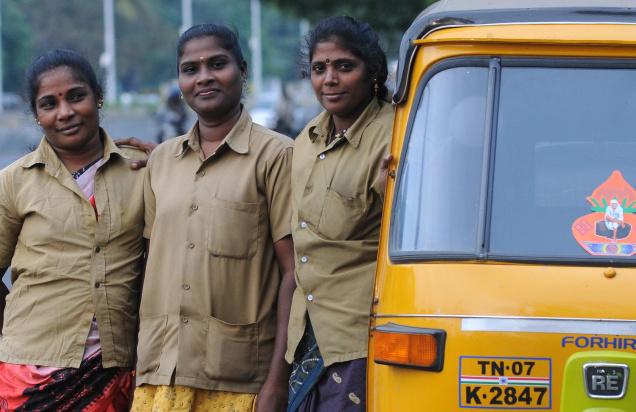 The Hindu spoke to Bhuvaneshwari, who previously had to depend on odd jobs like selling idlis in order to provide for her family before finally becoming an auto driver in 2005.
"At 15, I playfully ventured into marriage to prove my friends wrong, and ruined my life. From attempting suicide by hanging to self-immolation, I tried everything to escape the harassment from my husband; I'm surprised I survived," she told The Hindu.
This all changed when, in 2005, she separated from her husband and then worked on getting her auto-rickshaw license, after learning to drive from a friend. She now earns around Rs. 700 per day.
"Today, I'm proud of my children. My son studies in a polytechnic college in the city and my daughter has become a judo champion," says Bhuvaneshwari.
As with, Bhuvaneshwari, I. Adhilakshmi also started driving after separating from her husband. "I got married at 16 and soon, my husband began harassing me. After we parted ways, my friend introduced me to auto driving and I'm happy I got into it," she said.
S. Jayanthi's story is slightly different. After her husband committed suicide, she was left with no means of providing for her three children. To earn money to care for her family, she took up driving an auto. "Both my sons and my daughter are studying quite well. My son Boopathy is a judo champion. I see happiness through them," she says.
All three are employed by a company called Auto Rajas, which seeks to train and connect Chennai's rickshaw drivers. Specifically, the three women are participants of an Auto Raja initiative called "Auto Ranis," which seeks to provide women drivers to women passengers, as an added safety measure.