Which authors have most influenced your writing?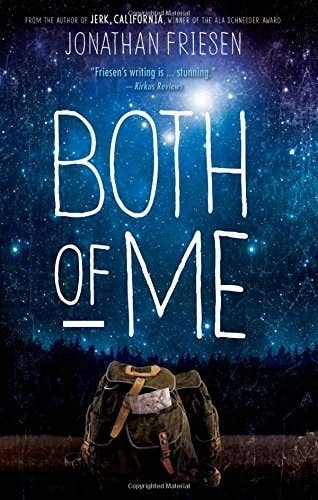 What was your biggest inspiration while writing your book?
Dark memories. I don't mean despairing ones, just dark. Memories born in the murky part of my life, when I couldn't see beyond my Tourette's, anxiety attacks and epilepsy. In those teen years, I routinely tried to "escape" from myself, hoping someone would find me, see me, make some sense of my out of control life. In Both of Me, this is really what both Elias and Clara are hoping for. In many ways, this is my most personal book to date.
Are any characters in your book based on a real person?
While keynoting at a mental health conference, a young lady approached my booth. She introduced herself, and told me that she had Dissociative Identity Disorder. A short time later she came up again, the same young woman, but clearly operating from a different identity. Two different people trapped in the same body. I wondered, how would a teen with DID think about relationships? How would each personality approach life? She became the model for Elias, who in the novel suffers from the same disorder. Oh, and I gave myself a cameo. The 6'5" guy on the plane in chapter two? That's me.
What is your favorite book of all time?
Peace Like A River, by Leif Enger. My goodness. It's all I can say. My goodness.
If you could co-write a book with any author, who would it be?
Great question. I've always wondered how that would work. I think it would be a kick to write a guy-girl piece with a woman, each of us penning our gender, sparring with complete improvisation, trying to out-think the other. I think it would be fantastic to write unplanned, clueless guy dialogue, while a sharp-minded author wrote the female response. Maybe Maggie Stiefvater. She nails dialogue. Maggie, you out there?
What are your plans as a writer in 2015?
I'll be watching closely to see how Both of Me performs, in addition to speaking widely. I've also started working on Unfolding, which I believe comes out in about a year's time. Finally, my daughter Emma is writing incredible things (I, of course, take the credit for this), and I want to do all I can to mentor her through this crazy, writing world. That's enough to keep me busy.
What is your New Year's Resolution?
To take each of my kids, and of course my wife, out on a date every weekend. My life has become so busy; it is easy to lose sight of what matters. There's always something I could be doing. So far, I haven't blown it. Now I admit, going to four nice restaurants every weekend isn't much of a sacrifice. But who said resolutions have to be painful? You know, we might be going about this all wrong. Forget weight loss and exercise, I think resolutions should be enjoyable to keep … like the commitment to eat an old-fashioned doughnut every day. There's a resolution!
How have your personal experiences affected your writing?
Throughout my teen years, illnesses kept me so isolated. For decades, I considered these years lost to me. But when I began to write, it came as a surprise that the YA voice that flowed so naturally represented teens passing through the very years I thought I would never recover. In a very real way, writing has given me back my lost years, and in return, those painful times have provided me a perspective I never would have gained had I not experienced them. My teen years and my writing are inseparable; this never more revealed than in Both of Me.
What something your readers would be surprised to know about you?
Writing hurts. Not physically, but emotionally. When I write, I allow myself to revisit places I don't want to go. I have to in order to be real for my readers. I've never learned to hold a story at arms length, and so I feel each one deeply. Because of this, I have tried several times to quit writing. After all, who keeps doing something that is emotionally painful? I actually have several letters of resignation hanging (unsigned) in my office. I always think that there must be an easier way to make a living. But whenever I decide that I'm through, a worm of an idea will crawl in, and it's off to the races again!
Describe your writing style in three words.
Raw. Real. Hungry … but that last word may be there because right now it's midnight, and I really am hungry. Thanks so much for letting me stop in!