Amy Schumer Responds To Criticism Over Her Jokes About Race
The comedian took to Twitter to give a response to those critical of her approach to race.
On Sunday, The Guardian posted an essay praising Amy Schumer as comedy's new "viral queen," commending her incisively feminist work with sketch show Inside Amy Schumer, but criticizing her jokes about race.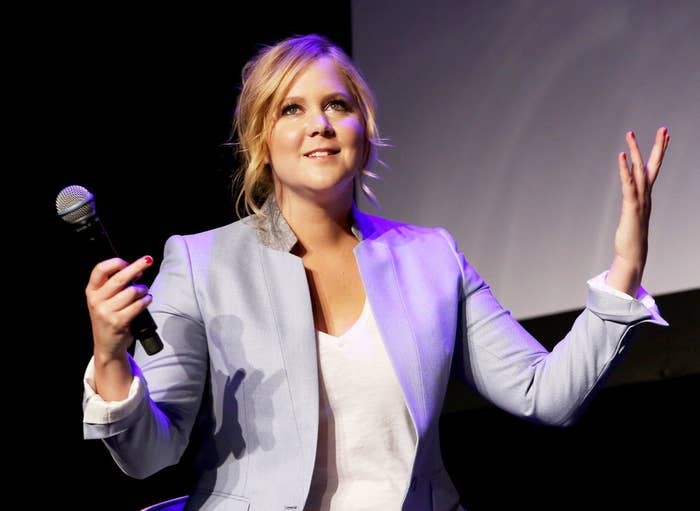 But the piece blasted the way she has dealt with race, referring to the subject as the comedian's "blind spot" and citing her stand-up, her jokes as host of this year's MTV Movie Awards, and a sketch titled "Urban Fitters" as evidence.
Schumer took to Twitter to post a response to the accusation, with the suggestion that people "put down [their] torches before reading."
The message reads in full:
"I am a comic. I am so glad more people are laughing at me and with me all of a sudden. I will joke about things you like and I will joke about things you aren't comfortable with. And that's ok. Stick with me and trust I am joking. I go in and out of playing an irreverent idiot. That includes making dumb jokes involving race. I enjoy playing the girl who time to time says the dumbest thing possible and playing with race is a thing we are not supposed to do, which is what makes it so fun for comics. You can call it a 'blind spot for racism' or 'lazy' but you are wrong. It is a joke and it is funny. I know that because people laugh at it. Even if you personally did not.
I am not going to start joking about safe material. And don't ask that of me. I love what I do and won't let anyone take that away. I ask you to resist the urge to pick me apart. Trust me. I'm not a racist. I am a devout feminist and lover of all people. My fight is for all people to be treated equally. So move on to the next person who is more deserving of your scrutiny and not the girl in your corner. Sincerely Amy (a dirty half Jew)."