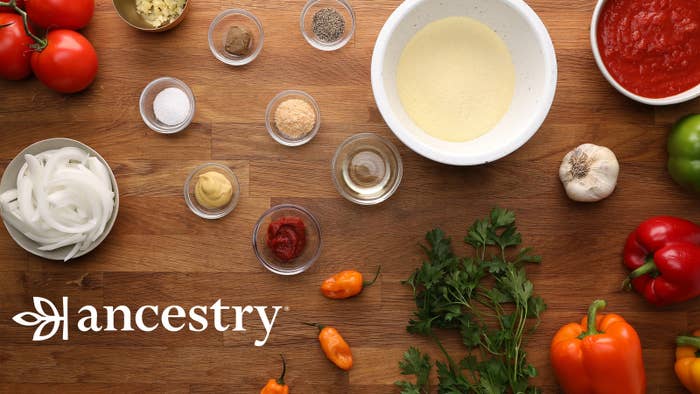 INGREDIENTS
Servings: 4-6
Amiwo
1 tablespoon vegetable oil
½ yellow onion, thinly sliced
3 cloves garlic, minced
2 teaspoons salt
½ teaspoon pepper
¼ cube bouillon
1 tablespoon tomato paste
1 ½ cups crushed tomatoes
2 teaspoons dried shrimp powder
3½ cups water
1½ cups corn flour
1 tablespoon minced parsley, for garnish

Tomato-Red Pepper Sauce (Mojo Sauce)
1 tablespoon vegetable oil
1 yellow onion, thinly sliced
2 teaspoons salt
½ teaspoon pepper
¼ cube bouillon
1 teaspoon dijon mustard
2 bell peppers, assorted colors, thinly sliced
1 hot pepper, habanero or Scotch bonnet
2 plum tomatoes, diced
½ cup water
PREPARATION:
1. Heat the vegetable oil in a large pot. When hot, add onion, garlic, salt, pepper, bouillon, and tomato paste. Cook for 5–7 minutes, until onions start to soften. Add crushed tomatoes and dried shrimp powder. Bring to a simmer, then add 2 cups of water. Bring to a simmer again, then turn off the heat and set aside.
2. Heat a dry skillet and add the corn flour. Toast the flour, stirring regularly, until the flour starts to brown a bit, about 5 minutes. Divide flour evenly between two bowls.
3. Add 1½ cups of water to one of the bowls of flour. Whisk to form a slurry.
4. Heat up the pot with the tomato mixture until simmering again. Pour in the corn flour slurry and stir with a wooden spoon. Once mixture is bubbling, sprinkle in the flour from the other bowl and keep stirring until fully incorporated. Mixture will begin to get thick.
5. Cover the pot and cook on very low heat for 8–10 minutes, stirring every couple minutes and making sure the bottom doesn't burn. Remove from heat.
6. Scoop and press amiwo in ramekins and let sit for 20–30 minutes while making the pepper sauce.
7. In a saucepan, heat the vegetable oil. Add the sliced onion, salt, pepper, bouillon, and dijon mustard. Stir and cook for 3–4 minutes. Add bell peppers and hot pepper. Continue cooking until peppers soften a bit, about 5 minutes. Add diced tomatoes and the ½ cup water. Continue to cook, stirring occasionally, until all the water has evaporated.
8. Run a knife along the edge of the ramekins to release amiwo. Flip ramekins over and plate amiwo. Place some of the pepper sauce alongside and on top of the amiwo.
9. Sprinkle with parsley.
10. Serve with grilled chicken.