1.
The Don CeSar (St. Pete Beach, FL) — Welcome to The Pink Palace, where Gatsby-reminiscent decor will make you feel as if you've just been transported to a more glamorous era. Wes Anderson, I think I've just found your paradise/your next filming location.
2.
The NoMad Hotel (Los Angeles, CA) — Located along with this rooftop pool is a cocktail bar and cafe, meaning you can be tanned, fed, hydrated, and caffeinated all at the same time. Honey, I believe I'm home.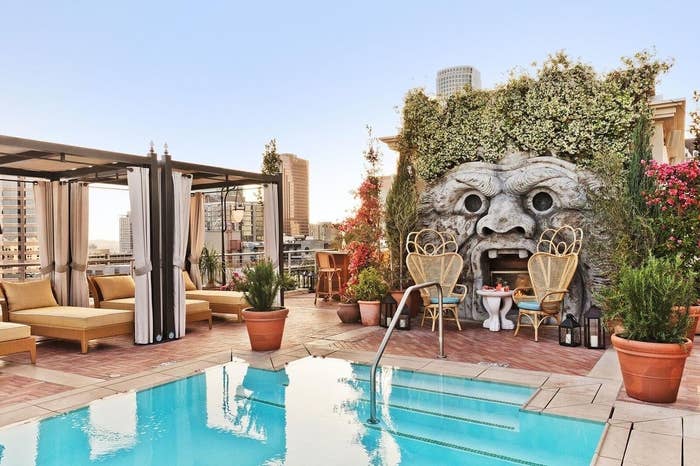 3.
The William Vale (Brooklyn, NY) — Get ready to doggy paddle whilst staring at the splendor that is the New York City skyline. On top of having access to this stunning rooftop, all hotel rooms are equipped with floor-to-ceiling windows, open-air balconies, and rainfall showers.
4.
Hotel Encanto de Las Cruces (Las Cruces, NM) — Prepare to do the unimaginable throughout your stay here: You will actually want to *gasp* go outside. A palm-shaded patio, luxurious hot tub, fire pit, and gas fireplace promise to drag you from your latest Netflix binge and into the great outdoors that is this resort-style pool area.
5.
Wailea Beach Resort Marriott (Maui, HI) — With five different pool areas ranging from kid-friendly to adults-only, you'll likely want to relocate your entire life just to live on this property. Want to hang out in a serenity pool where you can attempt meditation? Great! Prefer an ~adventure~ area complete with a scuba pool and free intro lessons? Also great! You can have 'em both.
6.
W Austin (Austin, TX) — The rooftop ~wet bar~ and pool are great, many thanks to the overall hotel decor. What's it like, you ask? It's something you've only seen on Pinterest/HGTV. Each nook and cranny has a unique theme, including but not limited to a lobby dedicated to vinyl records and a casual tequila bar dedicated to, well, tequila.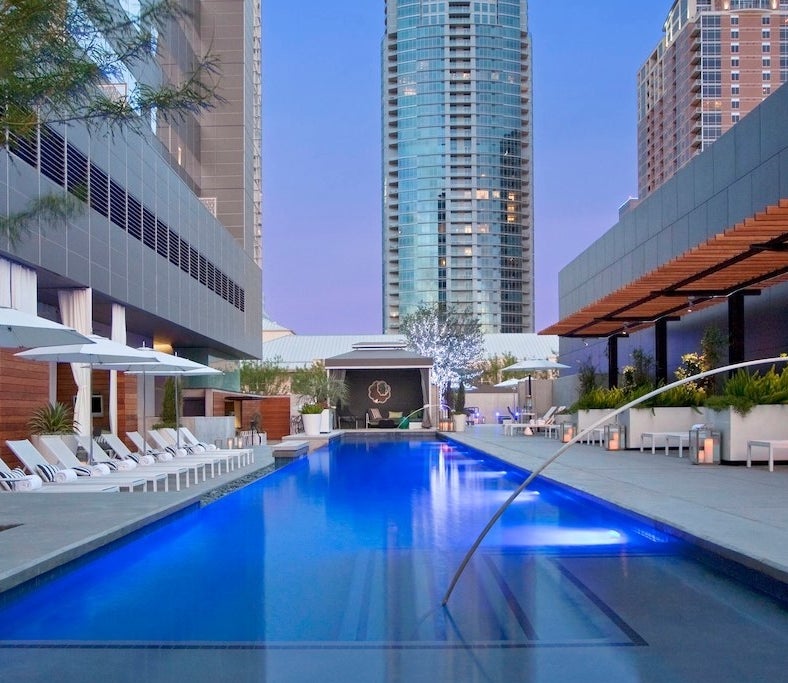 7.
Shelborne South Beach (Miami, FL) — Presenting an ocean-front property ideal for slightly spoiled people (me, myself, and I) who want both a pool and beach vacay. Begin your day with sandy cheeks, end it with a poolside Piña colada, and call it the best of both worlds.
8.
Westin Kierland Resort & Spa (Scottsdale, AZ) — Picture three golf courses, a 110-foot waterslide, hot tubs, steam rooms, saunas, and a 900-foot lazy river (😮) that will basically force you into relaxation mode. Who's worried about the several thousand unread emails in their inbox? Not you, that's who!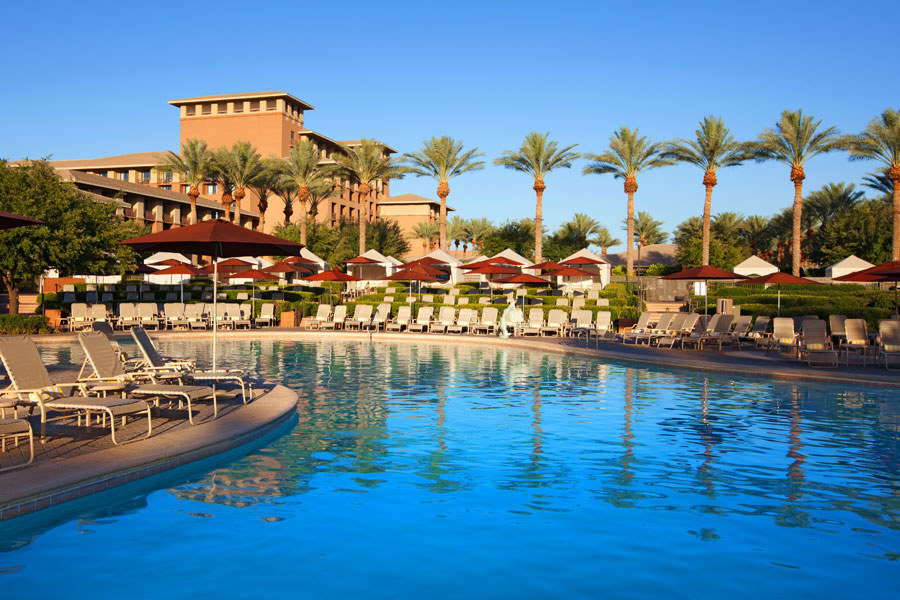 9.
The Asbury Hotel (Asbury Park, NJ) — Spend the entire day lounging poolside whilst ordering food from a literal food truck located mere steps away from your lounge chair. And at night? Head on up to the roof for outdoor screenings of should-have-been-Oscar-nominated films such as 13 Going on 30 and A Goofy Movie.
10.
Omni Nashville Hotel (Nashville, TN) — Location 👏 location 👏 location 👏. After enjoying a dip in the pool, explore the Country Music Hall of Fame (right next door) or barhop on Broadway for live music and drinks (just an eight minute walk away)! *deletes Uber app*
11.
Catamaran Resort Hotel and Spa (San Diego, CA) — Liven up pool time with daily Polynesian dance classes and live music. Couple that with koi ponds and exotic birds on the premises? Like, fine! I'll go! Stop pulling my arm!
12.
Ravel Hotel Trademark Collection (Long Island City, NY) — Head on up to Profundo Day Club if you're ready to let loose. Whether celebrating a birthday or an anniversary, a live DJ and fully-stocked bar make this the perfect place to celebrate.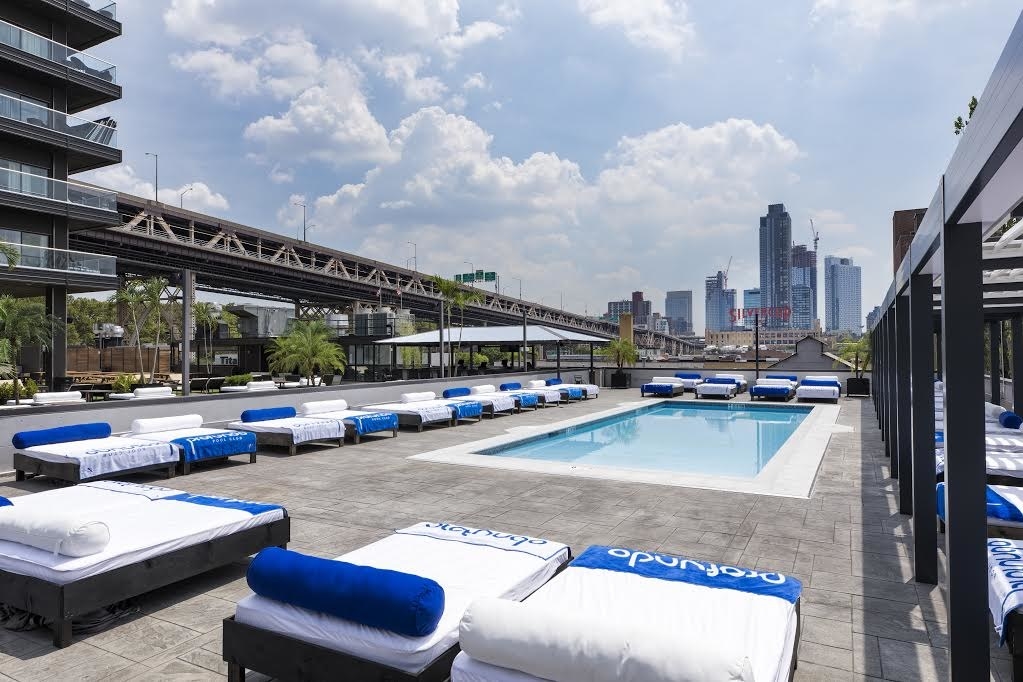 Me @ any of the above pools:
Shopping for something specific? Check out BuzzFeed Reviews to find the best things for every budget!