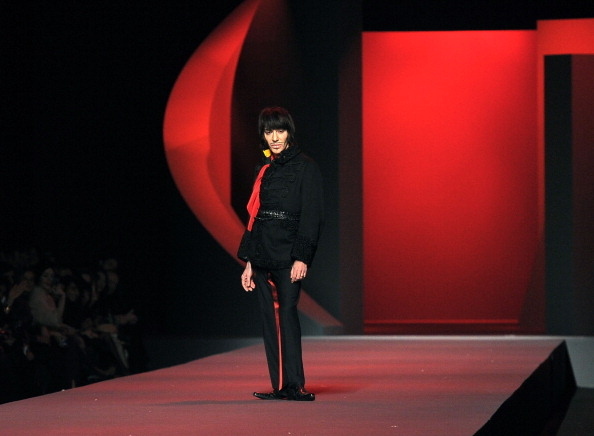 Last week French President Francois Hollande signed the order to strip scandalized designer John Galliano of his Legion of Honor award medal. This is unusual, but hardly unheard of: each year a handful of the roughly 100,000 medal holders lose their awards, which go to those who have distinguished themselves through military service or who have contributed to France in some other significant way (Galliano received his medal in 2009 for his contributions to French couture). But Hollande's decision is probably not the end of Galliano's embarrassment as his legal dispute with Dior makes its way through the French court system.
University of Maine law professor and French constitutional law expert Martin Rogoff says that under French law, medal holders have their awards taken away if they're convicted of certain crimes. People convicted of serious crimes are automatically stripped of their medals, while other lesser criminals lose them at the President's discretion. Galliano was convicted of one of these lesser crimes — "public insult" — for his anti-Semitic outburst at a Parisian café.
Last month, Hollande visited infamous French Holocaust site Vel d'Hiv, where 13,000 Jews were held in the summer of 1942 before being deported to death camps in Auschwitz. In a statement about the 70th anniversary of this event, Hollande said "everywhere [anti-Semitism] appears it must be exposed and punished." Thus, says Rogoff, stripping Galliano of his medal "is a similar kind of gesture to apologizing [for] the French enforcing the Nazi anti-Jewish policies," and "does have some symbolic value."
Galliano's next headache is the complaint he filed against Christian Dior for letting him go in March 2011. The Conseil des Prud'hommes, which oversees labor disputes between employees and employers, told Women's Wear Daily Galliano had a hearing scheduled for this past February 4, but did not provide further details. The way these cases work is two members who represent workers and two members who represent managers investigate the complaint, compiling a dossier of information, including witness testimonials, and make a ruling.
"The standard for individual firings is there has to be 'real and serious' grounds for dismissal," Rogoff explains. Dior could argue that Galliano's conviction would hurt the company's bottom line, while Galliano could argue Dior only fired him because they didn't want to pay his high salary (Galliano is rumored to be seeking about $19 million from Dior, according to WWD). If the Conseil is unable to agree upon an outcome (four investigators leaves the possibility of a tied decision), the case will make its way through higher courts. The Conseil's witness interviews are likely to include some juicy information, though it's unclear whether records of those interviews will make their way to the press. If a verdict is reached, it will be made public.
Whatever happens, February is when Paris Fashion Week starts anew, and Dior will surely want to wrap this Galliano business up quickly so that the fashion world can focus on their new designer — Raf Simons — and whatever collection he shows.
The French legal system is not unlike the fashion industry in that it tends to be forgiving (for instance, prison terms tend not to be that harsh and are commonly revoked, Rogoff says). Though Galliano's next career move remains unclear a year and a half after his firing, what seems certain is that there will be a move. Vogue editor Anna Wintour has been seen meeting with Galliano, and is said to have a keen interest in helping him find a new job. She is hardly alone as a top player in the fashion industry who is eager to forgive him.
As Kate Moss and even Naomi Campbell's continued success has proved, scandal does not keep someone who is adored by the fashion industry from being one of the most important, celebrated people in the business. To this quite small yet quite influential group of people, Hollande and the Conseil's opinions may be as significant as last season's shoes.