What I Learned From Having a Stylist
For as little as $50 an hour, regular people who aren't celebrities can hire stylists to clean out their closets, take them shopping, and make sure they wear Bad Outfits a lot less often.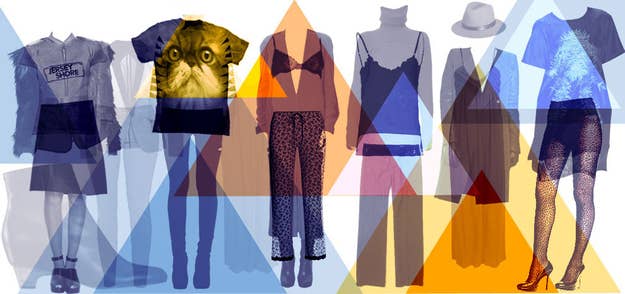 A few minutes before 6 on a recent Thursday evening, I open my Manhattan apartment door for a tall, thin, pretty woman with long blonde hair in a perfectly tousled side braid. She's wearing a gray maxi dress, flat black sandals, a black waist-belt, oversized black blazer, and big black floppy hat — and looks like she just walked off the Saint Laurent runway in Paris. (Or Pinterest.) Black floppy hats often victimize regular people, but this woman is clearly one of those not-average, blessed individuals with a sense of style so innate she could wear anything — gorilla arms, a Nicole Richie headband, a fedora — and make it look not just good, but necessary. She clearly knows how to dress herself — and I hope she can do the same for me. This is Natalie Decleve, my new stylist, who's going to try to turn me into someone who dresses with similar ease and considered sense of fashion.
Stylists are typically hired by celebrities to make them look their best on red carpets or at press junkets, but before you start thinking that I a) need to look fancy every day or b) have gobs of money to spend, let me disabuse you of both notions. I wanted to know if the services of a stylist could have value for normal people like me.
I found Natalie through a company called Style For Hire. Launched in 2009, it's backed by What Not to Wear's Stacy London, and acts as an agency for a roster of around 140 stylists ranging from around $50 to $300 an hour to dress not celebrities, but normal people. Such services are only proliferating: In 2013, the website Keaton Row will connect women with stylists virtually around the country. These companies show that styling is no longer a behind-the-scenes profession. Fashion-inclined women are hyper-aware of it, thanks to the work of women like London and Rachel Zoe — who are not just stylists, but also celebrities in their own right, with their own TV shows, product lines, and (perhaps less fortunately) catch phrases. The more consumers are attuned to such a service, the more likely that service could become as necessary for many as, say, a twice-yearly facial.
When Natalie breezes in, she plops her hat and bag on my couch. Things get a little weird after the exchange of pleasantries, since styling is frankly a more intimate process than you might imagine: As soon as you meet this person you don't know, you bring them into your bedroom and let them have at everything in your closet. They might sit on your bed. Who sits on your bed? Even your friends don't come over and sit on your bed. But whatever, you think. Clothes play awaits! Like a blind date slumber party for grown women.

Before the closet gutting, she has questions. Most important, she wants to know if I have "separate workwear."
I don't. My workplace leaves me free from the sartorial confines of a formal — or even businesss casual — dress code. BuzzFeed celebrates animal tees. But I still like to look non-slovenly day-to-day, and don't want to go into the office dressed like I took a wrong turn on the way to Coachella.
"And how would you describe your body type?" she continues.
Another thing I don't really do with friends is discuss my "body type," and here is a stranger with a lovely side braid sitting on my bed wanting to know.
"Well, I'm tall..." I begin, unsure of the right answer here, because I hate the idea of dressing just so that one looks thin, and would never deprive myself a good muumuu to that end.
"More like, do you feel like you're bigger on the top, the bottom?" she presses.
"I'm not busty. I have hips," I say.
"What are your favorite parts of your body?"
I think for a minute and say I like my waist.
"I ask because when you're dressing, I want to know what parts of your body you want to highlight," she explains.
We then go over my style icons — Carine Roitfeld (whose style Natalie boiled down to: "easy... lots of dark eyeliner and bitch heels") and Rooney Mara — and favorite labels: Helmut Lang, Rick Owens, Haider Ackermann, Diane Von Furstenberg.
Lastly, she wants to know the number one thing I hoped to gain from our time together. Though I write mostly about fashion for a living, I'm a dorky writer before I am a fashion writer, so styling amazing outfits doesn't come naturally to me. I end up in The Wrong Outfit more often than I'd like to. [Ed. note: Not true.] You know what I mean: the outfit that isn't as cute or stylish or clever as you thought it was when you first put it on — probably after putting lots of other things on, and maybe after taking it off and putting it back on again — and taints your day with a lingering feeling of ickiness. This day isn't as good as it could be, the Bad Outfit shouts at you when you're forced to stare at it in the ladies' room mirror, offending the eyes like a logo on a pair of sweatpants on Jersey Shore. I'd really like to cut down on the Bad Outfit days.

When we start going through my clothes, the first thing I pull out is, as I describe it, "a cheap asymmetrical muumuu from Urban Outfitters." Not exactly a fantastic sell.
"Don't love this," Natalie says, diplomatically. "I feel like these pockets are going to hit you at the widest part. And the muumuu-esque part up here is going to make you look large all over."
BURN! MUUMUU BURN!
But, fine — the thing was basically a potato sack made of orange-red sweatshirt material with slits in the sides for arms. Into the reject pile it went. (And of course, Natalie reminded me, I could always not throw things out once she left.)
One great thing about Natalie's closet clean-out method is that it has nothing to do with how often I actually wear things. A lot of magazines just tell you if you haven't worn something in a year, ditch it. But Natalie judges things based on whether or not they look dated and are the right color and shape for me, personally.
This is something you can use to guide your own closet clean-out and dressing: Figure out what parts of your body you want to emphasize, what colors look best on you, and build a wardrobe with those things in mind.
When Natalie doesn't like something, she explains why, and never suggests hanging onto an item just because it has a designer label. For example, she advises I ditch a weird, boxy Alexander Wang cropped sweatshirt that I could probably re-sell since His Wangness is so hot right now. She also says I should get rid of a lilac-colored, chunky, three-quarter sleeve sweater that's too bulky to fit under coats and washes me out. And she has an aversion to really zipper-y zippers that look like they've just been stuck on clothes with little design or utilitarian merit.

I start seeing how pieces that I don't wear anymore, but that also don't look out of style, could be worn in a different way. Some things I had stopped wearing because I felt like I was wearing them wrong, but kept because I liked them. Such as a black cropped Kai Aackmann blazer that Natalie advises pairing with dresses to give me a waist. Or a sheer blouse that's sort of dress-like, sort of top-like, that Natalie suggests buying a slip for and wearing as a dress. (I never would have thought to buy a full-length slip. It's not like I need one to wear with my BuzzFeed hoodie.) A navy printed A-line skirt she says I should get tailored to sit at the natural waist, and pair it with a black turtleneck I wear maybe once a year on laundry day. I have a few blouses that are cut shorter in the front than the back, so she tells me to try some jeans that sit more at the waist than the hips so that I could wear those without showing too much undershirt or midriff.
So basically: Buy a slip and hike up the bottoms. It's not rocket science but high-waisted anything freaks me out. I never would have Gone There without a nudge.
And if you don't have an expert in your face telling you how to dress, search for whatever item you're trying to figure out how to wear on Pinterest or fashion blogs, and you'll get a few ideas. Look for an outfit that emphasizes the body part you want to highlight.
After Natalie looks at everything in my closet — including shoes and bags — the next step is making a shopping list: It includes trousers, higher-waisted jeans, a coat (which I wanted help picking out since it's a big purchase), and, per Natalie's suggestion, a neutral-colored ankle boot that could go well with white jeans (yes, you can wear them after Labor Day — fuck that rule!).
I meet Natalie at J. Crew a few days later. She "pre-shopped" here and a few other places in the neighborhood, so that when I arrive, all I have to do is try things on. It's the babysitting kind of shopping lots of women do with their boyfriends and husbands who can't bear to think about what to buy and just want someone else to make all the decisions for them. I decide I'm into it.
Again, Natalie is awesomely dressed. (You can tell she's a stylist because she does things like wear rings on her pinkies and two necklaces that don't match at once — things that very much elevate an outfit that most people choosing outfits would never think of.) Inside the store, we're led to a private cabin with two dressing rooms where some pants and a coat are waiting for me to try on. A staffer gives us bottled water. If a Natalie-less J. Crew experience is like flying coach, this is at least business class. Natalie sits outside and I show her all the pieces. She doesn't suggest buying anything that looked close to items I already owned, and when I walk out in a particularly bad pair of navy blue extra office-y-looking pants I am barely one leg out the fitting room before she recoils and makes me change.
Without Natalie, I would've headed to the sale rack, scoured for a deal, decided everything else in the store was too overpriced to be worth it, and left without even thinking about buying pants that "sit at the natural waist." Natalie says always scouring for finds — on Gilt or wherever else — leads to impulse purchases, and a closet full of things that can't be worn regularly or that you don't need. After all, it's worth it to buy things full-price if you'll wear them all the time. Style For Hire is big on "cost per wear," and the stylists make sure you buy things that are of value.
Next we hit Club Monaco, where I end up buying a pair of skinny navy blue twill pants with leather-trimmed zipper pockets that I already want to wear all the time. Then we move on to BCBG, where I try on a bunch of wide-legged pants, none of which Natalie loves but at least I see that this is a flattering style for me. I'm disappointed here by a leather-sleeved olive green coat that I really liked on the hanger, but makes me look like an olive-colored version of Spongebob Square Pants. (Natalie had told me olive green was a good color for me, which was a revelation since I tend to prefer things that are not colored, hot pink, sparkly, or emblazoned with some sort of animal.)
After BCBG, Natalie takes me to a consignment shop I had never been to that sells overstock as well as second-hand designer stuff. Here I try on a number of designer coats, including a gray wool asymmetrical one by Martin Margiela that's brand new if from a past season, and $1,000 cheaper than it would have been at retail. Natalie likes it but advised taking up the sleeves, which were cut to be purposefully a little too long but even so, shouldn't Paul Ryan-up an outfit. Alone, I wouldn't have thought of this, and ditched it. But I end up buying it and even going to the bother of taking it to a tailor.
Overall the trip is a success: I ended up with two pieces I love and can see myself getting tons of use out of. Saying goodbye to Natalie was like the end of a vacation from my Outfit Problems. But our time together served its purpose: I had a fresh new outlook on my clothes and two new things to wear, along with some old things that felt new again — and it only took four hours on two days. If you don't have the budget for a stylist, hopefully you can take her tips and apply them to your daily dressing, discover old things you've stopped wearing with fresh eyes, and stop thinking you have a closet full of clothes and nothing to wear.