Our quest to create the most amazing jorts in all the land as a blogging staff began at M&J Trimmings in New York's Garment District. Peggy Wang and I journeyed here one day to select an array of crafting supplies that would best showcase the Buzz team's creativity, when applied to a pair of denim bottoms.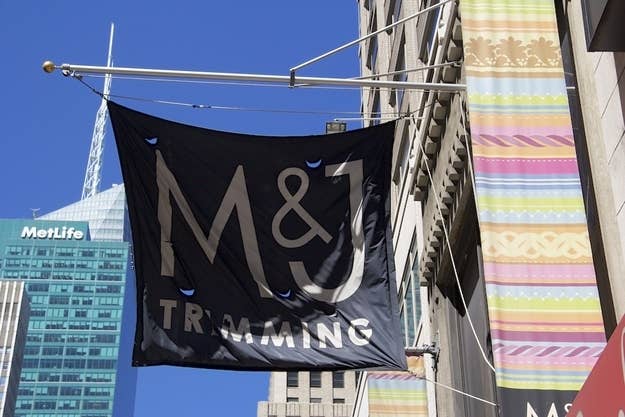 M&J Trimmings is a wonderful store full of every kind of trimming you could fathom. They have trimmings made from everything from chandeliers crystals to latex tinsel, and every kind of crystal, stud, and fabric pplique you could dream up.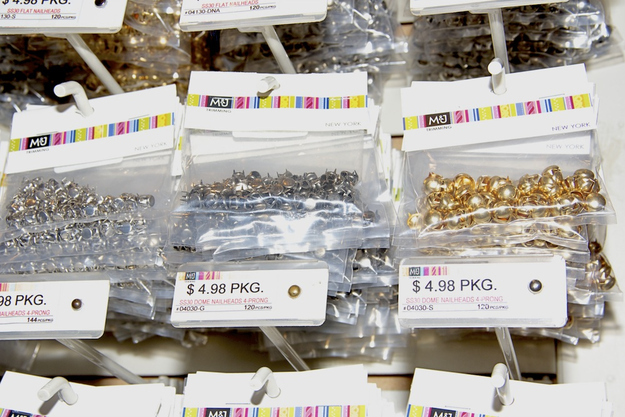 We selected a few of our favorites for our Ultimate Jorts-Off.
(Many trimmings were quite reasonably priced at about $3 to $7 a yard. So if you feel inspired to go out and hot glue some tassel trim to your own clothes after reading this, know you can definitely do it on the cheap.)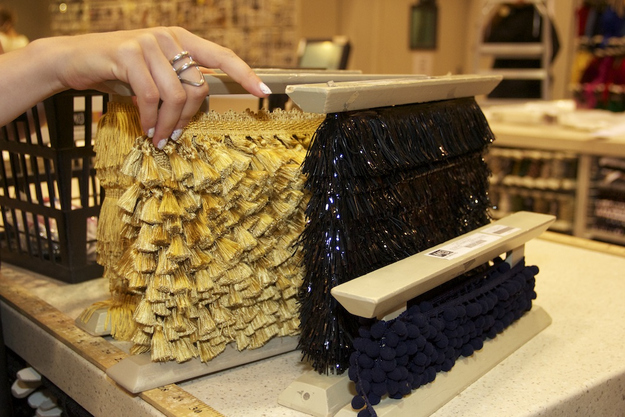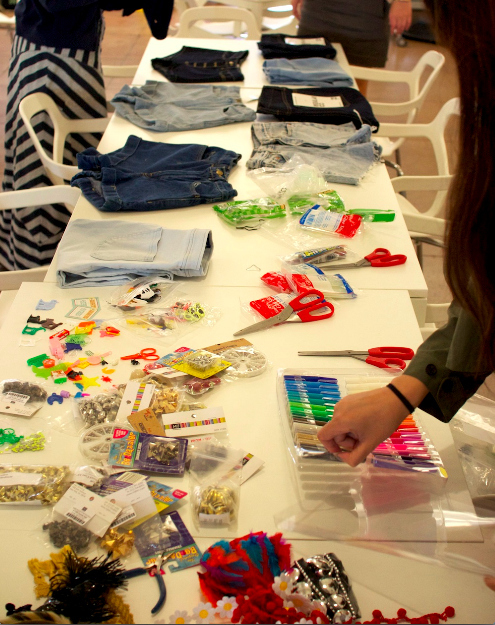 American Apparel kindly donated some jeggings, jeans, and jean shorts to the cause. We laid the supplies out on the table — which included M&J's trimmings, puffy paint, glitter glue, glitter, studs, and novelty buttons found in abundance on Etsy.
After a couple hours of hard work and a blizzard of creative expression, BuzzFeed's jorts were born. Since these jorts deserve only the best, BuzzFeed's Claudia was persuaded to donate her stunning modeling skills to the cause. Here are the results and critiques from Judge Joe, who graded each pair on a scale of one to ten, ten being fab and one being drab.
Studded Jorts by Chris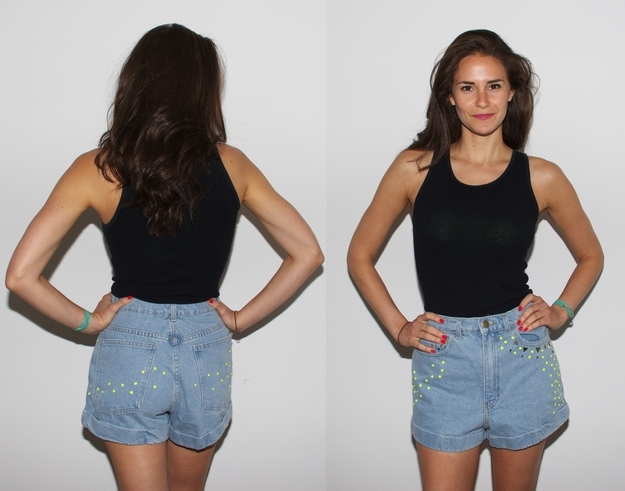 Chris explains her design:
"I have always been inspired by bedazzled fashions. My jorts have a bit of edge with the studs at the pockets, juxtaposed with a pocket adorned with a sparkling rainbow of bedazzlement. A pop of lime green rivets brings the jorts together with a wrap around, cascading design. My jorts would be worn by any craft-loving hipster, hopefully riding a bicycle, with a PBR in tow."
Judge Joe Zee says:
"I love the silhouette. I love that it's high-waisted — it feels a little Eighties and I like that the design is a sprinkling of stars across the shorts. It's like Eighties summer camp — kind of perfect right now going into August.
However, I think it's a little subtle. I would have liked a little bit more. I don't know what that little bit more is, but I like the sprinkle of the neon studs."
Score on a scale of 1 to 10: 8
Daisy Jorts by Jamie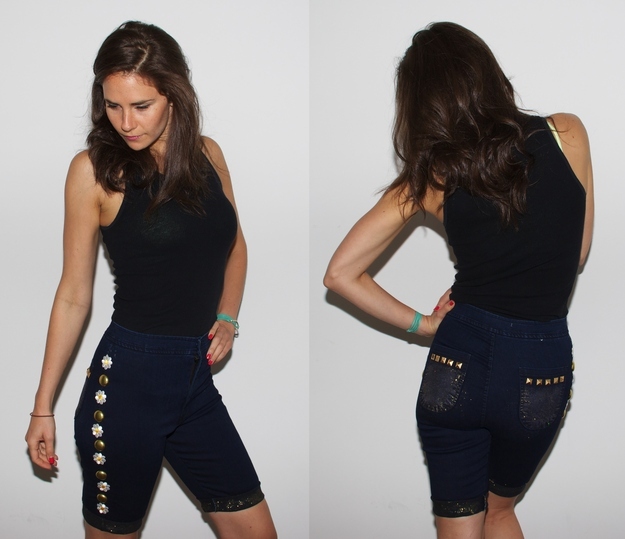 Jamie explains her design:
"I made the best jorts! They're high-waisted dark denim cuffed bermudas with daisies on the side. I think they may be the first of their kind.
I'm not sure I had a design inspiration — the jorts took many different forms while I was creating them. I just went with what was available on the table. I love flowers so I definitely wanted to be sure to include them somewhere, while the rivets give the jorts an edgy feel.
My final product is fun, flirty, girly and just a tad awkward. The high-waisted bermuda isn't flattering on all body types. I think you could find my jorts in the movie Dazed & Confused or on a hipster in Brooklyn. They'd probably be best worn on the weekend, running errands, with a wife beater tucked in and some Keds or flat sandals. They're also ideal for brunching and drinks outside. They totally work because they're cute and versatile; they're not booty shorts so you can wear them whenever, wherever; and the cuffs help keep them looking clean — not trashy or messy."
Judge Joe says:
"I think this is like a biker jegging, which doesn't even sound okay. But I actually don't love the embellishment and I think it almost looks like the way a tissue box would be decorated in a seniors' retirement home in Florida.
I picture this at the home of the Golden Girls. I just don't love the embellishment — it's too in-your-face, I think."
Score: 3
Daisy Sombrero Jorts by Peggy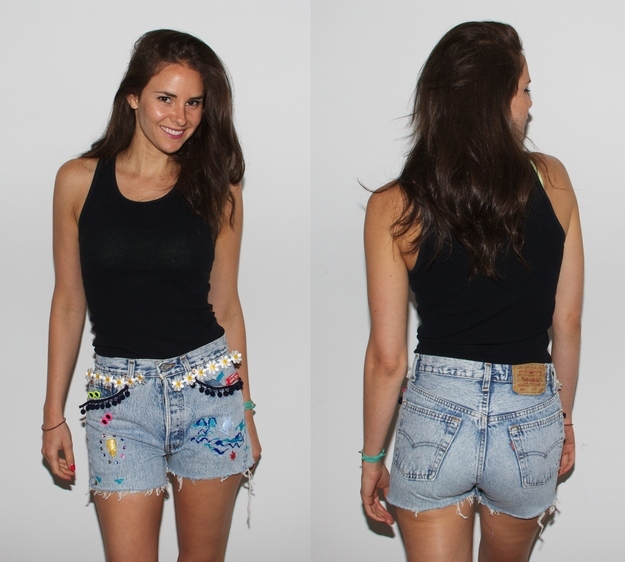 Peggy's design:
These acid-washed cutoffs are jazzed up with daisy trim, sequins, and an ocean scene on the leg. They could work for a day at the beach — or a day in the city, wishing you were at the beach. Tassles on the pockets add a touch of class.
Judge Joe says:
"I thought this was fun. It almost looked like a vacation souvenir sombrero. There's a lot in the front, but there's nothing in the back. I like more balance when it comes to DIY. My critique would be I wish it continued to the back. There's a lot thrown on without a lot of thought, but it's fun. It's a summer vacation beach souvenir moment."
Score: 6
Literal Feather-Trimmed Jorts by Brian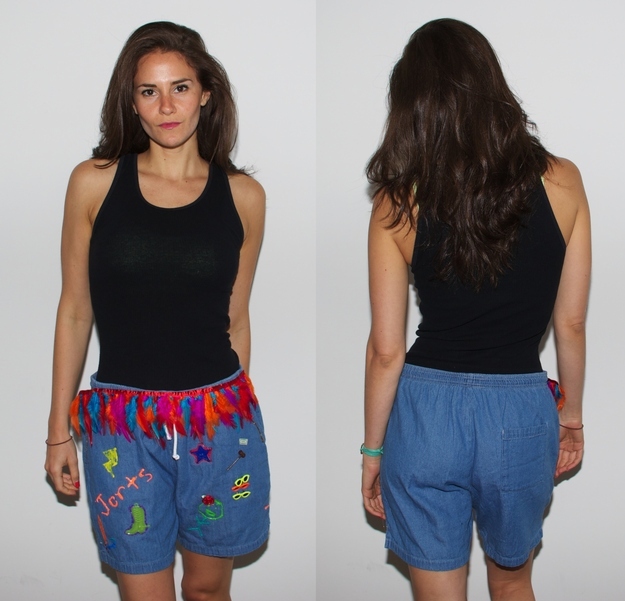 Brian explains his design:
"I really wanted my jorts to tell a story and to form a jort tapestry. A jortestry, if you will. In keeping with the performative aspect of my jorts, the feather accents are meant to resemble a stage curtain being lifted, revealing the what lies beyond the proscenium.
Obviously, the biggest inspiration comes from the Old West at the turn of the 20th century, as law and technology began to encroach upon a previously unhindered, and often brutal, environment predicated upon the Manifest Destiny.
On the left leg of the jorts, you can see many examples of this philosophy. A young, world-weary senorita with a flower in her hair, who continues to smile despite her hardship. A sheriff's badge represents authority and bureaucracy. The dollar bill next to the gavel is a representation of the influence between money and power, and the sliding scale of morality which both of those things influence.
On the right side, the cowboy boot represents the heel of the law, a reference to that famous quote from 1984: 'If you want a picture of the future, imagine a boot stamping on a human face — forever.' Above the word 'Jorts' is a lightning bolt, fierce and foreboding in its destructive nature.
Also on the jorts are three pairs of sunglasses, representing the baked desert that lies along the western frontier underneath a blazing sun.
On the very bottom of the right leg, in the corner, is a skateboarding witch."
Judge Joe says:
"I kind of hate these shorts to begin with, the boxer drawstring style, but I also don't love this DIY. It looks like an 8-year-old's attempt at wanting to be something made by a fashion designer. I don't mind the amateur take, but this looks like they didn't even care. I want more care. The waist — that just looks like a left-over pinata, like not even carefully tacked on. I think it just looks a little too amateur. It doesn't feel fun, it just feels sloppy."
Score: 4
Neon-Accented Jorts by Hillary
Hillary explains her design:
"My goal was to incorporate the dying trends of excessive neon, leopard print, and faux leather material. I was inspired to create the perfect look for a teenager who plans to Instagram herself gratuitously on the first day of Coachella.
The utility of this item is essential. Don't have neon sunglasses on today? They're on your jorts. What's that, it's too hot for fur and leather You're already wearing (faux) versions of both of them on a comfortable, albeit extremely high-waisted, part of jorts."
Judge Joe says:
"I kind of really like these. I love the silhouette of the shorts. It's DIY, but it feels like it could be a designer in a way — it could be a fun thing at like Chloe or Stella McCartney. I love the black trim, I love the neon button. I think the DIY is subtle enough but interesting.
I wish she did something more on the back — maybe customize the back pocket with detailing, like a neon button or a black trim. I really like this pair. It's cute."
Score: 8.5
Leopard-Accented Jorts by Matt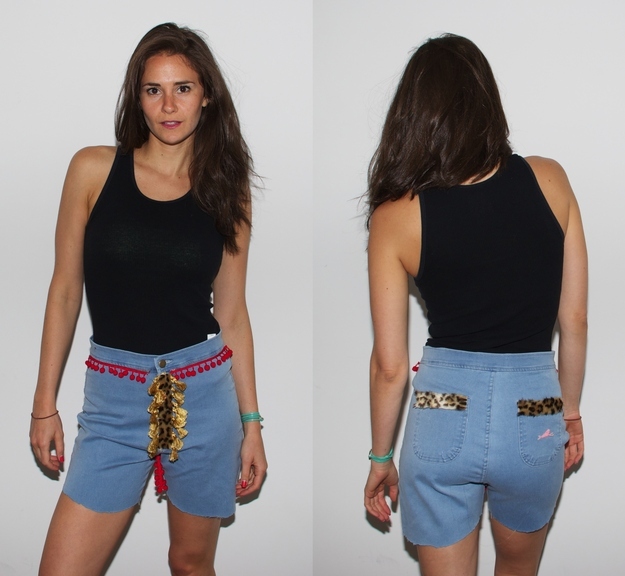 Matt explains his design:
"I'm really into 'frills.' I love little dangly things, and I wanted to incorporate them as much as possible into my design. I also wanted to do something different. Something very feminine. That's why I included the fringe on the crotch. It just made sense."
Judge Joe says:
"Forget camel toe, this is a leopard paw. It's not even a toe, it's the entire foot of a leopard. I think it's silly but it's not even too silly. I wish it was a little more provocative. I also think the red string hanging between her thighs — that is just putting it out there. It's so silly. I think I have to give it a 5 just for the effort in trying to make it. I don't like them but for the effort trying to make it ridiculous, you get a 5.
There's something kind of funny about it but I wish it was executed better. I would have loved these with a shorter silhouette — I think really cut hot-pants jean shorts, and I think you don't need the senorita tassles around the waist. I think that actually takes away from it. Just call it what it is and just make an x-rated pair of hot pants."
Score: 5
Splatter-painted Jorts by Lauren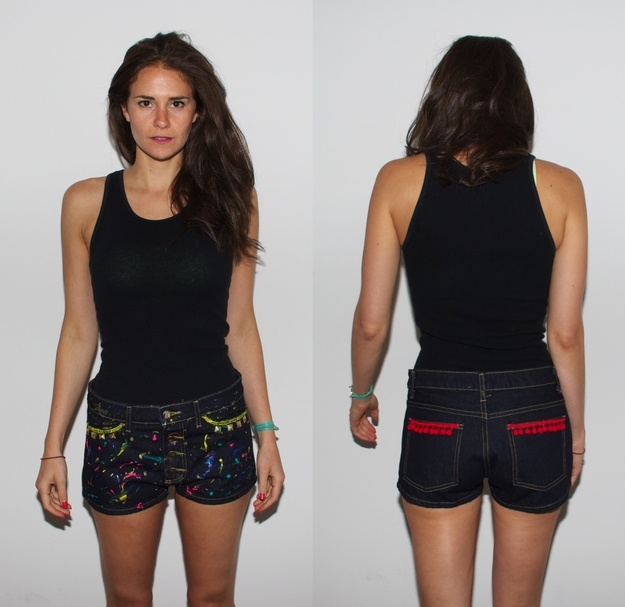 Lauren explains her design:
"I made the jorts with splatter paint on the front and gold studs along the front pockets. On the back I put some red dangly balls on the pockets.
My inspiration was splatter-paint art. I always think it looks really cool, and just messing around with the paint made me feel young again. [Ed. note: Lauren is not old.] It looked like I had just come back from doing arts and crafts at day camp.
I think the shorts would go perfectly with a baggy white t-shirt and some high-top Chuck Taylors, just to be worn on the weekend, strolling through New York. Maybe I'd even add a panama hat if it were sunny. I think the shorts have personality and the girl who is wearing them will have one too.
To me they work as a piece of fashion because they are fun and completely individual. The best part about splatter paint is it can be done a million times, but it will look different each time. It's all in the flick of the wrist."
Judge Joe says:
"I like the idea of the splatter-paint. Again my critique here is I wish it went around to the back. For me it's like a frat party: it's all noise up front and then passed out when you get to the back."
Score: 7
Studded Jorts by Whitney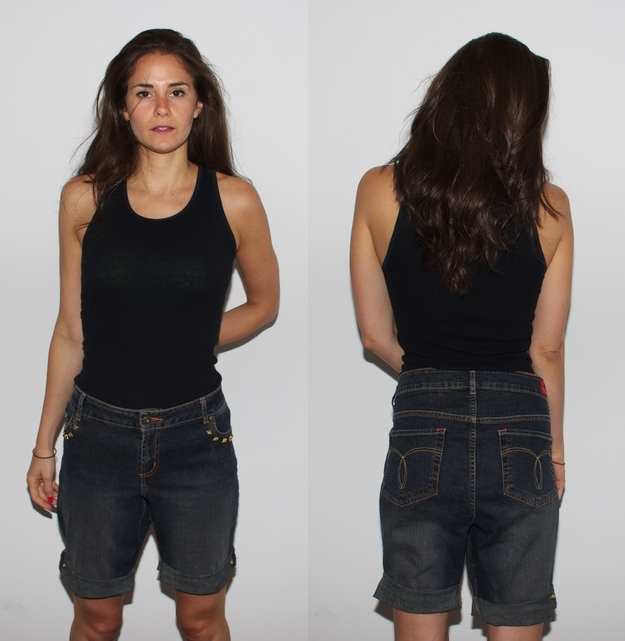 Whitney explains her design:
"My jortspiration was to create a pair that I would actually want to wear. I'm tall, and because of that fact most of my jorts (and shorts, and most skirts, really) are too short to wear to the office. So I cut this pair of jorts to the knee and then rolled them up twice to get a work-appropriate length.
I opted for the studs because I think they're pretty fly and fashioned two tiny bedazzled jewels on the back pockets for just a little bit of sparkle (nothing to obnoxious). I don't know how they work, really, as a piece of fashion because I feel like most jorts are not exactly on-point (sorry, world of jorticulture) but for me, they're a comfortable and fun pair that I look forward to wearing for the rest of the summer. As for who, exactly, would wear them, I guess my answer is Brooklyn hipster scumbags and/or me!"
Judge Joe says:
"I think if you're going to do it really go there and just do it. I like the silhouette. I like the boyfriend shorts idea, I like them being tough, being skateboarder and street but it's cute. I give that a 6."
Score: 6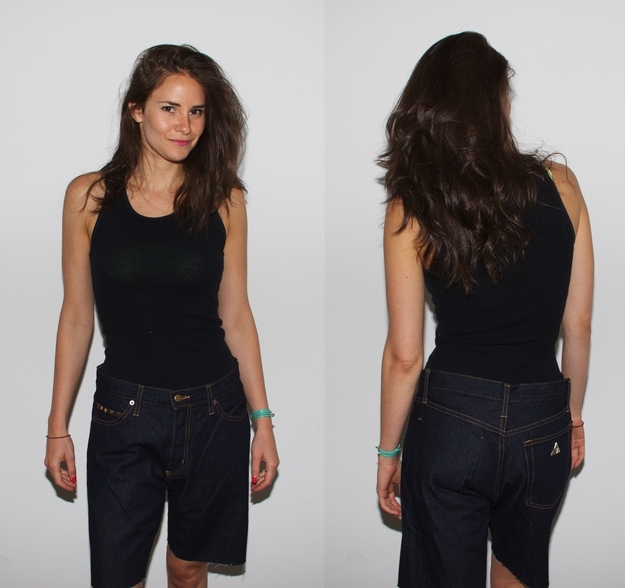 Samir explains his design:
"I removed one back pocket. I wanted to keep it clean and simple (and still totally wearable).
Anyone could wear them. I envision them being worn on the Lower East Side of New York, and most of Brooklyn.
The back pocket has a 'Legend of Zelda'-inspired triforce. [Ed. note: no idea what this means.] They work as fashion because they are timeless (obviously). They are awesome."
Judge Joe says:
"I think the subtlety here doesn't work. It looks unresolved, it looks lazy, it looks like he didn't think it out. And I don't love the silhouette. I don't think removing the pocket really feels innovative or interesting."
Score: 2
"Viral Lift" Jorts by Ryan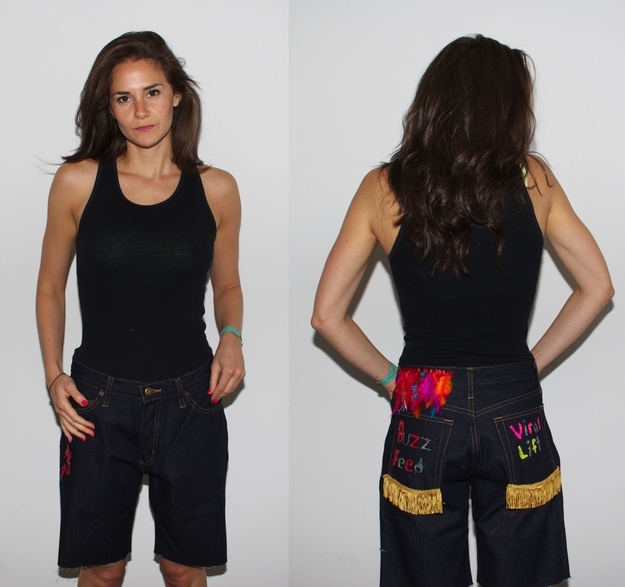 Ryan explains his design:
"My main inspiration for my jorts was probably early '90s punk and grunge fashion. I really wanted to channel that kind of frenetic energy into my cuts, making sure they were playful and didn't take themselves too seriously, but also contained some rebelliousness in the leg length.
Most of my design is on the back, which I did as a comment on the heteronormative fashion industry machine that refuses to make clothing that showcases the male buttocks in a serious and sexually powerful way. The left back pocket says 'BuzzFeed' and has a crop of colorful feathering to symbolizing the way fashion in a post-social media society has to be a conversation piece. The other back pocket has the words 'viral lift' written in pink and white satirizing the way American fashion trivializes the the perkiness of young bodies and infects our culture with a need to be eternally youthful. My jorts scream back into the faceless void: 'No, there is another way!'
And on the front is a red arrow made out of red glue and paint that I kind of messed up on."
Judge Joe says:
"I think it's fun. It's not the most creative in terms of DIY. It's got the message on the butt — it definitely has what it wants to say on the butt. Even though this is a message it doesn't feel like it's a real message. I think it's okay. It's a 4.
It doesn't have a real message — what was the fashion direction? It feels slapped-on."
Score: 4
The Winner: Hillary!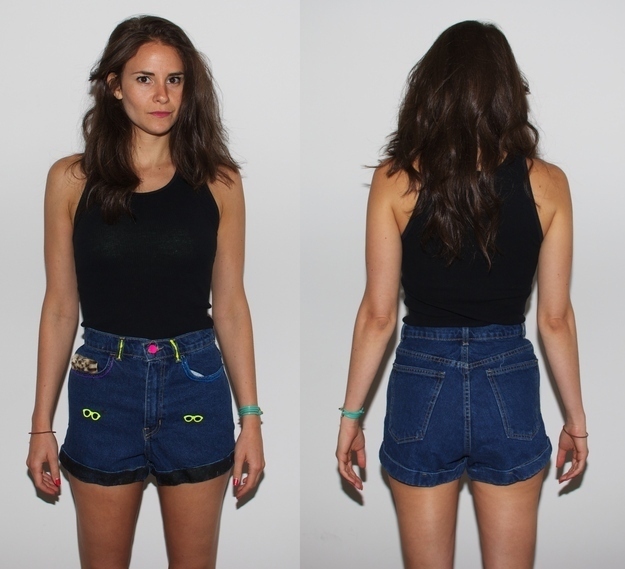 Joe was torn between Chris's cascading neon studs and Hillary's neon accents. But ultimately, Hillary wins BuzzFeed's first ever Jorts-Off. "I think my initial reaciton was [Chris's should win], but I'm kind of loving [Hillary's]. They're just subtle and just arts and crafts enough," Joe says. "I love the shape, I love the trim on the bottom."
Well played, Hillary.
Watch Joe Zee when a new season of All on the Line begins on the Sundance Channel on September 10 at 9 p.m.