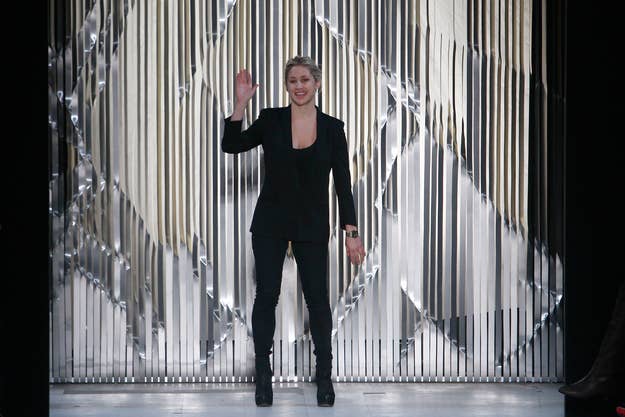 Kimberly Ovitz will not produce the fall 2013 collection she showed at New York Fashion Week. If her guests, including notable front-row presence Anna Wintour, and the nice reviews of the collection indicated anything, it seemed to be that Ovitz's line was on the up-and-up. But the reality of most fashion lines is that they fail. And Ovitz's is shaping up to be the latest casualty of a brutal industry.
Ovitz would not explain why she's closing her line for the next couple of seasons or why she's not producing the fall line. But designers don't produce things when they don't have enough orders for the clothes and therefore can't afford to make them. (The Rachel Zoe Project viewers will recall the scene where Rachel finds out she can't produce the long white sequin maxi dress she loves so much because buyers rejected it.) A lack of orders could very well have something to do with Ovitz's collapse. However, sources indicate to BuzzFeed Fashion that her biggest problems run deeper than that.
Ovitz's line is known for minimalist body-con dresses and asymmetrical draping. It's like Helmut Lang redux, basically. That's good in a way because her clothes are generally cute and wearable — the kind of thing you go for if you want to look cool or just juice-fasted and are dying to show off your flat stomach. (For the record: BuzzFeed Fashion does not condone juice fasts.) But why should customers go for her things over Helmut Lang, a great line that's been around for ages and has a lower-priced line (HELMUT Helmut Lang) that is actually more competitively priced than Ovitz's stuff?
When Ovitz started, she thought she'd compete with a designer more along the lines of Ralph Lauren than Helmut Lang. But she allowed people to push her in a direction that ultimately wasn't true to who she was. And now sources suggest that she's feeling a bit directionless. Throughout her several years in business, she's failed to become known for a specific thing. Ralph Lauren is known for the tie, Diane Von Furstenberg is known for the wrap dress, Alexander Wang — a young designer who's had a phenomenal rise after just several years in business — is known for the hoodie.
Ovitz might be able to refine her aesthetic by taking time off. But it's hard to make a comeback if you've never really made a splash to begin with.
In the meantime, Ovitz's clothes are on clearance on her website. Enter the code SS13SP for 75% off.