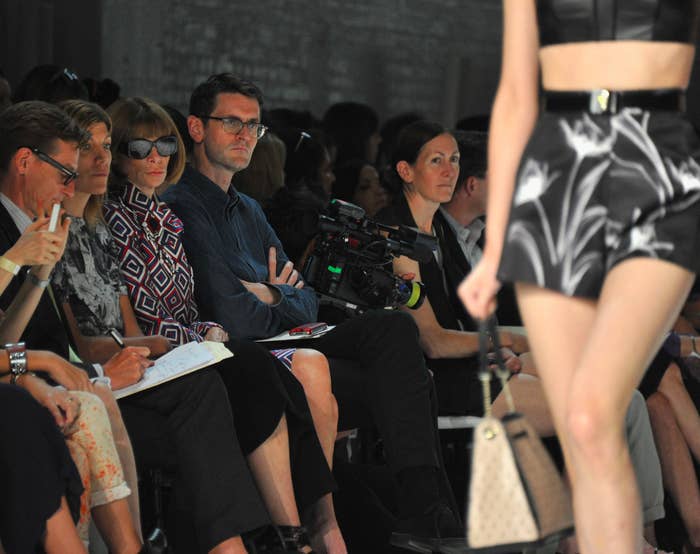 Intern Labor Rights, a division of the Occupy Wall Street movement, plans to protest unpaid internships at New York Fashion Week, which will draws hordes of international media and industry members to the city when it begins on February 7. The protest is still in the planning stages, but organizers expect to have a visible presence at fashion show venues Friday, February 8 through Sunday February 10. Demonstrations will also take place at subsequent London and Paris Fashion Weeks.
"Quite frankly, we're getting such an outpouring of interest that it's growing exponentially as we speak," protest organizer Peter Walsh said of the first protests in New York. "I don't think there'll be hundreds — I don't think it's going to be that big, but we'd like to have a significant presence."
Walsh said group members were still in the process of determining where exactly the demonstrations will take place at New York Fashion Week to maximize visibility. The group is planning to hand out swag bags, including a tote and pin that say "pay your interns."
"The fashion industry really relies on this culture of selling an image that includes, in many ways, this image of the put-upon intern," said Eric Glatt, who's working on the Fashion Week protests and suing Fox Searchlight for improper compensation for his work on Black Swan. "Whenever it's at a for-profit institution the worker legally needs to be compensated." The department of labor has six criteria for what can contstitute an unpaid internship, including: "The employer that provides the training derives no immediate advantage from the activities of the intern; and on occasion its operations may actually be impeded." Protest organizers have not connected with high-ranking members of the fashion industry in New York.
"The fashion industry is a for-profit industry — it's not like they're working not-for-profit arts organizations. They're making billions of dollars and the fact that they're asking their students to donate their labor to these businesses is really outrageous," Walsh said. "We're trying to persuade people and educate people at the same time."
Plans for the protests only started about ten days ago, after the idea came up in an informal Skype conference that included intern advocacy groups from seven countries around the world. Among them, Génération-Précaire in Paris and SUARTS in London specifically inspired Intern Labor Rights to target fashion week here, since the fashion industry has been a target of their efforts already. Walsh said Milan — the other major fashion capital with the third fashion week of fashion month — doesn't figure into their protest plans currently because the group lacks connections there.
The fashion week protests are part of a larger fight for workers' rights across the arts and media industries, which the Occupy movement's Arts & Labor group is focussing on. "We're trying to drive all this unpaid labor out of the arts. Artists contribute enormously," said Walsh, who has a background in visual arts himself. "Whether they're working on a fashion magazine or as a fashion model, everyone deserves to be paid daily." (For the record, a lot of models at New York Fashion Week, don't get paid, even by designers as famous as Marc Jacobs.)
Organizers expect people from other areas of the arts — film, music, etc. — to participate in the Fashion Week protests as a show of solidarity across the OWS Arts & Labor group. Intern Labor Rights is taking other actions in New York to educate interns about their rights, like passing around flyers that explain the laws governing unpaid internships. "Here in the U.S. I don't know that we need changes of the law, we need enforcement of the law," Walsh said.
Unpaid internships in the fashion industry gained attention recently after former Harper's Bazaar intern Diana Wang sued Hearst for what she believed to be an inappropriate use of her unpaid services as head accessories intern. (Her case is being handled by the same firm representing Glatt.) Walsh said she won't participate in the protests.
Correction: An earlier version post incorrectly stated that Diana Wang has been helping Intern Labor Rights with its Fashion Week protest. Wang has not been involved in the planning.