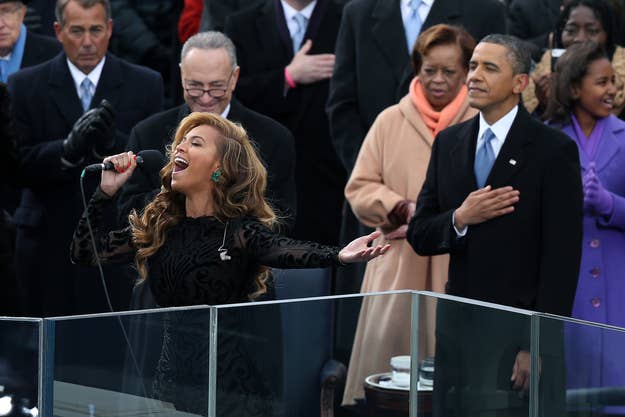 Sunday, Jan. 20, 8:00 p.m. — I arrive at Illinois Ball at the Marriott Hotel, just down the road from the zoo and completely wild in its own way. The doors of black cars filtering into the driveway ease open to unleash some of the most intense formal attire and outerwear I'll certainly see all year: The women have packed themselves tightly into heavy, stiff taffeta fabrics made weightier by an outer crust of beads and sequins in arresting displays that look less like your typical dress embellishments than metallic tile mosaics. Bedazzled shoe buckles are common, heavy hairspray is an absolute necessity. The overall aesthetic is somewhere north of prom and somewhere south of Miss Universe. And then there's the fur.
This is the most shameless display of pelts outside of fashion week, where social consciousness in terms of animal products is limited to protesters outside furriers' shows and vanity veganism. I expected a lot of fur this weekend; in 2009 the Wall Street Journal proclaimed that the Obamas had spurred a fur craze in D.C. (The Obamas don't wear fur but, this story argued, had prompted an influx of people to Washington from Chicago, one of our nation's furriest cities, and an influx of African-Americans, who are "disproportionately big fur buyers.") Nonetheless it's still odd to see so much of it on women and men of all ages, and no one minding. And these aren't middling little fur vests you see on 24-year-olds with Starbucks cups and Tory Burch flats — these are big, floor-length quilts of pelts where you can see one animal hide stop and another begin. A lot of people wearing fur disappear into it entirely so that they resemble beasts with oddly small human heads.
In the hotel lobby, about 20 people are gathered around a flat-screen TV mounted on the wall, which is playing a football game. (Tickets to this black-tie event are $150.) I notice one man, trying to get his face as close to the screen as possible, wearing a tux with a neon green ruffled shirt. Despite the self-regard one must possess to wear a neon-accented tux, he refuses to have his picture taken by BuzzFeed's photographer.
Entering the ballroom I'm slapped in the face by an intense odor of smoked meats. Carving stations positioned around the ballroom have grown long lines of people who I suspect did not spend this much time getting dressed to stand in a line holding a plate to collect carved sirloin, smoked pork, a bun, and some sauce.
Guests can also get their picture taken by a man wearing all black with a red, white, and blue American flag necktie. The photos he takes superimpose their image over one of President Obama with an extended hand, so the end result makes it look like they're shaking Obama's hand.
Some of the tables are sponsored and display signs that say exciting things like "Illinois Pipe Trades" and "Charles Smith Insurance Strategies." Four huge movie screens positioned on one wall of this giant room display a slideshow of pixelated images of Illinois politicians' faces mixed in with ball sponsor logos.
No one seems terribly drunk here, probably because the lines for the bars are so long. But that doesn't stop people from flooding onto the dance floor when a woman in a red sequined top and matching red silky skirt takes the mic on stage and asks, "You all ready to get this party cracking?" This crowd apparently is, and rushes the stage with iPhones up to take pictures they'll undoubtedly post to Facebook or Instagram so that everyone knows they were at a ball, pretending to shake the president's hand and witnessing live music.
I ask a group of ladies lingering on a staircase balcony over empty plates, cocktail glasses, and crumpled napkins how they ended up here. They're from the D.C. area, not Illinois, but explain they thought the Obamas might show up here because they're from Illinois. Despite the president's inaugural schedule (two balls on Monday night, that's it) being widely publicized, the belief that the president could just turn up anywhere at any moment is a widely held one. People seem to forget that the guy isn't Beyoncé — he can't just show up at any old mall, put on a surprise show, and become a YouTube sensation. But at inauguration weekend, people are awfully willing to suspend disbelief.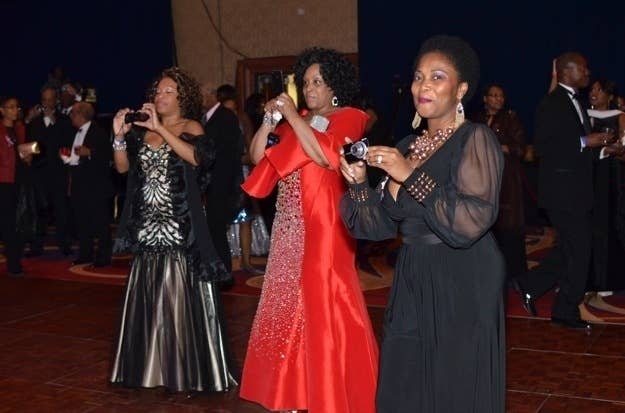 Sunday, Jan. 20, 10:00 p.m. — The hip-hop inaugural ball, organized by Russell Simmons, is being held in a theater in the heart of D.C.'s sprawling inauguration traffic jam. I'm late but they let me take a seat inside anyway, where I realize this isn't really a ball as much as an arbitrary awards ceremony, where various people in the hip-hop community perform and accept trophies that look like microphones made of glass.
When I sit down, a preview for a Jadakiss movie is playing, for reasons that are unclear to me. After that a woman wearing sequins and a blazer takes the stage to sing a song with the lyric "sex so good." And then! Heineken — the logo on everyone's admitting wristband — is given a "community catalyst" award, which is accepted on stage by Heineken's president, who says something too boring for me to write in my notes.
Angela Simmons comes on next to present John Legend with a "humanitarian award." We're treated to a vignette about Legend's support of "innovative educational reform" and work to lift people out of "extreme poverty." Legend accepts the award personally, telling the audience, "I'm really grateful for hip-hop and the role that it's played in society." This wouldn't be a political event without sentences like these.
Lil' Mama takes the stage to sing a portion of everyone's favorite spin-class song, "Lip Gloss," and the audience seems so underwhelmed by her presence that I'm at first not even sure if this is actually her — the real America's Best Dance Crew judge Lil' Mama — or someone doing a cover of her. She then comes back on stage again and does a fantastic rap that ends dramatically with the words "I ball," and causes everyone to burst into cheers. I can't decide if I'm more captivated by her performance or turquoise snakeskin ankle boots that are so tall, I want to rush the stage and give her a helmet.
After MC Lyte is awarded a glass microphone for "lifetime achievement," an announcer introduces "hip-hop's favorite academic" Michael Eric Dyson, a Georgetown professor and prolific author, who takes the stage to introduce Swizz Beats, recipient of the "impact" award. Dyson tells the crowd that "without Busta Rhymes, Barack Obama couldn't bust a rhyme." Swizz Beats then takes the stage and talks about the work he's done in Africa, where he bore witness to extreme poverty and realized "your problems are other people's dreams."
He closed his speech with "Haters, like, 2012. Positive energy is 2013."
Monday, Jan. 21, 9:30 a.m. — After a half-hour drive, an hour walking aimlessly through big crowds in the National Mall, and roughly another hour at security, I've made my way to my front-row seat at the inauguration ceremony!!! I'm in the section below the podium, so I won't be able to see everyone up there, but I will be able to see the head of anyone speaking at the podium. The angle at which I'm positioned will give me a great up-nose shot.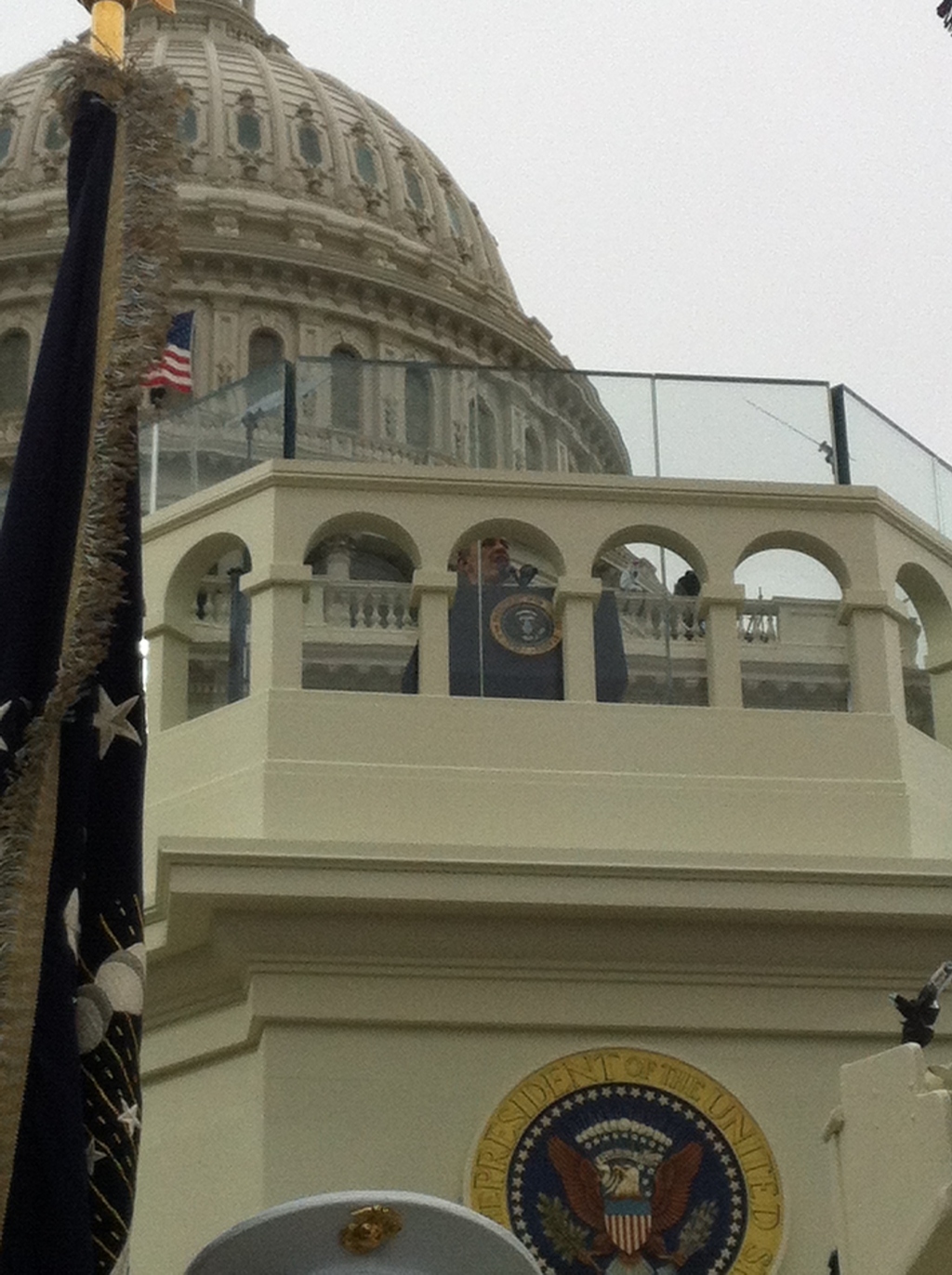 The other upside to these staggeringly great seats is that there is no cell phone reception at ALL here, so we're all forced to enjoy the ceremony without the distractions of texts, emails, and — the worst nuisance of all — social media.
"I can't tweet," one reporter complains.
"If I stand over there I can get emails, but I can't get anything else out," his friend commiserates.
Professional photographers and everyone with an iPhone is so amazed with their seats that a constant stream of people flows by the stage with cell phones and fancy cameras to collect proof that they were there.
"Would you mind taking a picture of me?" I hear one professional photographer another. "My wife would — well, I would too. For Facebook, you know."
Everywhere I go during inauguration is a reminder that the moments we now live exist in large part, for a great many people, to be posted to a social network. You can't help but wonder if people are enjoying the moment as much as they are the idea of their friends witnessing their moments on the internet, and whether or not they'd enjoy everything going on a lot more if they weren't so concerned with documenting it for all of the people they share a vague electronic connection with.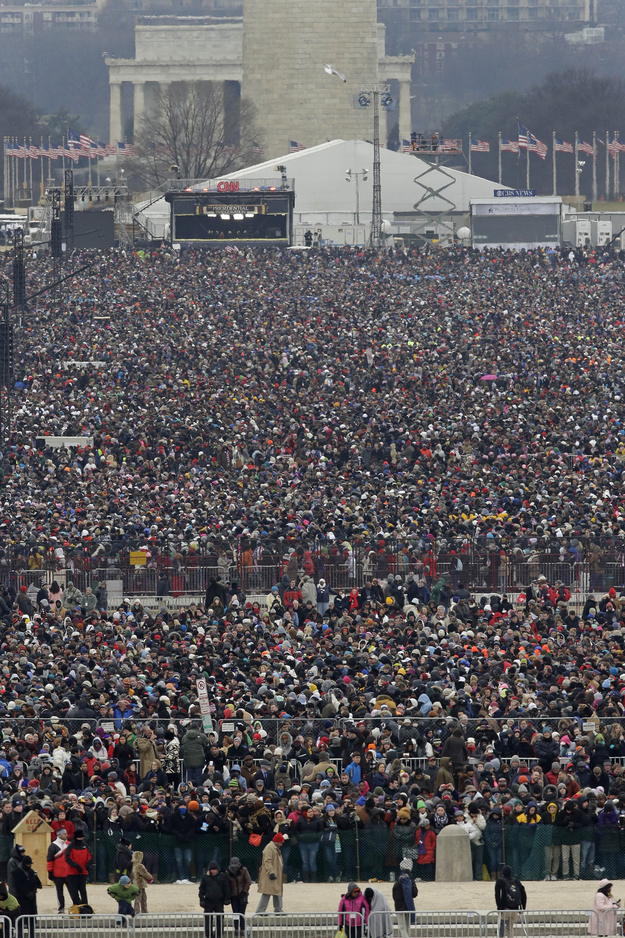 The other main point of excitement in this section seems to be the presence of Katy Perry, who is here with John Mayer but without her entourage because you can't get tickets for entourages to attend inaugurations. It takes me a long time to find her since she's so far away and a few rows back from me, but once I do I don't lose sight of her — not because of her orange striped sweater but because her face is plastered with an amount of makeup that only a celebrity would wear this early in the morning. It makes her face look eight times more noticeable than everyone else around her.
Above us, where members of Congress are sitting in risers (their spouses get to sit in the back rows of the section I'm in), BuzzFeed's John Stanton points out a woman in a pink coat looking out over the crowd who he thinks is Eva Longoria. She's too far away for me to tell (plus, a lot of celebrities are about as easy to tell apart as Real Housewives), but I can see that she has the same sort of Technicolor quality to her face that Katy Perry has, so I figure it must be her. (She was also a big bundler for Obama during the election.) This is a useful lesson in celebrity-spotting in huge crowds: Look for people with faces that seem, from afar, like Disney cartoons.
I always wondered how people got through addressing enormous crowds of people, like the one that gathers for the inauguration — how they're not just overwhelmed by the enormity of it and knowing that if they fuck up, they're doing so in front of millions and millions of people. But looking back on the crowd from where I was, it just didn't seem real. It just sort of looked like a field covered in sprinkles — an optical illusion.
"Can you imagine having all this done in your honor?" Stanton says to me right before the ceremony begins.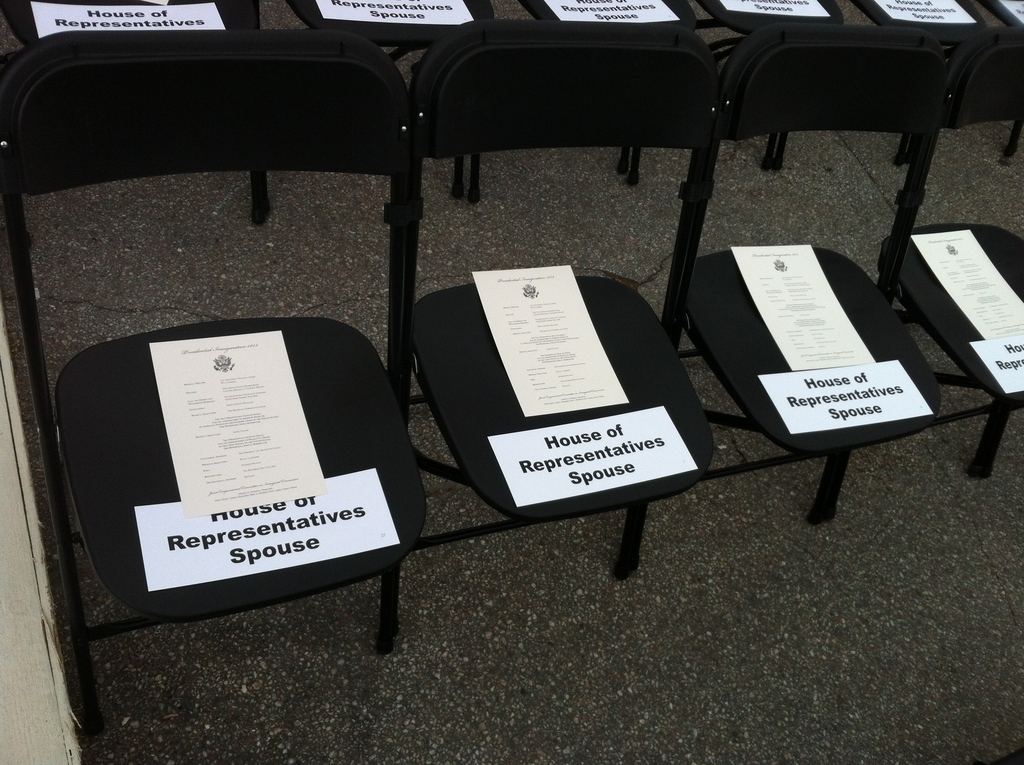 God, no. Even in this era of narcissism that my generation has become so accustomed to, I can't imagine having a whole city shut down so that a million people could come stand in a field to watch me speak on a Jumbotron for a few minutes.
I won't go into detail about the ceremony itself since you all saw it, though I will address Beyoncé's highly controversial performance: From where I was sitting, right underneath her, it did look and sound like she was actually singing. It might not have been what everyone else was hearing on TV or throughout the mall, but she did appear to be singing. And since the Obamas and everyone else were practically up her ass on that stage, she would have had to sing something for them to hear.
As I'm looking at her head I can't help but think, Katy Perry must be so jealous that no one so much as asked her to sing "Yankee Doodle" at this thing.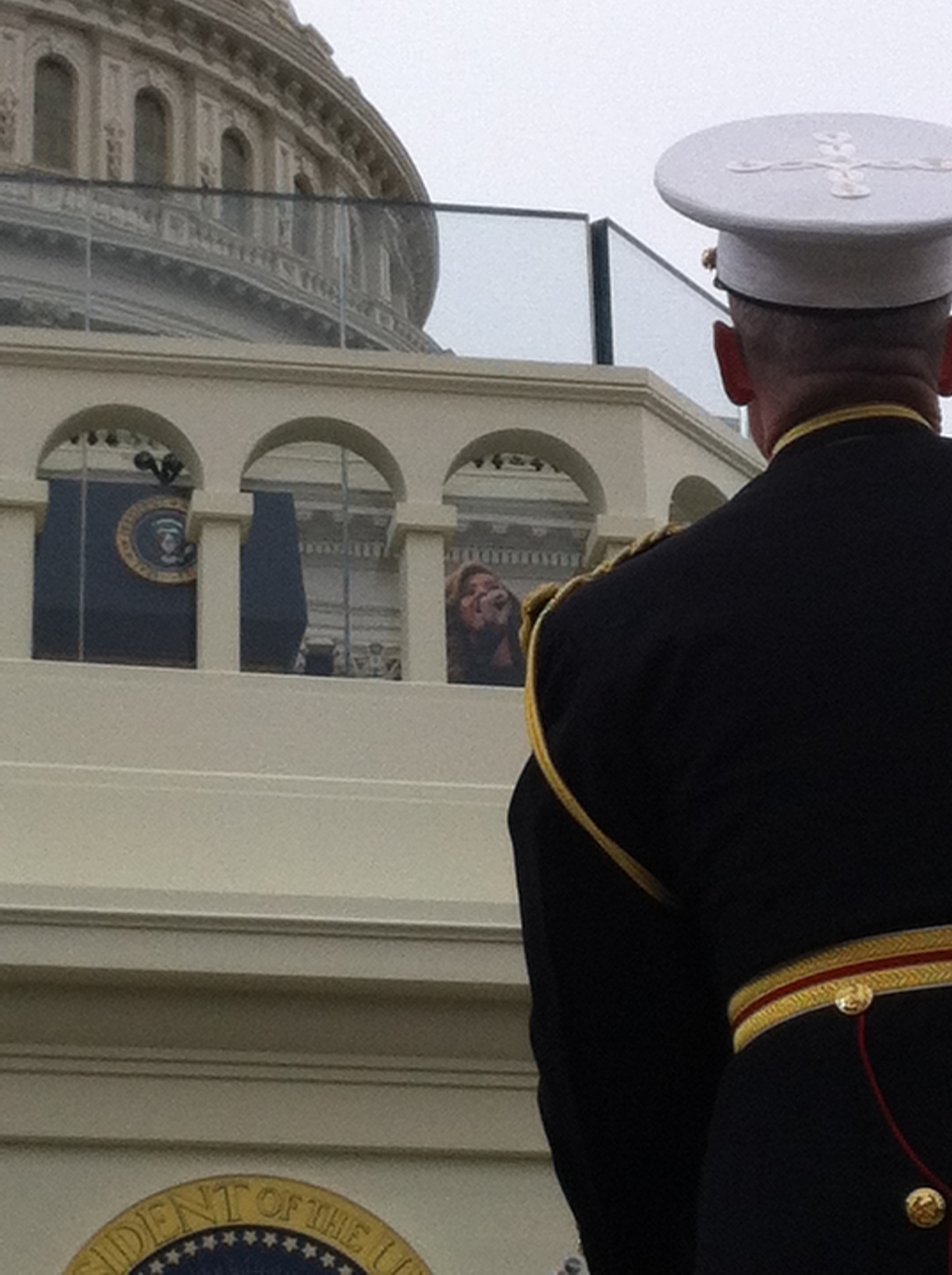 Monday, Jan. 21, 9:00 p.m. — As anticipation over what Michelle Obama will change into mounts, I'm obsessively checking Twitter on the red carpet at the Creative Coalition's inaugural ball, where we've been told Paula Abdul and Chelsea Handler will show up. They never end up coming, but we are treated to a steady stream of random celebs, like Harry from Sex and the City, Newman from Seinfeld, and other "That Guy"–type people, who, frankly, feel less important than Michelle's gown.
Turns out, some of these celebs came here instead of the official balls (which maybe they couldn't get tickets to) under the delusion that the Obamas would show up. "I know that she'll come," model-turned-TV personality Emme tells me on the red carpet when I mention Michelle. "This is the number two party. It's, like, the major ball and then this one. So I have to see her." Don't we all?
Of course Michelle Obama would not show up. Nor would Paula Abdul, to the disappointment of everyone who was hoping so very much for someone to swing by and say something completely insane. Exhausted, I head for the metro.
Monday, Jan. 21, 10:30 p.m. — The train is full of people who look positively gassed by the day. A man wearing a tux has collapsed in a seat next to his wife, who is wearing a dark purple ball gown and clutching her shoes on her lap. They don't even look like they had fun.
"Is everyone coming from the inaugural balls?" one young guy in plain clothes asks another older guy wearing a tux.
"Yes."
"I didn't know it was so big."
"Massive," the older guy says. "You don't see so many people in tuxes on the metro otherwise!" Polite laughter ensues.
Another woman on the train is asking a couple of men in tuxes how they got their tickets.
"Connections," one responds.
This woman did not go to the balls tonight but hastens to add that she has gone because her husband worked on the balls' closed-captioning in the past. "Every plug, every wire has to be scrutinized by the Secret Service, of course," she says. "And then they forgot to get passes for the typists!" More polite laughter.
People around — many of whom also probably have "connections" in D.C. and bragging rights of their own to banter about with strangers — are more interested in discussing the day's events.
"Did you like her bangs?" the closed-captioning wife asks the couple.
"That dress today — fabulous!" one of them says.
"And Beyoncé," the woman replies. "She was GOOD."