Is Coach Heading To Fashion Week?
Executives are focused on adding "greater fashion credibility and relevance to the brand." If J. Crew can do it, why can't they?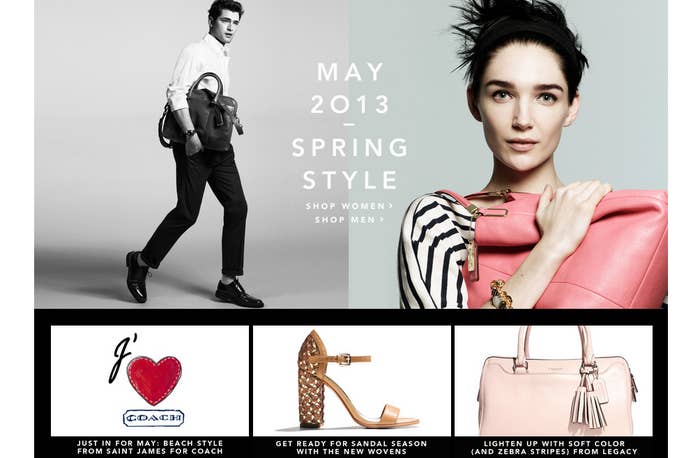 Coach is more than pink foil accents and hearty leather goods that are the lust object of every American teenager. The brand is focused on building up its fashion credibility, executives said in the an earnings call with investors Tuesday. Citing success with its recent emphasis on fashionable footwear, men's stuff, and expansion throughout Asia, it sounds like the brand's next phase will involve working on getting a little hipper. It makes sense to figure out how to do that now before president and executive creative director Reed Krakoff, who will not renew his contract when it expires in June of 2014, leaves to work on his own editor-adored, super-fancy namesake line.
After rattling off a few new high-up hires who will work on women's design and store concepts, Coach President and Chief Commercial Officer Victor Luis hinted at Coach staging a fashion show of some kind:
The creative team now in place is focused on developing and presenting a full head to toe expression of the Coach woman and man, including a focused ready to wear presentation to inspire our customers with a complete Coach point of view that is relevant to how she lives her life. Over the next few quarters, the level of innovation across product categories will increase as we continue to add emotion to our offering and greater fashion credibility and relevance to the brand.
A Coach representative woud neither confirm nor deny that a Coach fashion week show would occur. But if J. Crew can sashay its little khakis and sequined cardigans to the Lincoln Center tents, and stage a show that's considerably buzzier than Charlotte Ronson's (in her sister's post-LiLo phase, though, which means no LiLo cameos), Coach can absolutely do the same. Buzz isn't that hard to come by, after all — just leave some people off the list and let FOMO do its work.
Chic-ing things up will be key for other Coach ventures, like the brand's desire to capture a greater share of the European luxury goods market. Luis continued:
As you know, Europe is a large market for women's and men's luxury accessories, representing about 25% of the global category sales. Coach's heritage, linked to New York fashion, is appealing for many Europeans, and creates a differentiated positioning compared to the traditional luxury brands. In addition, we believe the region has significant long term potential, attracting both domestic shoppers and the international tourists.
So far it sounds like Coach is on track. Its men's business is exploding, according to North American Group President Michael Tucci, who expects to grow men's by 50% this year. Coach is "experiencing success in men's across all concepts and store types, and across all geographies and channels," he added. And what could be more European/fashion-y/fashion week-y than a fancy clothes-buying man?