Rihanna's line for British chain River Island went on sale at New York's Opening Ceremony this morning.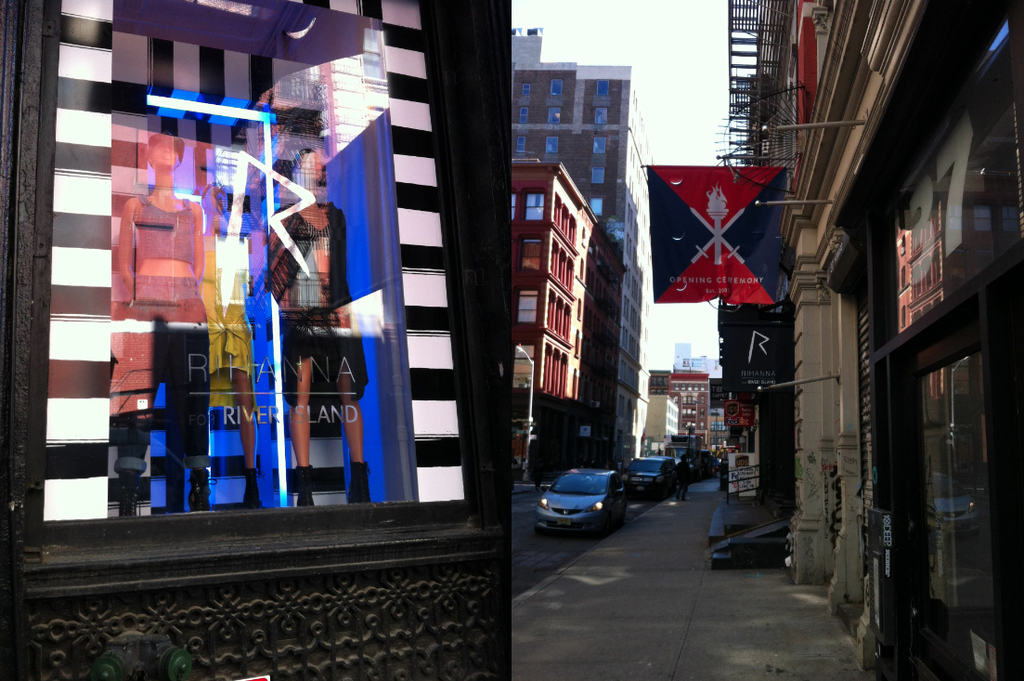 The media has trashed the line just about as much as they can. The critiques seemed especially mean, even for an odious celebrity clothing line — no one spends so much time hating Lauren Conrad or Jennifer Lopez's Kohl's line, and they've got just about as much "business" "designing" clothes as Rihanna does.
Besides Rihanna has millions of fans who are rooting for her and who will buy these pieces. And you know what? I'm rooting for her. I'm rooting for her to find a nice boyfriend, to go out in more cool monochromatic grandma suits, to make more sickeningly catchy drunk music with Calvin Harris. I think as Rihanna's grown up, she's developed super cool style that's evolved from looking 90% contrived, 10% her to 90% her, 10% contrived. So, can her clothing line really be as horrible as everyone who saw it in London said it was? I went to Opening Ceremony's Howard Street location in New York this morning to find out — and take lots of embarrassing selfies from inside the fitting rooms.
When I got there at around noon, the mayhem from the morning crush had settled down.
According to store staffers, around 40 people eager to buy the line ASAFP lined up outside before the store opened at 11. The clothes are positioned directly inside the entrance alongside an exhibition of some of the clothes Rihanna's worn IRL.
It's no Alexander McQueen at the Met.
But fun and educational, nonetheless. I learned that the pink lace nonsense she wore to perform at the last Victoria's Secret Fashion Show looked unexpectedly cheap in person. After I grabbed as many of the River Island clothes as I could, I absconded to a fitting room where the undercover selfie operation began.
First up was the black skirt with a zip up the front and a silky faux shirt sewn onto the butt, so you can tie the sleeves around your waist and look like you're wearing two pieces of clothing, when in fact you are just wearing one. This is selling at Opening Ceremony for $125.
Note that the plain gray tee-shirt is mine (from DKNY). I felt it was only fair to try a few Rated R things with more normal clothes, because I don't go to nightclubs or hipster picnics and therefore have nowhere to wear a cropped yellow tee-shirt with elbow-length sleeves (price tag: $50).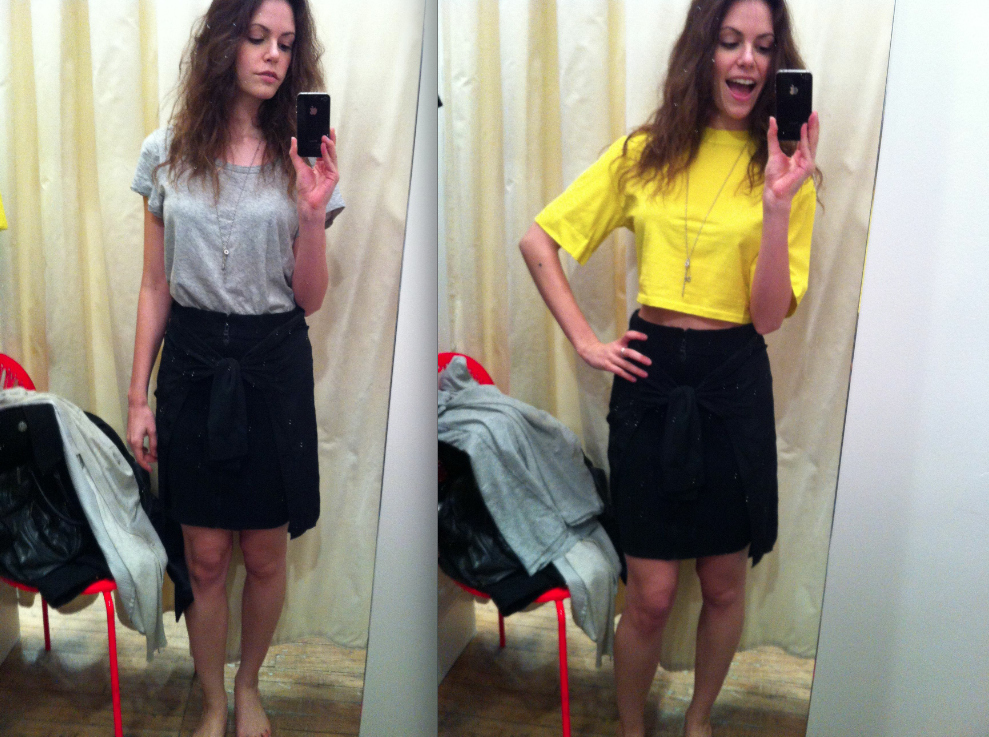 I should also note that the necklace seen throughout is by Lauren Klassen. I left it on because a long silver chain with a screw, safety pin, and washer hanging on it seemed like the right thing to pair with strange clothes designed by Rihanna.
Anyway, I actually liked this skirt enough to buy it. Yes, I bought something from Rihanna's clothing line, which is going to be SO ironically appreciated by hipsters in five minutes, just you wait. It's made of stretchy sweatshirt material that allows it to fit in a flattering, high-waisted fashion. Obviously a skirt with sleeves sewn onto it is downright dumb but, like, have you seen fashion week street style these days? Right.
Rihanna justified the faux shirt aspect of this piece by saying to Times fashion critic Suzy Menkes, "This is a shirt tied round a skirt — because sometimes you have those fat days or you are wearing big underwear." I don't know what kind of fat days Rihanna has (none) because this — like most of the line — is skin tight. But I guess it would hide this secret ginormo underwear habit she alludes to...
Then I moved onto these high-waisted jail-inspired shorts.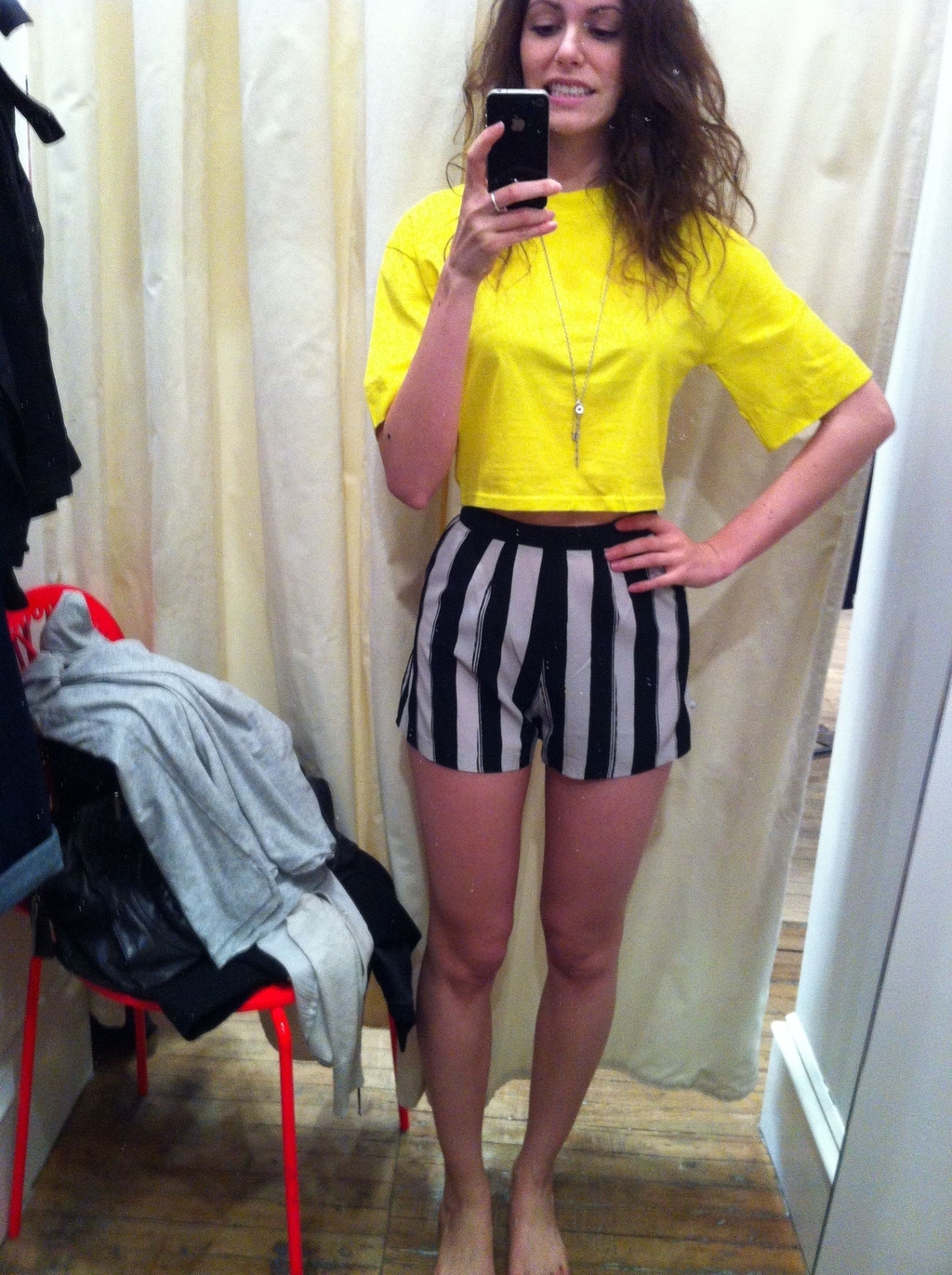 I have bathing suits that cover more butt than these do. But last I checked underwear sets had become the de facto "teen girl at EDM festival" look so I'm sure there's a thriving market for these.
And to anyone knocking Rihanna's tailoring skills, I must point out that the high waisted things and the cropped things are cut so as to meet almost perfectly at the waist, so you're not showing your entire midsection.
But if you DO want to show your entire midsection, Rihanna has you covered.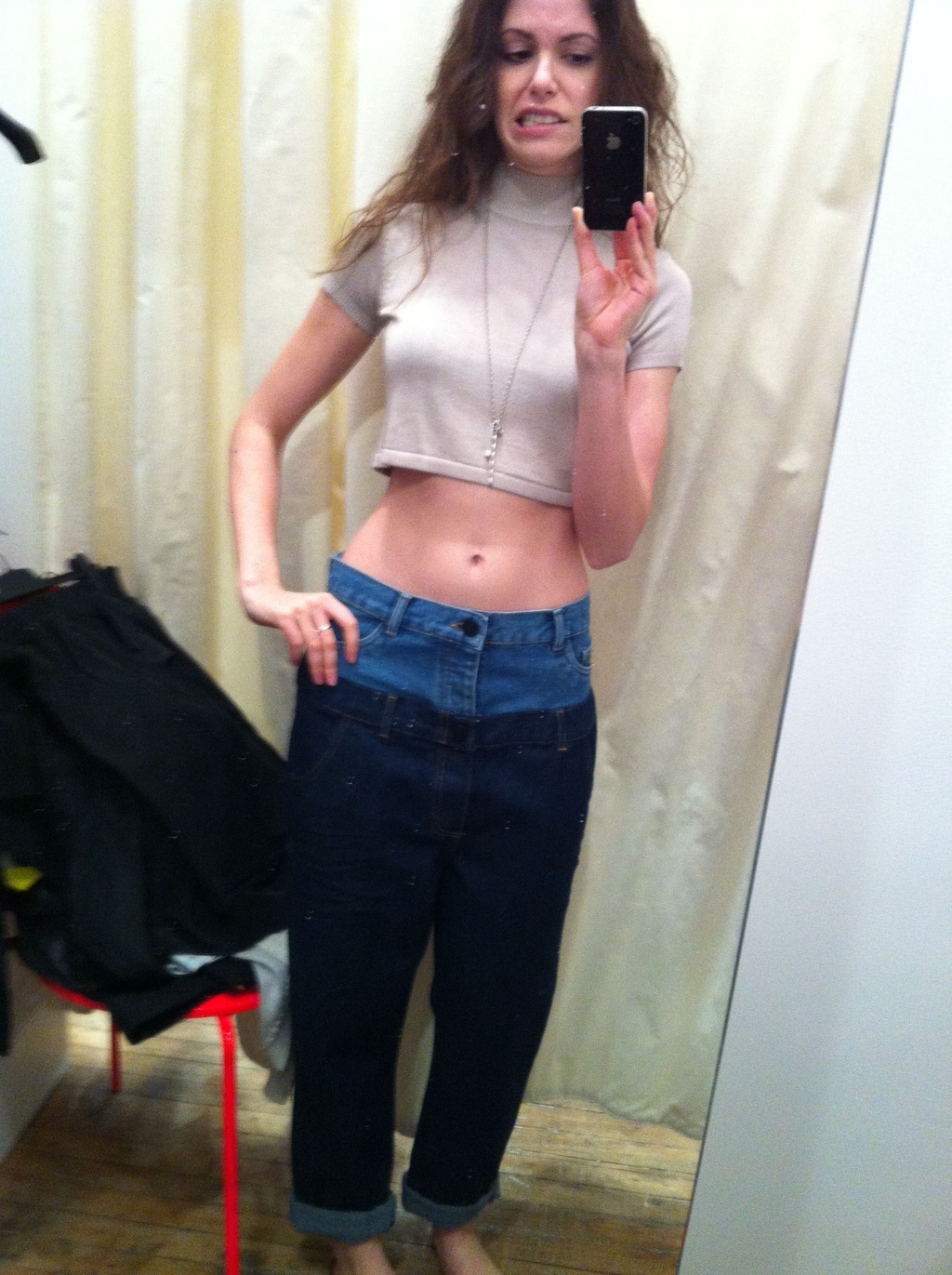 Or maybe the word I'm looking for is uncovered. This turtleneck ($90) has a diagonal opening in the back, so I really hope you hate bras if you buy this. No, really I do, because this line hates your bras like the Daily Beast hates Rihanna. Bras + Rihanna are like cats + water — just not really meant to be combined.
As for the jeans, they're $150 and a sales person told me the 20 pairs they had were nearly sold out (another shipment of them is said to be coming at an unknown date, horror of horrors). So you might be looking at the last pair (which I did not BUY — don't worry) right here. They're extremely ill-fitting and stiff like a thick canvas. They also seem totally overpriced, but that probably depends on whether or not you see this garment as one or two pairs of jeans.
Moving on!
Sideboob dress and side leg skirt.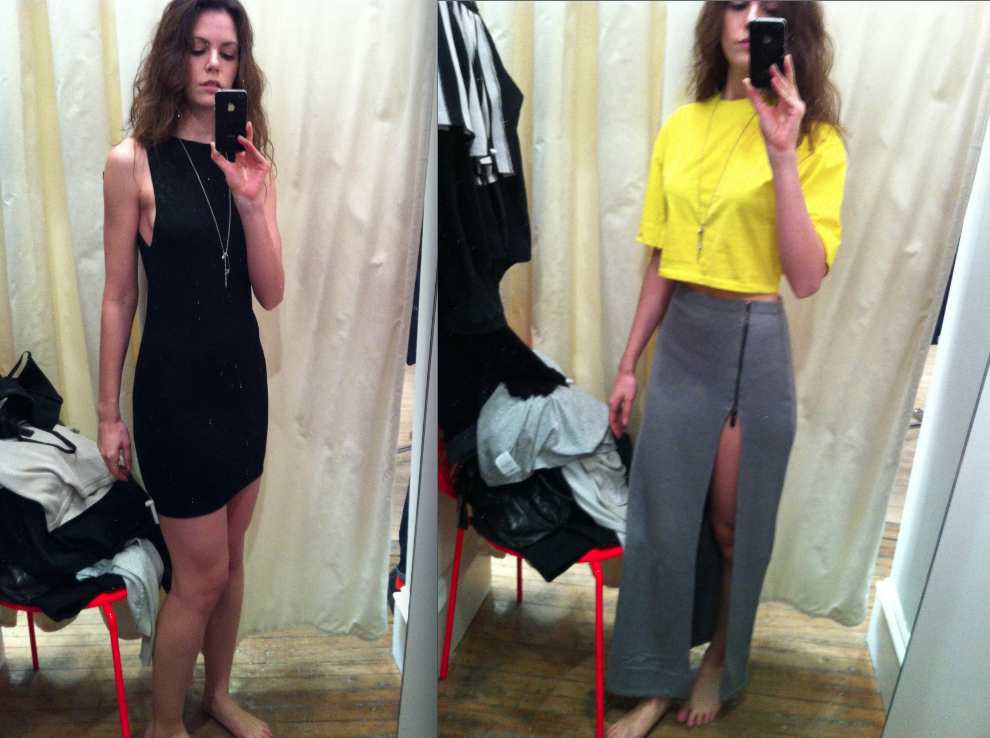 All of the sleeveless dresses in the line are designed for displaying max sideboob. So again, I hope you hate bras and love nipping. The dress pictured ($125) is made of a thin, terribly unforgiving knit material so if someone takes a flash photo of you be prepared to, in turn, flash them right back.
And the skirt ($100) with the super high slit that can be adjusted via zipper really shouldn't be worn without a bathing suit or something similarly concealing underneath. I have no idea why you'd unzip the slit further, but again, this line is born from the brain of a woman who poses naked regularly on her Instagram feed. Forget about sitting down, too. But you can't properly dance and fistpump to "Where Have You Been" with your ass in a banquette anyway so you probably won't have to worry about that much if you leave the house in this.
The tees are, like Rihanna, rated "R."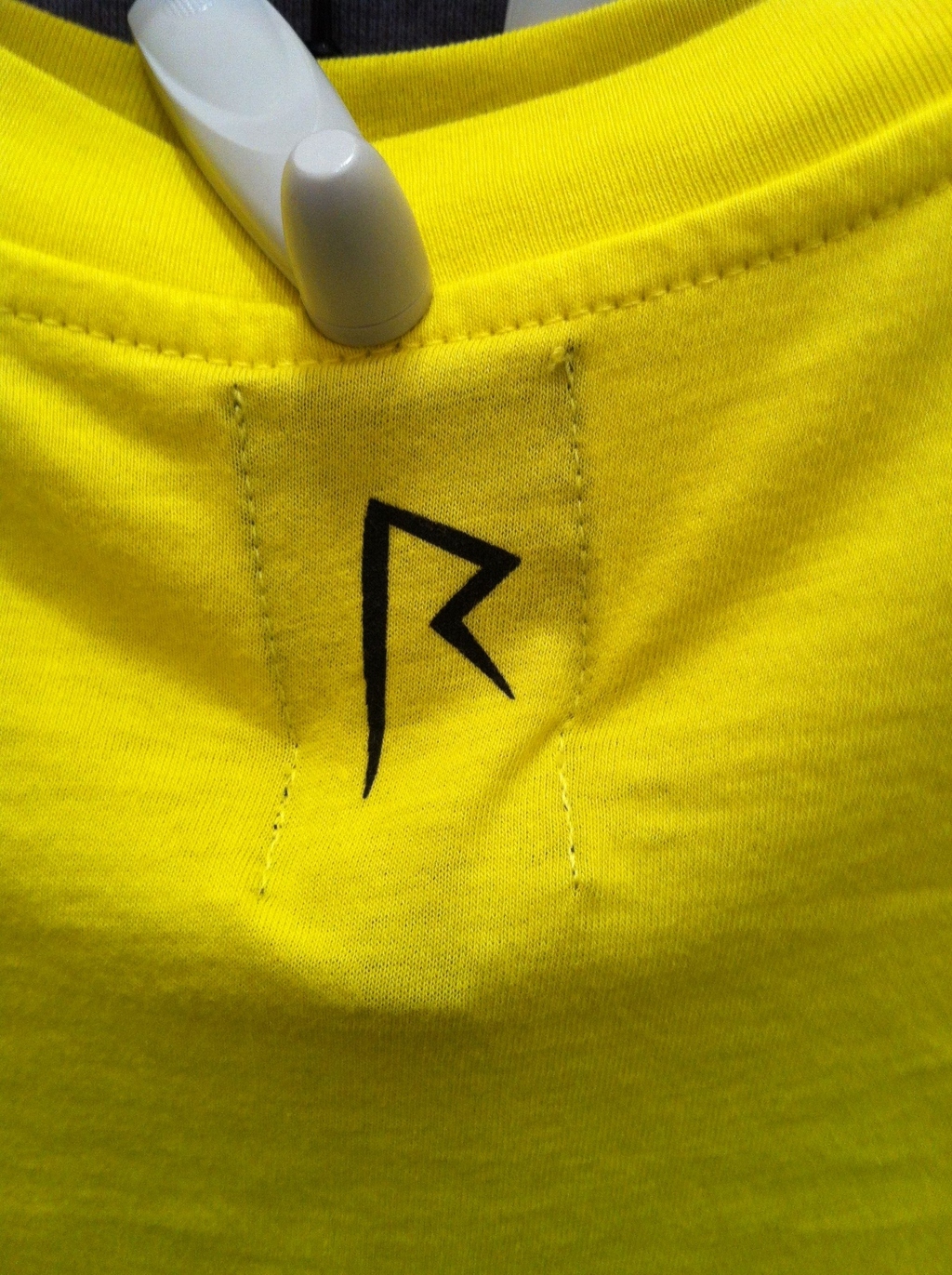 Don't YOU want to be rated "R," too? In case your butt-exposing shorts or perilously zipped skirts or max sideboob don't already give that away, this letter on the back of your shirt will.
People who bought something from the line were rewarded with free Rihanna nail art.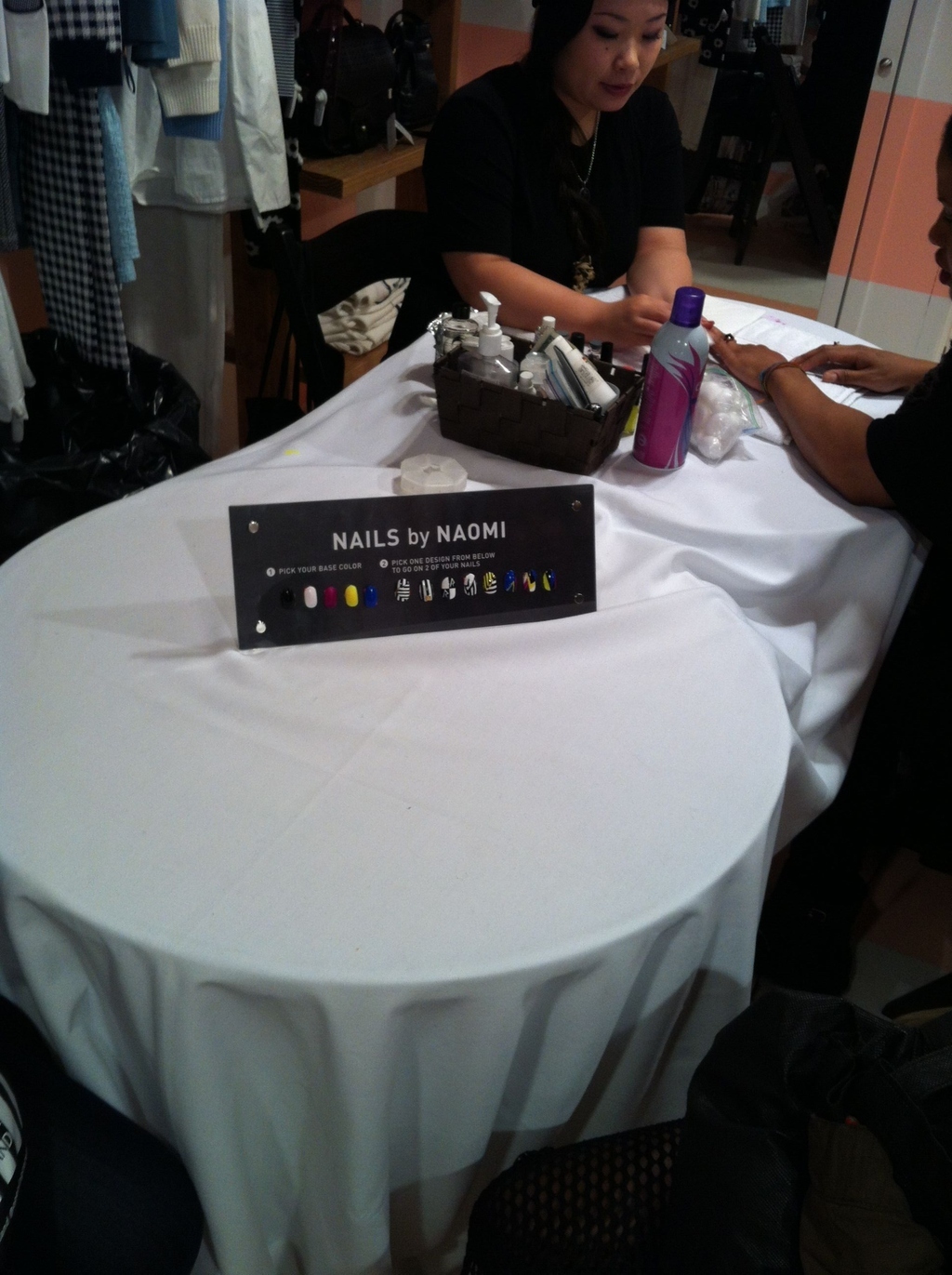 I didn't get any because there was a line (and I had to hurry back to write this...?) but this is what it looked like.
Instead of a shopping bag, you got this cool nylon Rihanna sack pack.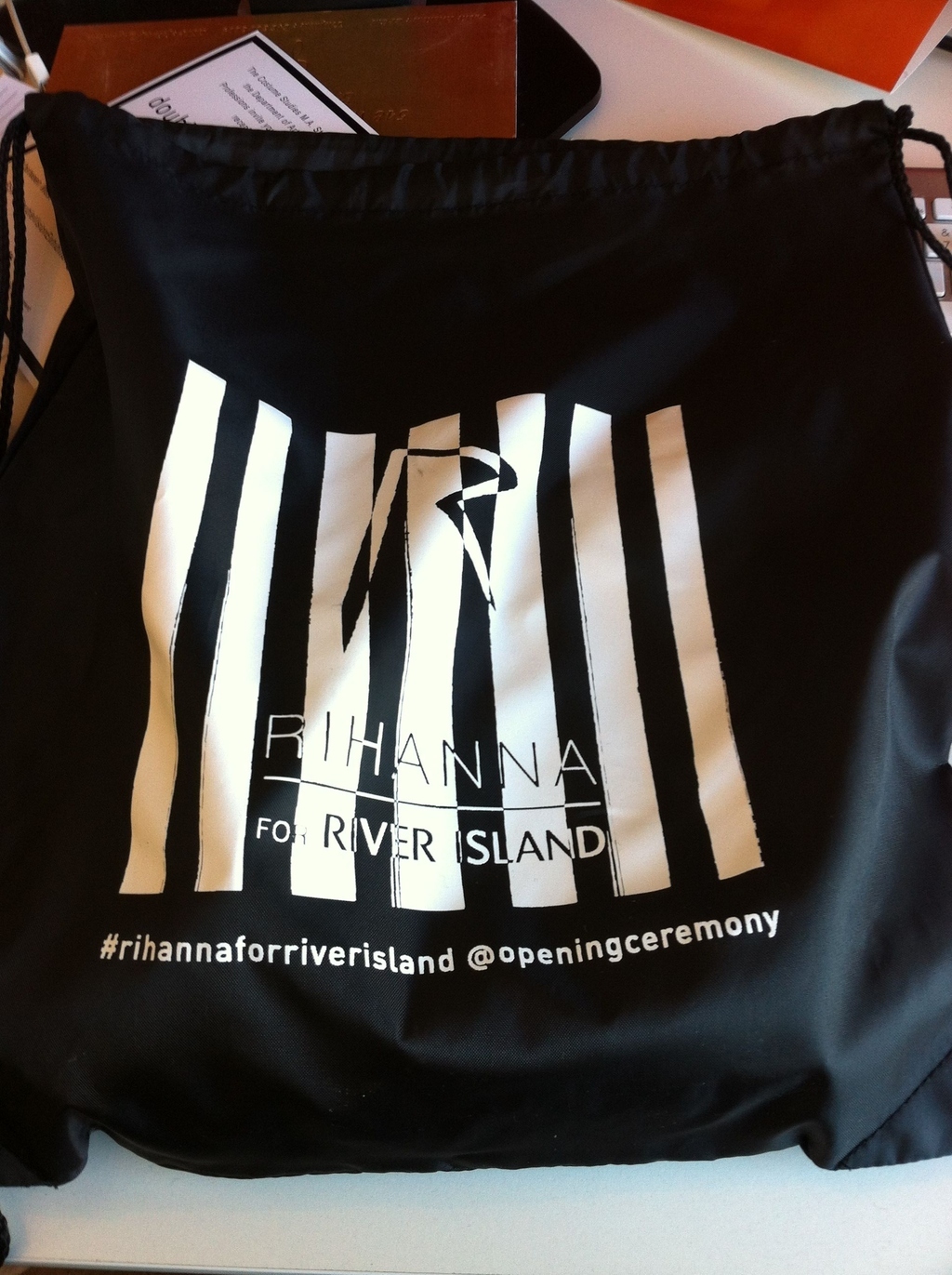 The perfect ironic summer beach bag.
Purchases also came with a free coconut water and Nude by Rihanna perfume.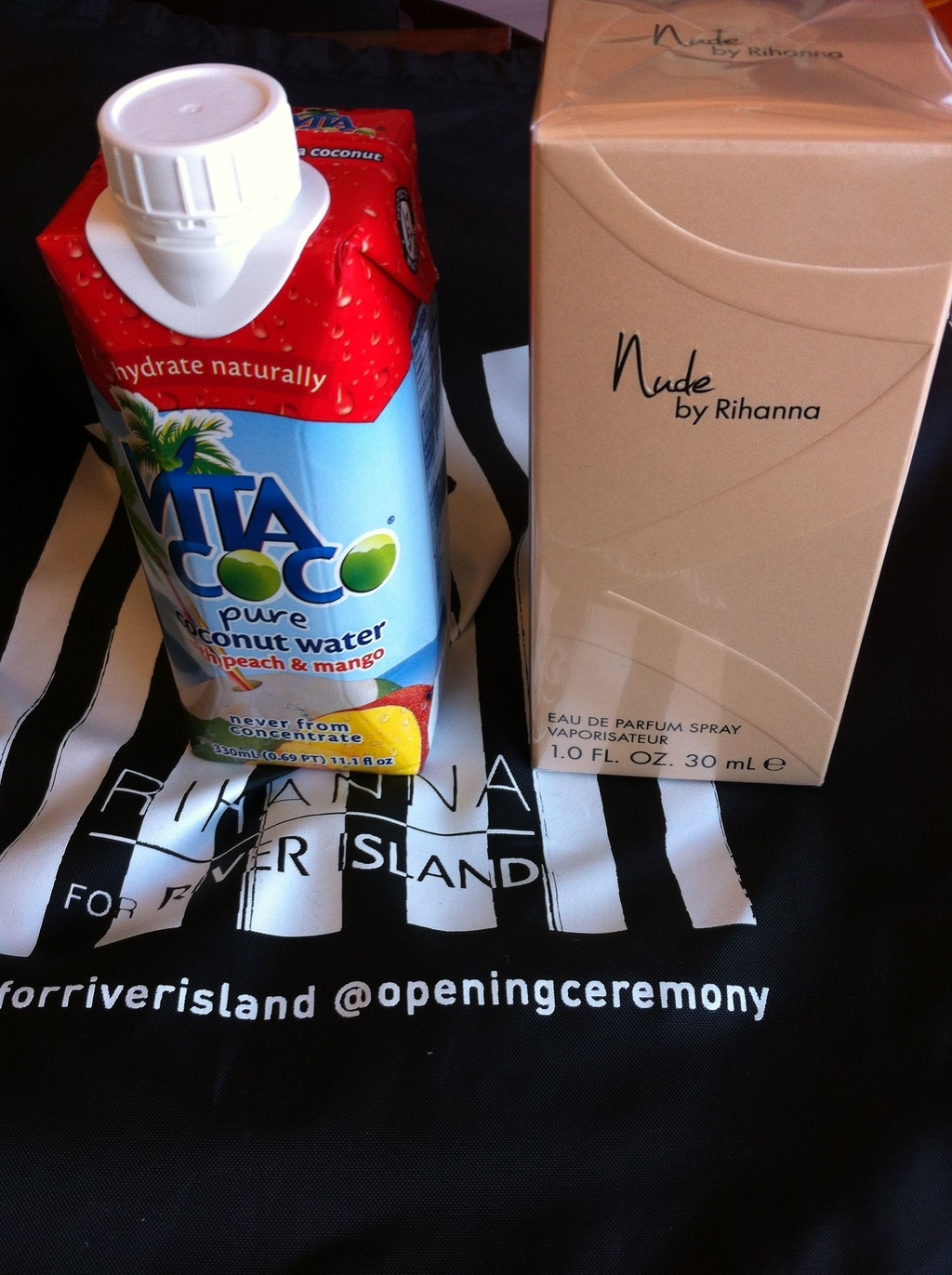 Because Rihanna has a deal to endorse coconut water and knows that after a hard day of shopping everyone wants to cool off with a peach mango coconut water! (No one wants to cool off with peach mango coconut water.) In the name of investigatory reporting, I sprayed the fragrance on an envelope to see how it is, and I would say it's very sweet and most closely resembles the tanning lotion you're supposed to put on before using a tanning bed, before fading to a smell akin to common soap. (In case my pastiness hasn't given this away, I do not endorse tanning beds, for the record.) But this is just about how all celebrity fragrances smell — Coty probably just puts the same forumla used for Snooki, Jordin Sparks, Rihanna, and Britney Spears in different bottles, adding or subtracting a peppercorn or two so they can claim one is "spicier" than the other.
In conclusion, this line is not as horrible as everyone said it is.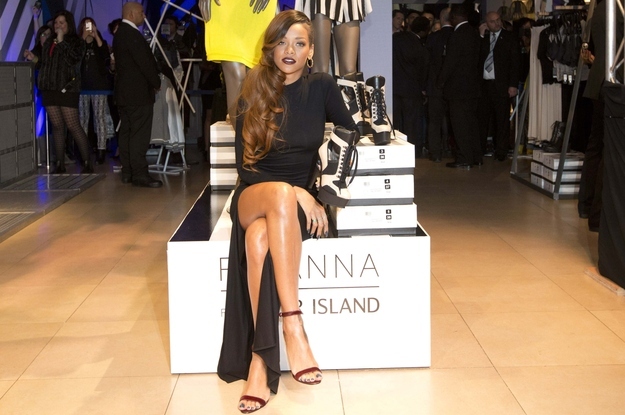 The double jeans are. But some pieces are really fun and cute and actually wearable outside of nightclubs and Coachella. It's better than a lot of the stuff you find at Topshop or ASOS. I just wouldn't recommend 90 percent of it for even a dress code-free office. And definitely nothing is business casual.
Looks like there are no comments yet.
Be the first to comment!