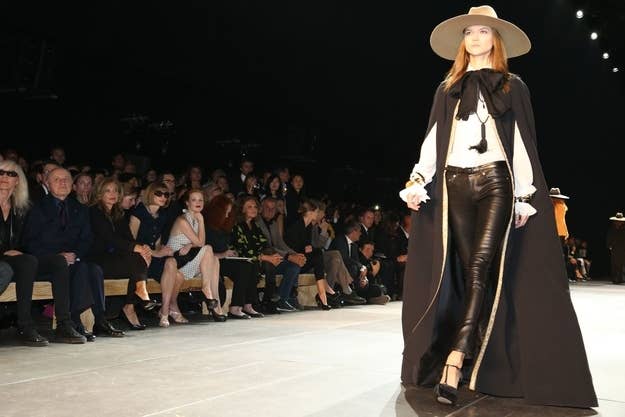 The Saint Laurent show on October 1 was supposed to be one of the best of the Paris shows. But it wasn't. Critics called it pretty disappointing and uninnovative. As if the clothes weren't glum enough on their own, Saint Laurent designer Hedi Slimane followed up the show by tweeting a stylized letter to longtime New York Times fashion critic Cathy Horyn, formatted as though it were some sort of gothic New York Times article: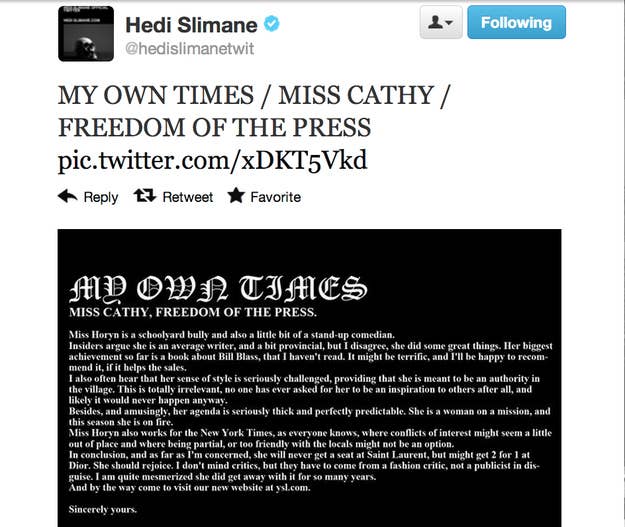 It was a pretty tech-savvy way of making his true feelings known — it was all over Twitter almost instantly. But Slimane not the only powerful fashion person trying to manipulate the conversation on the social web.
I wrote recently about the ways social media is ruining Fashion Week. Slimane's tweet along with other cat fights that played out publicly on the web this season have made me realize just how much social media has enabled a new, often extraordinarily childish age of spats in the fashion industry. Brands attempting to control all aspects of their press — every tweet, every review, every Facebook status — end up looking behind the times and arrogant. Designers attempting to get the message out about their feelings toward a not-great review easily end up looking petty and unhinged. Fashion is an industry widely viewed through the lens of Devil Wears Prada stereotypes — a catty business run by eccentrics with little, if any, ability to laugh at themselves. Fashion designers and fashion personalities have great platforms like Facebook, Pinterest, Instagram and Twitter that they could be using to give the masses a behind-the-scenes glimpse of their glamorous worlds. While many are using social media for that purpose, they're also using them to perpetuate the image of the business as big, cliquey high school. That's worse than a mediocre runway collection.
The Saint Laurent show that just walked in Paris was the first women's wear effort for the label from Slimane, who left his job as designer of Dior Homme in 2007 to pursue photography. Heightening the disappointing clothes — which Telegraph critic Lisa Armstrong called stuff "you've already seen... on Kate Moss, Rachel Zoe and, before them, Steve Nicks" — was the label's public relations team's arrogant handling of press surrounding the re-branding under Slimane, a detailed and balanced analysis of which you'll find on the Business of Fashion. Indeed, even before Slimane's tenure, the label was hardly easy to deal with, sometimes resorting to bullying journalists with ban threats when stories didn't come out just the way they wanted. But those were kept largely to private inboxes.
This season, when Slimane banned New York Times critic Cathy Horyn from his show, it became a public ordeal. The designer, Horyn wrote, was still smarting from a review she wrote in 2004, in which she said designer Raf Simons pioneered the slim-fitting men's suit but that Slimane made a commercial hit during his tenure at Dior Homme. Though banned, Horyn reviewed his new Saint Laurent show anyway by looking at the images online. She said Slimane "refused to interpret the YSL style, beyond updating proportions." Like the Business of Fashion, she also called the label out of touch with the digital age.
Horyn and the Business of Fashion editor Imran Amed aren't entirely correct that Slimane is out of touch with the digital age. While banning journalists from shows is practically useless nowadays since images of every detail of the clothes on the runway (and video) are widely available online for review, and their bizarre PR tactics smack of arrogance, Slimane seems pretty social media-savvy. He knew his letter to her, though somewhat nonsensical, would go viral. It's a cat fight that's just too good — and too high-profile — for the blogosphere and social media channels to pass up.
The bizarre thing about the note is that while it reads like impulsive backlash to a negative review, enough time went into it conceptualizing and designing the graphic that it couldn't have been that impulsive. (Slimane posted the note about six hours after Horyn's review went live on the Times site.)
Slimane isn't the only designer who's capitalizing on the virality of cat fights this season. Oscar de la Renta, unhappy with Horyn's remark that he's "far more a hot dog than an éminence grise of American fashion," responded with an "open letter" to her, which wasn't for her as much as for everyone else. He took out a full-page ad in Women's Wear Daily to publish the letter, which stated, "If you have the right to call me a hot dog why do I not have the right to call you a stale 3-day old hamburger?" Horyn called the letter "a bit over-the-top," while de la Renta noted, according to WWD, "that blogs and Twitter were trending overwhelmingly in his favor."
Even Lady Gaga got in on the cattiness. Horyn, who once critiqued Versace's decision to dress Gaga in a studded black leather thing for her "Edge of Glory" video, was the subject of Gaga's scorn last year, when Gaga used her entire column in V magazine to attempt to explain how irrelevant Horyn is. This season, Gaga tweeted at de la Renta to show her support for his WWD stunt:
She then went on to insult Horyn and her boyfriend, Art Ortenberg, in a rap that served as the musical accompaniment to her stylist-turned-designer Nicola Formichetti's show for the label Mugler. The lyrics:
"Ortenberg you can suck my dick, walk bitch you ain't Lady Gaga... Nicopanda [Formichetti's nickname] got style, trick, Cathy Horyn your style ain't dick. Walk a mile in these foot-high heels, I run in these you ain't running shit. You chew beef, I wear meat - I'm getting fat and so is my bank. From a sold-out world tour, bitch."
This came after Gaga made a show on stage of rising above the fight Madonna has been publicly instigating over the past several months, not to mention her whole narrative about encouraging women everywhere to speak up for their beliefs and feel comfortable being themselves.
Ortenberg wrote to WWD after the show to say that Gaga needs to "grow up." Hopefully one day all the people who dress her will, too.