In this "How I Made It in Fashion" series, BuzzFeed Fashion asks the industry's most successful members how they got to where they are. Ahead, the founder of the highly influential beauty site Into the Gloss, Emily Weiss, explains how she went from blogging at 4 in the morning to running her website full-time.
I've loved fashion since I was around 9 or 10. I remember writing letters to the editors at Vogue and I remember one was published. It's not like my family works in fashion. My mom isn't particularly interested in clothes or makeup, so I'm really not sure where I got it from. I grew up in Connecticut, and on the first day of sixth grade — conservative Connecticut public school, where lacrosse and field hockey were big — I showed up in thigh-high stockings, a plaid miniskirt from Contempo Casuals, and loafers, and I had a feather-topped pen. The entire Clueless look.
I wouldn't even say that I had the best style. I was always really interested in trends and trying everything. I had a skater phase where I would wear JNCOs. And I've always been sort of theatrical. I was a theater nerd in high school, so I always really liked dressing up in characters. I never really minded if I wasn't fitting in. I don't really think I could control it.
I actually interned, when I was 15, with Ralph Lauren in women's design. Obviously I didn't have design training, but I was just happy to help — with coffee, copies, whatever they needed.
I've developed an encyclopedic knowledge, I would say, of models and stylists, and, at this point, hair and makeup artists. In terms of who's working now, who was big in the '90s — over the last 15 to 20 years, I definitely tracked who was doing what, even on magazine mastheads. I just always have been really interested in people, and I think that's a lot of why I'm doing Into the Gloss and why it's so much about other people. It's not really about me.
I felt like I needed to be in New York City, which is why I went to NYU. I majored in studio art, though I was never a great student because I always wanted to work. When I was at NYU I interned at Teen Vogue for two and a half years. I was in the fashion closet and did everything from checking in samples to going to Starbucks to helping with returns. Then I was really lucky to meet Jane Keltner de Valle, who worked in fashion features, and then went to that department and interned with her.
Then they wanted to make me a contributor because I was writing some things — mostly things that I had pitched. There was a feature called "Model Scout" — I remember I wrote something on Sasha Pivovarova and Irina Lazareanu. I didn't really go to ideas meetings, because if I had an idea I would always just tell Jane; I think you're only as good as your ideas. (At Into the Gloss we encourage our interns and our editors and everyone to have an idea for something.)
After I graduated NYU, I worked at W. I was a fashion assistant, calling in clothes for the shoots. It wasn't for me — I realized very quickly that I really wanted to be part of the shoots, even if it was just packing things.

Then I wound up assisting Elissa Santisi who was the style director at Vogue just as she was going freelance. We pulled for American Vogue, for runway shows — it was a great education and experience. We went to Dubai, we went to L.A. a bunch of times. I had always been just as excited about beauty as I have been about clothes. My approach to beauty had been based on recommendations from a lot of people around me at work — the makeup artists, the hairstylists, the models, the fashion assistants. And for me, that's the most exciting way to learn about something new — you don't just grab it off the shelf because you read the back of a little bottle. You probably heard about it from somebody who liked it. And I always thought, well, who better to trust and whose better brain to pick than Guido [the hairstylist] or Gucci Westman [the makeup artist]?
I was with Elissa for two and a half years. I started Into The Gloss during that time, in September of 2010. I had the idea in August — I wanted to see something about beauty, just as a reader. I felt there was something missing in both print and digital, and digital happened to be the thing I could do the most quickly and easily and cheaply. I was reading Jak and Jil and the Sartorialist and I was just shocked because everyone was just [looking at style] from the head down — not treating beauty as part of style in a huge way, but sort of as the kid sister, the afterthought.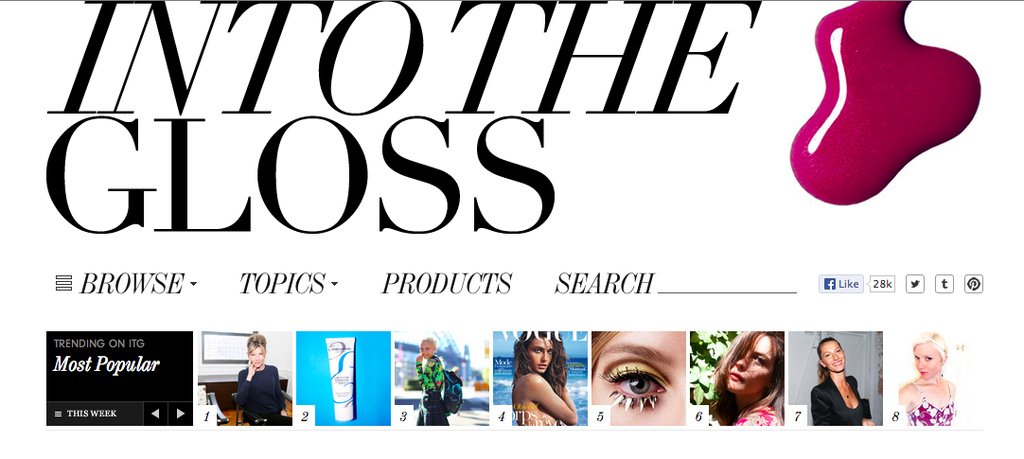 The first thing I put up was post about a PR woman at KCD named Nicky Deam. It was just a street style picture of her that I took. I didn't think too much in the beginning about how it was launching — I just wanted to get the site up. I did it in, like, three weeks. I found Michael Harper, who's Into the Gloss's digital director. He worked on web at Nylon and Teen Vogue. We really saw eye-to-eye off the bat. We had a meeting in August and I had my notebook that had my sketch of what the website should look like without having any idea of functionality, and he totally got it and was like, "OK, when do you need it?" And I said, "Can you do it in two weeks?" And he sort of smiled and said, "Sure, I can do it in two weeks." I paid him out of pocket.
Really with building a website, you need to code or you need to have somebody that's able to code. You also need to have somebody who can do graphics. You need to have good graphic design. I think the execution is just as important as the content. If you have a fantastic story but you have shitty visuals — sometimes people are just looking at the picture, that's what sucks them into the story.
Starting out, I worked on the site basically from 4 in the morning to 8 in the morning, and then I went to work. So I was posting three days a week, because of the editing for the "Top Shelf" posts [the feature about what beauty products people use] — the transcripts from those interviews are very long. That was is also interesting because I had a print background and I'm like, "Why not post extremely long things on the internet?" People kept saying, "People don't read on the internet." But I think we really have a point of view, and it's really beauty through a fashion lens. That's always what I've said — it's really beauty as an element of style.
I would do all the shoots on the weekend. (A lot of my photography skills are self-taught.) One of the first "Top Shelf" interviews I did was with [Vogue editor] Sally Singer. One of my first makeup shoots was with Karlie Kloss in her apartment in Tribeca. I just knew her from shoots. But it's not like everyone is opening the doors to their bathrooms to me. Some people say no, but we check in every few months, and at one point or another maybe they say yes. And other people say sure, because they've seen examples of other things that we've done. In the beginning people at least knew me a tiny bit. The connections I made in my jobs and internships definitely helped me to get better access to people, or at least to have some credibility to be able to say, "Let me interview you." Once I had the site up and running and you could see what it looked and felt like, it was easier to send someone that link and say, "I want to do something like this with you."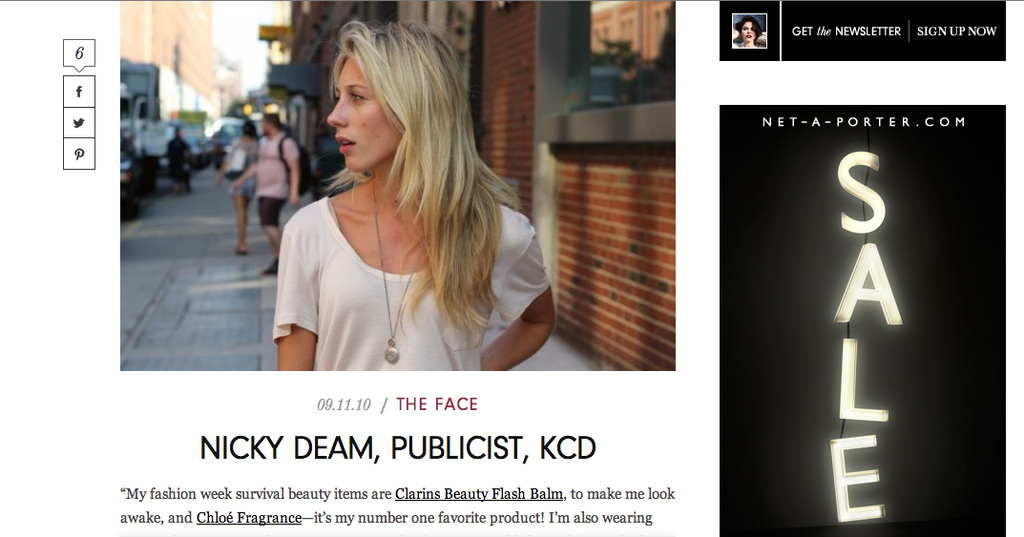 In the beginning I posted three times a week: Monday, Wednesday, and Friday. It was all original features and me shooting all original photos. After a year I quit my job. There was a woman, Kerry Diamond, who was at Lancôme and largely responsible for the partnership Lancôme had with [YouTube beauty star] Michelle Phan. Kerry was always a huge champion of digital. I cold-called her every week for a month until finally she answered and she was like, "Who are you, and why do you keep bothering me?" Before the website even launched I had a meeting with her and I showed her my plan and what I was doing and she said, "OK, Lancôme is going to be the first advertiser."
Into the Gloss was always a passion project. But from the get-go I thought, sure, I know there's such a thing as advertising, I know there's such a thing as banners, and I knew I wanted some. I did a lot of pitching. I would do whatever it was that I could do to get in front of the right person and tell them what we were doing and who was looking at the site and our numbers and our projections. We had enough partners that by the time we hit a year, I said, "OK, this is really a business now, this is working."
We got an office in May of last year in Soho. And Nick Axelrod joined from Elle, Michael Harper went full-time. We relaunched in July of 2012, and we basically tripled our traffic overnight. Now we get about 8.5 million pageviews a month, and about 300,000 unique visits. As we've scaled up, we're now posting three to four times a day. We could be producing a lot more content but it's just not our bag. I see Into the Gloss becoming more of a resource for people about beauty. We've basically amassed two and a half years' worth of amazing recommendations. So it's like, how can we start to break that up and compartmentalize it? How can we unpack that a little bit?

I get so many emails from people that are interested in working for the website, be it interning or assisting, that begin "Dear Sir or Madam." And it's this long thing and it's so impersonal and it's so obvious that this is a form email that you've been sending to every magazine or website that you read. If you're interested in working somewhere, or even if you're not and you're just trying to get a job, pretend you're really interested in that exact place and that exact person. And obviously you have to work overtime to really make yourself stand out from all these emails and all these résumés. And I don't mean, like, tap dancing in a tiger costume in the lobby of Condé Nast. It's not about a long email and saying, "I'm interested in working for you, attached is my résumé, thank you for your consideration." Like, interested in what? What kind of work do you want to do? Are you a graphic design major? Do you want to write? Be specific and be thoughtful.
I'm probably not a fashion person, first of all, because I wear basically the same thing every single day: jean shorts or jeans and sneakers, and I don't experiment in a huge way with my look or spend so much time these days trying to pick out my outfit in the morning. I think you hear a lot about stylists or certain people wearing all black every day and having a certain uniform. It's because all of their creative juices are being used all day on other people for their work, and someone else is the canvas for all this creative expression. I'm much more about doing my creative projects but then also hanging out with all my college friends or going skateboarding on the weekends.
I've never been afraid to work really hard, I've never been afraid to take chances or go for it. Maybe I just have a thick skin and I'm not so concerned about rejection. The more fashion you are maybe the more you are concerned about how people perceive you. And I'm never afraid to cold-call someone if I'm interested in shooting them for Into The Gloss, and I'm never afraid to pitch a great idea to a brand if I think there's a great advertising opportunity between us. And I think I've always had that. I'm just not afraid to go for it.
— As told to Amy Odell