1.
The look that caused a worldwide pearl shortage.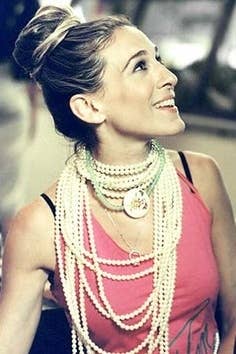 2.
The hospital scrubs she cinched with what was either a belt from a leftover Halloween genie costume or a gold mesh fanny pack.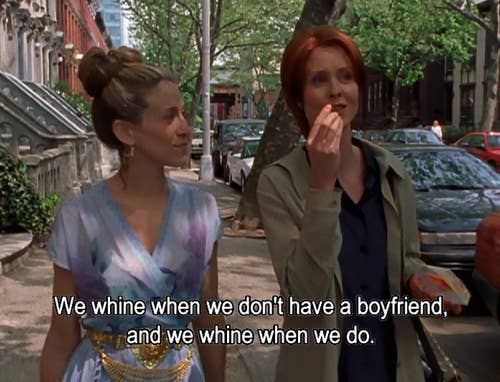 3.
The random "it's like my ribcage is wearing a necklace" look.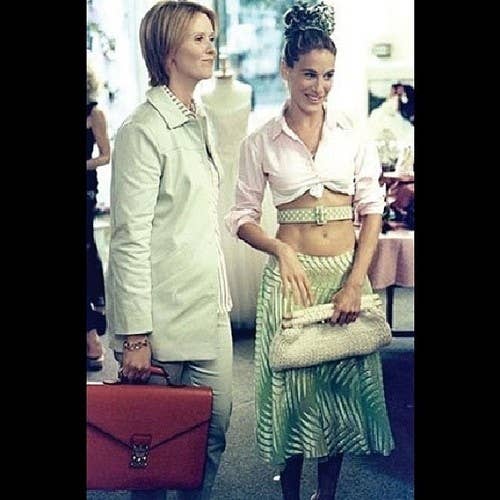 4.
The clothes she borrowed from Stanford and Big.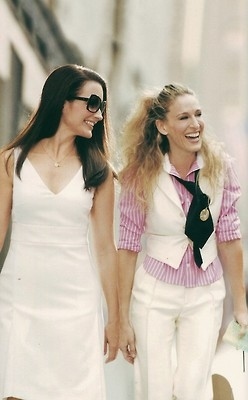 5.
The top she pieced together from items found in an Atlantic City sundry shop and Beyonce's trash.
6.
The fur she wore at the weirdest times.
7.
Like when she went to a baseball game wearing fur and no tights and heels.
8.
The huge muff she wore instead of normal gloves.
9.
The sailor shirt she topped with Brady's old shower curtain.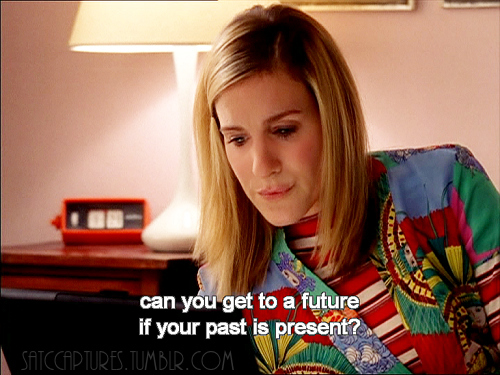 10.
This dress with the sleeves made of sequined garbage bag.
11.
In a between-Big phase when she thought about giving up writing to be his chauffer.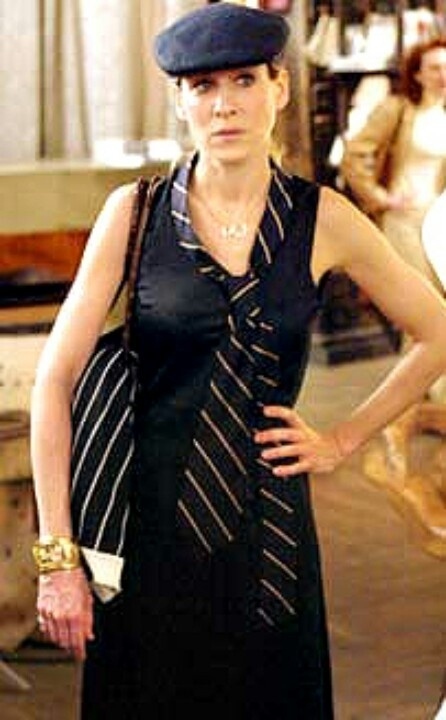 12.
This magician's costume.
13.
The overalls that would give Cher Horowitz a rash just looking at them.
14.
This, from her bra-less western phase.
15.
This, and all the other almost-normal-but-then-again-totally-bizarre things she wore on this show.
16.
The red floral dress with the peplums that looked to be stuffed with Styrofoam peanuts.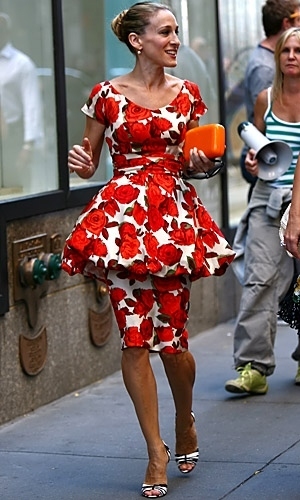 17.
Her Mary Poppins-meets-Upper East Side mansion dweller look.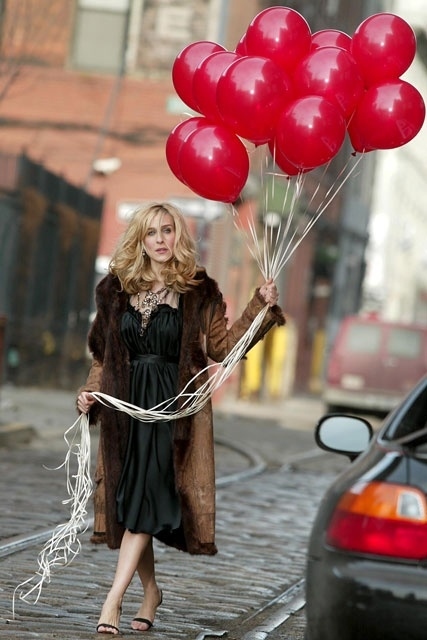 18.
The time she went out on New Year's Eve and added a fur coat, sequin hat, and pristine white booties to her pajamas to run through a blizzard.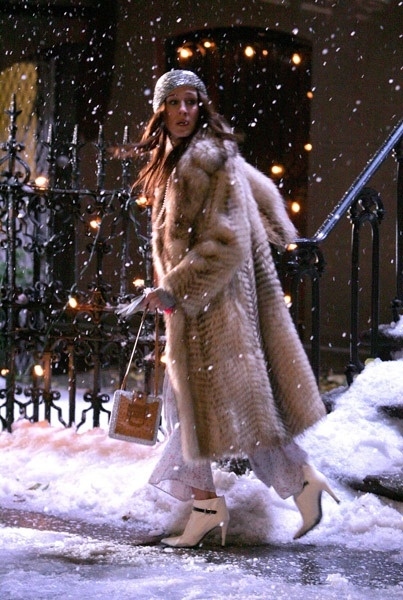 19.
This other fur/boho/hat askew look.
20.
This curtain she turned into a coat with the help of a foam neck pillow.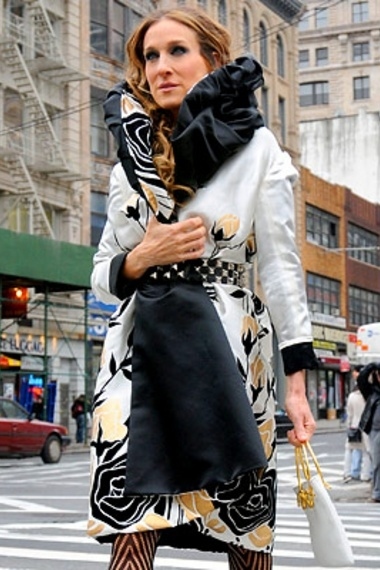 21.
The time she wore a fanny pack with a striped skirt and made her lower half look like the American flag.
22.
This, worn on her 9-hour flight to Paris.
23.
Her '80s flashback look.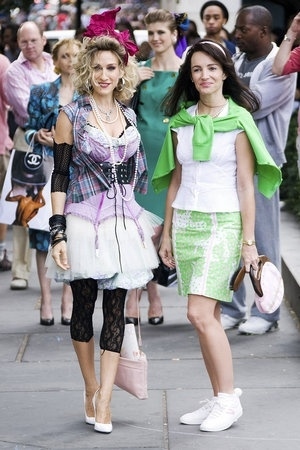 24.
The goth princess-meets-waiter look she cobbled together for Sanford's wedding.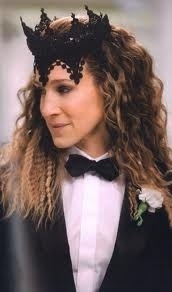 25.
This fur muffler hat and crop top she wore to her birthday party.
26.
The camp counselor costume she wore to brunch.
27.
The hat she added to an otherwise normal outfit to contemplate becoming a hipster in the future.
28.
The Michael Kors-meets-Victoria's Secret look she wore to model in a fashion week show.
29.
The absolutely enormous gown with the 15-foot train — that she wore to dinner.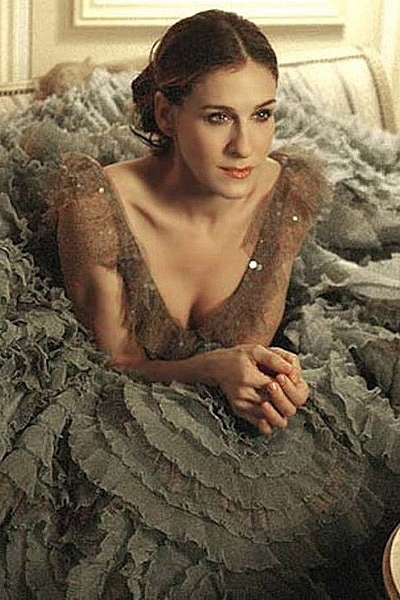 30.
The oversized tee and socks she wore in place of pants.