Australia Slammed At The United Nations For The Exponential Rise In Black Jailing Rates
The UN's expert on Indigenous rights has called on Australia to put in place a national action plan on justice as a matter of priority.
The United Nation's expert on Indigenous rights has delivered a damning assessment on the rising black jailing rates in Australia, and has called on the federal government to put in place a national action plan as "a matter of priority".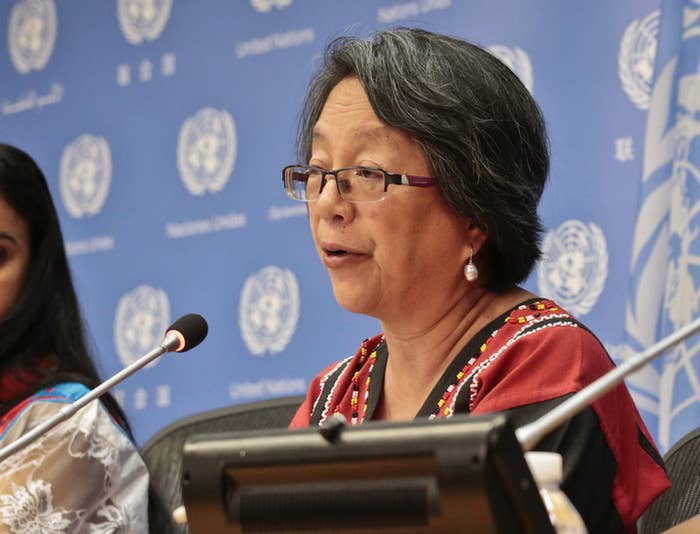 The UN special rapporteur on the rights of Indigenous peoples Victoria Tauli-Corpuz released her report into Australia at the UN Human Rights Council in Geneva on Monday.
It is based on her visit to numerous Aboriginal communities across Australia in March and April this year.

The report canvassed a number of concerns about Indigenous rights abuses in the country, from child protection to health, access to education, housing and the expansion of compulsory income management.
But a large section of the report, and the recommendations, deals with the exponential rise in incarceration rates of Aboriginal men, women and children across the country.
While First Nations people make up only 3% of the Australian population, nationally they currently make up 27% of the prison population. The report notes that Aboriginal children are more likely to be placed in detention than non-Indigenous children, with more than half of Australia's juvenile detention population being Aboriginal.

Amnesty International Indigenous campaigner Tammy Solonec told BuzzFeed News that Australia's bid for a seat on the UN Human Rights Council should give the country impetus to slow the high black jailing rates.

The report comes after evidence of the torture of Aboriginal children in detention was detailed on ABC's Four Corners, and by the Western Australian inspector of custodial services, who released a report into the Banksia Hill Detention Centre in Perth.

Confronting footage of Aboriginal teenager Dylan Voller strapped into a chair with his head in a spit hood while detained in the NT's Don Dale Youth Detention Centre, shocked Australia last year, and triggered a royal commission into youth detention in the Northern Territory.

"Australia is up for a seat on the Human Rights Council, so it's a pretty important time for them to be taking on board the recommendations of experts at the United Nations," Solonec told BuzzFeed News.

"We would hope they would take this on board and put in place an implementation strategy."

She said that the abuse of children at places such as Don Dale shocked people she met outside Australia.

"It's a horrific reflection on Australia that we are torturing children in this way," Solonec said.



"I showed a colleague the Don Dale footage and she was in tears. She had no idea.
"People around the world don't understand and they can't comprehend that this is happening to children in Australia, many of whom are in detention and have cognitive disabilities. They are vulnerable children and need love and care rather than being subject to torture."
The report says that policies such as the paperless arrest laws in the Northern Territory, which allow police to arrest and detain people for up to four hours without a warrant or legal representation, the underfunding of Aboriginal legal aid, and restrictive bail laws, have contributed to the rise in the overall Indigenous prison population.
Tauli-Corpuz's report singles out Don Dale, as well as the Cleveland Youth Detention Centre in Queensland, where First Nations children make up an "astonishing 90% of detainees".

She raised concerns that Aboriginal children were being punished for minor offences.

"Several sources, including judges, informed the special rapporteur that, in the majority of instances, the initial offences committed by children were minor and non-violent," Tauli-Corpuz said.

"It is wholly inappropriate to detain children in punitive, rather than rehabilitative, conditions; Aboriginal and Torres Strait Islander children are essentially being punished for being poor, and in most cases prison will only perpetuate the cycle of violence, intergenerational trauma, poverty and crime."

Tauli-Corpuz said the detention of Aboriginal children should be a last resort and that the age of criminal responsibility should be raised. It is currently lawful in Australia to lock up children as young as 10.

"Much more should be done to ensure that the detention of children remains the exception, rather than the norm."

The report makes a number of recommendations and key among them is for Australia to adopt "with a matter of urgency" the international agreement — the Optional Protocol of the Convention against Torture and Other Cruel, Inhuman or Degrading Treatment or Punishment.

It also calls on Australia to establish an independent mechanism for the UN to monitor detention facilities.

In addition, Tauli-Corpuz's report calls on the Council of Australian Governments (COAG) to put forward a national action plan to address the rising Indigenous incarceration rates, as "a matter of national priority".

The report also calls for those responsible for black deaths in custody and other abuses behind bars, to be held accountable, both civilly and criminally.

"They need to be brought to account," Solonec says. "When someone dies in custody, we never see a policeman or prison officer who has contributed to a death in custody be held accountable."

Tauli-Corpuz said the federal government's claims that state and territories have jurisdiction over these issues "is untenable in the severe, and worsens the impact of the national detention crisis on Aboriginal and Torres Strait Islander peoples".

Solonec agrees.

"For years, the federal government has said that the reason they are not intervening is because justice is a state and territory based issue, but you can say the same for health and housing, and yet we have health as an indicator in the Closing the Gap strategy," she said.

"There's a really good precedent to show they can do this. They have human rights obligations, and when they go to the UN and say they are a good global citizen, they have to report on this. The federal government can not escape its responsibilities."

Solonec says the report needs to be matched by political will, particularly if Australia prides itself on human rights, and continues to push for a seat on the council.
"Lowering the rates of Indigenous incarceration is actually achievable," Solonec said. "We can make long-lasting changes. The government just need to have the political will."