Aboriginal communities in the Northern Territory, some of the most vulnerable citizens in the country, will again be discriminated against by the government's postal plebiscite on same sex marriage, an Aboriginal Labor senator says.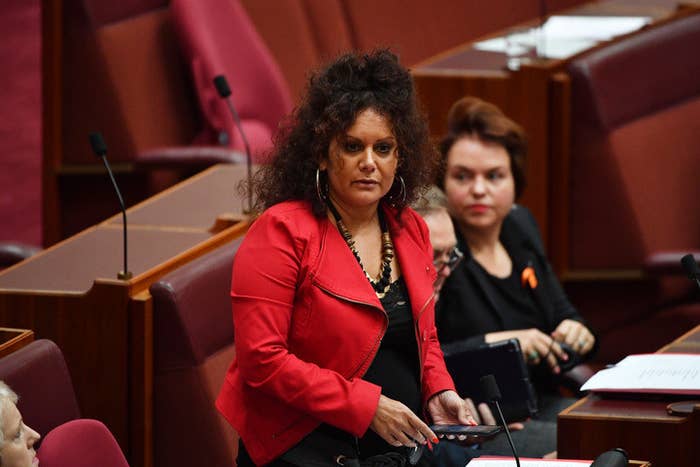 Following the Senate's rejection of a compulsory national plebiscite on Wednesday for the second time, the government is pushing ahead with the controversial voluntary postal vote.
However advocates for same-sex marriage have announced a legal challenge on the postal vote in the High Court.
Aboriginal and Torres Strait Islander people, particularly those living remotely, are concerned they will be disenfranchised in any postal vote.
In a passionate address to the Senate this week, Malarndirri McCarthy slammed the Turnbull government for its "cowardice" in not allowing a vote on same-sex marriage on the floor of parliament.
She said the government was putting "families through enormous torturous trauma" and was instead "wilfully deaf, wilfully blind, for your own purposes".
McCarthy told BuzzFeed News she had concerns Aboriginal people living in remote communities and town camps would not be able to access the postal vote.
Just over 13% of the Aboriginal and Torres Strait Islander population lives remotely. Aboriginal people make up 30% of the Northern Territory population.
She said the government had not taken into account the logistics of those living remotely.

"In most of our [remote] communities, they don't have a basic street address," McCarthy said. "So they might receive their mail at the general post office or it might go to an Aboriginal organisation that might hold their mail for them.
"We have 200 communities ... about 70 or 80% are like that.

"There's no doubt in my view that not just Aboriginal voters, but a large group of Territorians, will be really disadvantaged in their ability to vote in this postal survey option."
McCarthy said there were also questions to be answered about whether the Australian Bureau of Statistics (ABS), which will oversee the vote, had the capacity to service remote areas.
"The government needs to reassure Australians and also the ABS staff that they are fully capable of carrying out this function.
"The collection of data around Aboriginal and Torres Strait Islander people takes a tremendous amount of work. You need teams who are out there informing and preparing people about the collection of data and that's probably not going to be possible."
The postal vote will cost an estimated $122 million, which McCarthy said could be better spent elsewhere.
"It's disgraceful — when you think of half a billion dollars cut to our organisations over the last couple of years, and the incredible need there is in terms of those very important areas of daily living, housing, the care for our children, the issues around detention, the high jail rates. We know that money can be so much better spent."
McCarthy said she feared for the mental health of Indigenous members of the LGBTI community, who already face greater oppression due to their Aboriginality and sexuality.
Many Aboriginal communities were already dealing with stresses stemming from substandard living conditions, chronic health issues and racism, and this could compound that.
She says Aboriginal members of the LGBTI community had passionate views on the issue, and many of them were dealing with severe depression and mental health issues.
"It impacts them on the personal level, because no-one likes to be talked about or have their lives exposed in such a public way," McCarthy said.
"But on another level, there is the critical day to day survival issues that matter the most right across the country for our mob. Looking for a house, looking for a job, putting food on the table for the family."