In the Goldfields-Esperance town of Kalgoorlie-Boulder, in Western Australia, Aboriginal people refer to what happened on August 29, 2016, as "the death", or "the incident".
On that day, Aboriginal teenager Elijah Doughty, 14, was run over by a non-Indigenous man in a 4WD. A year on, Aboriginal people say they are fearful for the safety of their children. And they say that since Elijah's death, that fear has only intensified.
The man behind the wheel of the 4WD was acquitted of manslaughter in July this year, and was instead found guilty of dangerous driving occasioning death. He received a sentence of three years, which the Aboriginal community feels is too lenient.
The day before the anniversary of her son's death, Elijah's mother Petrina James and his father, her ex-partner Darryl Doughty, attended the Kalgoorlie Courthouse.
James' 12-year-old nephew had been locked up that weekend, and was due to face court. When he appeared in the dock, he was so small that he could not see beyond it. Two large security guards watched over him.
But before the boy had taken the stand, Doughty was arrested outside the courthouse on charges of assaulting a security officer.
Video of the incident, shot by James, shows Doughty on the ground surrounded by security officers and police, who then pull him up and put him in the back of a police wagon. James said Doughty had refused to let security search his bag.
"It's our son's anniversary tomorrow, and you are treating him like this, man," James is heard saying in the video, adding that Kalgoorlie-Boulder is a racist town.

At the time of his arrest, there were concerns in the Aboriginal community that Darryl Doughty had been targeted because of unpaid fines. Western Australia still jails people due to fine defaults, a practice that was savaged at the 1991 Royal Commission into Aboriginal Deaths in Custody.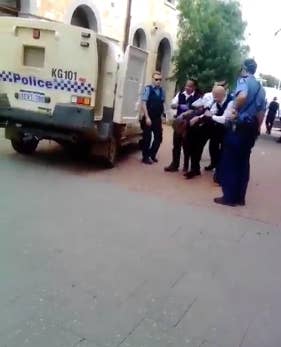 Doughty's matter came up in court the next day, exactly one year after his son was killed in a Kalgoorlie creek bed.

He was released on bail. But the fact he had been arrested spread around town like wildfire, angering many.

The feeling among Aboriginal residents in the town was that it was not a coincidence.
A number of community members told BuzzFeed News there remains a suspicion that police were targeting Doughty because of the approaching anniversary.
The community has long accused police of over-surveillance and excessive force, particularly towards Aboriginal teenagers.
"We have no power," pastor Nungarni Geoffrey Stokes told BuzzFeed News. "We haven't got human rights here. We got no rights. That's how it is here. We can't even sit in the main street here without [police] coming along. I've seen them do it to my people. They do it to kids."
One year on, the grief over Elijah's death is keenly felt. There is a deep-seated fear that accompanies it.
Community members told BuzzFeed News that they worry about their children walking the streets, fearing intimidation from not only non-Indigenous members of the community, but also from police, those who are traditionally seen by mainstream Australia as "the protectors".
For Aboriginal people in Kalgoorlie, they can be seen as "the aggravators".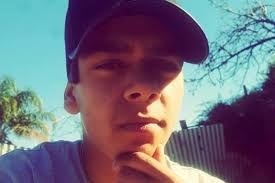 Elijah Doughty was killed while riding a motorcycle in the town.
Petrina James was in prison at the time. She had not spoken to her son since 2015, when she was incarcerated.
A visit had been organised two days prior to Elijah's death, and she was looking forward to finally seeing him.
On the day her son died, James heard police sirens and thought "someone is in trouble". Two hours later, she received a call from her sister.
James fainted.
"It didn't feel real at the time," she said. "I was in shock. For a very long time. I think just before I got out, it hit me a bit."
James describes Elijah as a "good kid". He loved his six brothers and sisters and was known as a talented motorbike rider, and an even better mechanic. His grandfather Albert Doughty tells BuzzFeed News he was a good AFL player; his team won the local competition last year.
Elijah's aunty Tonya James remembers that as a young child Elijah would take raw sausages from his mother's fridge, at a house just up the road from Gribble Creek, the area where he would later lose his life.
She says he would take the sausages and cut through the creek, towards a dam close by, where he would cook them.
"The sausages would be trailing behind him," she laughed. "He didn't even cut them."
The Gribble Creek area, where the crime took place, is now a site of mourning and remembrance for Elijah. A shrine has been set up. A cross bearing his image is placed in front of a tree carved with messages from his friends and family.

One such message reads: "A motorbike can be replaced. Not a 14-year-old life."
On the anniversary, a group of about 30 family and friends attended the site to pay tribute to their loved one.

Albert Doughty walked with BuzzFeed News as he recounted the tragedy.
The name of the man who killed Elijah was suppressed by the courts. The man suspected two of his motorbikes had been stolen. He waited in his Nissan Navara at the end of a street next to Gribble Creek — he testified in court that police had told him where young Aboriginal children would go to ride and dump motorbikes.

It did not take long before he spotted Elijah, who was riding past him on a motorbike. There has never been any evidence that Elijah stole the bike, or knew it was stolen. Community members suspect it was not even the bike in question.
"That's where he was riding the bike, up top," Albert Doughty said, pointing to an area of grass next to a dirt road that stretches into the creek.
Doughty believes the man "was following him, yeah. [Elijah] didn't even know he was behind. They reckon [Elijah] turned towards him, but he did not!"
The man had chased after Elijah towards a sharp bend in the track. He claimed Elijah veered into him.
"He hit him here," Albert says at an area next to the shrine. "The car nearly hit the tree over there," he says, pointing to a ditch. "That's how fast he was going."
The 4WD had continued into the ditch where it had nearly hit a tree, pushing up and through a bank.
"The body was here," Doughty said, pointing to an area of ground about 10 metres from the shrine.
The oil stain that marks the 4WD's final stop — the oil pan was punctured after running over Elijah and the bike — remains visible beneath the dirt.
Doughty pushed the remnants of the stain with his foot.
"It is still here."
Family member Lena Abdullah remembers going down to the area that day. She says it was not cordoned off, and community members saw Elijah's body covered by a sheet, left out in the rain.
"It was an ugly day," she said. "People were saying, 'It's somebody's kid here, it's somebody's kid here'.
"They didn't have anything sealed off at the time; it would have been about quarter to nine. I said, 'Where's all the tape?', and there were people walking all over there.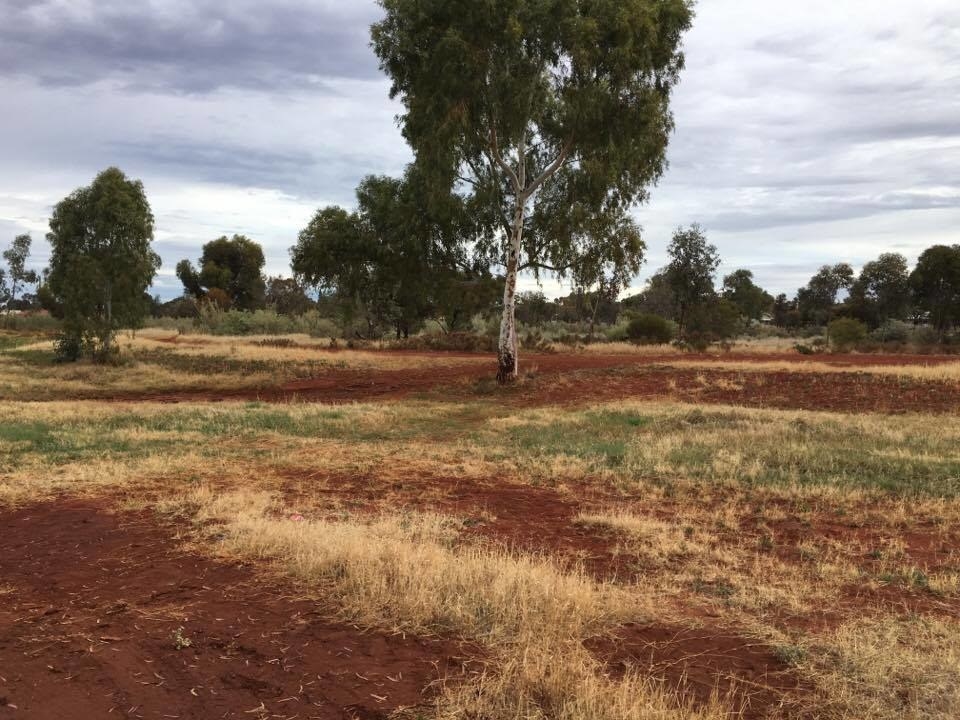 "All we saw was he was covered over. And at that stage no-one knew [who it was]."

Because of the failure to secure the crime scene, and due to police driving over the tyre tracks, the court had to rely heavily on the man's testimony as to what happened in those last few minutes of Elijah's life. However many community members do not believe Elijah had veered into the car, as the man claimed.

At the local school, teachers were receiving calls from concerned parents wondering if their children had arrived safely, fretting that the child who had died in the creek bed was their own.

When the community found out the man was not being charged with murder, a number of people, mostly local children, protested outside Kalgoorlie Courthouse. It was widely reported around the nation.
"In a way, I was quite proud that a lot of people were out there showing their emotions," James says. "I don't think it was really a riot. Most of them were angry friends of his, or his family."
The driver of the 4WD was charged with manslaughter, which he was later acquitted of. He will be eligible for parole as early as February.
Protests across the country were organised within a day, and were held in all major capital cities.
Aboriginal families throughout Australia reacted with anger and frustration, with many viewing Doughty as their own son, nephew or cousin.
Despite the outpouring of outrage from communities across the country, BuzzFeed News understands the Western Australian Director of Public Prosecutions will not appeal the decision.
For Petrina James, time has stood still. She thinks about her son every day. She remembers the exact moment when she found out the news.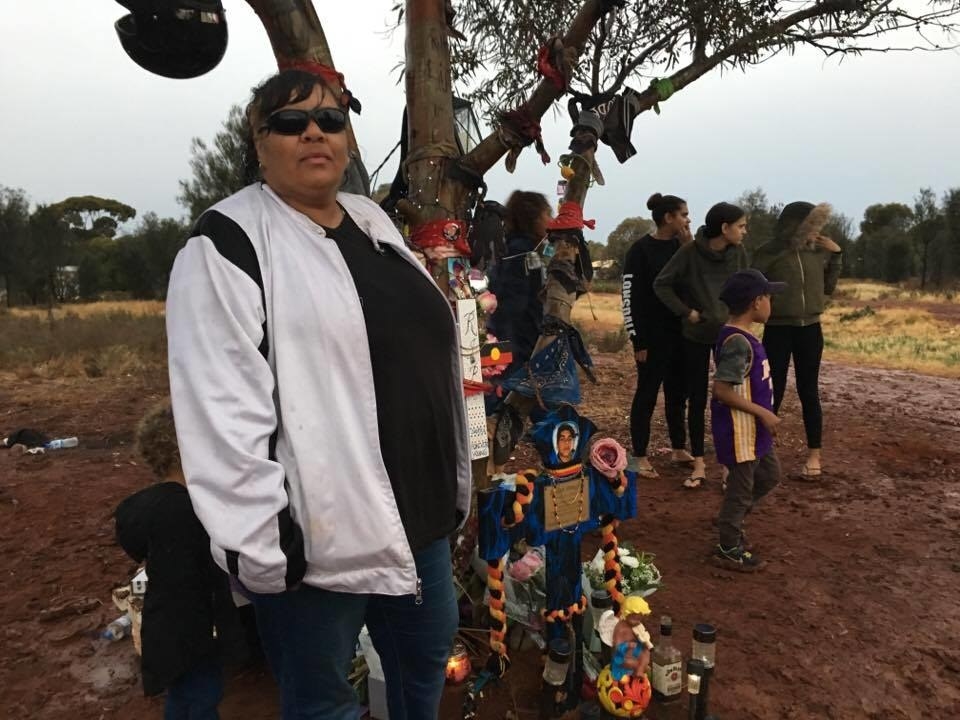 Ironically, being in jail, away from the media, helped James in the early days.

"It did shelter me, because I was on a lot of medication," she says.
"And I got to speak with the psychiatrist every week, which I haven't done since I've been out (in June). I had my friends in there, one of my best friends. It did shelter me a lot. I just pushed it out of my mind."
But since being released, James has not been coping. She has tried to take her life twice.

She remains under strict parole conditions. A coalition of the town's agencies, including the police, the Department of Child Protection and housing services, have her under constant supervision.
She describes it as akin to living in another prison, and while she still has her other six children, she remains separated from Elijah.
Meanwhile, the community is still haunted every day by the tragedy. They feel it every time they say their child is hounded by police, every time they walk past the courthouse.
The social media pages that were spreading like contagion before Elijah's death, spewing racist views and targeting Aboriginal children in the town, are still popping up, even though Facebook pages with similar content have been banned. James messaged one lady who was making unsavoury remarks about Elijah.
"I messaged nicely," she said. "And she never replied."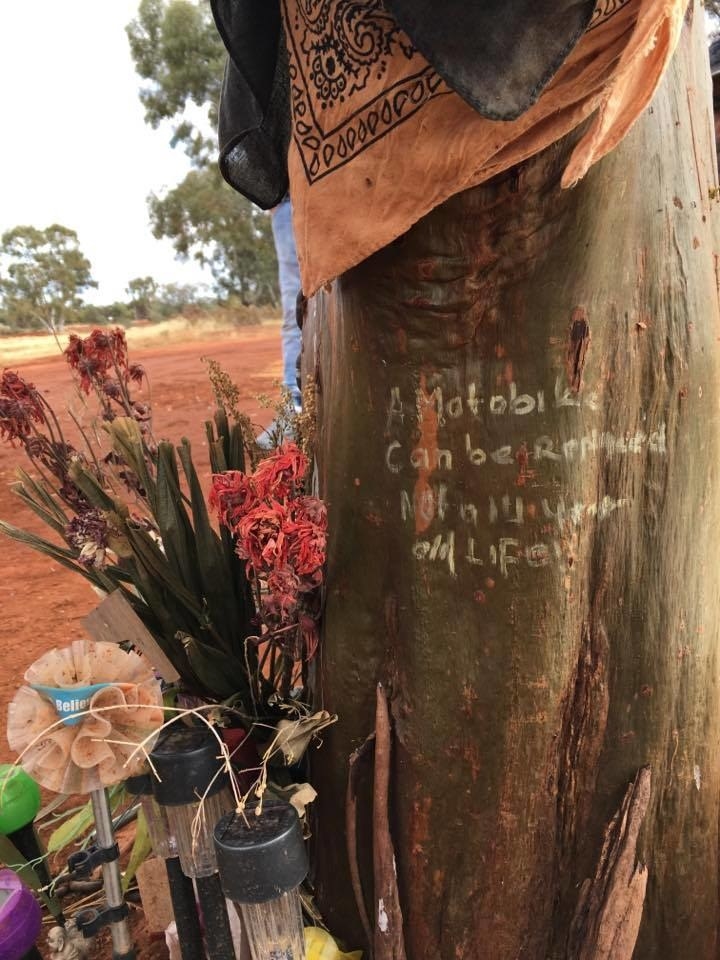 Community members say the racism and vitriol on social media pages is getting worse. There are reports of other children being targeted by white vigilantes, and being chased in cars.

But the community does not often feel safe going to the police about these issues. A community member told BuzzFeed News that she believes the concept of justice is applied differently to Aboriginal people.
"When Aboriginal people, particularly in the Goldfields, go up on similar charges to a non-Aboriginal person, we find our people are the ones who get the higher penalty for whatever the crime that they committed, but the non-Aboriginal, they get a lighter sentence," she said.

She said there is no concerted effort to lower incarceration rates, and move Aboriginal children from the justice system.

"I've found that Aboriginal people are going to court for virtually the same things all the time, you've got the same people going to court for the same offences all the time.
"Why haven't the other government agencies — who are there to try and keep particularly children out of the court system — done something to work with the families and children to get them out of the system?"
She says that Aboriginal children who are caught in that cycle, and their families, are still vulnerable. And that children who have escaped that cycle are now targeted by police.
"Our good kids within the community are getting tarred with the same brush, they are getting exposed to racism in Kalgoorlie-Boulder on a more regular basis. It is now out in the open, whereas before it wasn't exposed to them in as big a way.
"It doesn't matter...as soon as the police find out you are Aboriginal, we're all the same."
She says there needs to be some effort to unify the community and the police force.
Community member Debbie Carmody says that racism is deeply ingrained in Kalgoorlie.
"It's progressively getting worse," Carmody told BuzzFeed News.
She says that community members don't feel comfortable making complaints to police.
"People are disempowered here because [they don't feel they can] go and report [issues] to police. For First Nations people, our lives are of very little value in this town."
BuzzFeed News sought comment from Western Australia Police, but had not received a response at the time of publication.
If you need to talk to someone, you can call Lifeline Australia on 13 11 14 or Beyond Blue Australia on 1300 22 4636; Anxiety UK on 08444 775 774;, or Hopeline America on 1-800-784-2433.