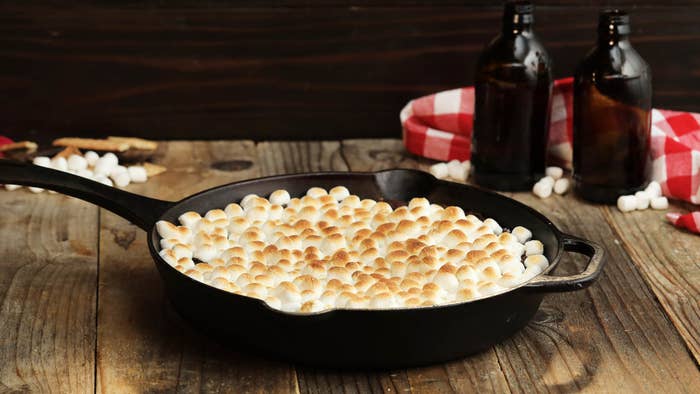 INGREDIENTS
Servings: 8
½ cup unsalted butter
8 ounces chopped dark chocolate
¾ cup sugar
3 eggs
1 teaspoon vanilla extract
½ cup flour
½ teaspoon baking soda
1 teaspoon kosher salt
5 whole graham crackers, broken into irregular 1" pieces
Flaky salt
4 cups mini marshmallows
PREPARATION
1. Preheat oven to 350°F.
2. Heat a 12-inch cast-iron skillet over medium heat. Add butter and melt. Add dark chocolate and melt. Add sugar and stir until sugar is melted. Remove skillet from heat and let cool (about 15 minutes).
3. Whisk in eggs and vanilla extract. Whisk in flour, baking soda, and kosher salt. Fold in graham crackers. Spread batter out in the pan. Sprinkle with flaky salt.
4. Bake for 20 minutes. Remove from oven.
5. Spread out marshmallows in an even layer. Broil for 1–2 minutes, until marshmallows are golden brown, keeping an eye on it the entire time as the marshmallows can quickly go from golden to burnt. Remove from oven and enjoy!