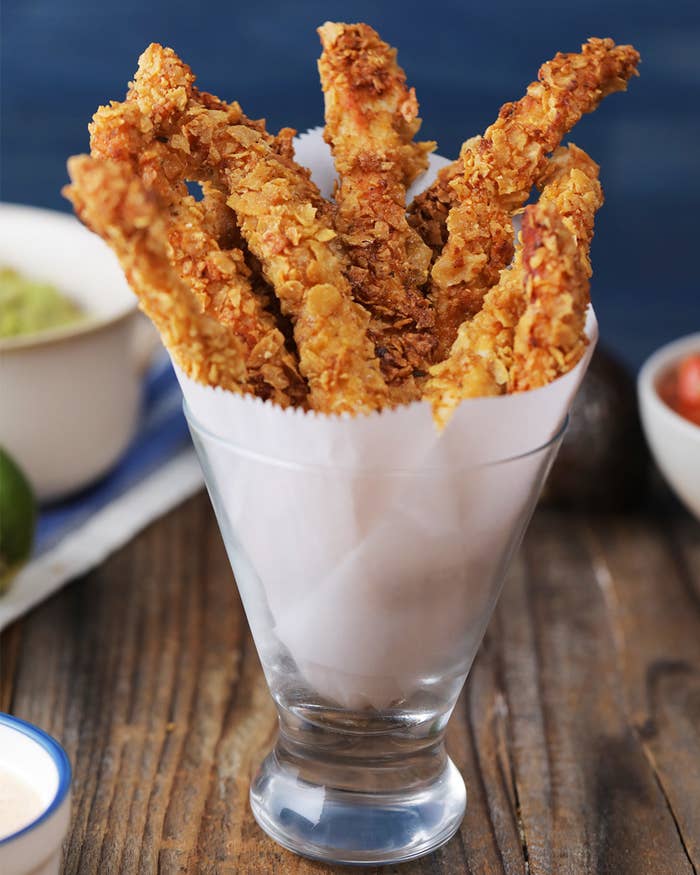 INGREDIENTS
Fries
1 pound thinly sliced chicken breast
¼ cup flour
1 teaspoon chili powder
1 teaspoon paprika
1 teaspoon oregano
1 teaspoon salt
½ teaspoon cumin
½ teaspoon garlic powder
½ teaspoon onion powder
¼ teaspoon pepper
2 eggs
2 cups roughly crushed tortilla chips
½ cup vegetable oil
Dip
⅓ cup sour cream
Juice of 1 lime
½ teaspoon chipotle powder
PREPARATION
1. Slice the chicken into thin strips, about ½-inch wide, so that they resemble fries. Season with salt and pepper, to taste. 

2. In a small bowl, mix together the chili powder, paprika, oregano, salt, cumin, garlic powder, onion powder, and pepper. Combine with the flour and mix until well combined. 

3. In a second small bowl, whisk the eggs. Place the crushed tortilla chips in a third small bowl. 

4. Dredge the chicken strips first in the flour-spice mixture, then dip in the egg, then dip in the tortilla chips, pressing the chips onto the chicken so they are breaded. 

5. Heat vegetable oil in a pan. Shallow fry the chicken fries for 1-2 minutes on each side, until fully cooked and golden. Drain on paper towels. 

6. Mix together sour cream, lime juice, and chipotle powder. Dip chicken fries in sour cream dip, and enjoy!