Meet The Faces Behind NYC's Best Street Food
"I was a dormant cell for the Department of Waffles of the Ministry of Culinary Affairs. They contacted me and said, 'Do you want to open a little waffle truck?' and I said, 'Sure.'"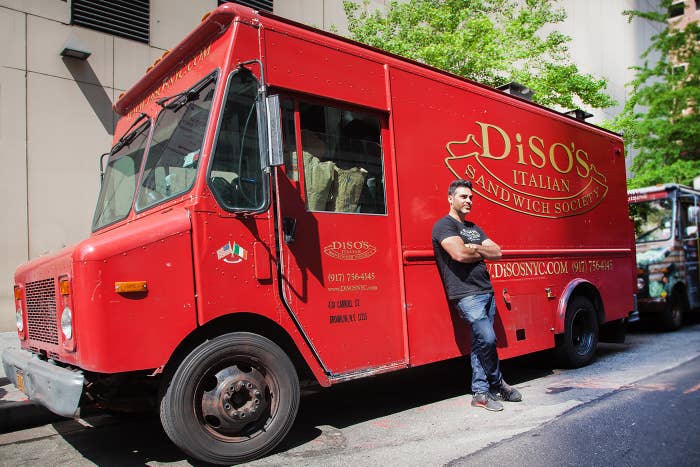 "As you can see, I named all the sandwiches after old-school mafia guys. So we got guys like Lefty Louie, Frankie Fingers, Jimmy Two Times, so the whole list, and that's a kick! I wanted to make that correlation between the two, and people get a kick out of it. Especially when a little old lady comes up to the truck, and she's like, 'Can I have the Jimmy Two Times?' It's funny to hear."
—Adam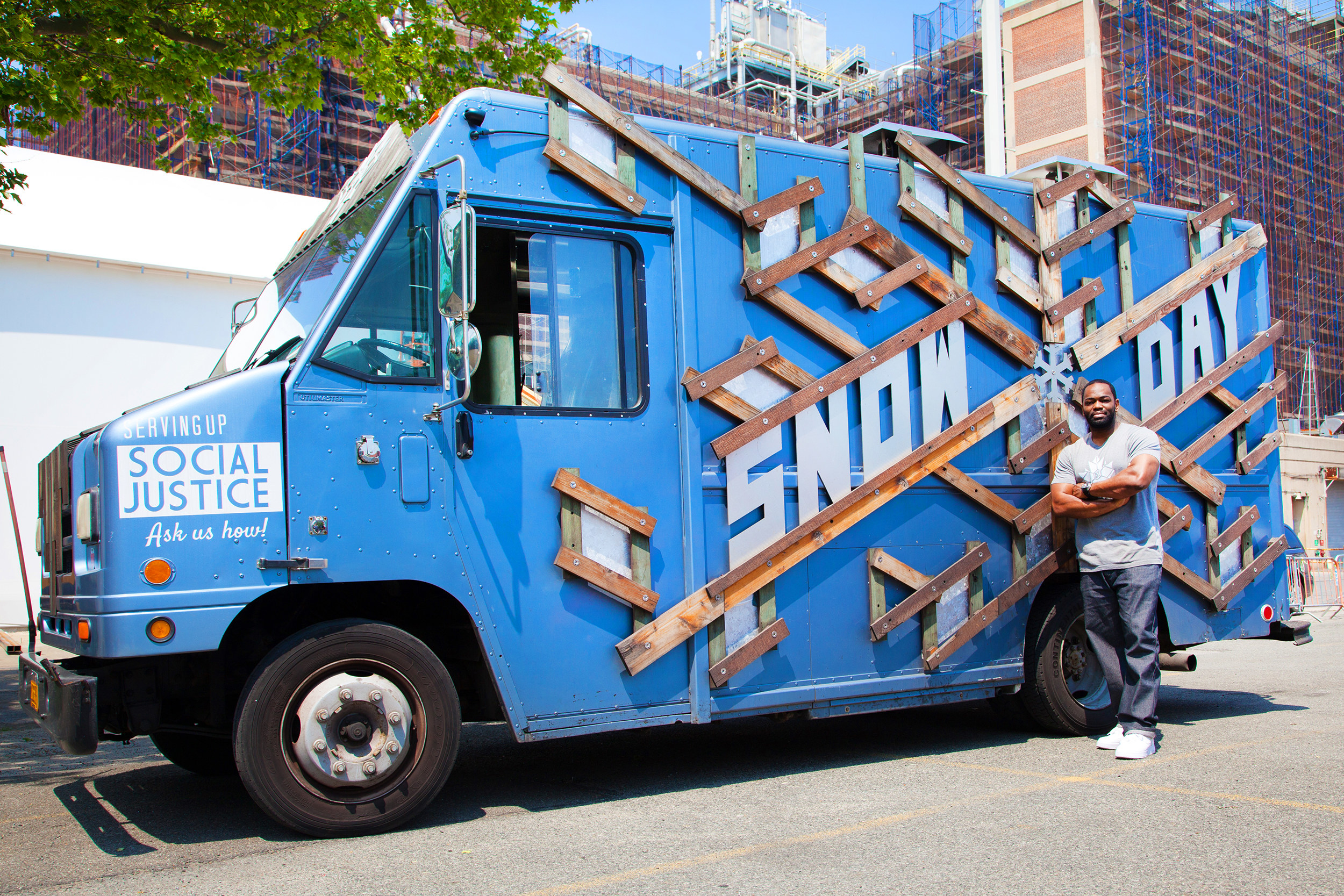 "We run a one-year fellowship model where we use the food truck industry to train, employ, and mentor formerly incarcerated young people who come home from adult prisons, aged 18–25. After a one-year fellowship, they get licensed credentials — everything from a food handlers to their mobile vendors licenses, so they're able to work in any restaurant or on any food truck in New York City.
"I was in their predicament once. I was young once. And I was incarcerated when I was young, at 19, and I spent almost 13 years in prison. So I know what it's like to lack purpose, lack focus, lack direction, as well as find myself, find therapeutic programs, start realizing where things went wrong for me...to make the changes that I need to make, to better acclimate myself into society when I came home."
—Roy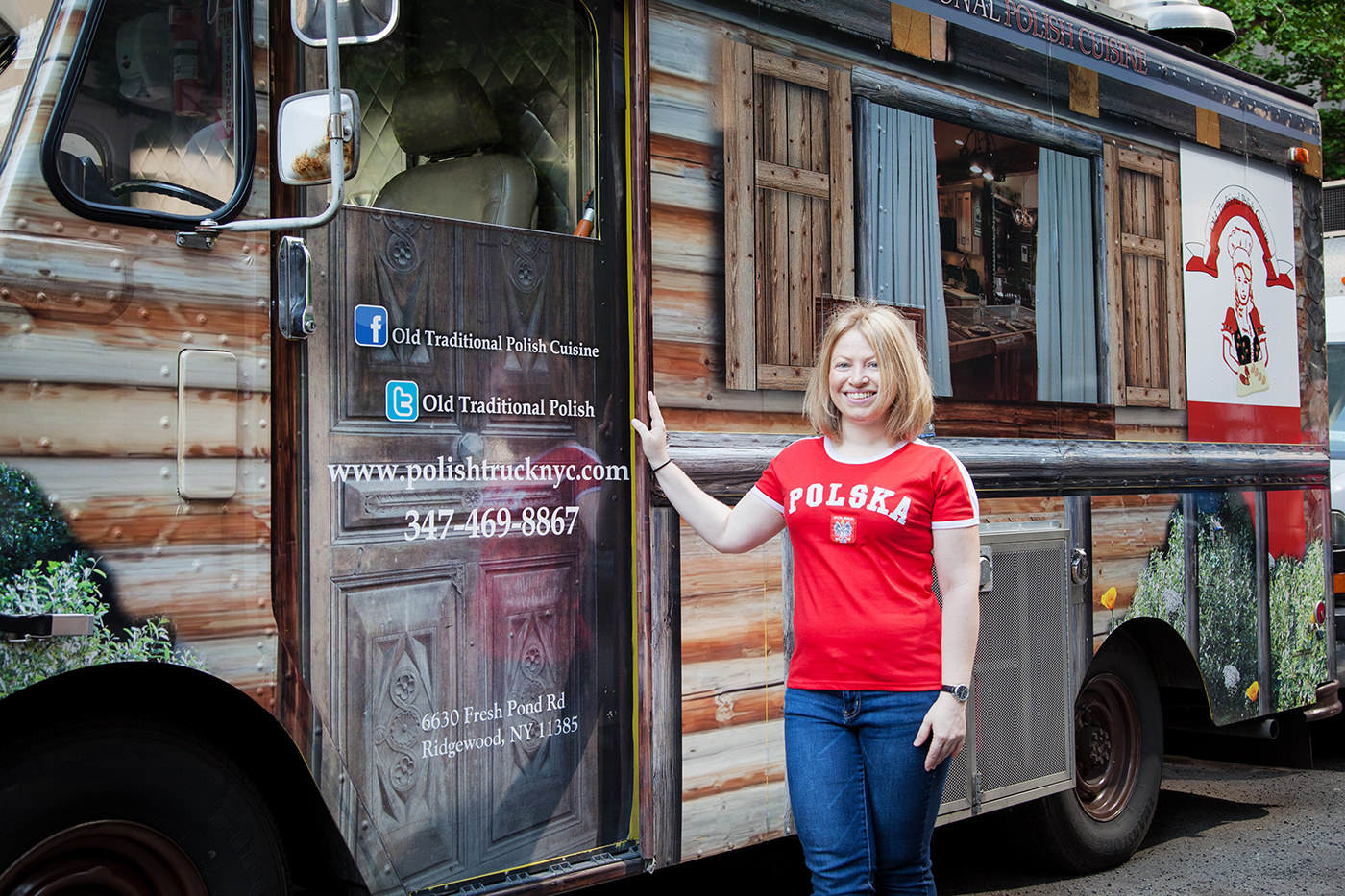 "Food is very big in Polish culture. The traditional Polish moms or grandmas have a table always made with fresh pierogis by hand, and even when we go back now, my aunts, Greg's moms, we all make pierogis at the table. It's really a way to bring everyone together. At the truck, we love seeing customers, and the best feeling is definitely getting repeat customers. We know each other on a first-name basis, and the best compliment is 'Wow, these pierogis taste just like my grandma's,' 'cause that's what we're trying to do. We're trying to promote Poland, bring it out to the street. And we don't do twists and turns. You know, some people do pierogis with mac 'n' cheese in them. That's not us. We make pierogis like our moms and grandmas made."
—Eva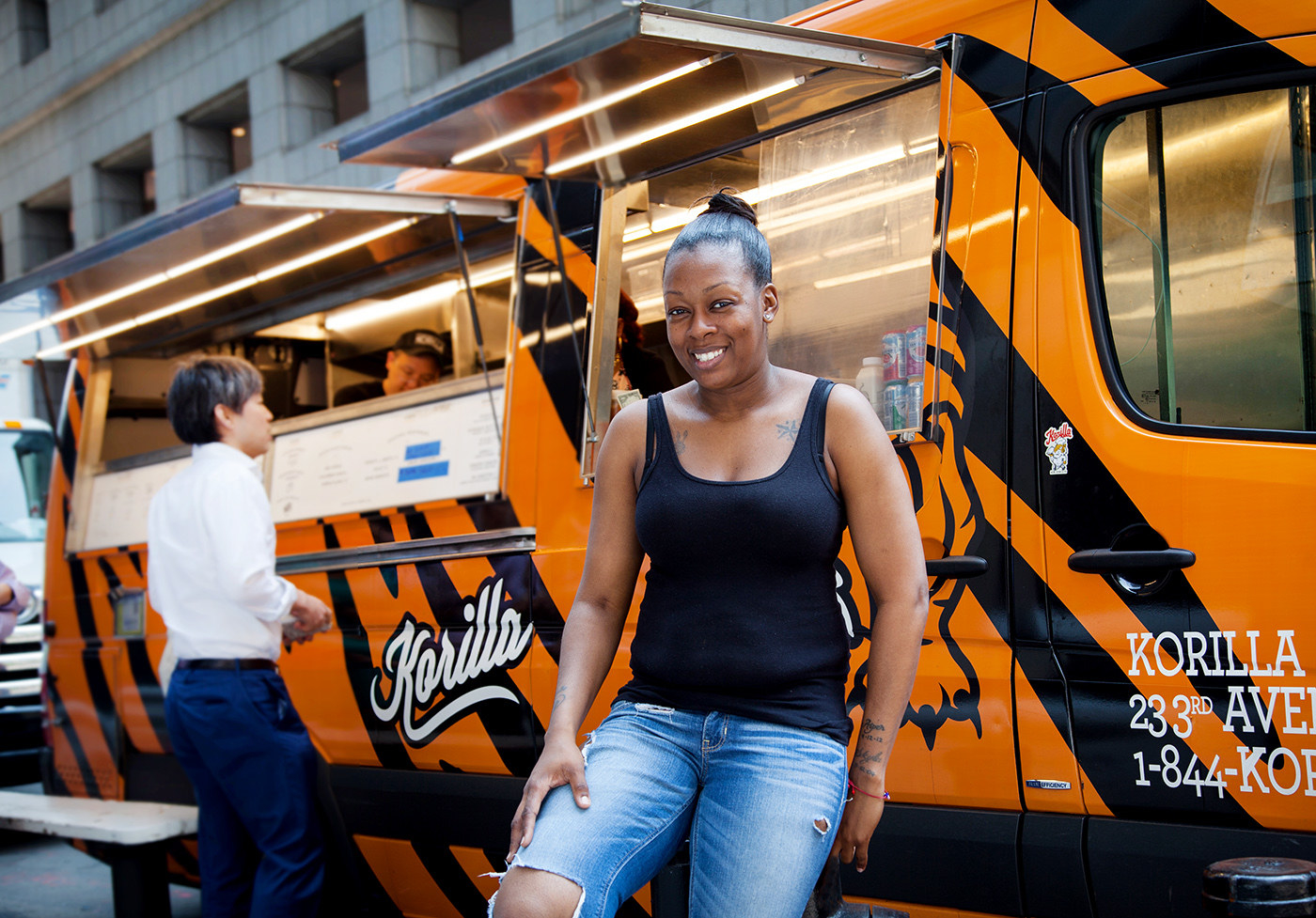 "I have some favorite customers. I have one guy, we call him the Korilla Guy. He always gets tofu with bacon kimchi fried rice. So it was like, when he first did it, we were like, 'Where'd he get that from? It's so odd.' And I was like, 'He's trying to have the best of both worlds.' Korilla Guy is my favorite customer of all 'cause of the oddness of his meal."
—Autumn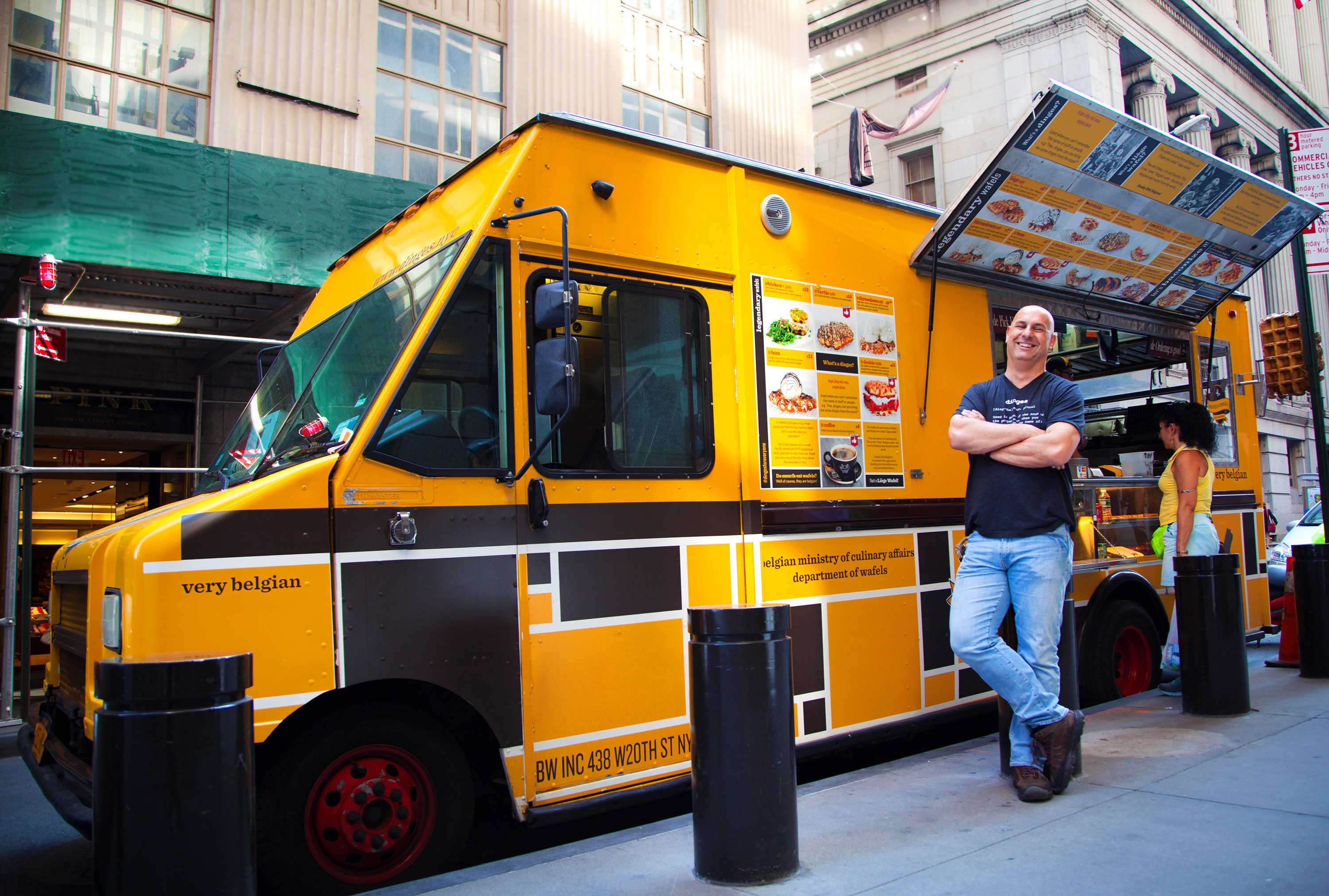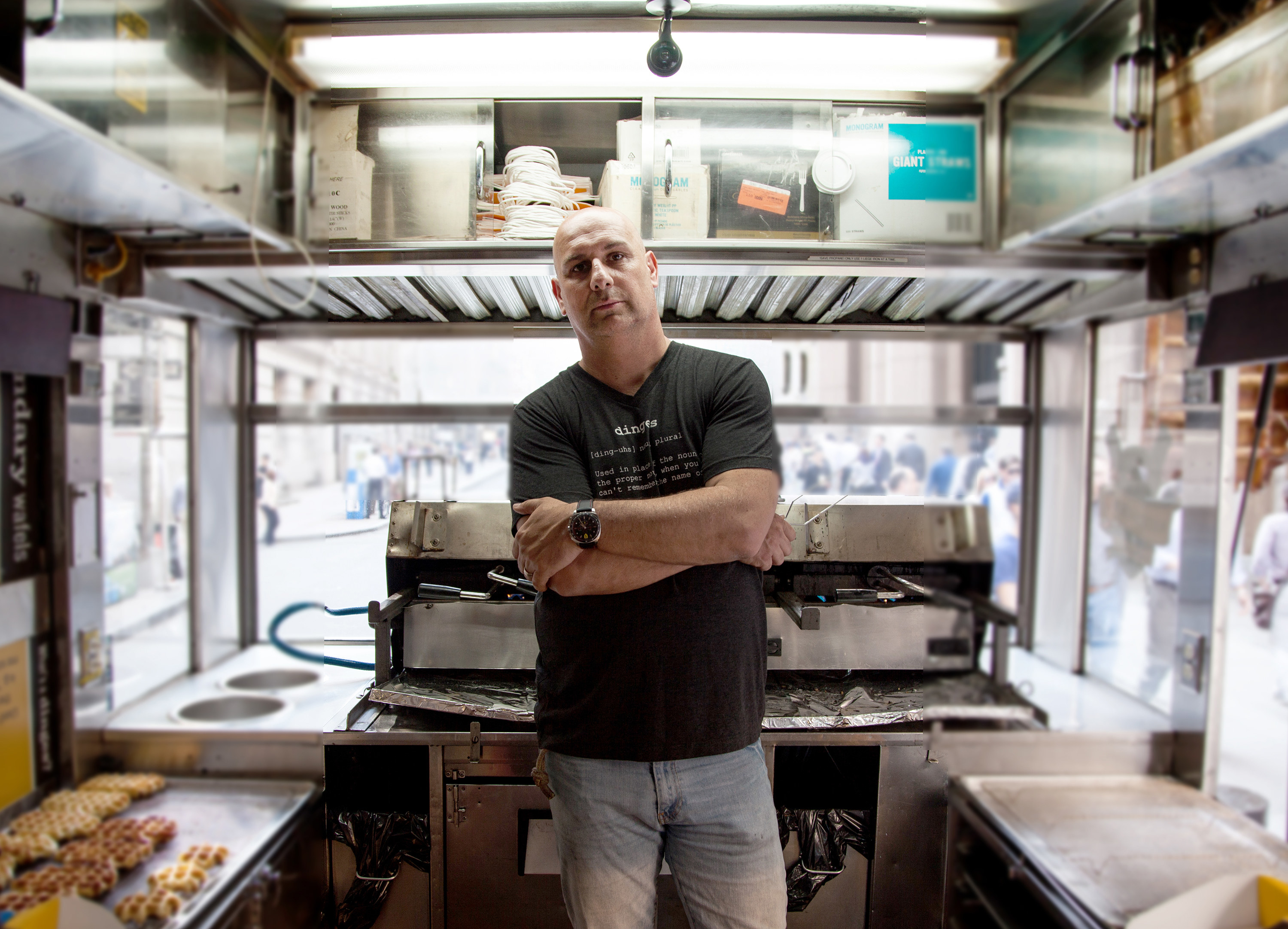 "It goes back to 2007 in Belgium. Belgium is a kingdom. We have a king. His name is Albert. Well, it was Albert. It's Philippe now. But Albert heard stories of Belgian waffles being sold in America served with corn syrup and sausage and bacon and greasy diners and, worst of all, they were made out of pancake batter. So he didn't like that because we were calling them Belgian waffles in America, so he was a little upset about that. So, he commissioned the Belgian Ministry of Culinary Affairs to put in place a program so that the Department of Waffles of the Ministry of Culinary Affairs allocated funding to set up a waffle operation starting in New York City to bring back real authentic Belgian waffles in America. It's like the people from Champagne, when you can't really sell fake champagne...like the thought that Belgian waffles ought to be real Belgian waffles. So they went to their archives, they found this Belgian guy (i.e., me), who was in New York. I had been in New York for a while. I was a dormant cell for the Department of Waffles for the Ministry of Culinary Affairs. They contacted me and said, 'Do you want to open a little waffle truck?' and I said, 'Sure.'"
—Thomas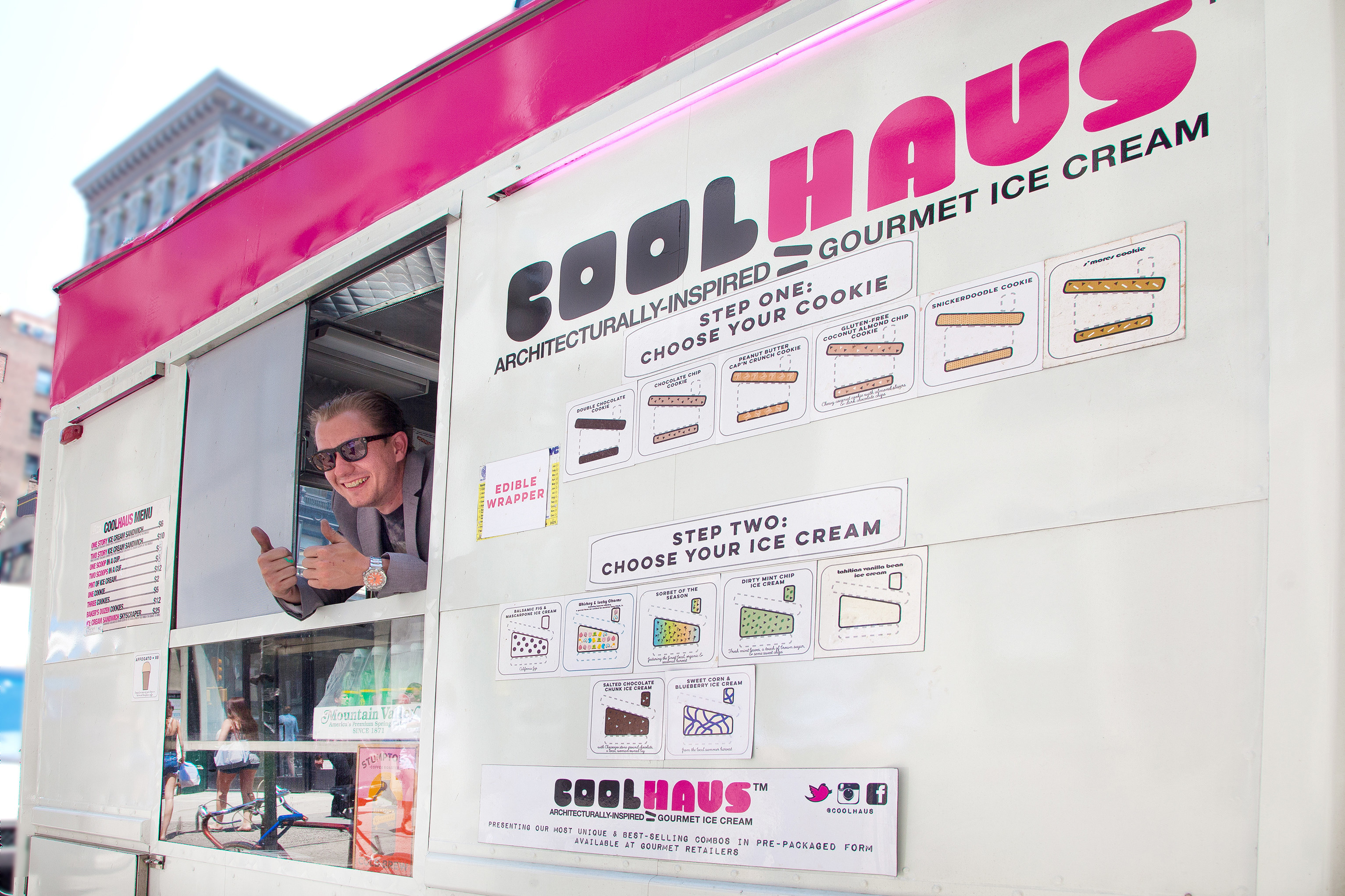 "I have a food background. I've been in kitchens since I was 15, so it's more than half my life now. I started washing dishes in the back of a jazz club in Kansas City, and now I'm here, but I'm also very mechanically inclined, so the food truck thing just made sense."
—James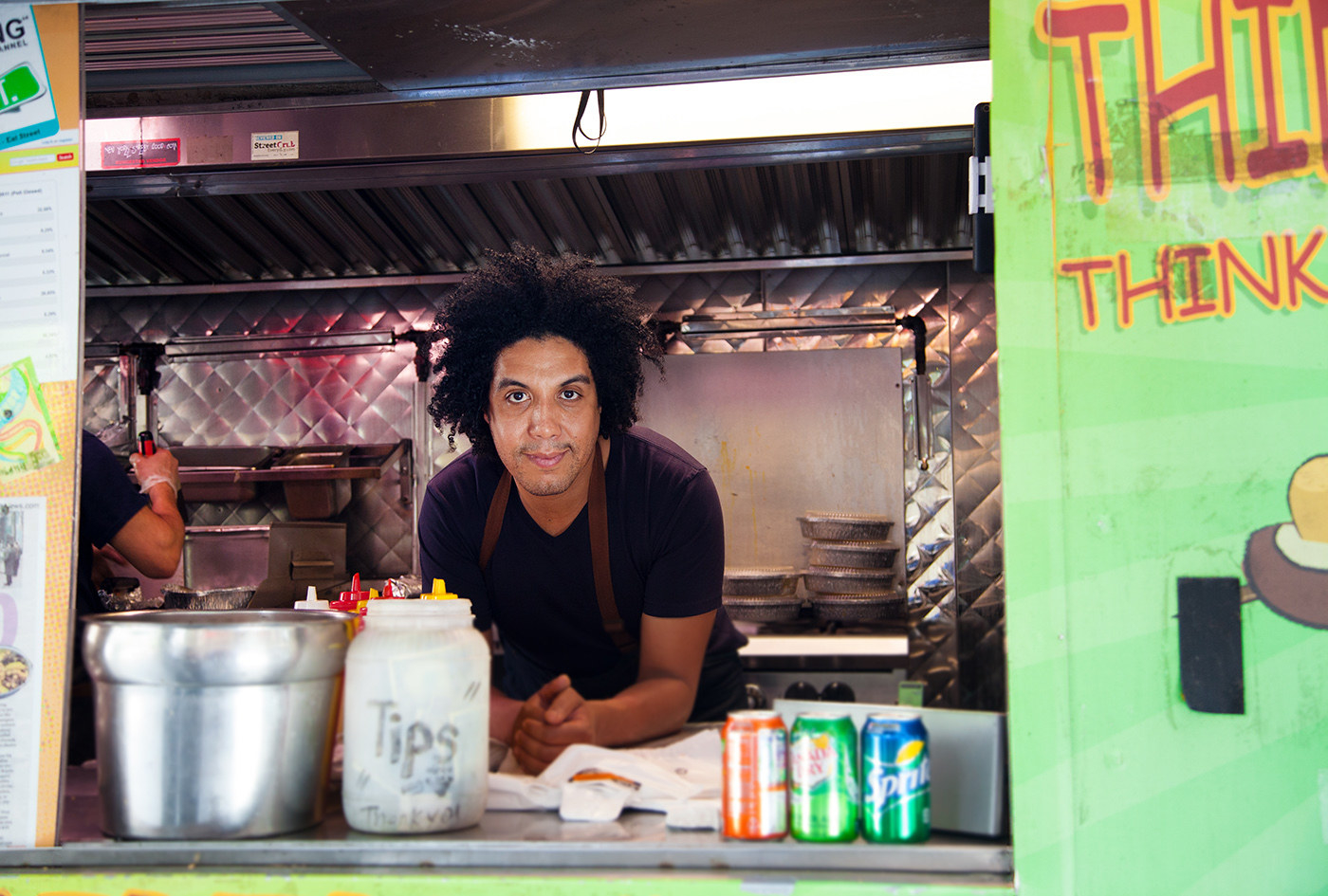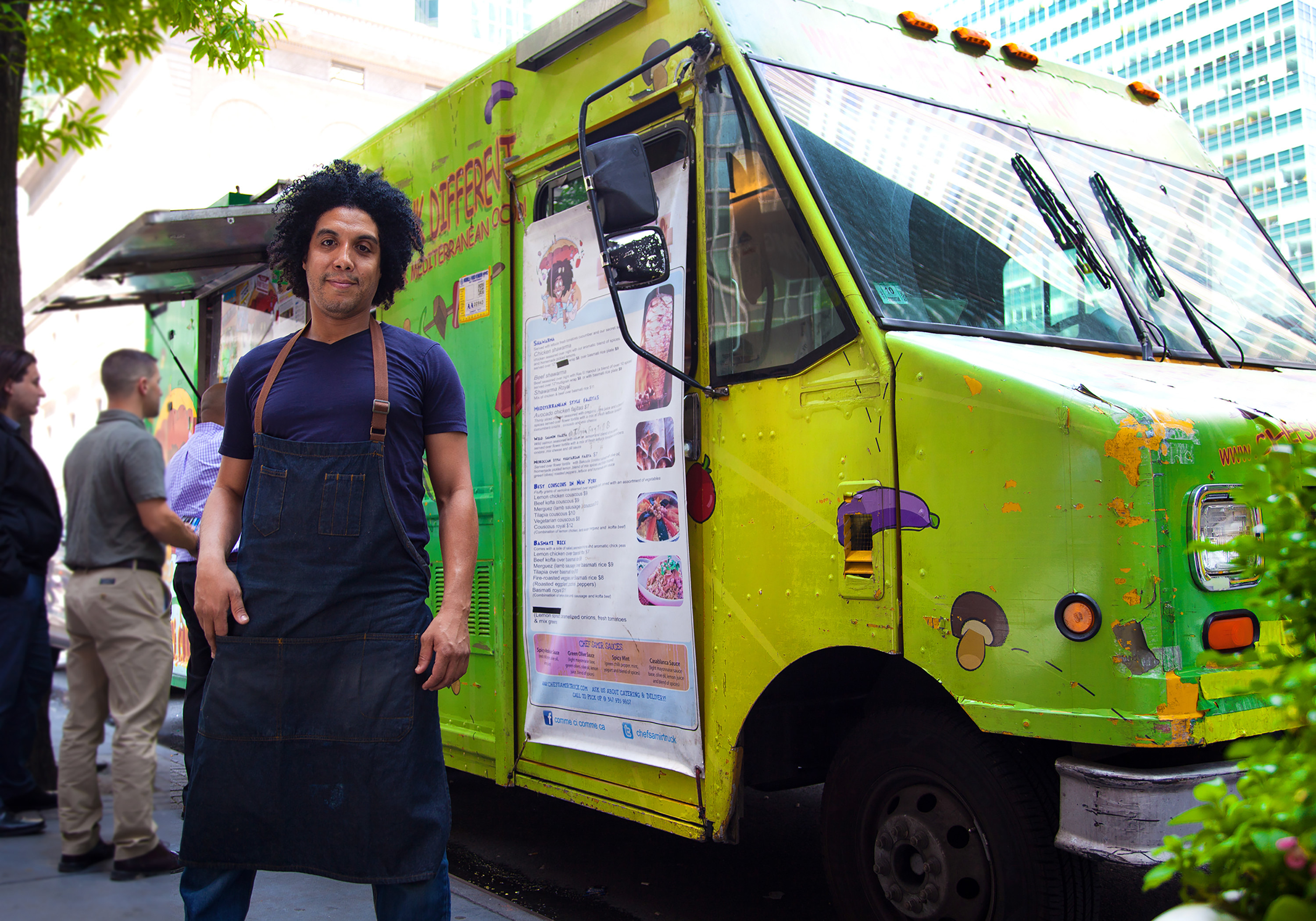 "When i moved here almost 16 or 17 years ago, I missed Moroccan food, so I started cooking with my mom from here while she was still in Morocco. We video-chatted, and we started cooking recipe after recipe. And I enjoy it. So from there, I started doing a lot of dinners for my friends on the weekends to show off."
—Samir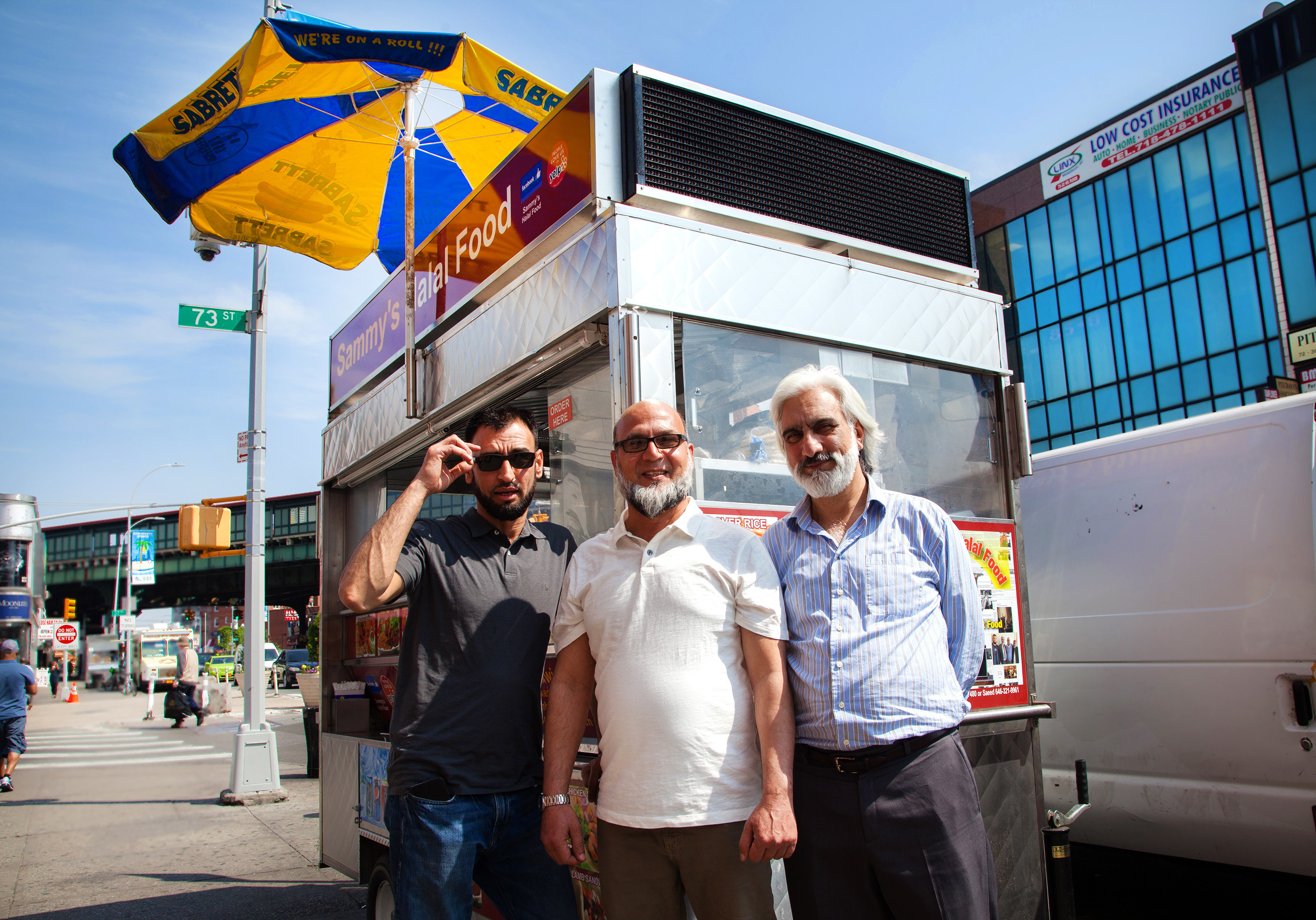 "We don't want to do a restaurant. Food truck is a lot more convenient. Easier than restaurant. A little less responsibility, I guess. We are right here with the public — we get their reaction right away. We get to interact with more people, with the community, the neighbors, and they appreciate you when you give them quality food."
—Samiul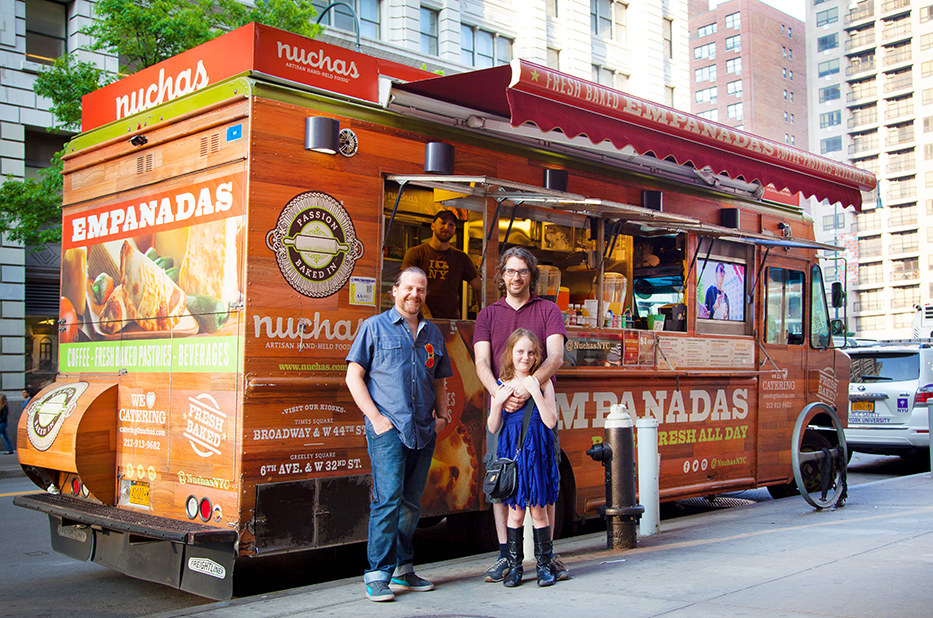 "This is why we have a few vegan empanadas. Our planet can't take this forever. We need to do the right thing — we need to stop worrying about just selling stuff. For a while, I was teetering... Do I do everything vegan? We've been really reassessing and doing more vegan stuff, which we always did, but we're doing it more purposefully now."
—Ariel
Hungry for some more behind-the-scenes food stories in NYC? David Schwimmer and Jim Sturgess star as two friends trying their best (against some pretty intense odds) to open a restaurant in the Bronx in AMC's new drama Feed the Beast, premiering June 5 at 10/9c.
Photographs by Logan Rigg / © BuzzFeed.