Turkey Tacos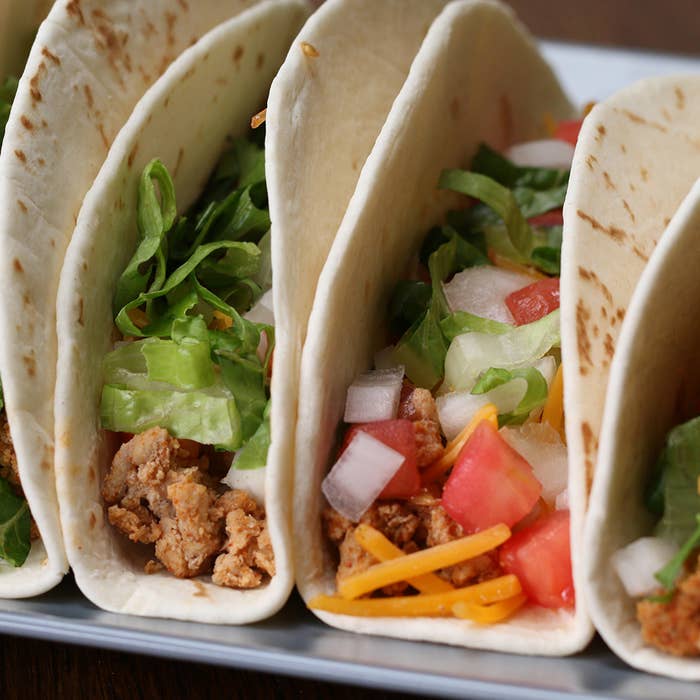 INGREDIENTS
Servings: 4-6
8 medium flour or corn tortillas, 7-inch
1 tomato, finely chopped
1 cup lettuce, chopped
1/2 white or yellow onion, chopped
1 pound uncooked 93% lean ground turkey
Cooking spray
1 teaspoon table salt
2 tablespoons water
1 cup cheddar cheese, shredded
Taco Seasoning
¼ teaspoon garlic powder
¼ teaspoon cayenne pepper
¼ teaspoon paprika
½ teaspoon cumin
½ teaspoon salt
½ teaspoon chili powder
PREPARATION
1. Combine taco seasoning ingredients in a small bowl. Stir.

2. Coat a nonstick skillet with cooking spray; set over medium-high heat. Add turkey and salt. Cook for about five minutes, until turkey is cooked through, breaking it up as you go.

3. Add seasoning and water; stir to combine. Turn off heat.

4. Arrange tomatoes, onions, lettuce, and cheese for topping. Spoon turkey meat into each tortilla; top as desired.

5. Enjoy!