Ah, rom-coms. They're cheesy. They're funny. They're swoonworthy. They produce some incredible quotes. Here are some iconic ones, ranked.
1.
"Don't forget: I'm also just a girl, standing in front of a boy, asking him to love her." —Notting Hill
2.
"So it's not gonna be easy. It's gonna be really hard, and we're gonna have to work at this every day. But I wanna do that because I want you. I want all of you, forever. You and me. Every day." —The Notebook
3.
"I don't want to sound foolish, but remember love is what brought you here. And if you've trusted love this far, don't panic now. Trust it all the way." —If Beale Street Could Talk
4.
"I came here tonight because when you realize you want to spend the rest of your life with somebody, you want the rest of your life to start as soon as possible." —When Harry Met Sally
5.
"You have bewitched me, body and soul, and I love, I love, I love you. I never wish to be parted from you from this day on." —Pride and Prejudice
6.
"It was a million tiny little things that, when you added them all up, they meant we were supposed to be together, and I knew it. I knew it the first time I touched her. It was like coming home, only to no home I'd ever known. I was just taking her hand to help her out of a car, and I knew it. It was like magic." —Sleepless in Seattle
7.
"I wish I knew how to quit you." —Brokeback Mountain
8.
"I've fallen in love. I'm an ordinary woman. I didn't think such violent things could happen to ordinary people." —Brief Encounter
9.
"Love isn't patient, and kind, and humble. Love is messy, and horrible, and selfish, and bold. It's not about finding your perfect half. It's the trying, and reaching, and failing." —The Half of It
10.
"I always imagined what me proposing to you would be like. You know what? I had it all planned out. I'd bring you to my favorite spot on the island. There's a hidden trail that I used to go to as a child. Now there's a cove there that opens up to this beautiful lake. When the sun hits the horizon, I'd get down on one knee. And the rest of the world would fall away. Because it would just be you…because it's just you…I know this is a far throw from a hidden paradise. But wherever you are in the world, that's where I belong. Rachel Chu, will you marry me? And make me the happiest man in this world?" — Crazy Rich Asians
11.
"I wanted it to be you. I wanted it to be you so badly." —You've Got Mail
12.
"I'm done being scared. I'm done living in a world where I don't get to be who I am. I deserve a great love story." —Love, Simon
13.
"I can't see anything I don't like about you." —Eternal Sunshine of the Spotless Mind
14.
"I'll play you." "For what?" "Your heart." —Love and Basketball
15.
"Love is patient, love is kind, love means slowly losing your mind." —27 Dresses
16.
"It seems to me that love is everywhere. Often, it's not particularly dignified or newsworthy, but it's always there...if you look for it, I've got a sneaky feeling you'll find that love actually is all around." —Love Actually
17.
"I am done being scared, and I am done keeping secrets. I love you." —The Happiest Season
18.
"In my opinion, the best thing you can do is find someone who loves you for exactly what you are. Good mood, bad mood, ugly, pretty, handsome, what have you." —Juno
19.
"I know you must think I'm combative, neurotic, picky — and maybe I am. But the weird thing is I've never had to be anything but myself with you right from the beginning. And with you, I feel like I can do anything, say anything, try anything. And that's the life I want. I want an adventure with you. You don't understand; we're supposed to be together." — Something New
20.
"I like you very much. Just as you are." —Bridget Jones's Diary
21.
"Kiss me. Now. In front of all these people." —Saving Face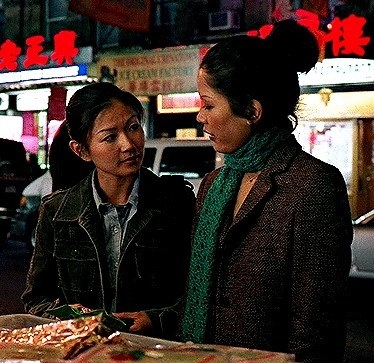 22.
"I'd rather fight with you than make love with anyone else." —The Wedding Date
23.
"Look, I can't let you go without knowing... That even with the distance, and it concerns your family, we might still have something. Don't you think?" —Bend It Like Beckham
24.
"Sasha Tran, can I hold your purse for you?" —Always Be My Maybe
25.
"I hate the way you talk to me and the way you cut your hair. I hate the way you drive my car. I hate it when you stare. I hate your big dumb combat boots and the way you read my mind. I hate you so much that it makes me sick..." —10 Things I Hate About You
26.
"You make me happy. Even when you're awful, I would rather be with you, even the you that you seem to think is diminished, than with anyone else in the world." —Me Before You
27.
"There's no one like you, Covey." —To All the Boys I've Loved Before
28.
"Why me?" "Because you saw me when I was invisible." —The Princess Diaries
29.
"You don't need other people to validate or define you." —The Incredible Jessica James
30.
"Just shut up! Here... I wanna marry you because you're the first person I wanna look at when I wake up in the morning, and the only one I wanna kiss goodnight. Because the first time that I saw these hands, I couldn't imagine not being able to hold them. But mainly, when you love someone as much as I love you, getting married is the only thing left to do. So, will you, um, marry me?" —Definitely, Maybe
31.
"Let me tell you something: This here, right now, at this very moment, is all that matters to me." —Love Jones
32.
"If you love someone, you say it, you say it right then, out loud. Otherwise, the moment just…passes you by." —My Best Friend's Wedding
33.
"Love isn't easy; that's why they call it love." —The Big Sick
34.
"What does your 'I wanna kiss you face' look like?" "It looks a lot like this." —The Lovebirds
35.
"You can search the entire universe and never find a being more worthy of love than yourself." —Isn't It Romantic
36.
"Because it was us. We were magic." —Someone Great
What're your all-time favorite rom-com quotes?