1.
A floral statement necklace sure to turn heads and steal the show. Apologies to your shoes... no one will be looking down there with this beaut on!
Promising reviews: "This little number is sassy, classy with just the right amount of sophistication to boot! It was a stand out when my niece opened her birthday gifts and shrilled with delight; what can I say? The cooler aunt? Me." —SynDrella
"This necklace is beautiful! It came in a really pretty blue jewelry box. It has cushions on the front and back to secure the necklace from sliding around. It looks exactly like the picture but BETTER.. Its a gift for my mom but I will definitely be placing another order, cause I want one for myself." —Toy D. 
Get it from Amazon for $18.99.
2.
A fun mismatch stud earring set you'll want to wear every day of the year — not just the springtime. Each set (you've got three options) comes with twelve earrings variously shaped as fun icons like cowboy boots, cherries, crescent moons, and more. 🍒 🍄🦋💋🌵
Promising reviews: "Love these earrings and obsessed with all the little symbols. Good quality too!" —sarah315
"I LOVE THESE EARRINGS. Mixing and matching them is so much fun. They don't fall out, the product is sturdy, and they don't irritate my ears (which a lot of earrings do for me)." —ekdurie
Get it from Urban Outfitters for $26 (available in three variations). 
3.
A pair of hypoallergenic hoop earrings that are sure to be in heavy rotation  because they go with *everything*. They've got over 27,000 5-⭐️ reviews, so clearly...people are obsessed.
Promising review: "This is probably the fourth piece of Pavoi jewelry I've purchased now, and it will definitely not be the last. I continue to be extremely happy with their products. These are such a great size, the width of the hoop is really nice and substantial. Overall the quality is great, they honestly look like they are gold rather than gold plated, and have a nice weight to them (they don't feel flimsy). They also are very elegant looking, and can definitely be worn for more dressy occasions as well as casually. It's so pleasantly surprising each time to see the quality is so great given the price point is so affordable. These are fun, and a perfect addition to my jewelry collection just in time for summer!"  —Leslie R.
Get them from Amazon for $13.95+ (available in four sizes and in six metal types).
4.
A custom choker necklace if you've got enough silver or gold jewelry and are looking for a colorful addition to your collection. This is as bright and cheery as it gets, with 14-karat gold plated zinc charms, freshwater pearls, and colorful glass seed beads.
Just add your initial in the "Customize Yours" text box to make this necklace your own!
Promising review: "This is the cutest choker...I love that it has my initial and you can wear it with just about everything it's so comfortable!!! I get lots of compliments!!!!!" —Jacqueline C.
Get it from Fraiser Sterling for $68.
5.
A gorgeous chain link bracelet fit for any minimalist's collection. While simple in design, it's no doubt an elegant and stylish stand-alone piece.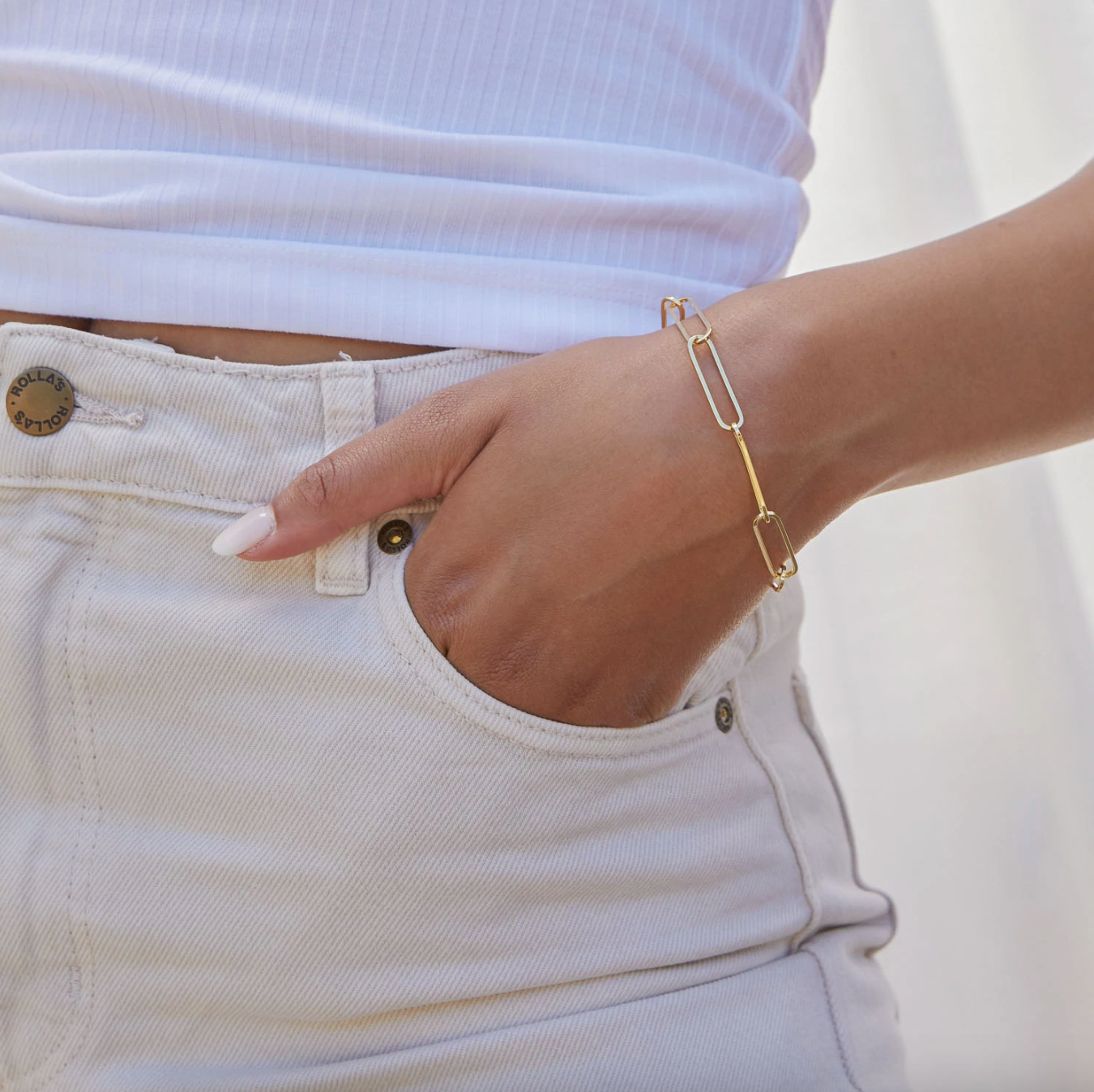 Get it from Gorjana for $60. 
6.
A gold-toned disc necklace absolutely perfect for layering but stunning worn solo, too. It's timeless, minimal, and a must-have if you're into dainty gold jewelry!
This is one of my favorite layering pieces. I can wear it on both a casual days or for a special event and it'll look great with my outfit either way. In the photo above (on the left), I'm wearing the shortest gold disc length, which is about 18 inches. Love love love it!
Blue Bone Jewelry is a woman-owned small business founded by college student Maria Jaeckel who designs both trendy and timeless jewelry pieces. 
Get it from Blue Bone Jewelry for $22+ (available in two lengths). 
7.
A nine-piece set of statement earrings that'll have you covered accessories-wise from spring through fall. It even comes with a fancy tortoise print bracelet and a storage case for it all!
Promising review: "Wow! I'm beyond happy that I got the value package of these accessories. Well made, lightweight, and something for every outfit of the day. They are super cute, trendy, and are worth every penny! I will be ordering more for sure! I buy so many things on Amazon and I hardly leave comments but these I had to!" —Amanda De
Get it from Amazon for $18.99.
8.
A pack of four pretty opal nose rings each perfectly fitting for springtime. In the set you'll get a blue, a pink, a purple, and a classic opal stud ring. So cute!
Promising reviews: "These studs are absolutely amazing! They fit perfectly and they are so pretty in. Definitely recommend!" —Hannah

"These are really good for their price! I was blown away! They're exactly what they say they are and they're beautiful."  —Elizabeth
Get a four-pack from Amazon for $8.99 (available in 2.5mm and 2mm sizes).
9.
Handmade dangley tassel earrings that are adorably tiered and come in TONS of spring tones. Pink, lavender, yellow —  you name it!
Promising reviews: "These earrings are absolutely beautiful. They are lightweight, stylish, good quality, definitely worth the money. One thing I was worried about was if the earrings were too long. But they weren't they were the perfect length. I usually like to buy my earrings at a boutique, and I'm really picky with the quality. These earrings completely met my expectations. I'm definitely purchasing another pair." —Jasmine t.
"I am so glad I bought these. They are super light weight, super cute. I received so many compliments. I am going to order more in different colors. Also, I must add that it came with extra backs and they didn't irritate my ears (as fashion jewelry always does and my ears swell up)." —Keneisha Farquharson
Get them from Amazon for $10.99 (available in 17 colors).
10.
A pair of floral statement earrings for those who love bold jewelry and tons of compliments. This ~blooming~ accessory even has a gorgeous studded gold flower bud in the center. It basically screams, "springtime!"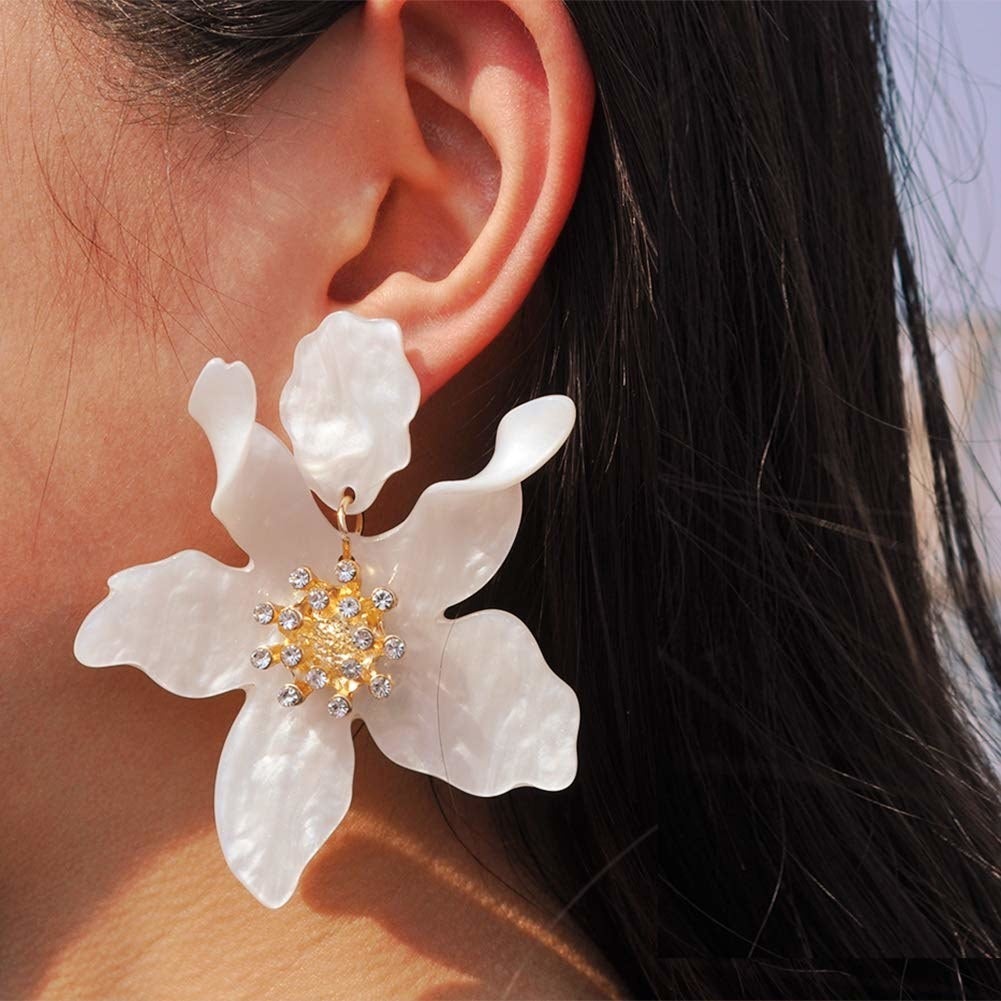 Promising review: "These earrings are beautiful! They are perfectly made and I love the sparkly sphere of rhinestones in the center. And let's talk price! These cost a fraction of the originals that were sold at Nordstrom. I know because I bought four pairs there. There's not a dime's worth of difference in the two pair, and this great seller shipped them zip fast — I ordered them one evening and they were here the next day!! I ordered the purple, but they are more of an iridescent pink and not as dark as my computer and my phone show. Bottom line: buy these and any other color you need and save a fortune - I can't recommend them highly enough!" —festivelady826
Get them from Amazon for $12.99 (available in nine colors).
11.
A set of adjustable midi rings that'll add some extra flair on your hands (and toes!). They come in various sizes and are stretchy and adjustable to fit *you* perfectly.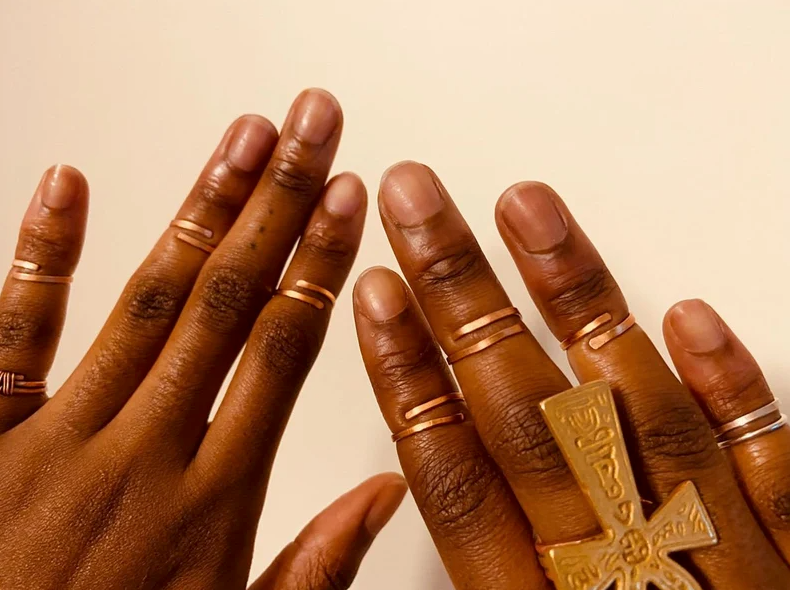 Aibia is a Black woman-owned small biz with an inspiring mission to "adorn and heal" those who seek mineral and crystal healing. Each item is handmade by shop owner Amber I. Broaden, using either brass, copper, gold filled, gold plated, and sterling silver wire. In the brand's mission statement, Broaden says, "Aibia creations have intentions and affirmations prayed into them." 
Promising review: "Comfortable, sleek, and beautiful rustic rings that are perfect as a funky-cool mini stack on a single finger or worn separately too. I also really appreciate the extra gift! I'm so excited to have found this shop, and truly love the artistic meaning behind their work. Support BIPOC makers!" —Deanna
"Beautiful copper rings for the top digits of one's fingers. [I chose copper] because of its healing properties. The Nia rings are simple and elegant. They add a little umph to my drip while offering me healing. I highly recommend this product and the shop." —Yolanda Whitted
Get a set of two from Aibia on Etsy for $11.11+ (available in ring sizes 4–8 1/2 and in five colors). 
12.
A set of stackable necklaces to jump start your dainty layering collection. You'll get three different necklaces, each that looks adorable on its own and even better together.
Promising review: "I wear this necklace almost every day! It's the perfect delicate accessory to almost everything I wear. I tend to wear the crossbar piece by itself A LOT but I LOVE how you can do any of the pieces together and separate! I initially didn't know if I would like that only because I have several layered necklaces that are all one piece and they are convenient to put on, but I am loving this option! All pieces are very lightweight and do not rub or pull on the neck and the clasp is easy to latch. One small thing is the longest necklace tends to slide around, showing the clasp throughout the day, and I have to keep making sure it's not showing. Otherwise great necklace and I will buy again to make sure I keep an extra on hand for myself or a gift." —Shaundrajoy
Get it from Amazon for $14.99 (available in 34 designs and in gold plated or silver metals).
13.
A set of large silver hoops because it's a classic style that everyone looks stunning in.
14.
A Swarovski rose gold charm bracelet complete with five chic charms, including a crystal evil eye, horseshoe, teardrop, infinity sign, and sun charm. You'll want to keep these good vibes around and where it all year long. 
Promising review: "Since I ordered this rose gold charm bracelet I have worn it every day. This bracelet stands up to the Swarovski name. It is very comfortable, with no changes in color; even when I wash dishes it still looks as beautiful as the first time I put it on. Since then, I have bought matching earrings and a matching necklace. They are all so beautiful and true Swarovski quality!" —Machielove

Get it from Amazon for $79.