1.
A set of four cabinet shelf organizers that'll give you maximum use of your cabinet space. They're stackable, too! Which will be helpful when you want to save room for taller items.
Promising review: "Randomly write reviews, but you need this! EXACTLY what we were looking for. Oak color blends right into interior of cabinets and white supports match our dishes. Going to, for sure, buy more for every cabinet in the house. Instantly gained twice the storage. No longer have to pick up a stack of dishes to grab a tray, etc. Bargain as well. Looks way better and supports so much more than old wire shelves... Solid wood/metal. Easy to install each shelf with nothing but the four screws included and a Phillips head screwdriver. Had all four "built" in less than five minutes. 100% recommend! —Amazon Customer
Get it from Amazon for $19.99 (available in black and white). 
2.
A sturdy hanger organizer you didn't know existed, but could definitely use in your closet. Those annoying tangled bins of hangers are about to go *poof*!
Promising reviews: "The struggle with hangers has been real for quite some time, I wish I would have known about this thing sooner! Seriously, laundry is annoying enough, to not fight with hangers will be wonderful. It doesn't wiggle and seems sturdy. Hopefully it stays that way because this has saved me a ton of room and hassle!" —Kara Adams
"Working in retail for a million years, I know how amazing these can be in keeping your life less chaotic! I put off ordering for months, and I'm mad at myself that I did, because these beat a box of hangers hands-down! I ordered two, one for dress/shirt hangers and one for skirt/pant hangers. They arrived today, seem to be made of the same metal that I've used in retail stores, appear to be sturdy, and are super easy to assemble! The only thing I had to stop and think about is which side of the base should face up. It comes with all the hardware and tool for assembly. A great buy!" —KatieLee333

Get it from Amazon for $22.25+.
3.
A vanity organizer with a magnetic strip so there'll be no more loose bobby pins around the house. With this set you'll get three removable compartments and one tray to hold all daily your essentials.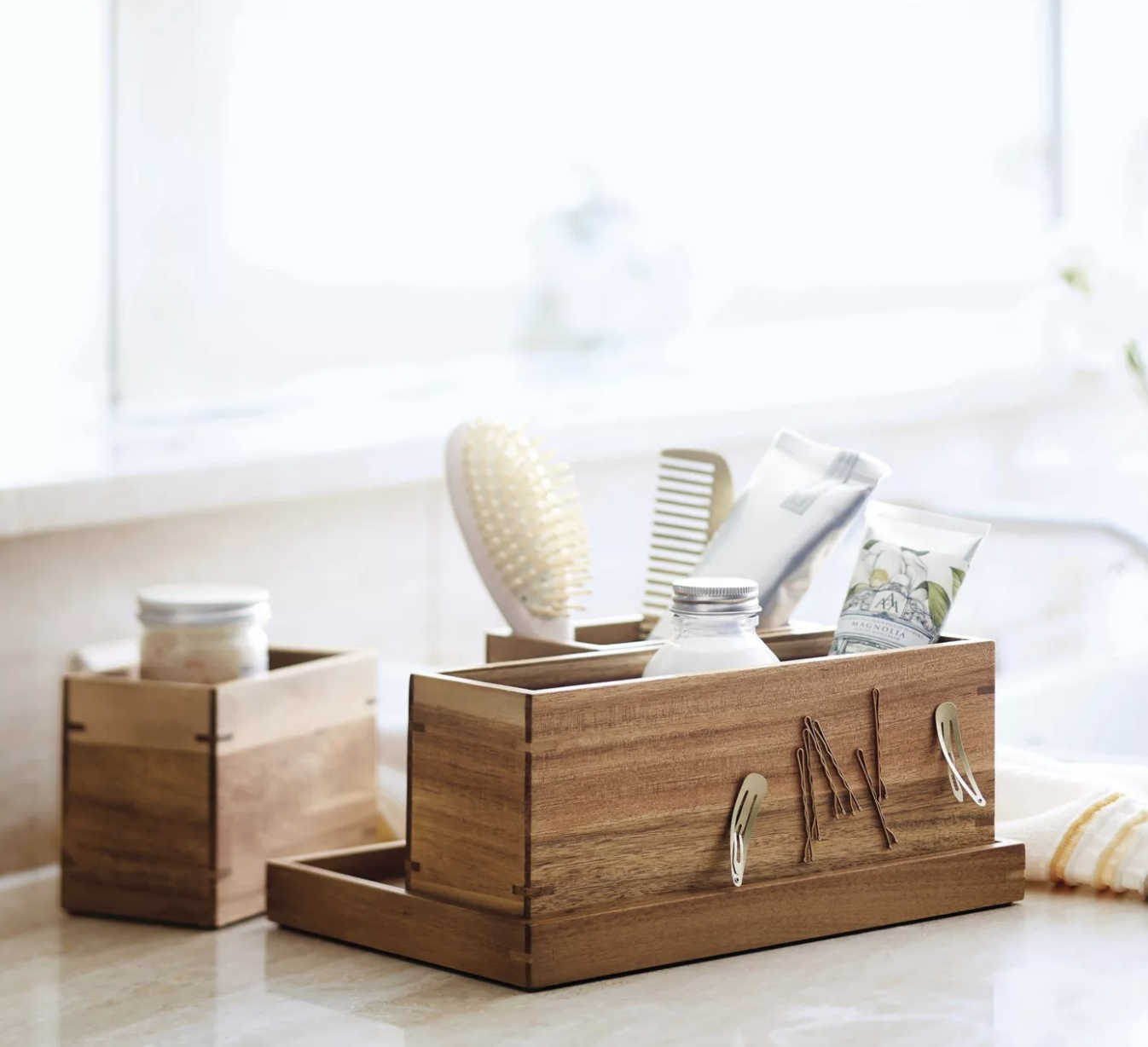 Promising reviews: "I love this so much! I always have so much stuff on my bathroom counter and it all fit nicely in this and now my counter stays nice and pretty! Would definitely recommend! Holds so much!" —Shele
"These little organizers are so gorgeous and practical. They look expensive and I love that you can take them out and have a tray. There's a ton of ways to lay them out. If you're feeling iffy, just get them. I promise you'll be happy!" —Meghann
Get it from Target for $25.
4.
A set of two nesting storage tables because these babies can be used as both chic side tables and a place to store extra home goods.
Promising review: "I'm obsessed with these tables! The tall one comes high enough to enjoy coffee or to eat at. My favorite part about these tables are the storage! I love them because they don't take up a ton of room and are easy to move around! Super happy with these!" —Andrew Vinh Tran
Get a set of 2 from Amazon for $108.73+ (available in five finishes).
5.
A plastic, wax paper, and foil organizer you can leave right on the kitchen counter. This time-saver makes it easy to grab and get to cooking (or storing), and those ugly packaging boxes will be long gone!
Cherry Toast Creations / Etsy
Cherry Toast Creations is a small business based in Littleton, Colorado that creates handmade home decor, keychains, and other gorgeous (very giftable!) items. 
Promising review: "I bought it I assembled and stained it to match my kitchen. Super easy, to assemble soon my foil, parchment and plastic wrap will each have a classy place to call home and I won't lose my Mind looking for stuff...Smart solution to irksome problems." —
Get it from Cherry Toast Creations on Etsy for $29.50. 
6.
A stylish garment rack with shelves because it can be used for multiple things! Many reviewers use the three shelves for shoes, books, plants, or just extra home decor to spruce up the room (something you can't do with the normal clothing rack options).
Grab a set of shelf storage bins (like the photo on the left) for even more organization and storage options!
Promising review: "I've had this rack for a few months now, and I'm so happy with it! My room was lacking something to fill in the plain space, and this garment hanger filled it perfectly and made my room look SO much better! Not only that, but as [someone] with barely any experience assembling any furniture of any sort, it was quite simple to assemble!... It's also quite sturdy. It holds all my decor with no problem, and displays them so well. Lastly, it's also very easy to maneuver. The rack included little pads to stick on the bottom of the legs, making it easy to move across my wood floors without scratching or damaging the surface. If you're searching for a stylish, easy to assemble, sturdy, and easily transportable rack for your bedroom, this product is the way to go! Highly recommend." —Kyle Bonares
Get it from Amazon for $99.99 (available in five styles and two colors).
7.
Cute storage crates that come in five adorable colors! These bold colors will make storage and organization a little more fun.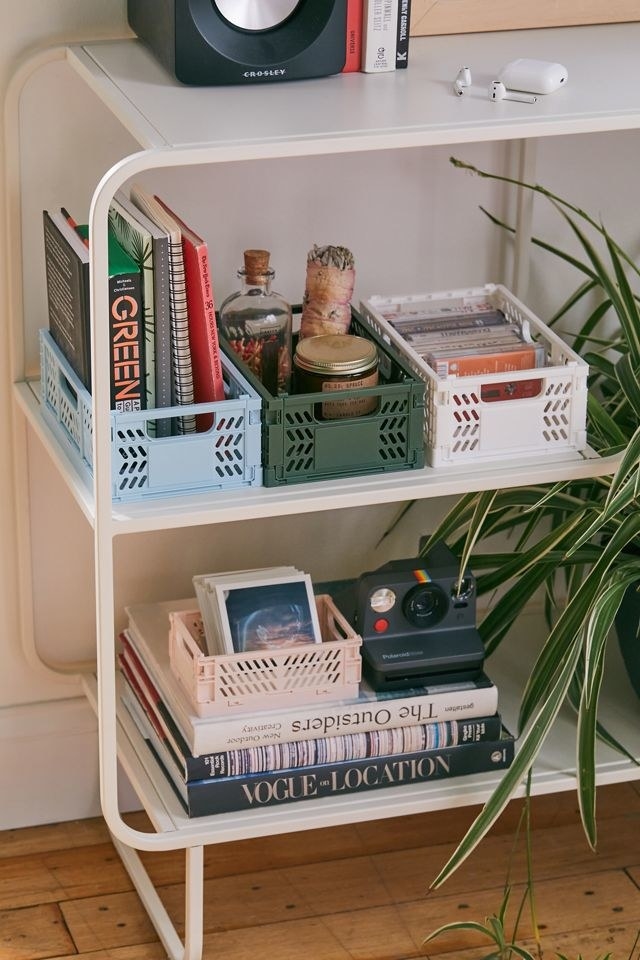 Promising reviews: "I got the small which is perfect for little things laying around. I really like it and will be getting another one to have a set. The best part is if you don't need it you can easily fold it and store it away. Really cool idea." —mc97
"These are such great organizers! good quality and I love the colors, perfect for produce or organizing my vitamins." —kaleeeeeeee
Get it from Urban Outfitters for $5+ (available in three sizes and five colors).
8.
A vertical shoe rack perfect for entryways and small spaces. Your shoes do not have to take over the floor space!
Promising review: "This is great! Fits vertically in my small entryway, just what I was looking for. If you want a modern stylish clean-looking shoe rack with a small footprint, this is the perfect selection! It's lightweight, so of course it's not the sturdiest piece of furniture, but for storing five pairs of shoes, it's great! It fits men's size 10 shoes perfectly." —Aaron Staley
Get it from Amazon for $65+ (available in two colors and widths).
9.
A broom and mop organizer that will transform your cleaning closet or storage area. These babies will allow you to hang the tools and free up floor space in the process.
10.
A storage lid organizer so the clutter of the Tupperware drawer immediately disappears (you know the one!). This organizer is also adjustable so it perfectly fits the size and amount of lids you have.
The dividers are adjustable so you can customize your set depending on what size containers you have!
Promising review: "I love, love, love this storage container. Sounds silly, but it changed my life. No longer do I have storage container Jenga! No more stuff falling out of the cabinet every time I open the cupboard. Now I can stack my lids in the organizer and my storage containers fit nicely on the shelf, and I have a lot of storage containers. I would definitely buy this again and again. Great product." —Laura H.
Get it from Amazon for $15.99+ (available in four sizes).
11.
A set of linen organizers that'll have your closets looking like Marie Kondo set them up personally. These organizers actually break apart and fold down too, so storage will be a breeze when they aren't in use.  
"These are one of those, 'why didn't I buy this sooner?' type of purchases. These have totally transformed my linen closet — so much so that I feel more powerful just opening my closet. They are *super* sturdy, which I appreciate because a lot of these types of organizers can feel flimsy. Not these! Even adding a few in your closet will save it from a toppled sheet takeover." —Kayla Suazo, former BuzzFeed Shopping editor
Great Useful Stuff is a small business selling truly useful goods your life will benefit from owning!
Get one from Great Useful Stuff starting at $25 (available in three sizes and two colors).
12.
A sock and underwear organizer so awesome, you might just open the drawer and stare for fun. This set of four is guaranteed to maximize space in your dresser, too.

Promising review: "I LOVE LOVE LOVE these organizers!! I almost did not purchase them due to the reviews saying that larger than a C cup would not fit into the bra organizer. At just $15 for four organizers I took my chances and ordered two sets of four. I figured, worst-case scenario I would have to cut the dividers out of the bra organizers. I wear a 32DD and the bras fit beautifully in the organizers. I am so glad I took the chance and did not listen to the reviews. I would have missed out on the best cheapest organizers I have ever found. I ordered another set for tank tops and other extras I did not think of before. I will also order my boyfriend the brown ones for his drawers. Great product for a great price!" —Elizabeth L. Blackwell
Get a four-pack from Amazon for $13.97+ (available in seven colors).
13.
Fridge organizers because having a go-to spot in the fridge will feel a lot less overwhelming when looking for dinner. These organizers also have handles so you can pull them out easily.

These organizers also have handles so you can pull them out easily.
Promising review: "Great for organizing. Bins are clear so you could easily see what you have and what you need. These are a perfect addition for my refrigerator to keep items organized and within reach. They are sturdy and will last a long time. Very easy to clean. Will recommend this." —Deepika
Get it from Amazon for $14.99+ (available in four sizes and in packs of two, four, six, or eight).
14.
A slim storage cart perfect for the space between the stove and fridge or between the washer and dryer. Because it has wheels, reviewers say it works great for small spaces and that they can store everything from canned foods to laundry detergent.
Promising reviews: "I bought this for a space between my fridge and the counter/cabinets. Because it is right next to my fridge, I can store onions and potatoes conveniently and shelf items which will eventually be refrigerated thus freeing up some pantry space. It is easy to roll in and out with the attached handle... I was so happy to find this very narrow solution for my little nook." —Jay S
"Love that this does not require assembly aside from attaching the wheels! It's plenty study enough. The wheels move great. I like that you can leave them to turn 360 or tighten them to only roll straight. I love the sleek design and that it has a solid front side to hide the clutter... I think this would be an amazing spice rack/small bottle storage for the pantry. All in all a wonderful solution to my cluttered shelf!" —Barbara Neely Designs
Get it from Amazon for $145 (available in black and white).
Pssst... If you're looking for a slim storage cart on the lower end of the price range, check out this best seller for $21.99. It's plastic, but does the same job!
15.
A double-sided tea organizer that frees up space in the cabinet. Time to toss all of those clunky tea boxes!
Promising review: "Do I really need a tea bag organizer? That's what I was thinking when I ordered this. And when I took it out of the box. And when I filled the first little bag holder. But as the pile of empty boxes grew larger, I knew the answer was yes, I do need a tea bag organizer. I was using a whole shelf and a half of jumbled tea boxes that I had to sift through to look for a specific tea. In the end, I think this held about eight or nine boxes of tea bags (I crammed some of them). I am so happy that I got this!" —Sarah C.
Get it from Amazon for $24.