1.
A wearable blanket because it looks like a giant hoodie but feels like the most warm and comfortable blanket ever. It's even got fluffy lining to keep in the extra warmth when you're lounging at home or out and about.
Promising reviews: "This is the softest thing I have ever put on! It is perfect for lazy nights in, eating ice cream in bed or even sitting on your porch on a cool morning drinking coffee! I am in college and you bet your butt I'm wearing this to class in the winter! I'm obsessed and will be gifting these to all my friends this Christmas! Amazing for the price too, totally worth it!" —Caroline Dudley
"Are you a large person who's always cold? LOOK NO FURTHER, my fellow giants. I am 6' and this blessed cloth of heavenly fluff nearly hits my knees!! Just thinking about The Comfy will make you feel warm and cozy. I'm throwing myself a housewarming party because I now live inside of this thing. BUY IT!" —Joshua Slaughter
Get it from Amazon for $49.99+ (available in one size, two styles, and 22 colors/patterns).
2.
A set of three flameless flickering candles for an extra cozy ambience at home. When you've already got your vanilla candles going, these are perfect to keep the mood without clashing scents.
Check out a TikTok of the flameless candles in action. 
Promising review: 'I loved them as soon as they were out of the package! The glass is a pretty amber color that looks nice even when they are off. The flame effect is pretty convincing and they give off a bright warm glow.
The remote turns them on and off easily... They do not come with batteries. Each one takes three  AAA batteries, so I now have no more in the house!" —Sara B.
Get them from Amazon for $25.99+ (available in four styles).
3.
A plush double-sided shaggy duvet set you'll absolutely love snuggling up in at night. Reviewers say it's thick enough to use as a blanket on its own, but the best part about a duvet is that you can easily switch it out to fit your ever-changing taste!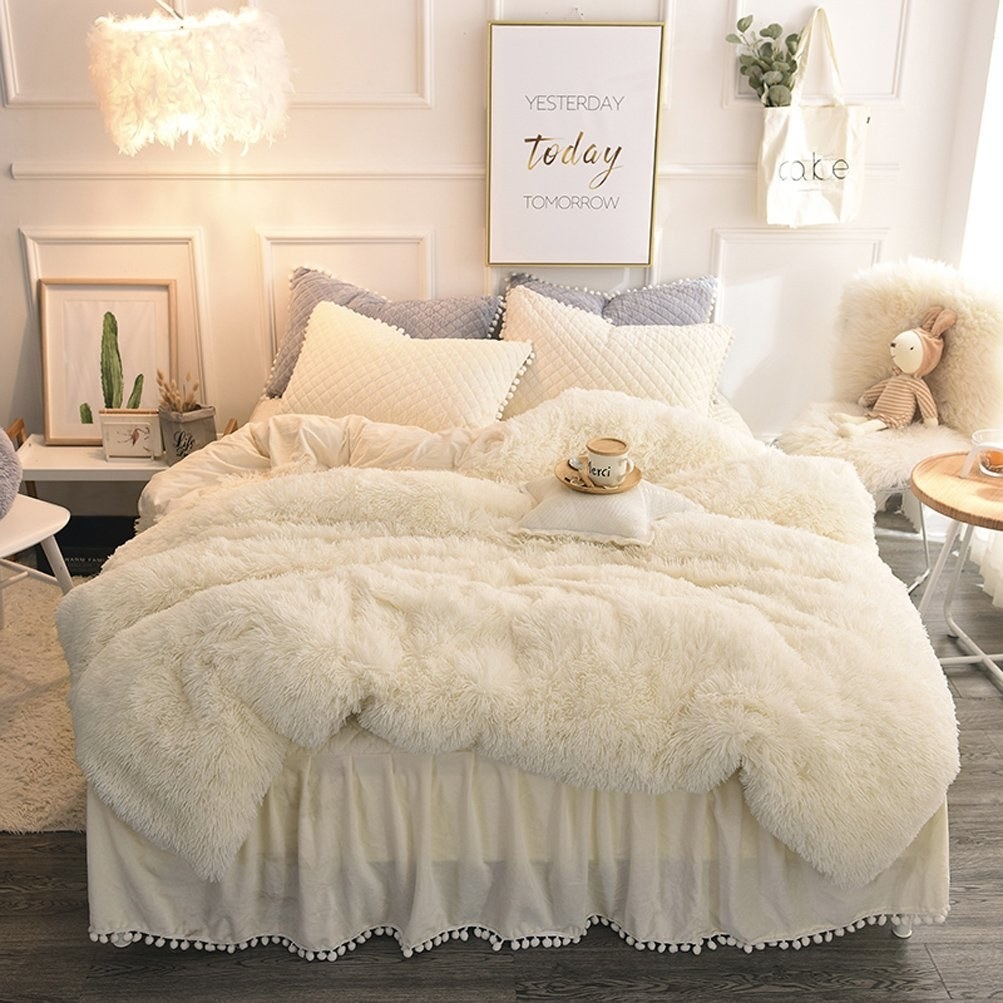 One side is faux-fur and the other side is plush velvet; the twin set comes with one pillow sham, and other size sets include two.
Promising review: "Best things I've ever purchased. I'm obsessed with this blanket. It's seriously one of the best decisions I've ever impulsively made. Pair it with the lux satin sheets. Add a little puppy and live like the sultan you deserve to be."—Kathryn Cottam
Get it from Amazon for $49.99+ (available in sizes Twin, Queen, & King and in 25 colors).
4.
Some silicone soup cubes so you can cook as much as you want, without any of your delicious belly-warming dinner going to waste. It comes with a lid and is made of silicone that makes it super easy to get out when you're ready for it.
Promising review: "These are the perfect size for homemade soup. One section is one serving, so we got two two-serving pieces. The lids fit perfectly and I'm able to freeze soups and then put the big cubes into freezer bags for storage. They're soft silicone so it's really easy to get the frozen soup out of the container. This was a bargain for how well-made they are and how well they work. Saves the family time and money." —Shelly Valladolid
Get it from Amazon for $19.95 (available in four colors).
5.
A mini projector to switch things up for movie nights in. With the right adapter, it can connect to your phone, too! Your house will be the new designated movie night spot from now on.
Promising review: "It's small and light! Easily carried in a backpack for those hike-in overnighters...The projector has a little speaker on the back that can get really loud, in a good way. Obviously not a Bose stereo system, but does the job well without needing an external speaker (although there is a headphone jack for just such a use-case, but no bluetooth connection). Use the included remote control to adjust the volume...The remote control is very responsive (you'll need two AAA batteries for the remote)... I got my Roku Stick, Chromecast, and Apple TV all to work through the HDMI port [USB-C-to-HDMI] without issue. Again, just plugged them in and switched the source to HDMI. Looks and sounds fantastic. And from either the Chromecast or the Apple TV I was able to wirelessly cast my iPhone and iPad screens to the projector. Super convenient!...All in all, you can't beat the value and features on this little projector...I highly recommend!" —Jesh
Get it from Amazon for $69.99 (clip the coupon on the product page to save 20%).
6.
A cool bed tray so you can work, snack, and journal comfortably from your bed. What's cozier than that? It's even got a side pocket so you can put everything away when not in use. 
Promising reviews: "I have been OBSESSED with this lap desk since the minute I bought it. Every guest I have over asks where I bought it and it's been SO high quality and useful. I've never found anything like it, and I love that it's so unique!" —Jess F.

Get it from Urban Outfitters for $99 (available in two colors).
7.
A hand-poured soy wax candle in the deliciously cozy scent of brown sugar cinnamon. Reviewers say the smell is bold and enticing in person, so be prepared to never want to leave the house!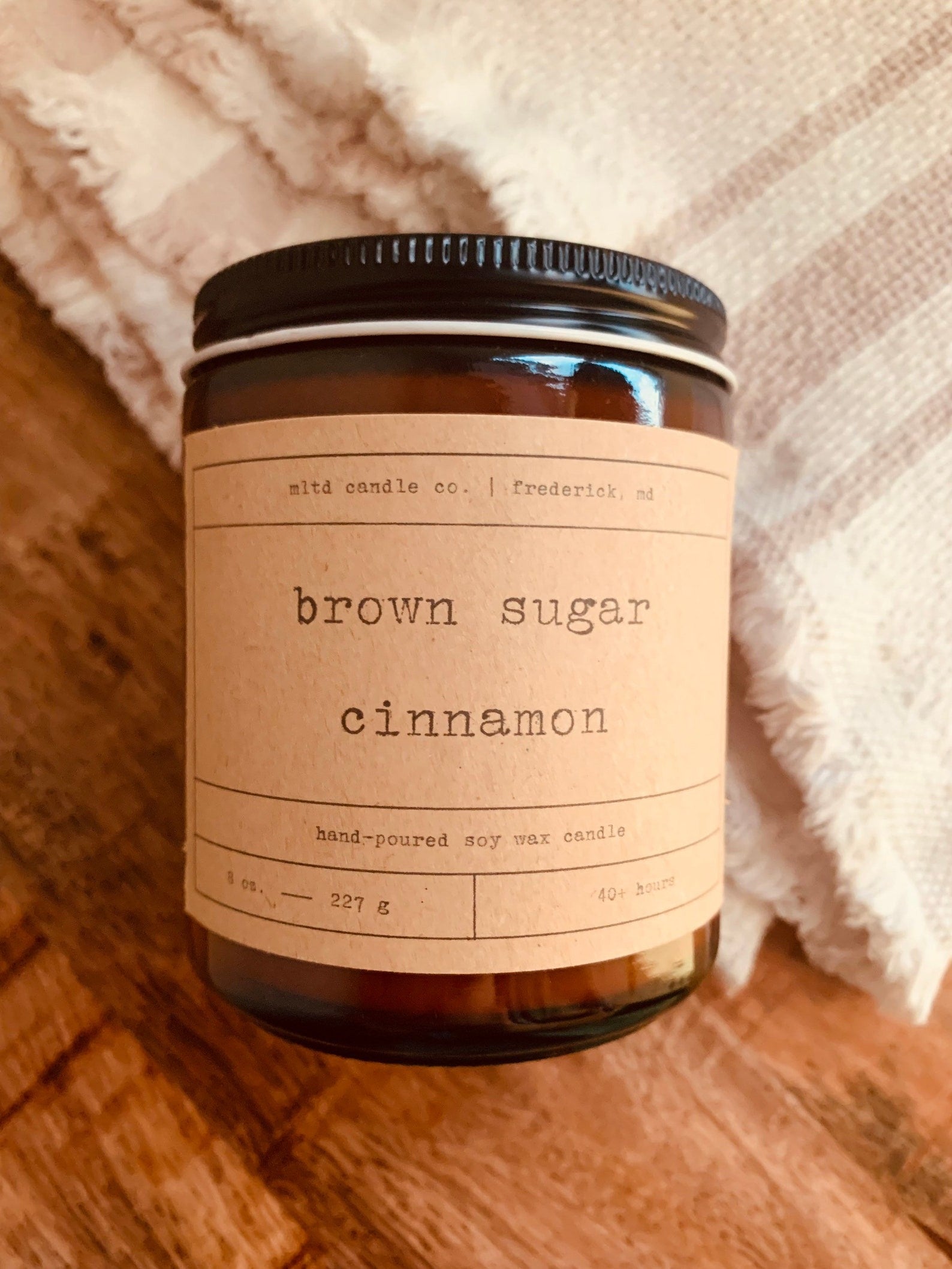 Mltd Candle Co. is a small business based in Frederick, Maryland. 

Promising review: "Burns well and a good size for the price! They smell amazing, too!" —Miranda Lucas
Get it from Mltd Candle Co. on Etsy for $9+ (available in three sizes).
8.
And a vintage-looking dimmable candle warmer perfect for the candle-lover who probably doesn't have room for more (I mean, same here).  This warmer will evenly melt their candles — no flame necessary.  
🎶 It's me, hi. I'm the impulsive buyer, it's me. 🎶 After seeing this gooorgeous candle warmer online time and time again (and trying to ignore the urge  to buy what I absolutely didn't need)...I finally did it, and WOW am I glad I did. This lamp looks even better in person, it's warms all of my candles evenly, and after moving it to my desk, I figured out it can be used as the cutest mug warmer, too! It comes with two compatible 50-watt warming bulbs that melt candles from top to bottom. The dimming feature is also really convenient for both the brightness of the light and for how fast or slow you want your candle to melt! This would definitely be a 12/10 gift. 
Get it from Amazon for $34.99+ (available in 14 styles). 
9.
A pair of fluffy slippers that'll make you think you're walking on clouds. These slippers have nearly 29,000 5-star reviews with people raving about how cute and comfortable they are.
Promising review: "I absolutely love these. Great quality, just as pictured online. Super soft and plush. Will definitely be adding more in other colors to my collection." —Kimberly Valadez
Get it from Amazon for $14.99+ (available in women's sizes S–XXL and 12 colors).
10.
A Bluetooth-enabled record player so when you aren't playing a vinyl record from your collection, you have the option to play something from your phone. It comes in 19 colors, too! So you're bound to find one you love.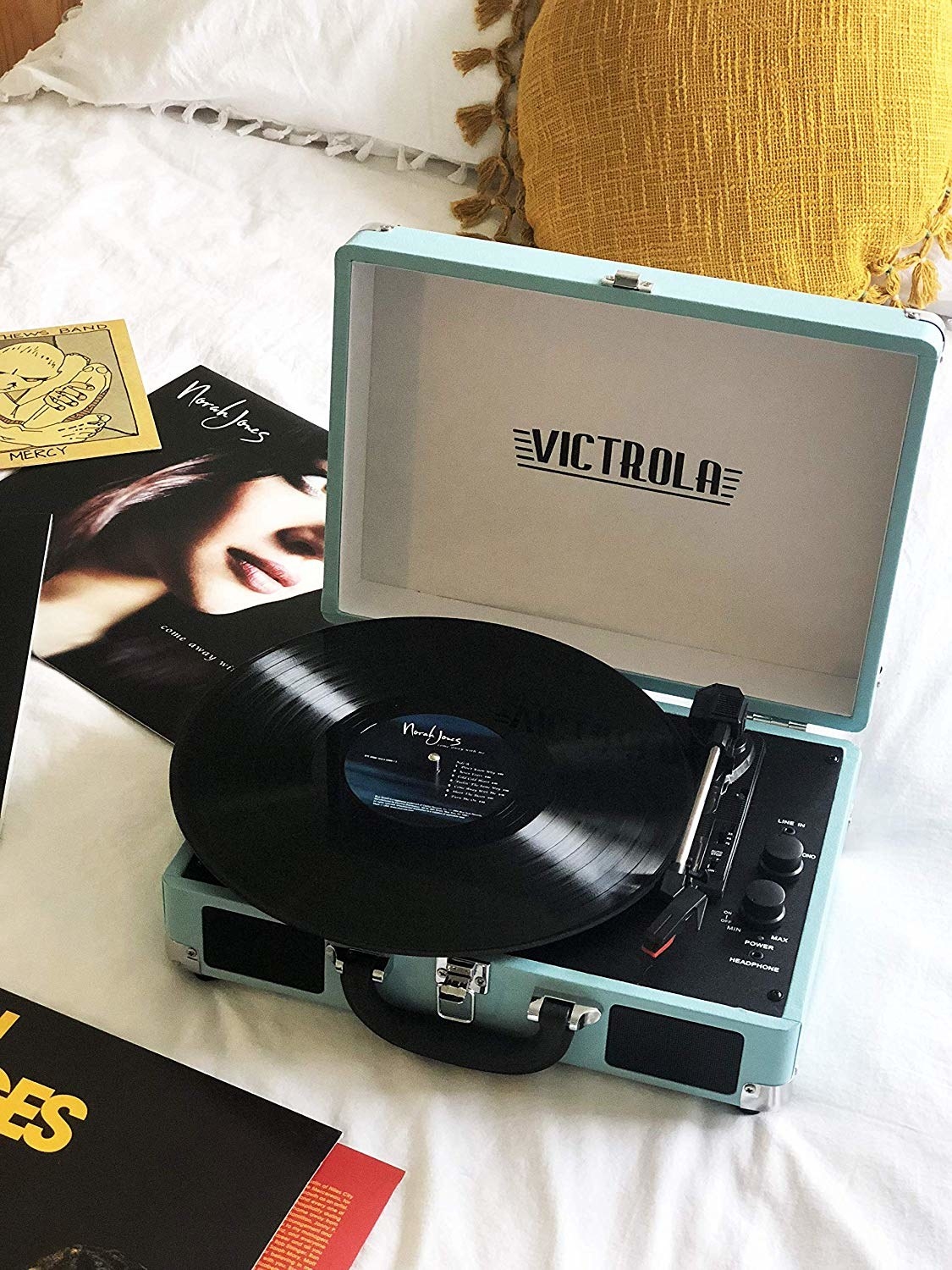 Promising review: "This thing is great! The output is great. Very loud and clear with no distortion. I put the first record on it this morning and the audio quality and overall functionality is awesome. It also makes a great bluetooth speaker as well. The briefcase design makes it great for moving it room to room or traveling places with it. I highly recommend this turntable to both the beginner who's looking to get into vinyl and even the hardcore collector who is just looking for something more portable with some good sound!" —D. Morris
Get it from Amazon for $49.98+ (available in 35 colors).
11.
An ultra-trendy tie-dye loungewear jogger set because the combination of bright colors and comfy clothes will definitely put you in a good mood. The pants have pockets (yay!) and an elastic waistband, while the top is a warm long-sleeve crewneck.
FYI, this set is included in Prime Wardrobe so you can give it a trial run if you're a member!
Promising reviews: "This is very comfy and great to lounge around the house in!" —Chrissy Perkins
"This is the most comfortable thing I've ever worn!!! I love it! I never thought I'd spend this much money on pajamas...I'm too cheap when it comes to clothing...But there were so many glowing reviews I had to try...To my surprise, they fit and feel wonderful! The colors are vibrant, very soft, somewhat stretchy but not too much, wash and dry with no shrinkage, and next to no wrinkles after sitting in the laundry basket. Well worth the extra price! Who'da thunk it? :)" —Amazon Customer
Get the set from Amazon for $28.99 (available in women's sizes S–XL and in 16 colors).
12.
A string light curtain for when you want to bring the starry night sky inside your home. These curtain lights have eight different modes (twinkle, flash, fade, etc.) and can work both in and outdoors. They'll add the perfect ambience and make evening Instagram shoots a thing.
Say hello to another BuzzFeed reader fave! Amazon shoppers love these curtain lights too, because they've got nearly 60,000 5-⭐️ reviews!
Promising reviews: "I'm so happy with these lights! It took a few minutes to get them unraveled, but using zip ties to hang them made it quick and easy. My house feels so cozy now, just in time for the long winter season." —G.S.
"These are so stunning I may just leave them up all year! I bought three strands and would honestly buy more if i needed them. I tested the waterproofing and they are definitely waterproof! I love all the different settings and the way they make my patio look... Both my mom and sister asked where I bought these lights so YES I would definitely refer these to others. You won't be disappointed." —Brooklyn
Get it from Amazon for $19.99 (available in 11 colors).