1.
A set of wireless waterproof Bluetooth earbuds with adjustable silicone tips so they'll fit perfectly without constantly falling out no matter who's wearing them. The buzz on these babies is that not only are they affordable, but they are *super* comfortable, too — just take a look at 185,000+ 5-star reviews!
These come with a wireless charging case that provides up to 14 hours of charge (with the earbuds able to play for 4+ hours with each full charge). The earbuds are also sweatproof and waterproof so you can use them during workouts or runs, (even in the shower!), and have a built-in mic so you can chat on the phone.
Promising review: "Professional dog walker here. I've had these for a week and I am extremely pleased with this impulse buy. The sound quality is good. Great for the price. I like how you can use either separately if you've synced properly. I didn't read the description very well before I ordered, just reviews, and was surprised they are waterproof, and come with a cordless charging box. The box is awesome, too." —Jimpame2
"[These earbuds] looked cool, were in my price range, and had received a lot of great reviews so I bought them. I'm embarrassed to say that I didn't really read much about them before I purchased them. Just another one of my many impulse buys. LOL! When I received the buds and started reading about them I was floored. They're WATERPROOF! That's great!...The carrying case is very solid and it needs to be because its' also the charger for the ear buds. You DO have to keep the case charged with a USB but when you need the buds charged you simply place them back in the case and whamo. Way cool! I've not had any problems with the buds moving around or falling out of my ears. Just follow their advice on sizing. Also, way cool! But the best feature is THEY SOUND AWESOME! I'm not an expert on stereo or sound equipment but I know what I like and I LOVE these. Buy them! You won't be sorry."  —Trader by the Sea
Get it from Amazon $26.99 (available in five colors).
2.
An adorable cat spoon just to make you smile while you sip on your tea or coffee everyday. You gotta enjoy the little things.
3.
A luxe Oak + Fort tote that'll beautifully hold all of your essentials (literally ALL. It's so roomy!) — whether they're headed to work, school, or to the Target down the street. 

This was an impulse buy of mine back in 2018 and it's still in the top five of best impulse purchases ever. This was my everyday purse when five-days a week in the office was still my norm, and it's still my go-to when I know a heavy-duty shopping day is ahead. It's really comfortable and lightweight, the strap is the perfect length, it's *stunning* in person, and the inside is extra extra roomy (which is what I love the most). There's enough room for my 13" laptop, notebooks, a small makeup bag, and there's still room to spare. The two front pockets are perfect for things like phone, keys, etc. I love it! —Amanda
Get it from Oak + Fort for $48+ (available in six colors). 

4.
A plush double-sided shaggy duvet set you'll absolutely love snuggling up in at night. Reviewers say it's thick enough to use as a blanket on its own, but the best part about a duvet is that you can easily switch it out to fit your ever-changing taste!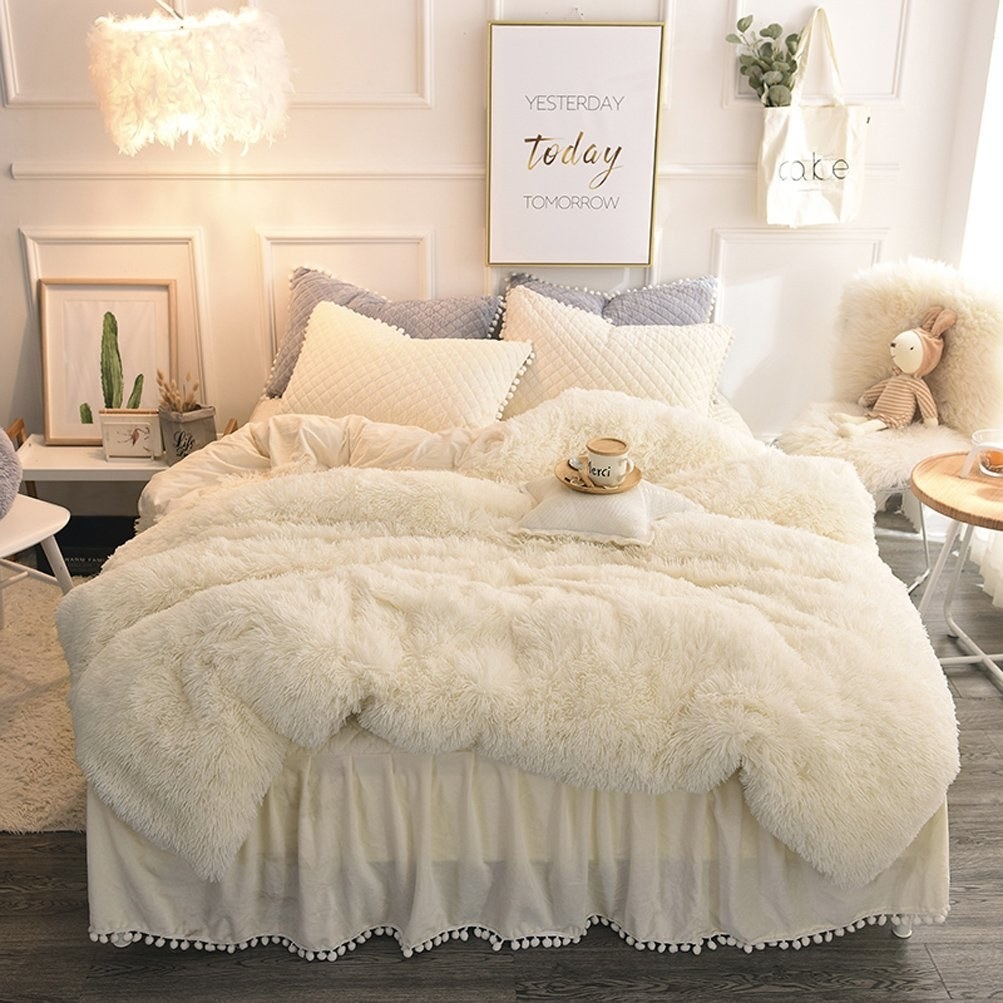 One side is faux-fur and the other side is plush velvet; the twin set comes with one pillow sham, and other size sets include two.
Promising review: "Best things I've ever purchased. I'm obsessed with this blanket. It's seriously one of the best decisions I've ever impulsively made. Pair it with the lux satin sheets. Add a little puppy and live like the Sultan you deserve"—Kathryn Cottam
Get it from Amazon for $62.99+ (available in sizes Twin, Queen, & King and in 25 colors).
5.
A set of six bag clips shaped as adorable woodland creatures because one more reason to smile while you're eating your favorite snack won't hurt. They'll keep everything fresh until you're ready to dig in for more.
Promising review: "This was an impulse buy while scrolling through things I don't need LOL. I love them! Not the sturdiest clips but perfect for a bag of chips. Very cute and fun. The price was so low that I wouldn't be heartbroken if these didn't last forever." —Jenn Hart
Get a set of six from Amazon for $10.58.
6.
A gel-enhanced seat cushion to not only help straighten your posture, but to make your office chair WAY more comfortable. Hours of sitting won't hurt so bad with this!
ComfiLife is a small business based in San Diego. They're all about pain relief, comfort, and taking care of your body.
Promising reviews: "Are you KIDDING ME??? This is the best dang thing that has happened to my butt since Mama rubbed it with Johnson's Baby Lotion! The cushion keeps its form and is so comfortable! I grabbed it on a whim, when I was about to drive on a two-hour car drive...what a world of difference this cushion was....I could actually stand up out of the car, without unfolding myself, when I got to my destination. Do yourself a favor and get one of these!" —Cbkirkland
Get it from Amazon for $49.95 (available in three colors).
7.
And a memory foam orthopedic knee pillow for all the side sleepers battling chronic pain. The benefits of this cushion include reducing back strain, aligning your spine, promoting better circulation, and alleviating pressure on your knees!
Promising review: "Bought this knee pillow on a whim and regret not purchasing it sooner. I suffer from lower back pain due to a herniated disk and only feel comfortable sleeping on my side. Beforehand, only using pillows I'd find that they were a bit too 'fluffy' and wouldn't hold form, compressing overnight, and causing me to wake with lower back pain from time to time. This product has helped tremendously. It doesn't compress very much whilst sleeping and I find myself to wake up feeling more refreshed with little to no lower back pain. 5/5" —Zed R.
Get it from Amazon for $21.95.
8.
A sunset projection lamp to get gorgeous end-of-day vibes whenever you want them. This lamp can rotate 180 degrees, and provides a light that can go as big or as little as you'd like depending on its position. How can you not see the joy in that?
Promising review: "Really great impulse purchase. I really like how the light calms me down. I turn it on when I feel stressed from work or school and I feel some of the tension ease away. I really recommend it and plus it looks cool in your room against a plain wall or posters/paintings!" —Laila T C
Get it from Amazon $15.99 (available in four colors).
9.
An organic cat grass growing kit that'll help prevent hairballs and indigestion your fur baby may have. It's made from a blend of barley, flax, oat, and wheat seeds and is a good source of vitamins and minerals. (And it's black thumb approved!)
The Cat Ladies is a family-owned small biz ran by an animal-loving mother-daughter duo. They sell unique, environmentally-friendly pet products such as their best-selling cat grass kit!
Promising review: "I am very impressed with this!!! I have two rescue kitties that are indoor only... I was reluctant to try this because I do NOT have a green thumb at all... But I figured I'd give this a try. Amazingly, it worked!!!... My cats are enjoying it and it seems to be working well for them. They're not chewing on the stray synthetic carpet fibers from their worn out kitty condo (I'm sure that can't be healthy for them), so I'm very happy with this product. I would definitely recommend this. If it'll grow for me, it'll grow for anyone." —Lynda Dundar
Get it from Amazon for $17.95.
10.
A pack of light-dimming LED covers for those distracting bright and flashy lights on all of the electronics in your home. They work on everything from cable boxes to alarm clocks. You'll have a much better night's sleep and be able to focus on work without looking at that annoying light from the corner of your eye.
Promising review: "My wife hates all my gadgets in our room and how they do an excellent job at lighting it up. Between the constantly flashing red, blue, and green LEDs, it was hard for her to fall asleep and stay asleep causing some not-so-nice mornings if you know what I mean. LightDims were an inexpensive impulse purchase because hey why not? It may compel my wife to stop complaining and actually get some peaceful sleep. Well I'm glad to announce, LightDims did the trick! I'm still able to monitor device activity at a glance, without putting on a personal light show in the room. The LightDims adhere strongly, comes in various shapes and sizes for convenience. It seem like they'd remove easily although who would want to? I'd definitely recommend LightDims to anyone for use on all their devices!" —A. Williams
Get a sheet of more than 100 stickers of varying shapes and sizes Amazon for $2.89.
Larger dimming sheets are also available from Amazon for $9.99. You'll get two 6-by-3-inch stickers that work wonders on larger surface areas like an alarm clock, a stove clock, or a thermostat.
11.
A leak-proof time-marked water bottle if you're the person who ~always~ has to be reminded to drink water. This is the perfect way to stay hydrated. Reviewers say this bottle is super lightweight, sleek, and motivational. Plus, seeing your progress throughout the day is always fun!

Arcana is a small business with one main product: the time marker bottle. They use environmentally-friendly, frosted Tritan plastic that is 100% BPA free!
Promising review: "Like so many others, I saw these water bottles all over TikTok but sheesh the price for some of the ones they had were atrocious! So when I saw Arc had one PRETTIER and MORE glam feeling for a cheaper price I had to grab it, being the money wise but impulsive shopper that I am :) LISTENNNNN!! I have a hundred other water bottles, this is by far my favorite!! It's soooo easy to clean, I KEEP Vaseline on my hands and this has yet to fall (so duh it's easy to hold), but it has fallen a ton because I'm clumsy and it still looks brand new! The minimalist frosted look with the aesthetic times and gold top! Girl, bye you cannot tell me I'm not a rich b**** when I carry my best friend! I love it so much that my little cousins have all asked me to buy them one!!" —I Am Tonya Maria
Get it from Amazon for $19.99+ (available in two sizes and three colors). 
12.
A three-pack of long-lasting clear lip gloss, each with a different main ingredient that takes the OG gloss you love to the next level. The rosehip oil gloss is designed to reduce fine lines on your lips, the mint oil gloss creates a cooling sensation, and the coconut oil gloss is for lips that need extra hydration. Each provide an ultra glossy finish that'll make your lips ✨pop✨.
Promising reviews: "Bought on a whim and I love these! I will be buying more." —Anashia Pendleton

"This is the BEST thing I've purchased on Amazon, hands DOWN! I have not used Chapstick on myself or my children since discovering this. I would bite my lips and they'd crack and be super painful. I applied it all day one day at work, as soon as it would sink in and moisturize I'd apply more and within that nine hour DAY my sliced lip was GONE! It was [great]! My coworkers all bought it after seeing it work its magic on my lip that day. I literally will absolutely buy more for gifts so people can try this product! Thats how great it truly is!... Its cheap and works better and faster than any ChapStick I've tried!" —Kristi
Get a three-pack from Amazon for $4.49.