1.
A bottle of Folex spot remover that'll make even the toughest of stains disappear from furniture, carpets, and other fabric surfaces. (And yes, that includes red wine stains, don't worry.)
Be sure to check out our full write-up on this Folex stain remover!

Promising reviews: "So my dog got into my makeup bag and got ahold of some liquid lipstick and, needless to say, I flipped out to see my carpets neon orange. It took about an hour and two rolls of paper towels but holy moly! WOW did this stuff work! My mother recommended it to me after using it on minor stains at her house and I'm so glad I got it. Definitely worth the money and it really does disappear right before your eyes like the bottle says!" —Jen
"The reviews and before/after pics had me curious, but still skeptical. I used it a few times on random stains around the house and it really does just make them disappear instantly! But all of those were new stains that hadn't set yet. I finally decided to try it on my car seats that have been stained for years and I'm amazed at the difference! You can still see some remnants of the stains but that's my fault for not having enough dry towels. If you follow the directions on the bottle you will not be disappointed!" —LMK32294

Get it from Amazon for $11.80.
2.
A jar of the bestselling Pink Stuff for those hard-to-get stains, dirt, and rust spots around the house. It works for everything from bathtubs and stove tops to tennis shoes and crayon-covered walls.
Promising review: "I had tried everything to get the hardware stains off my shower. CLR, metal scrubbing pads, vinegar, and many other things. I thought I'd end up having to replace all the faucets, knows, etc. I saw this in a BuzzFeed article and thought, no way it's THAT good... It's that good. It's better than good. It's wild how good it is. My shower looks better than new. It took rust stains off tile. It took years of hard-water scale buildup off in seconds. It is literally a miracle product." —Amazon Customer

Get it from Amazon for $9.99.
3.
A hairbrush cleaning tool perfectly designed to get every piece of dust, hair, and dander build up out of those bristles. *Immediately adds to cart*
The pointed end of the tool is ideal for picking out tangles, the stiff bristles work great at removing dust and dirt, and the bristles at the bottom end of the tool can give your hairbrush a deep clean.
Promising review: "When I bought this I was really skeptical. I am grossed out by my hairbrush and clean it all the time. I've soaked it in vinegar and tea tree oil, used a toothbrush, scrubbed it with shampoo, picked it clean by hand — everything you can think of. Still, it's so hard to get the little lint that forms at the base of the brush — they don't dissolve off and you have to pick them off the bristles one by one because a toothbrush won't even break them up. This thing works amazingly. I don't know why, it just does — the particular texture of the bristles on this really grabs everything. It scraped the little lint rings right off and now my brush is cleaner, 10 times as fast." —HeartsofHavoc
Get it from Amazon for $10.95.
4.
A Bissell Pet Stain Eraser  — a portable carpet cleaning power brush that's *super* convenient and very easy to use! Seriously, it's like a one and done scenario with this thing. It can be used for pet stains, baby stains, wine stains (yay!), and because it's cordless, you can use it to clean your car, too.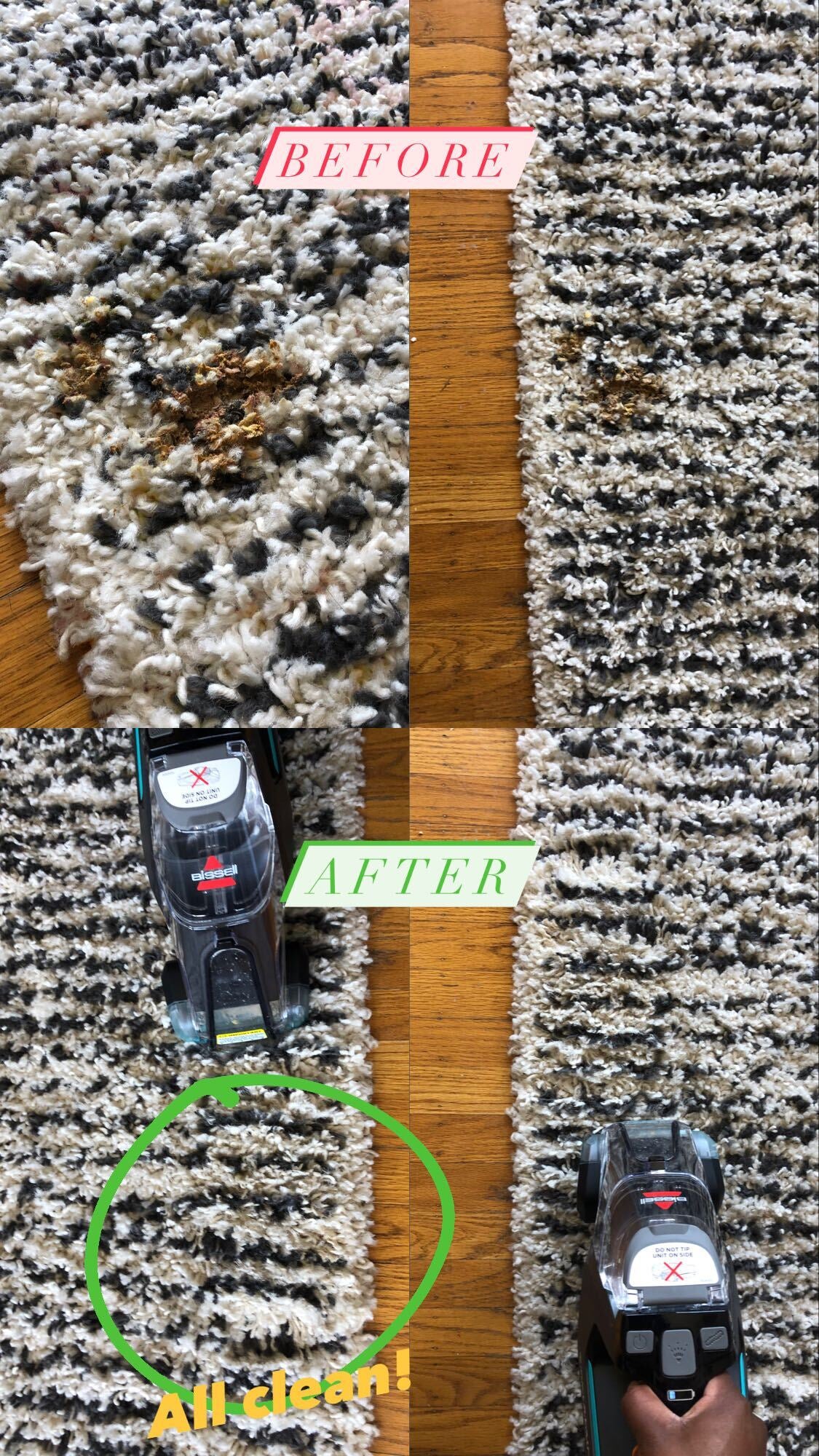 I tried the Pet Stain Eraser for the first time when my cat had a nasty incident on my white (!!) carpet, and within seconds — literally seconds — the stain, the gunk, and the smell were disappearing. My partner returned to the room and couldn't tell where the stain had been at all. And another huge bonus is the compact size. I live in a small apartment with limited storage space, so the fact the something handheld can be so powerful is awesome. Highly highly recommend for any pet household!

Promising review: "Love! A must for pet owners! It's light and easy to take wherever you want. Especially when I was going room to room cleaning up spots. I cleaned carpet stains, porch cushions, and car trunk. I was very impressed how well such a small machine worked. Definitely would recommend for a portable cleaner! Also, it was easy to clean the actual machine. I don't feel like I'm spreading grossness from place to place with a dirty machine." —Christina C.
Get it from Amazon for $129.67.
BTW, this tool comes with two small bottles of ready-to-use cleaning formula, but if you need more, grab a bigger bottle for $11.99!
5.
A bottle of mold and mildew remover spray that kills the toxic mold anywhere from your bathroom tile to your outdoor patio (and all the sneaky places in between). The best part is that there's no hard work on your end. Just spray, wait 15 seconds, and watch the mold disappear!
Promising review: "I bought this RMR spray with low expectations, even with the good reviews. I sprayed a small patch in the evening and let it sit overnight. The next morning, the grout where I had sprayed was as white as if it were brand new. I decided to spray the entire wall and part of the roof. The next day everything I sprayed had no visible mold. By the third night, I was pretty much spraying everything left in the shower. This stuff is amazing." —John Werner
Get a 32-oz bottle on Amazon for $16.99 (available in multiple quantities).
6.
A pack of bottle-cleaning tablets because soap and water is NOT enough to clean bottles and tumblers (sorry to be the bearer of bad news). These will make washing bottles much less of a hassle.
Promising review: "THESE ARE AWESOME!!! I got these and tried one out first with my coffee travel mug and it worked AMAZINGLY. I got all my other travel cups and coffee carafe lined up and used one on each, and got a big bowl for all the covers and gaskets. I left them soaking for about an hour and cleaned with warm water and soap after. Everything came out excellent and like new, with no smell... Before dumping out the solution after soaking, I could see the film of crud that had risen to the surface of the water! Gross but cool. I have used one of these to clean my coffee pot carafe a few times and it works great every time. I recommend super hot water from the tap when using these and waiting an hour." —Sage Moon
Get a 12-pack from Amazon for $8.
7.
And while you're at it, a bottle scrub brush for all of the glasses, cups, and thermoses you can't fit your hand into. The long handle design will ensure every inch is squeaky clean.
Best of all, it can be composted once it's time for a replacement! Just hang to dry between uses, and clean with vinegar when needed.
Me Mother Earth is a small business based in Las Vegas that makes eco-friendly housewares and cleaning products. They don't use any plastic in their shipping, and products come packed with either kraft paper or compostable peanuts.

Promising review: "Beautiful brush! It fits in a very narrow-mouthed bottle and I love that it's eco-friendly." —Sam Sasscer
Promising review: "Great brush, cleaned out the stains in my travel coffee mug instantly! So nice for reaching small and hard to reach areas of cups, flower vases, etc." —Talia Head
Get it from Me Mother Earth on Etsy for $7.89 (available in wide or narrow).
8.
A hard water boosting powder to really clean those dishes that just don't look the same anymore. This powder will give it an extra tough clean and leave behind a pleasant fresh lemon scent. 
Just add this to your pre-wash chamber with detergent. If you don't have a pre-wash chamber, don't fret. Just add 2 tablespoons to the bottom of your dishwasher!
Promising reviews: "I could not get my flatware to come out clean from the dishwasher and I wondered if it was the hard water. I was using up to three soap blocks in each load with only partial improvement. I used this the first time and voilà! Perfectly clean flatware for the first time. I LOVE this!" —Susan A
"We have ridiculously hard water...My dishes, especially my Pyrex bowls and casserole dishes were almost white from the build up. Nothing ever seemed clean. I tried this, and it's an absolute miracle. My dishes are clean again. See the comparison in the picture [above on the right]. The bowl on the left is 'clean', it was washed without the Fibish booster. Bowl on the right was washed with. I'm totally not kidding- it completely does what it says!" —CB
Get it from Amazon for $6.12.
9.
An Angry Mama microwave cleaner that'll make it waaay easier to clean your microwave (so no more excuses!). Simply add in water and vinegar, then put it in the microwave for five to eight minutes. When it's done, just wipe clean! 
Promising review: "I would give this product more stars if I could. I am a busy mom and my microwave often gets pushed to the end of my never ending to do list. So much so that I would have been too embarrassed to show anyone how gross it had gotten. I finally ordered this with the hope that it would at least help make the job a little bit easier. I was AMAZED! Seriously, the hardest part of the entire experience was trying to get the little mama's head off to fill it and that only took a minute to figure out. I followed the directions carefully and then used a sponge to wipe off the grease and food bits. My microwave looks brand new. I will probably use a microfiber cloth next time though because the sponge pushed the mess around and wasn't needed to scrub at all... If you dread cleaning your microwave order this, I'm telling you it really does work wonders!" —MJ
Get it from Amazon for $8.29 (available in four colors).
10.
A pack of dishwasher-cleaning tablets to deep clean the thing that washes your bowls, utensils, and cookware (among other things) for you. Trust me, it needs it every once in a while!
These tablets are designed to penetrate, dissolve, and remove odor-causing residue that accumulates inside your dishwasher over time, as well as remove lime and mineral buildup. Using Affresh tablets once a month can prolong the life of your dishwasher and make it more effective at doing its job: cleaning your dishes.
Promising review: "I've seen this item on soo many BuzzFeed lists, so I figured I would try it during one of my cleaning sprees. Wow does it really work! I don't use my dishwasher often, so it often gets a little crusty looking...but I just threw one of these packets in there and ran a normal cycle and it got rid of all the yucky stuff! It's super simple to use and leaves your dishwasher fresh and clean without any leftover residue." —Christine Doan
Get a six-pack from Amazon for $8.99.
11.
An all-natural, all-purpose household cleaner made with organic castile soap, distilled water, and naturally disinfecting essential oils that are effective and smell amazing. This particular cleaner just happens to be an Etsy best seller, too. Reviewers are obsessed!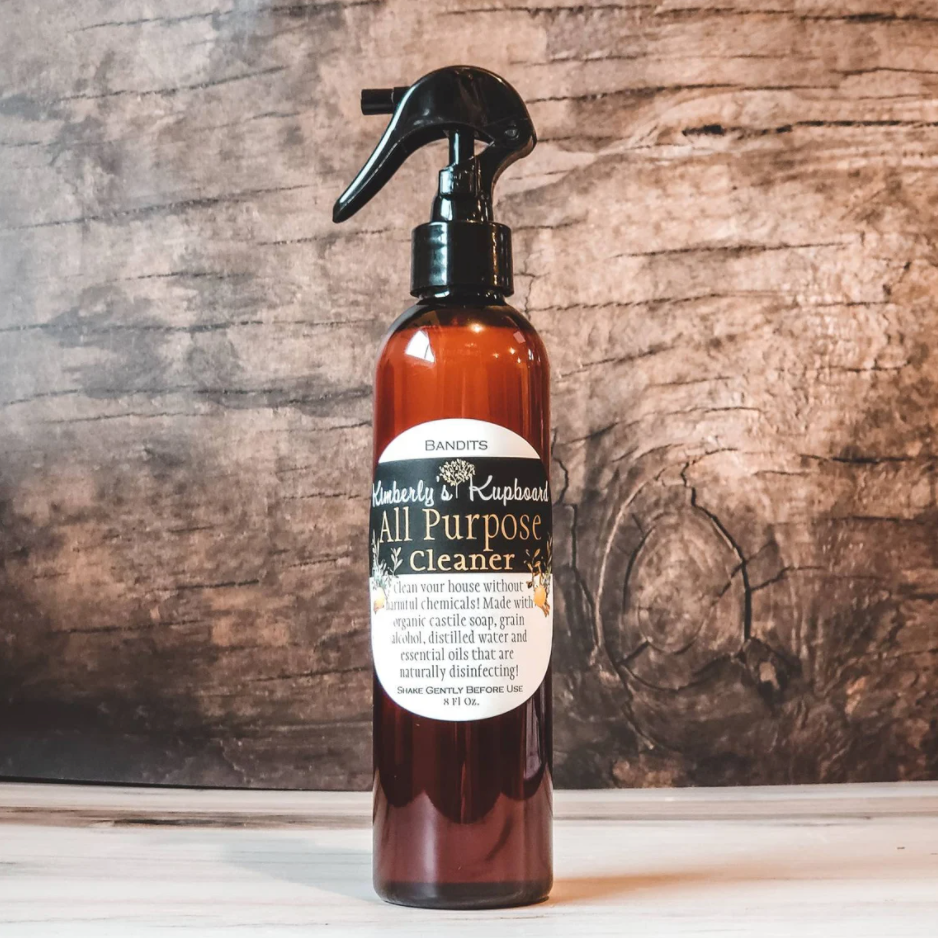 Kimberly's Kupboard / Etsy
Kimberly's Kupboard is a woman-owned small business based in Cabery, Illinois. They sell all-natural, handcrafted herbal household and beauty products.
Promising review: "The fresh lime citrus scent is absolutely incredible! This cleans so well and smells so fresh. I could still smell it for some time after I was done using it. This will definitely be a reorder for me!" —Bekasouth
Get it from Kimberly's Kupboard on Etsy for $19.59 (available in three scents).

12.
A shower door cleaner to rid those hard water stains and get your glass doors back to their original clean and clear state. Remember when you could see out the shower door? Yeah, get ready for that again. 
Promising review: "This product works beautifully. I tried a lot of products to remove the hard water from my glass shower. I have to admit the first time I used it with a cloth it was not very effective. The second time I used a nonabrasive sponge for glass, it turned out beautiful just like the first day the glass was installed." —EJP
Get it from Amazon for $9.99.