1.
A daisy-patterned loungewear set complete with a cozy long sleeve knit and matching drawstring shorts. Wear it when you have zero plans to leave the house OR when you're sightseeing on vacation — either way you'll look adorably fab!

Promising reviews: "OBSESSED!!! Buy it! I bought this set in the green floral pattern and I am obsessed with it. Plan on buying it in several more colors. The material feels high quality — soft and light, but not too thin. The shorts are cut [at an] appropriate length but not awkward! Sweater is slightly cropped but not too much. It's perfect for PJ's, loungewear, or it's even nice enough to wear out. HIGHLY RECOMMEND.🤍🌸" —Lauren Lindsay
"Plus size approved! I usually have trouble finding clothes that don't constrict [my thighs, booty, and arms] that aren't labeled as plus-size. The arms are super roomy, and as for my thighs, the shorts aren't tight and they feel loose. Also, the material is knit/silky/stretchy. Medium to thin thickness. Not fuzzy for anyone wondering. You will not overheat in them. Hope this helps someone! All that said, I want two in every color now. 😂" —Maria Sroczynski
Get it from Amazon for $38.99 (available in women's sizes S–XXL and in 17 colors).
2.
A set of rice ball molds so you can make animal-shaped onigiri with adorable seaweed faces! According to reviewers, this set is *super* easy to use and comes with everything you need to make you "awww" at your lunch.
Each set comes with an animal-shaped rice mold, two nori seaweed cutters (that can also be used to cut ham, bacon, vegetables, etc.), and a rubber pad for even cutting. 
Promising review: "The kit was so easy to use and made really cute, well proportioned onigiri. I liked mixing and matching the face cutouts to make really cute expressions. Now all my friends want this kit too." —Amazon Customer

Get it from Amazon for $14.99 (available in six designs). 
3.
A pair of super fun puffy slippers from Baggu to ensure your feet stay as warm as possible. These slippers are fleece-lined (!!) and lightweight — the perfect house slipper combo if ya ask me.
4.
A fur bucket hat for when a beanie will totally clash with your stylish fit. This hat comes in tons (and I'm talking TONS) of various prints and colors you're bound to love.
Promising reviews: "Not only is it warm for the winter season but sooooo warm and FASHIONABLE!! I have been wearing this hat everywhere!! It's a bit big but honestly that just makes it more cozy. I love it!!" —Grace Beardsley
"Very cute and cozy, fits over my curly hair nicely." —Naomi Boye
Get it from Amazon for $11.99 (available in 28 colors).
5.
A 'Very Busy' graphic crewneck with thee most adorable cat on the front. This shirt is hand-dyed, so each one will be a little unique.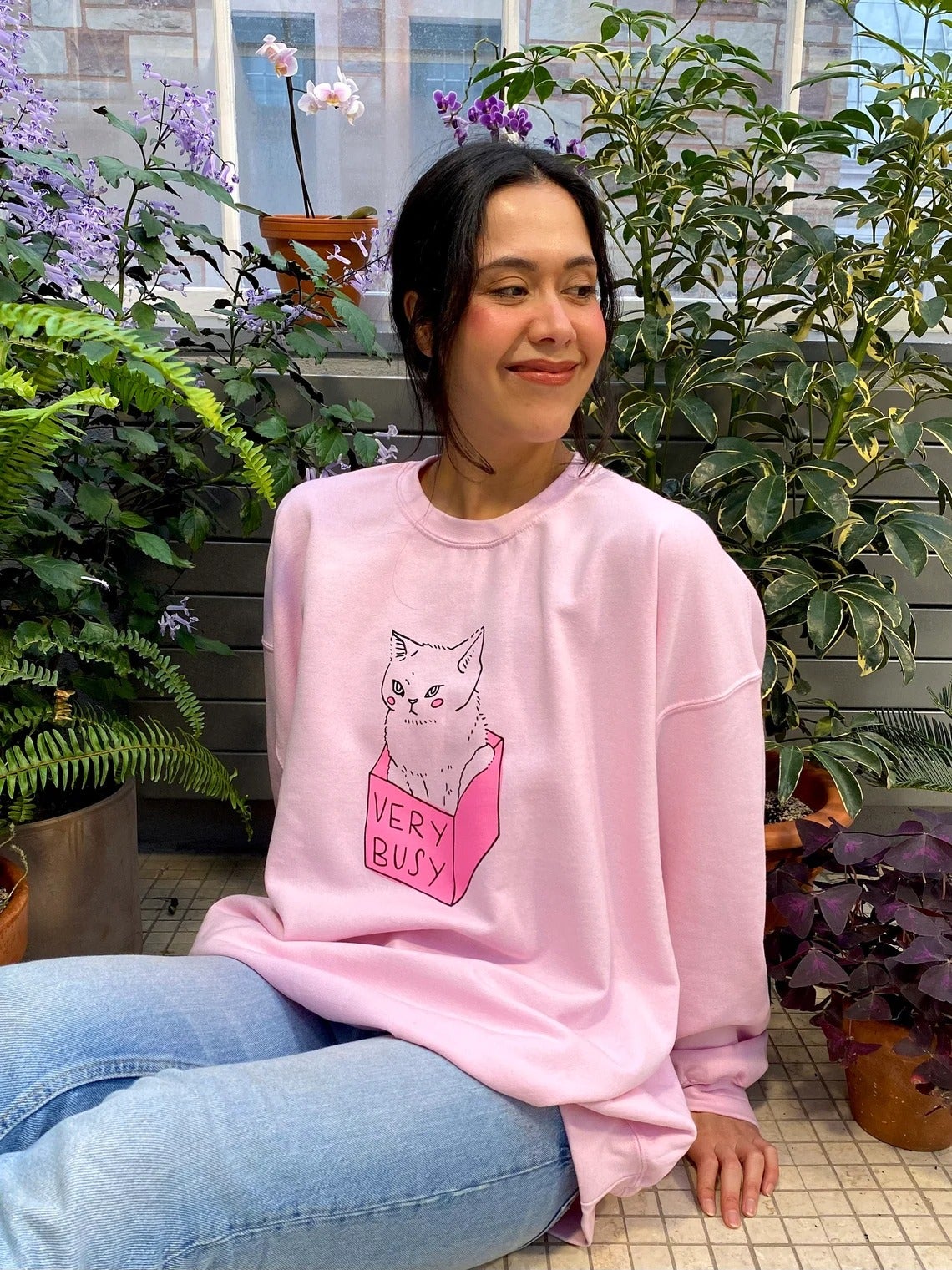 Love Struck Prints / Etsy
Love Struck Prints is a queer-owned Canada-based small business providing adorable and originally designed tees, tote bags, art prints, and more.

Promising reviews: "It's perfect. This is my third order from this shop. Fast shipping, great quality." —Lauren
"The sweater is absolutely adorable! I constantly get compliments on it. Got a large, and it's nice and oversized on me. Super comfy too, it's soft and fuzzy inside." —Laurence D.
Get it from Love Struck Prints on Etsy for $38.13 (available in women's sizes S–2XL).
BTW, this design is available as t-shirt, tote bag, and art print, too!
6.
A cool set of two mini macrame plant hangers for all the plant lover that need greenery ~everywhere~. They can add this to their rear view mirror or hang it somewhere in their house!
And yes, the faux succulent plant is included.
Promising review: "These little succulent hangers are adorable. I've gotten many compliments on mine. I placed it in my rear view mirror of my vehicle. It is study and stylish. I sprayed perfume on mine and use it as my car freshener." —Jennifer Coulter
Get a set of two from Amazon for $12.99. 
7.
A hand-painted floral tea kettle you'll definitely want to leave on the counter as permanent decor. It just might be the cutest way to serve tea or coffee (or any beverage, really), so it's time to invite your besties over so you can show it off!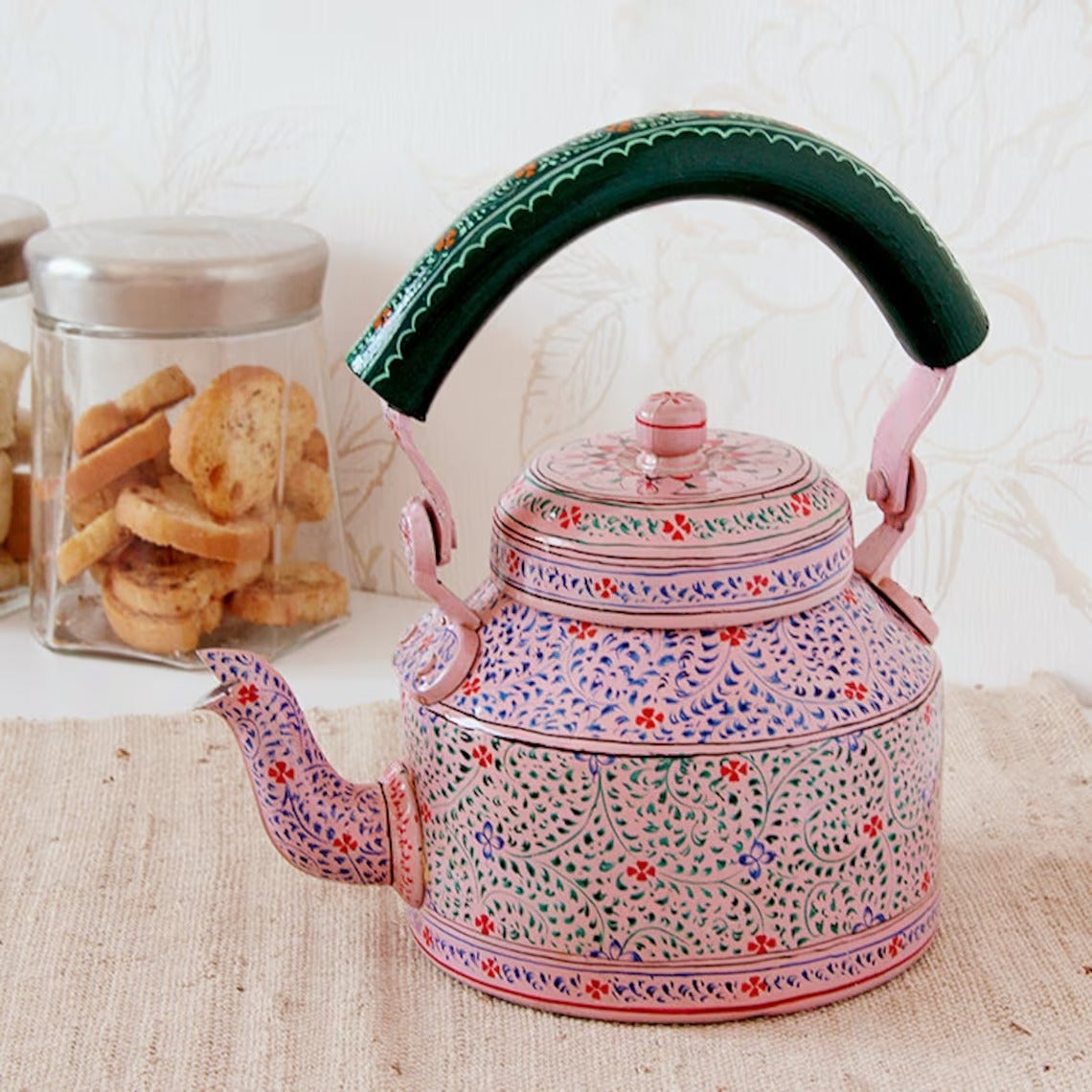 Kaushalam Creations / Etsy
Kaushalam Creations is a small business and Etsy shop based in Jaipur, India! They create unique, hand-crafted homeware items. 

Promising reviews: "All I can say is WOW! It's so beautiful and shipped quickly. I am very proud to own such a beautiful, fine tea pot. I can imagine owning it for a very long time." —Pauline Orr
"My teapot is gorgeous and the detail is incredible!!! Love it!" —Lettie Guillroy
Get it from Kaushalam Creations on Etsy for $55+ (available in aluminum or stainless steel and in tons more designs). 
8.
A Smoko heating pad to ensure you stay comfortable, without the aches and muscle pains caused by the daily grind. These little cuties are filled with flax seed grains and lavender for an extra-relaxing aroma.
Simply microwave the pouch inside for one minute to keep you warm — that's it!
Promising reviews: "Great for muscle pains and for those who menstruate. Plus it's cute and super soft! My partner even loves to use it for their athletic pains, too!" —Percyx
"In the winter this is a life saver! I also have PCOS and this is so nice to carry around with me while I lounge! I love this!" —imhotleavemealone
Get it from Urban Outfitters for $36 (available in three styles).
9.
Illustration stud earrings from SYJ Cosmos that come in TONS of cute images like tiny tea cups, Corgis (love!) and so much more. 

SYJ Cosmos an Etsy shop based in Naperville, Illinois. They create unique, handmade jewelry and home decor!

Note that this item is made to order, so it'll take some time to ship because the shop owner is busy creating their magic.✨

Promising reviews: "These earrings are absolutely beautiful! And the closer you get, the more you appreciate all the little details. Very pleased with this purchase!" —Katie Joy
"These earrings are amazing! They are so detailed and even cuter than I expected! I also got the cutest sticker. I would definitely recommend!!!" —Emma
Get the tea cup earrings and the Corgi earrings from SYJ Cosmos on Etsy for $20 (available in 60+ designs as well as custom options).
10.
A pack of fluffy spa headbands for holding your hair back while you wash your face or do your weekly mud mask. The bow on top makes it extra adorable, don't ya think?
Promising review: "We love these headbands for face washing and face masks! They are so soft and have plenty of stretch! They stay put well and most of just so adorable!!" —Brooke Bush
Get an 8-pack from Amazon for $11.99 (available in two style options).
11.
An adorable AirPod Pro case shaped as concha bread! It's thick and durable to keep your earpieces safe — and it's also just too cute for words. 
12.
A rainbow doormat for vivid and welcoming decor before anyone even enters your house! It's made of durable material, too. So it can handle all the dirt, mud, and a debris coming its way. 
13.
A handmade granny square crochet tote bag that'll no doubt become your everyday go-to. Be prepared to be stopped with compliments because this adorable tote is almost guaranteed to come with 'em! 

Honey Art & Nature is a small Etsy shop who creates beautifully handcrafted items varying from hair accessories and home decor to clothing and keychains.
Promising reviews: "The Granny Square colors are very pretty and the crochet is beautifully done. Fast delivery, too! I highly recommend this [store] on Etsy!" —Alice
"Love this bag so much. I get compliments on it everywhere I go." —Claire Van der Linden
Get it from Honey Art & Nature on Etsy for $89.92 (originally $119.90; available in black and cream).
14.
A Baby Yoda Bluetooth speaker complete with a small strap so you can attach it to your purse or backpack and take it wherever you go.
Promising review: "I just wanted a small Bluetooth speaker for bedtime audiobooks. This is louder than I expected and my son just loves it! It is easy to keep nearby because of its small size, and I am happy with this purchase!" —ray cerda
Get it from Amazon for $16.99 (available in seven variations).