Unless otherwise specified, all sizes in this post are listed in women's.
1.
A thick 'n' warm sweater lounge set so cute and versatile, you'll probably want it wear it outside the house too. This set comes with an adorable ribbed turtleneck sweater and matching loose-fitting shorts.
2.
A warm, oversized waffle knit cardigan great for layering in the winter and wearing with a tank in the summer. Everyone needs any easy-to-style sweater in their closet, and this is *thee* one.

Promising review: "I have these cardigans in three different colors, need I say more? They are thick and heavy, which I like because I bought them for winter, but since it's cotton, I feel like they will be comfortable in spring and fall too. They keep their shape and quality after washing. For sizing comparison, I have them in S, and I usually wear US S in tops." —Anonimous
Get it from Amazon for $30.99+ (available in sizes S–3XL and 28 colors).
3.
An overall jumpsuit to take a casual T-shirt to the next level. It's got extra deep pockets, has a comfy oversized fit, and even comes in tons of cute prints!
5.
A versatile oversized sweater vest with the option to wear it solo in the summer, over a turtleneck in the fall, and on top of a button-down during work calls. And when there's a fashion item that makes leaps between seasons (and occasions), that means you'll need it in every color.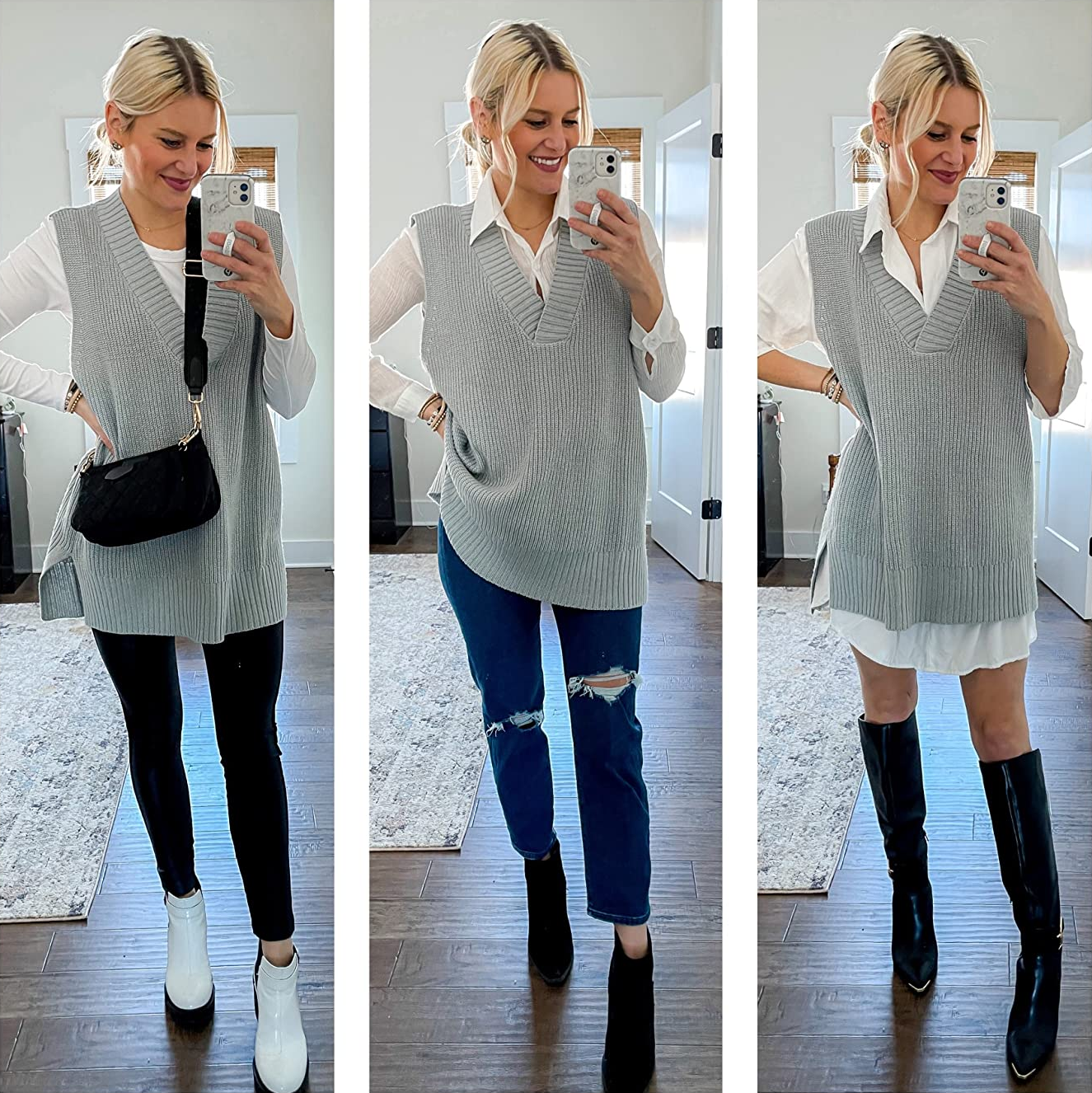 Promising reviews: "This was totally oversized! It looks so cute on! The quality feels nice and washed nice too! Will buy again!" —Ashley Joseph
"This sweater is beautiful and classy. I wore this for a virtual interview and it was warm and cute with a bright white button down blouse underneath. This sweater is so chic, you can wear it so many ways. I love it!" —Tania
Get it from Amazon for $24.99+ (available in sizes S–XL and in 18 colors/patterns).

6.
A sweatshirt hoodie dress, because there's nothing more comfortable than that. On top of having pockets, you've got the option between long and short sleeves!
Promising review: "Absolutely love this dress! I expected it not to fit. I WAS SO WRONG. Not only does it fit but it's the perfect length, hitting right above the knee. I got so many compliments on this dress! It shows off my curves without being uncomfortably tight. It's warm without making me too hot/sweaty. Cannot say enough good things!" —Erica Baldwin
Get it from Amazon for $29.88+ (available in sizes XS–3X and in 29 colors and sleeve-lengths).

7.
A satin button-up that you'll be able to wear for any occasion (including work meetings). And it comes in so many colors and patterns, you'll be saving yourself from the constant "I never have anything to wear" problem.
There are also nonsatin options!
Promising reviews: "I am obsessed with this top. The color is beautiful and it fits great. I wore it to go out and I got so many compliments! I have huge boobs so I got a XXL and it was a bit oversized which I love. Definitely recommend this." —C-money
"I originally bought the black and white and I ended up getting so many compliments that I went back and bought the dark red and yellow for my friend! Its super lightweight which I love for when I'm at work, and also for when the weather is a little warmer. I wear it at work and when I'm going out so it's very versatile." —megan thomas
Get it from Amazon for $28.99 (available in sizes XS–3X and in 21 colors and patterns).
8.
A graphic tee great for when you want to throw on a casual outfit, but don't necessarily want a plain white T-shirt.
Promising review: "This is my new favorite T-shirt. First time wearing it out, I received so many compliments. When ordering, I really didn't know what to expect from the sizing, but after reading the reviews I decided to choose an extra large due to everyone saying it was kind of crop-toppy, which is very true." —Sarah DaVitte
Get it from Amazon for $17.99 (available in sizes S–4X and 28 styles).
9.
A fun checkered knit cardigan to stay cozy and trendy despite the cold weather outside. This adorable chunky knit will quickly become a favorite!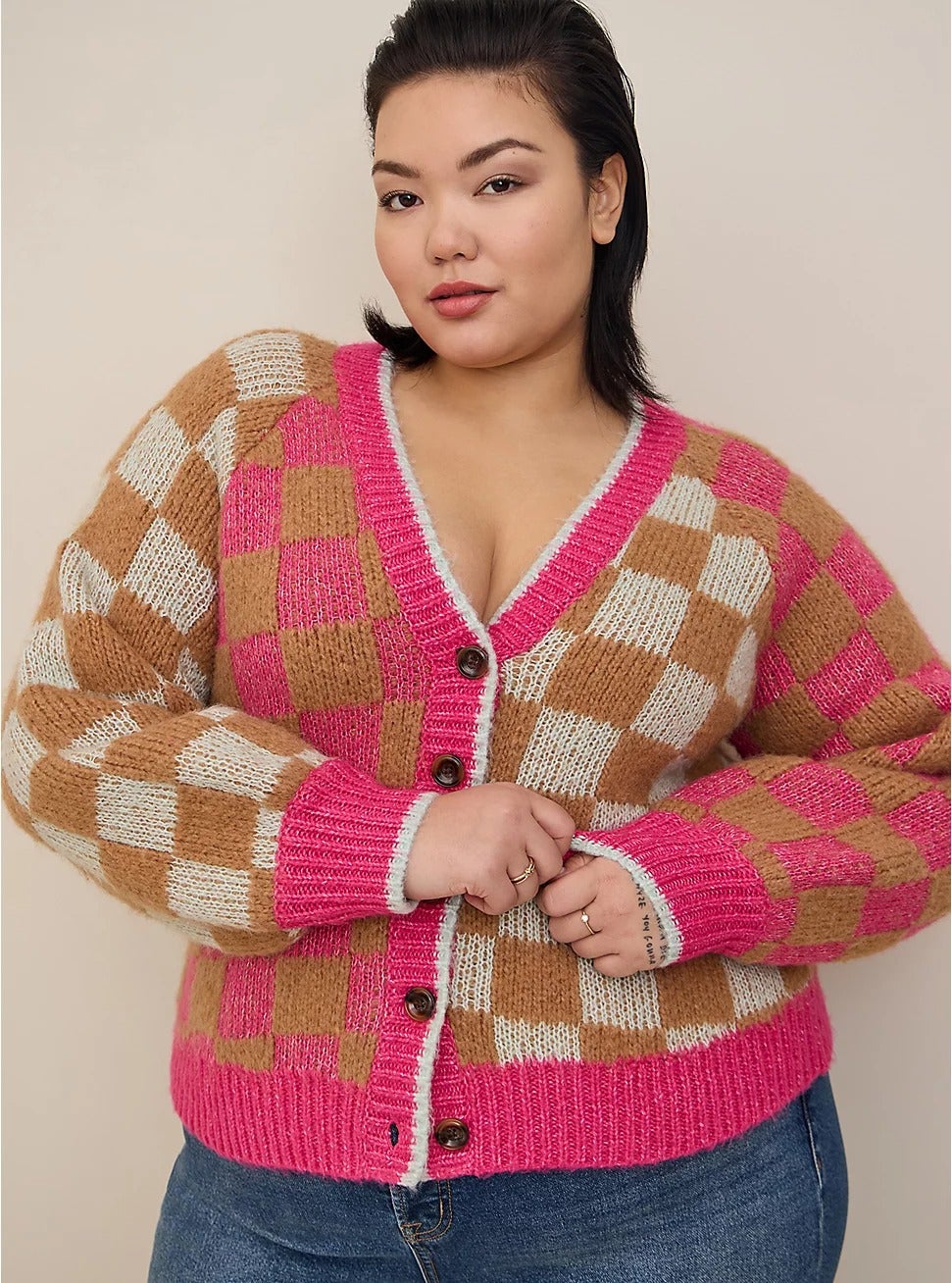 Promising reviews: "Beautiful and colorful warm sweater that fits perfectly. I love how this sweater feels against my skin." —Vaughnie c
"LOVE THE COLORS. I just bought this sweater and I must say that it's very nice and soft and more of a cropped length. It's very soft and warm, bright colors. I recommend this sweater, I'm using it as a cardigan over a shirt." —IminGtown
Get it from Torrid for $55.57 (originally $85.50; available in sizes M–6X).

10.
A flowy jumpsuit from an eco-friendly small business that's perfect for anyone with a minimalist style. This jumpsuit is super comfy (made with organic cotton and spandex) and even has hidden side pockets!
Mien is a small business who takes a sustainable approach to fashion. Mien's signature fabric is made from 100% GOTS (Global Organic Textile Standard) Certified Organic Cotton, all of their garments are dyed locally using non-toxic AZO-free dyes, and to reduce waste, they produce everything in small batches. To top it all off, everything (including this jumpsuit!) is knit, cut, sewn, and dyed in Los Angeles, family-owned factories that pay fair wages and provide their workers with a safe working environment. 👏
Promising review: "This jumpsuit is perfection — the material, the color, the fit! It's my go-to piece for when I want to feel lovely, put together, and comfortable." —Victoria T.
Get it from Mien for $148 (available in sizes XS–3XL and eight colors).
11.
A matching set with details that'll make you swoon. The joggers have pockets (!!), a drawstring waist, and a super cute line detail going down the leg, while the top's cropped cut make it an easy mix n' match option.
Promising review: "Got this set to sleep in for the winter. The material is very comfortable and soft on the skin and not irritating at all. The stitches were flawless and looks exactly like the picture. I actually wore the sweats outside with another top and I was feeling fine the whole day." —Kesha Follz
Get it from Amazon for $37.99 (available in sizes S–XXL and in 11 colors).
12.
A plain shirtdress because it gives you PJ comfort aaand WFH-approved style. And when you've got a fashion piece that looks great with slippers and sandal heels alike, you know you have a winner.
13.
A cropped turtleneck you can wear to the office and to happy hour. Reviewers say the side buttons are the *perfect* touch, so it's the must-have piece for your winter festivities!
Prime members: You can try before you buy! 
Promising review: "This cropped turtleneck sweater is soo soft and comfy!! Perfect for my high-waisted jeans! So cute and the button detail gives it an extra flair. LOVE." —Amy M

Get it from Amazon for $35.02+ (available in sizes XXS–3X and five colors).
14.
Everlane's top-rated cropped pants for a clean look and comfortable feel. The cropped cut is stylish and will definitely make these a new favorite!

Promising reviews: "SO COMFY. Love love love these pants. They are extremely comfortable and are easily dressed up or dressed as casual as you want them" —kattt
"I love these pants. I've got a bit of a booty and I've found that this style of pant works well for us bigger-bottomed gals. I'm also so pleased at how perfectly they fit. Usually pants that fit in the rear they're too big in the waist. However these are the Goldilocks of pants. I'm ordering more immediately." —Emily Lucille
Get it from Everlane for $98 (available in sizes 000–16 and in four colors).

15.
A polka-dotted maxi dress that's delightfully flowy and amazingly comfortable (just ask the 2,000+ people who gave it positive reviews!)
FYI, this is included in Prime Wardrobe so you can give it a trial run if you're a member!
Promising reviews: "This dress is gorgeous. I received so many compliments on it. It's true-to-size and is very comfortable. I'm so happy with my purchase!!" —MK
"[This dress] is BEAUTIFUL! The material is extremely comfortable and not see through at all, so you won't need a cami or anything underneath. The length hit on me as if it was tailored to my height, which is a difficult find for me. The belt gives it a perfect tie to be a bit more elegant. I received SO many compliments when I wore this, and I can't wait to wear it again! Oh and the bust was already seamed together, I didn't need a pin or clip or anything...100/10 would recommend this dress and I can't wait to order the other colors!" —Eman Elshalakany
Get it from Amazon for $39.99 (available in sizes S–XL and in 19 colors).