1.
A satin sleep set where they'll get all the essentials: a silk pillowcase, and eye mask, and a hair scrunchie. Not only is satin material comfortable, but it also ensures hair and skin protection while sleeping!
With satin, there's less friction which means no more tangled hair and the cooling effect will help your bridesmaid sleep soundly.
Promising reviews: "I love this sleep set!! All three items that come with it make sleeping more delicious. It feels great on my skin to sleep on the satin pillowcase. The eye mask is very soft on my eyes, and it blocks out the light very well. The scrunchie comes in very handy if you have long hair. It keeps my hair up securely like a regular scrunchie, and easily glides off when you need to take it off—removing stress to your strands. Finally, the design is beautiful! The subtle leopard print and beige tones make it look trendy, yet elegant. I really love this sleep set!! I think it makes an awesome gift." —Nancy

"I love this! My favorite is the pillow case, so smooth and comfy. I would definitely order the pillow case itself. The satin is also super important for fellow curly headed people to keep our hair frizz-free. Everything is super comfortable and I am very satisfied. I feel like a queen 👑" —Cassidy Michele Husted
Get it from Amazon for $36 (available in five colors).
2.
A velvet personalized jewelry box with a inner mirror and suede interior. It's got room for rings, necklaces, earrings, and more. And the monogram in front is the perfect finishing touch!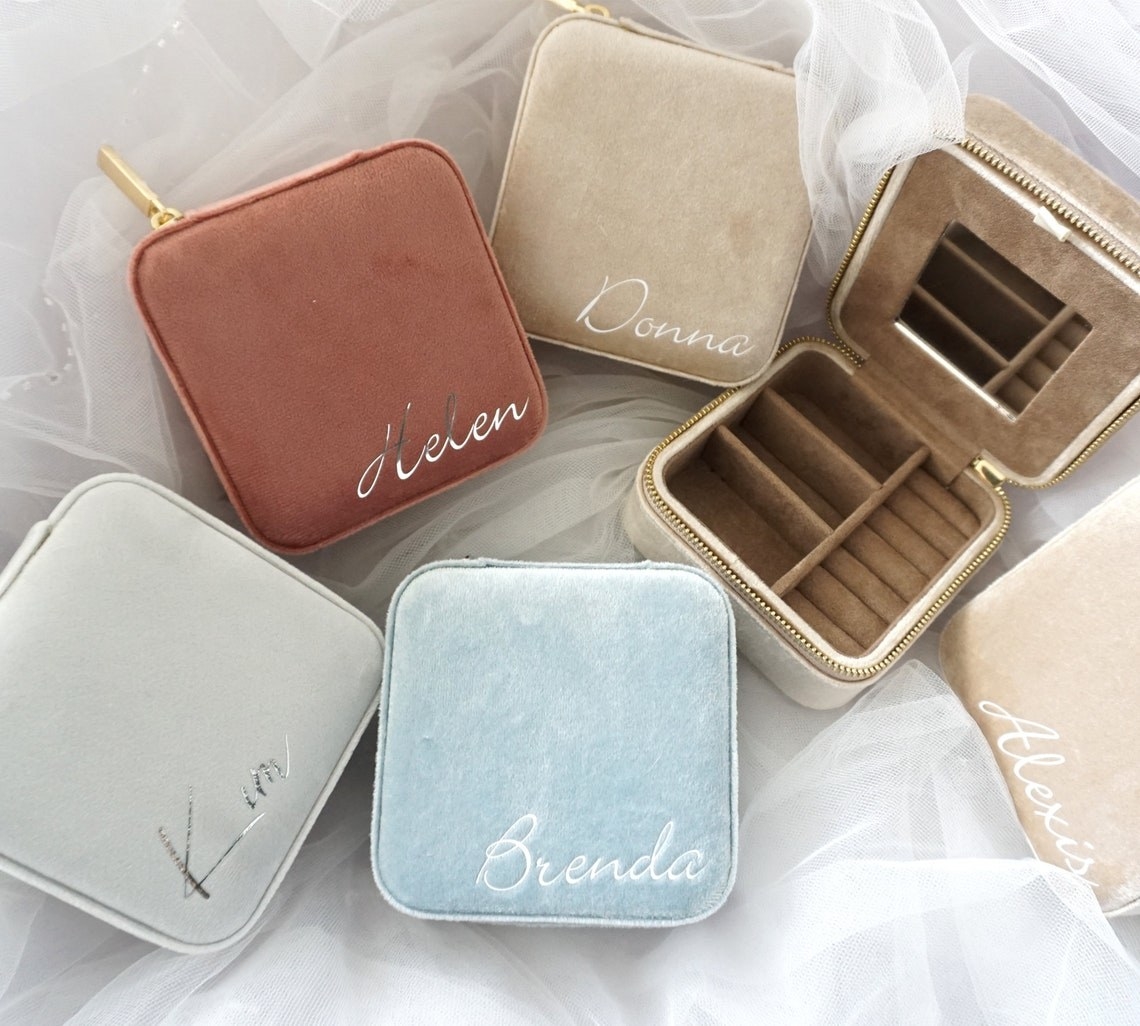 Made In Rose is a small handmade gift shop based in New York. They provide tons of personalized items such as jewelry storage, makeup bags, sweatshirts and more. 
Promising reviews: "These are absolutely beautiful. Great quality, look really nice and came in a small white box for protection or gifting. I purchased other boxes from a different seller and they turned out horrible (also took three months to arrive) they were cheap looking and crappy. These are BEAUTIFUL and shipping was FAST! Would highly recommend." —sierrakellylamb1
"Absolutely gorgeous! I am SO happy with the quality and the jewelry boxes were bigger than expected. Would absolutely buy again and have already had people say they want one! 😍💖" —Rachel Leach
Get it from Made In Rose on Etsy for $19.51+ (available in 13 colors). 
3.
A Glossier essentials set complete with Boy Brow (brow pomade), Balm Dotcom (the fan favorite universal skin salve), and Future Dew (an oil serum hybrid). All the top rated products in one, convenient clean-beauty bundle✨
Make sure to choose which colors your bridesmaids would like best before you check out.
Promising reviews: "These three are staple items that I use daily!" —aalexandraa.taylor
"I've always loved Boy Brow, it is the best on the market. But this set allowed me to try Future Dew and it also lives up to the hype. A great set for sure. Love all three items." —Tanya
Get it from Glossier for $42 (a $52 value).
4.
A pair of fluffy house slippers that will make them think they're walking on clouds. They have nearly 22,000 5-star reviews with people raving about how cute and comfortable they are.
Promising reviews: "These slippers feel like a hug on my feet. They have a hard bottom so you can wear them out. The top part is so incredibly soft!!! I love these!" —Cyndi Lundeberg
"I. Love. These. Slippers. One of my favorite and best purchases from Amazon. I practically live in these things. Literally, I wear them around the house all the time down to stepping out of them and directly into the shower and even walking my dog in them... My nieces loved them so much I ended up getting them each a pair for Christmas. You will not be disappointed if you purchase. Cute, comfortable, versatile." —Beckybrowneyes85
Get it from Amazon for $16.99+ (available in women's sizes S–XL and in 12 colors).
5.
An initial necklace if you're looking to give something that's both stylish and sentimental. This dainty gold piece is something they can wear everyday, with any outfit. And PS, It's handmade!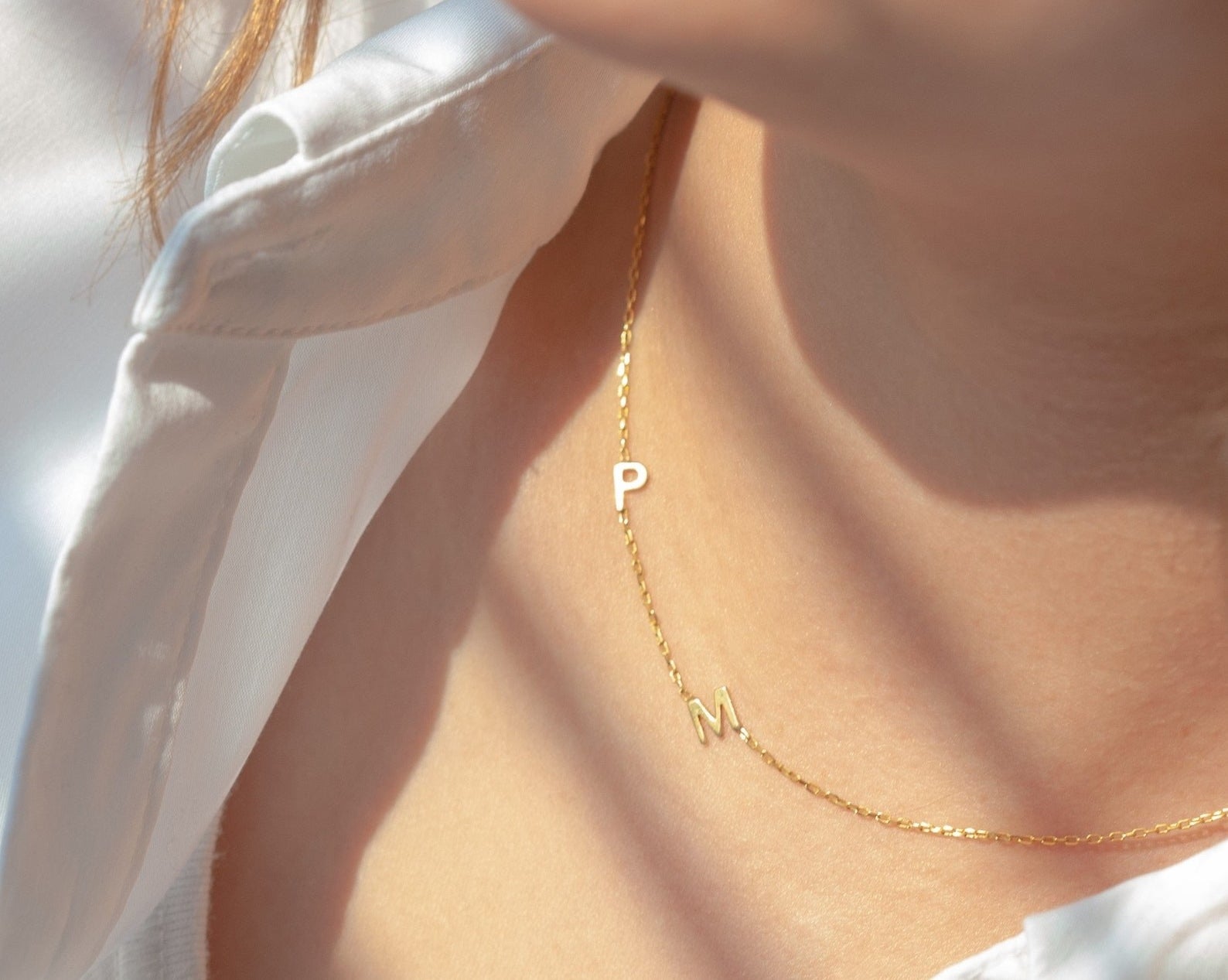 Belky Mood is a small business based in Plano, Texas. They specialize in gorgeous, personalized, handmade jewelry. You can add up to nine letters on this necklace and even a few emojis!
Promising review: "I have ordered from Belky Mood 10 times now—for myself, friends, sisters…the custom sideways initial necklace and custom name necklaces in gold (16 inch) are the PERFECT dainty layering piece. I get asked about mine all the time (I got my son's name). I would HIGHLY recommend for anyone looking for a dainty staple, for themselves or to give as a gift, to order from them. I couldn't be happier with the quality and overall look! Thank you again:) " —Stephanie Moore
Get it from Belky Mood on Etsy for $19.17+ (available in five lengths and three colors).
6.
A La Chatelaine hand cream gift set with four deliciously scented formulas of organic shea butter, vitamin E, and argan oil. In this set your bridesmaid will get Cherry Almond, Wild Fig, and Winter Flower — all plant-based and all made in France!
Promising review: "These are lovely scented hand creams in a sweet reusable tin! The creams have three delightful fragrances that are wonderful moisturizers and a little goes a long way! I have plenty of ideas for putting the pretty tin to use after I have used up the creams! It's the perfect gift idea and a great purchase in every regard!" —Cindee S.
Get it from Amazon for $27 (a $30 value; available in seven variations).
7.
A fluffy weighted blanket that'll be like calming hug when they need one. It's even reversible with one side being comfy fluff, and the other a cozy sherpa material. When not in use, it's the perfect throw for their couch or bed!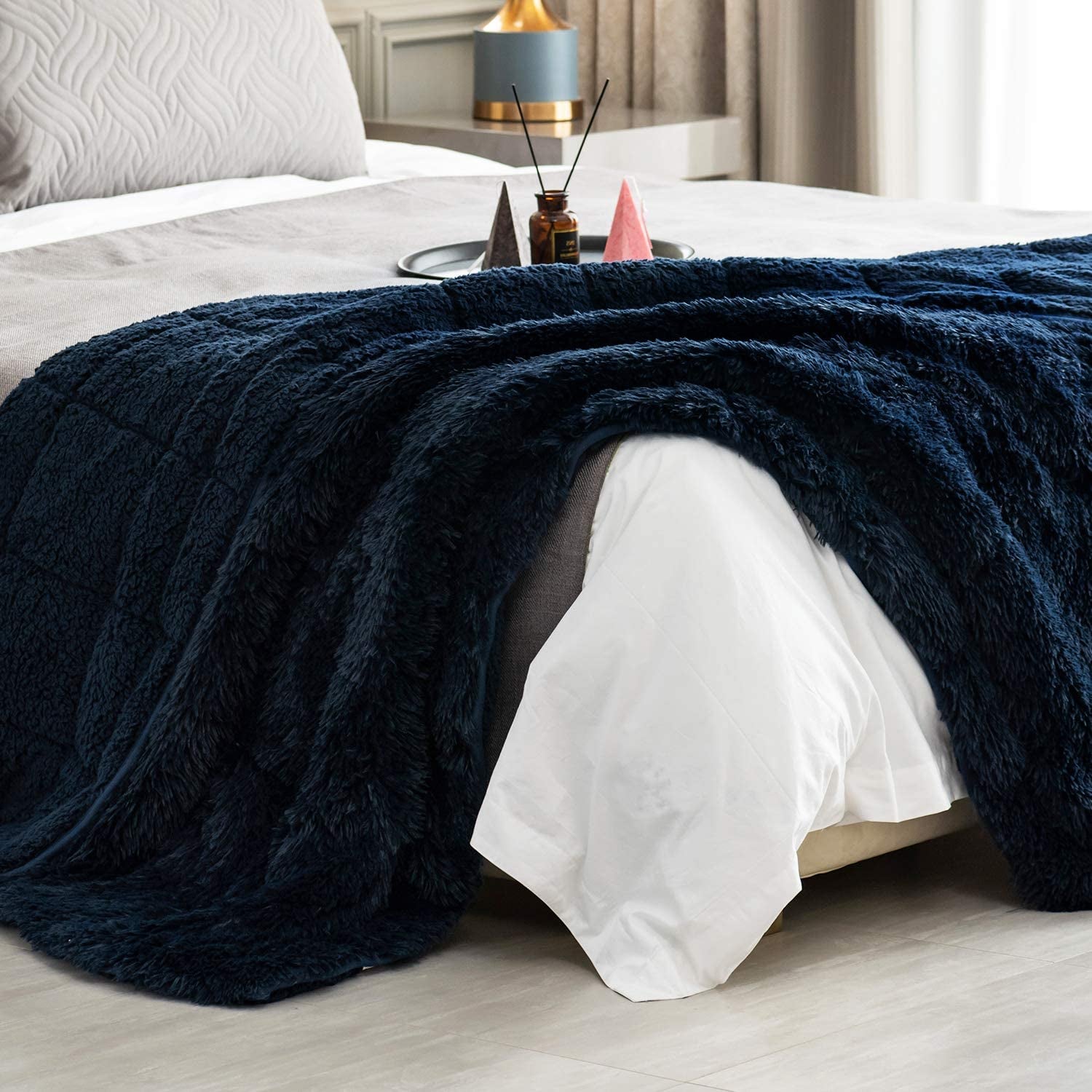 The ceramic beads inside (what gives the blanket its weight) are non-toxic and hypoallergenic, but the double layering and padding of the blanket will keep them from moving around or getting out — so no worries on that front!

Promising reviews: "Wow... this is the most comfortable blanket I've ever owned and I have several. Makes you feel so snug and warm. The texture is amazingly soft." —curtis cox
"This blanket is just gorgeous! It looks so wonderful on my bed! So inviting! The fur is dense on both sides and soooooo soft!...I like that the blanket can be washed and dried as opposed to the glass bead blanket I had before (which is why I had to buy a new one!) LOVE LOVE LOVE it!" —c. Davey
Get them from Amazon for $47.99+ (available in three sizes/weights and six colors).
8.
A five-pack of Meebak's Cica Sheet Masks because they're effective, yet gentle enough to soothe even the most sensitive skin. Ingredients like damask rose, cherry blossom, green tea, and cica are infused together to hydrate, brighten, and soothe damaged, irritated skin.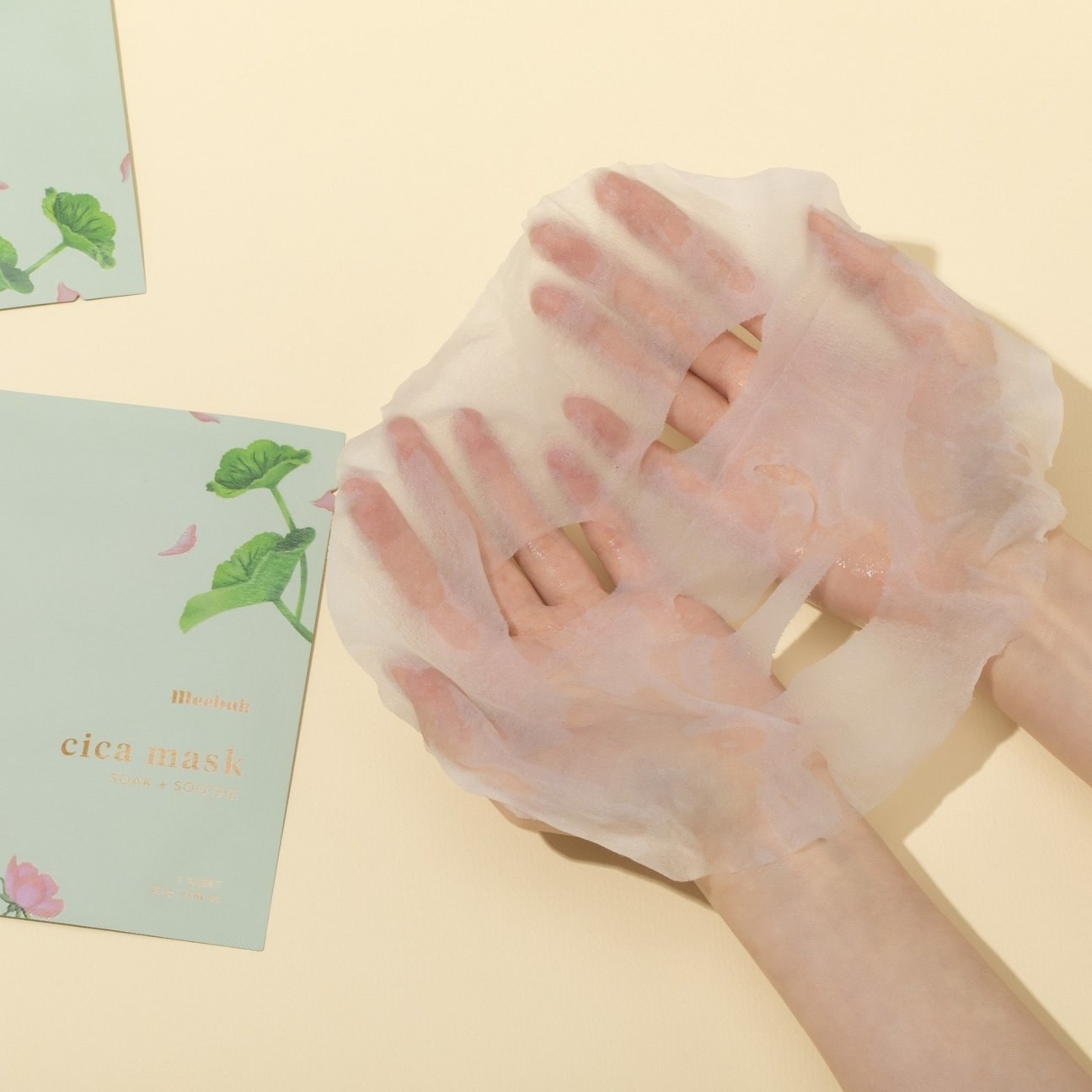 The sheet masks are made of natural lyocell and cotton cupra, resulting in its silky soft feel.
Meebak is a Korean woman-owned small biz with products that center around the ingredient cica, also known as centella asiatica, or tiger grass, a herbal plant that has natural healing properties and has been used for thousands of years as an herbal remedy to calm and soothe skin.
Promising review: "Love this sheet mask! It's soaked with essence so it deeply hydrates but does not feel sticky or oily at all. My skin feels cool when I apply on my face. It has a sort of soothing effect. And what I love most is that I have sensitive skin but it didn't react at all and I didn't feel any irritation whatsoever!" —Jamie, Meebak customer
Get a pack of five from Meebak for $9.99 or from Amazon for $9.97.
9.
A jar of Ornami's "No Scrubs" Ex-Foliator Sugar Scrub, a super-relaxing and effective body scrub. Its smell of vanilla and lavender after a long day is just — *chef's kiss* perfection.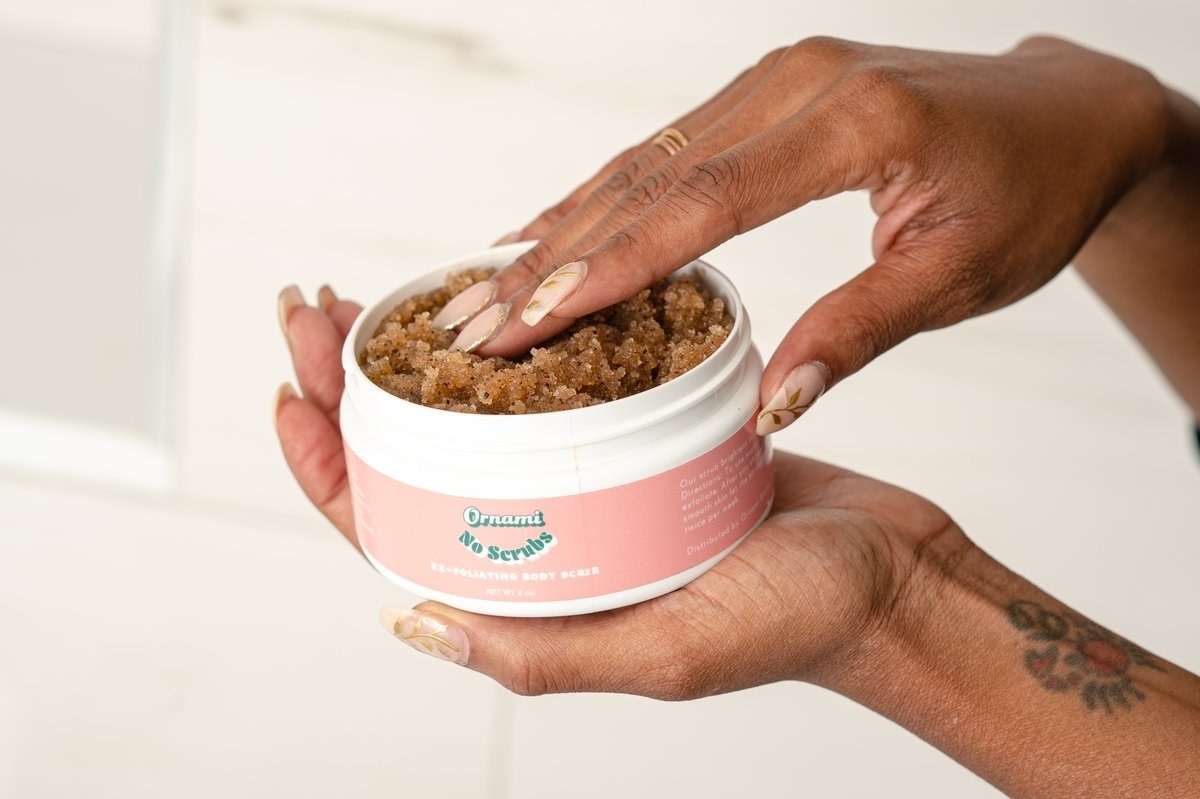 Ornami is a Black woman-owned small business that makes natural, vegan skincare products. With product names like "Let that Mango" Body Butter and Glo Getta Body Oil, I'm all for adding more positivity into a daily routine. But I've got to admit, the featured "No Scrubs" Ex-Foliator is a favorite of mine. It's the perfect addition to your self-care routine. 
Promising review: "I simply do not know how I survived without it my whole 23 years of life. I have sensitive skin so I am often wary of scrubs...this wasn't harsh at all and it also didn't fall short of feeling like it was really scrubbing away all my dead skin...Also, I have a lot of cosmetic and food allergies so scrubs too often leave my skin super irritated and this one absolutely did not...I am really sensitive to scents (especially synthetic ones) and this smells sooo good like a warm summer day. It really gets 11/10." —Haley, Ornami Customer
10.
A bottle of Haus apéritif so they can make delicious cocktails right at home... just make sure you're around, too. You're gonna want to try this!
FYI: Haus contains alcohol! You must be 21 or over to drink and purchase.
Haus has become my go-to when I want a cocktail at home for two reasons: 1. It's easy as heck. I just add in club soda or sparkling water (or maybe a little champagne if I'm feeling fancy). And 2. They're delicious!! Each flavor is so uniquely different. My partner is a whiskey drinker and absolutely loves the New Fashioned flavor, but I have to admit my favorite is definitely Grapefruit Jalapeño. If you're a margarita lover like me, you'll probably like it too!
Get a bottle from Haus for $40 (available in eight flavors).
11.
A charcuterie board set with everything they'll need to slice, spread, and munch on their favorite snacks. 
This set not only comes with a cheese board with sliding drawers (that stores the cheese cutter, spreader, serving fork, and spatula), but also a fruit tray, two ceramic cups for jams and spreads, and slate labels and chalk for easy identifying. 

Promising review: "I absolutely love this product. It is very versatile and beautifully made. The manufacturer did a great job on this cheese board. The Bamboo wood is absolutely gorgeous. It is a heavy weight, not cheap. I love the features that it came with... I thoroughly enjoyed using this cheese board with some wine and family. Everyone loved it. I even bought another one for my sister as a gift." —rolo
Get it from Amazon for $49.99.
12.
A fun instant-print digital camera perfect for keeping memories between you and your besties. It's got an auto-flash, a 5-megapixel camera, AND instantly prints vibrant color photos.
This gift can be a two-parter! Grab some compatible photo paper so they can use the camera right away.
Promising reviews: "Love this camera! It's very easy to use... The pictures it takes are super cute and very fun, but don't expect iPhone or other camera quality pictures. They're different than polaroid prints, but are very similar quality to cameras from the early 2000s/2010s or so." —Mae
'This camera is so much fun! Everyone in the family loves it. Is it HD pictures? no. But it is more for the instant gratification of having the photo in your hand after taking the photo." —ElAce
"I really like this camera. It's light and compact, has great features, and is very beautiful." —Amazon Customer
Get it from Amazon for $49.99 (available in six colors).
13.
A rose gold compact mirror on which you can add a personalized note or just a cute initial to the cover.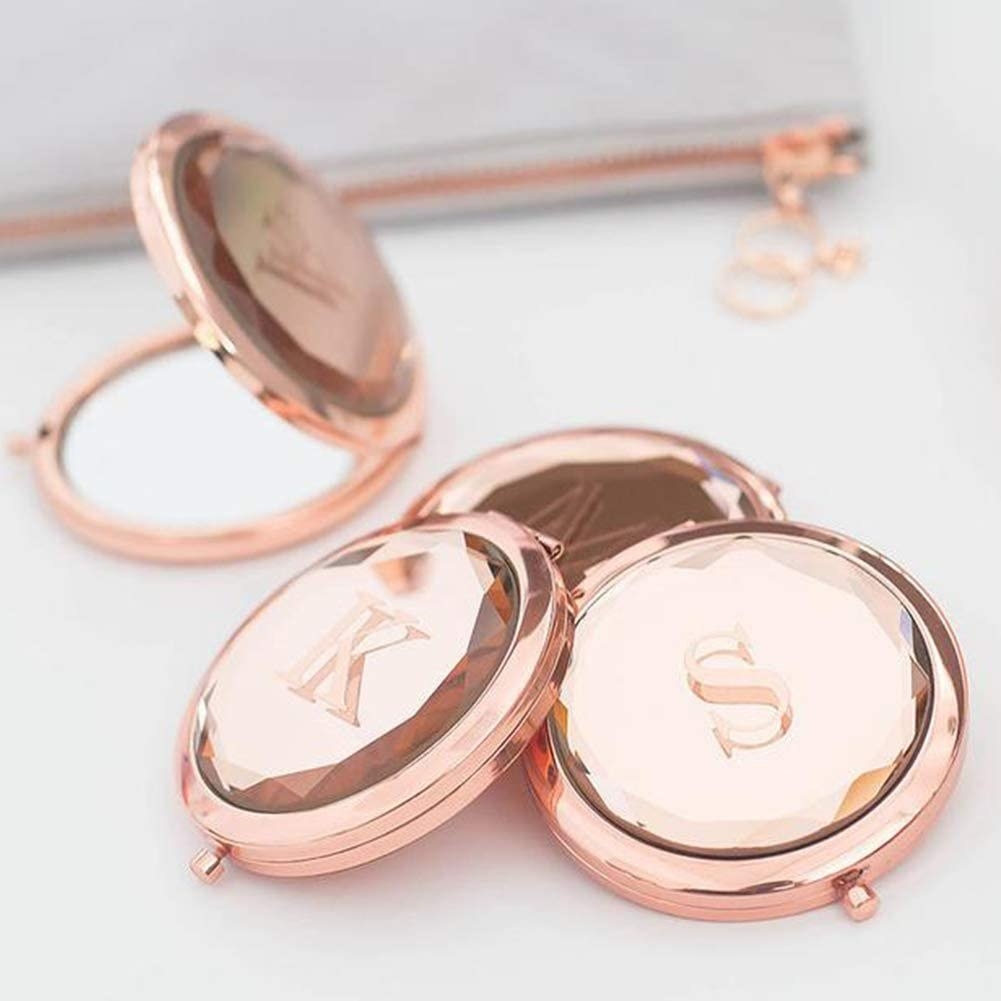 To personalize, select "Customize Now" before checking out. Then you'll get to choose from six font options and add in your custom message!
Promising reviews: "I love these little compact mirrors. I made formal bridesmaids box for my squad and I included these in their boxes and they loved them. They're very handy and it's a plus that they're engraved. It just gave them an extra special touch. I would definitely buy this product again." —shannon roberson
"These came beautifully done. I was a little scared because of the editing pic....but they came out perfect. Very well done, heavy, don't feel cheap and what a good deal. I had these done as gifts to my bridesmaids and each was personalized to the individual. They will love them!" —Katherine Tipton Dulle
Get it from Amazon for $5.98+.
14.
A customizable feather-trimmed satin pajama set  they'll ~definitely~ want to wear out of the house. Just look how cute it is styled with heels!
Belle's Design Shop is a California-based small biz filled with customizable sleepwear and pajamas perfect brides and bridal parties.
Get the set from Belle's Design Shop on Etsy for $34.99+ (originally $69.98; available in women's sizes S–2XL and in six colors).