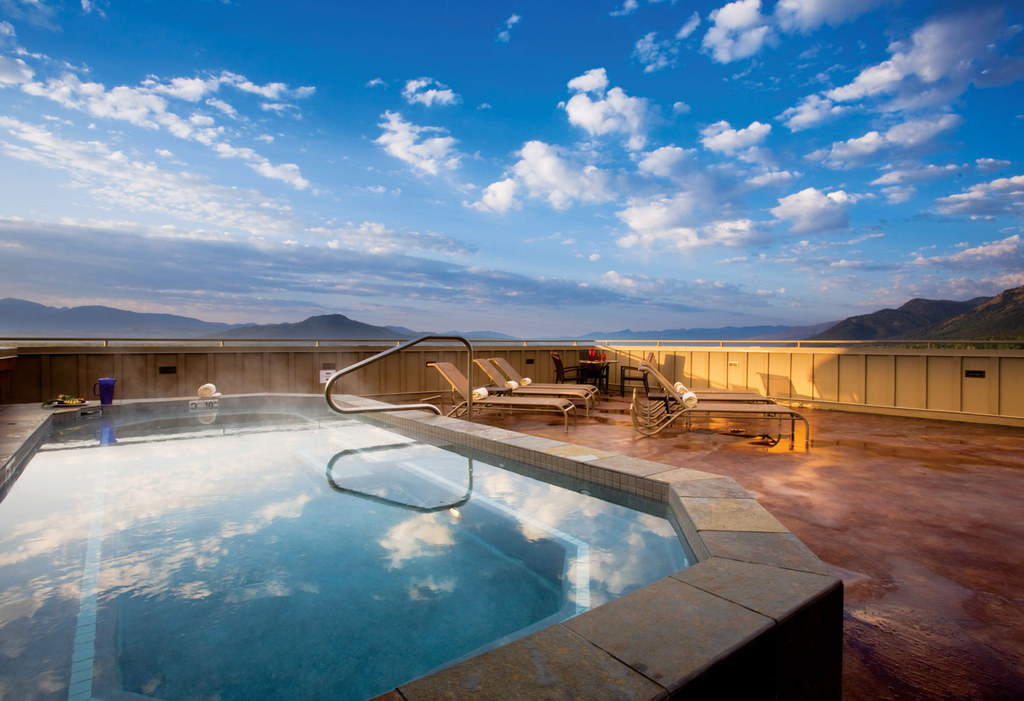 Has social media fried your brain? Did the recent 20 minute Facebook outage leave you with the shakes? Well if so, peel yourself away from computers and screens of all varieties (after reading this of course) and start making your way through this top 5 U.S. digital break getaways.
Explore Grand Teton National Park in Wyoming
Wyoming and the surrounding states are known for their National Parks that draw visitors worldwide. From Grand Teton National Park to Yellowstone National Park, the Teton Mountain Lodge and Spa is perfectly located for guests to unplug and enjoy multiple national treasures, including an award-winning lodge and spa. Located at the base of the Teton Mountain Range, Teton Mountain Lodge and Spa is just two miles east of Snake River and 60 miles from Yellowstone National Park. After a long day of hiking, mountain biking, kayaking or just exploring the National Parks, take advantage of Teton Mountain Lodge and Spa's Solitude Spa, named a top spa by Conde Nast Travel, and offering hydrotherapy services and couples services in addition to a full listing of various services. Guests can also unwind and detox digitally by enjoying the indoor and outdoor hearted pools, or five whirlpool hot tubs, one that is rooftop for a magical night view of the rugged Teton Range.
Teton Range is the youngest in the Rockies with peaks topping 7,000 feet. Grand Teton is perhaps the most well-known and tallest in the range, and also home to Grand Teton National Park. Just walking distance from the lodge, this National Park boasts over 200 miles of trails, perfect for day or multi-day hiking or biking trips, and of course the best way to experience the beauty of the Tetons is by walking. From rock climbing to mountain climbing, horseback riding to kayaking, there are many ways to get out and experience true unspoiled nature. Hiking is probably the most popular recreational activity at the National Park and some of the more popular trails include Teton Crest Trail, a multi-day trail for experienced hikers, Jenny Lake/Cascade Canyon, ideal for all levels and can be broken into three trips or one long, and Two Ocean Lake, a densely forested nine mile trail best suited for hikers of moderate skill level. Visitors to the park can also hire professional guides or join a group of hikers if doing the trip alone. Who knows, maybe without a constant connection to the digital world you may get out there and meet some interesting people along the way.
Get Lost in History in South Carolina
The Battery Carriage House Inn not has only has rich Southern-charm dating back to the 1800s, it's also considered "Charleston's Most Haunted Inn." The City of Charleston has gone through decades and decades of destruction and reconstruction as a result of war, making it the perfect city to ghost hunt or get lost in the countless war stories and unique antebellum style architecture. The Battery Carriage House has an interesting past being passed hands, sold, resold and abandoned until its final owners, the current Preservation Society of Charleston. The building served as apartments for Navy and their families until the 1980s when it was reinstituted as a historic inn. The quaint, enchanting rooms have private outdoor patios, with a total of 10 rooms, three King sized beds with whirlpool tubs, and the rest Queen sized. Breakfast can be served to guests in their rooms or in the garden, and the inn also serves afternoon tea and hosts a wine reception in the evenings, and don't forget the ghosts. The most common sightings at the Inn are the "gentleman ghost" and the "headless torso." For a full run-down on their history and guest sightings, just ask the hotel staff. Who knows, you may be too busy searching for ghosts and other supernatural sightings to even think of checking a phone or laptop.
Within the city of Charleston there are multiple ways to get out and enjoy the southern charm, or you can drive about fifteen minutes to Folly Beach to enjoy a small southern seaside feel. In the historic district, a must-see is the Old City Market, located between Meeting and Easy Bay Streets. This site, dating back to 1841, features some of the best antique shopping and dining in the city. Another must-see is Charleston Waterfront Park where you can stroll along the Battery and check out the majestic old homes that dot the waterfront walking paths. If you want to do Charleston in true southern fashion, you can also go on a carriage tour of the city or a ghost tour at night. Finally, there are countless museums and art galleries in the city as well, with the Carolina Art Gallery as the oldest in the city. Simply walking the city is a historic journey in itself as you pass graveyards dating back to the 1800s and historic markers from the Civil War. And after a long day of soaking in the history, check out one of Charleston's best restaurants, Husk, top rated by Southern Living and the Travel Channel for its award-winning low country cuisine, or McCrady's, the oldest restaurant in the city, featuring a menu with modern twists on southern favorites.
Try your Hand at Fly-Out Fishing in Alaska
The variegated landscapes of Alaska are nothing short of breathtaking, and if you are into beautiful, unspoiled natural backdrops and some of the best fishing in the U.S, check out No See Um Lodge overlooking the Kvichak River in Alaska. Founded in 1975, this premiere trophy trout lodge was one of the first fly-out lodges of its kind in the area. Never been fly-out fishing before? No problem. The lodge assigns a professional guide to every visitor to explain the process and take you to the best areas to find the catch you are looking for, and even if you aren't out fishing, the lodge also offers a rustic lounge and bar with gourmet meals, horseshoes, volleyball and other games depending on the season.
Fly-out fishing, if you've never even heard of it, is basically what it sounds like; you get in a small biplane or something similar and fly out to various areas for particular fish, so you never get bored in the same area and the fishing is always different. No See Um Lodge is centrally located within a 10 minute flight to over 30 rivers and streams, perfect for catching anything from Rainbow Trout to Lake Trout and everything in between. No See Um is also equipped with three planes and does not do "drop-offs" like other fly-out lodges, meaning you are not waiting on planes to come and get you and take you back; you have transportation and a guide with you at all times. Not only is fly-out fishing a unique fishing experience, it's also a great way to unplug and emerge yourself in absolute solitude, other than your guide and any travelers you bring along of course, and what better place than Alaska to seek solitude and intentional bad cellular reception to take a digital break.
Camp under the stars in the Grand Canyon in Arizona
In Grand Canyon National Park there are essentially two areas to camp, with three campground options (you can also do backcountry camping, but with a permit only). The North Rim is harder to get to and to navigate, but is more secluded, while the South Rim is more popular, easier to access, but also busier. Both of course offer breathtaking views of the Grand Canyon, so you can't really go wrong either way. The three campgrounds are Mather Campground on the South Rim, in the Grand Canyon Village, North Rim Campground, located on the North Rim, and Desert View Campground, located on the South Rim. The North Rim and Desert View Campgrounds are only openly seasonally from May to October while Mather Campground is open year-round. Mather also accepts reservations, and Trailer Village is nearby offering RV hook-ups, so for many, this campground is the best option.
Off site, campers have the entire Grand Canyon at their leisure to enjoy via biking, hiking, or on the back of a mule. Most visitors access the park via the South Rim, open year-round and offering free shuttle buses to the canyon. Much fewer visitors see the canyon from the North Rim as the only way to get there is to either hike through the canyon or drive around, a more than 200 mile trip. The North Rim lodgings and restaurants are also only open May through October, so for most visitors the South Rim is the best bet. The Inner Canyon is where visitors can explore the vast canyon from within by hiking, backpacking or mule rides. Visitors can also take a river tour through the canyon via the Colorado River. The joy of visiting the Grand Canyon National Park, other than the fact that it's the Grand Canyon, is that there is so much to explore but with the option of hiring a guide or a tour, or not. You can do as little or as much as you want, and if you choose to camp along the South Rim, you can truly get the entire experience, sleeping under the stars, and enjoying the great outdoors away from emails, deadlines or social media alerts.
Go Shelling in Florida
If camping, hiking, and historic ghost tours aren't for you, check out one of the best hidden treasures on the gulf coast of Florida, Sanibel and Captiva Islands, just west of Fort Meyers. Who doesn't enjoy a relaxing beach vacation in the sand and surf as a reason to unplug from everything and just listen to the quiet lapping of waves on the white sandy beaches of the gulf? Depending on whether you are looking for a family-friendly hotel, a romantic getaway, or a secluded cottage, there are many options on the islands, but one top choice that is accommodating to all groups is Jensen's Twin Palm Cottages and Marina Resort located on Captiva Island. Jensen's is both a beach resort and a marina resort, offering cottages and beach rentals for guests from 2 to 6 to a group. The Beach Resort is the only small resort directly on the gulf on Captiva, featuring a number of cottages all very unique and offering various accommodations. Some of these rooms include the Honeymoon Suite, a room for two complete with a breathtaking view and screened in porch as well as plush accommodations, or the Jensen House, which can sleep up to six people and features a private outside shower, also right on the gulf with a beachfront view. The Marina Resort offers only one or two bedroom cottages, and is in walking distance to the marina where guests can go fishing, rent boats, or go on a guided fishing tour. And of course, at both locations guests can enjoy the famous shelling these islands are known for.
Sanibel and Captiva are truly hidden gems, and known by many as the "shell islands" because the islands are in fact made of shells. The islands also rank among the top in the world when it comes to shelling because of its unique geography and location. The best time to shell is at low tide when the shells are exposed the most, and if possible, the best time of year is after Gulf storms have blown through the area. Of course there are many other activities to enjoy on the islands, from boating to fishing, water sports to snorkeling and scuba diving, visitors can simply enjoy the sand and surf or go out and get active without a thought from the digital world brining you back. And after a long day of shelling, it is easy to find one of the many top seafood and oceanfront dining options on the island, many right off of the main road in Sanibel, on Periwinkle Way.
This post was created by a member of BuzzFeed Community, where anyone can post awesome lists and creations.
Learn more
or
post your buzz!