Magic Chocolate Ball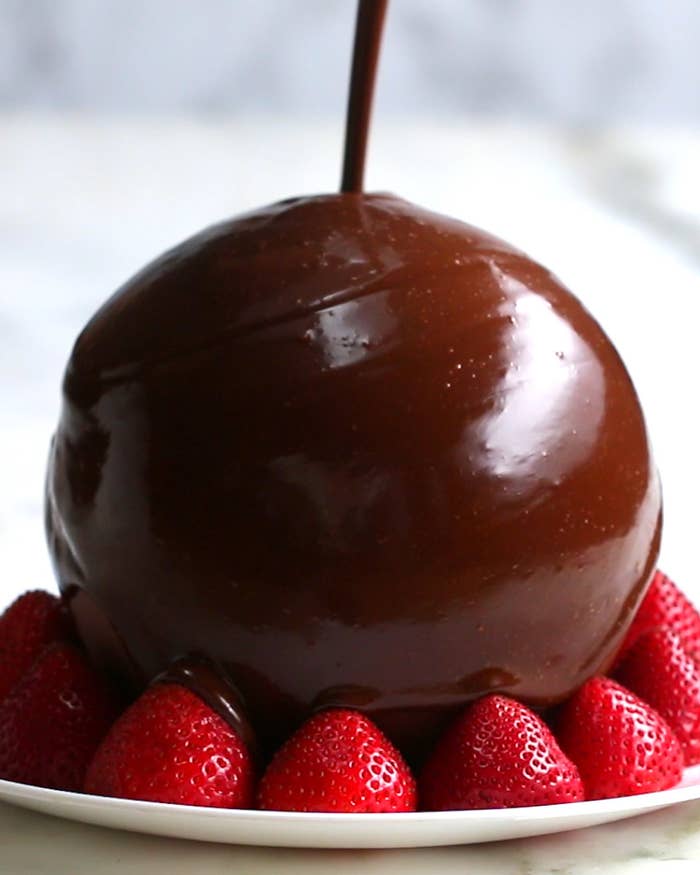 INGREDIENTS
8 ounces milk chocolate, chopped or in chips
2 brownies, prepared as desired
Assorted berries, to serve
Ice cream, to serve
8 ounces dark chocolate 70% cacao higher, chopped
1 cup heavy cream
PREPARATION
1. Melt the milk chocolate in a microwave in 20-second intervals, stirring in between each until smooth.
2. Open a 6-inch fillable ornament, then pour the chocolate into one of the halves.
3. Close the ornament, rotating the ball so that the chocolate evenly coats the entire surface. You may have to shake a bit to eventually get the chocolate to fill in any holes.
4. Place the ball the freezer, then flip it after two minutes. Repeat this 2-3 times. The chocolate should be set by then. Freeze for at least 30 minutes.
5. Remove the ball from the freezer. Making sure to be extremely careful, open the ornament. Making sure you work quickly and that you don't touch the ball for too long with your warm hands, remove the ball from the other half. If you want to be extra safe, place the ball back into the freezer in a bowl until it's ready for the next step.
6. Dip or run a flat-bottomed bowl in boiling water, then dry the entire bowl. Invert the bowl onto a flat surface, then place one side of the frozen chocolate ball on the hot bowl.
7. Twist back and forth with a gentle motion, making sure that you're not applying too much pressure to the ball, as it is very fragile. Use a paper towel to help insulate the ball from your warm fingers. You may have to reheat and wipe off the bowl a few times as it will cool down a bit. Place the ball back in the freezer.
8. On a large plate, stack the brownies on top of each other, then surround them with berries. Place a scoop of ice cream on top of the brownies, then slowly place the chocolate ball on top.
9. To cover up any holes or imperfections along the seam where the ball touches the plate, surround the base of the ball with more berries.
10. Microwave the dark chocolate with the heavy cream in 20-second intervals until smooth and glossy.
11. Pour the chocolate sauce over the ball in a circular motion.
12. Enjoy!
Buy the ornament to make your own magic ball, here.
Just so you know, we make a little $ when you buy through this link!