BBQ Pulled Pork Fries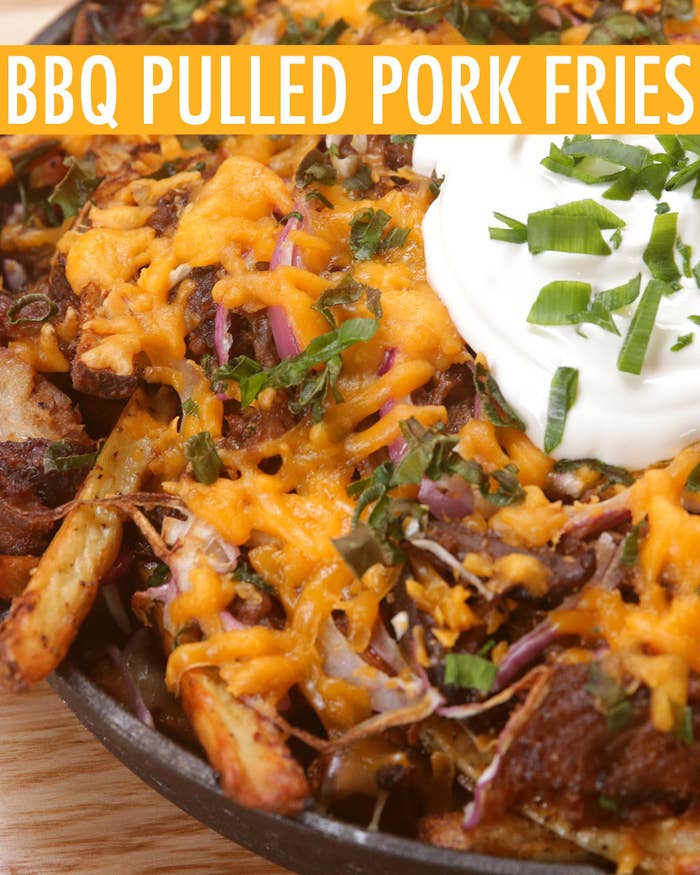 INGREDIENTS
Serves 4-6
8 medium russet potatoes
2 pounds pork shoulder
3 tablespoons olive oil
1 tablespoon salt
1 tablespoon pepper
2 cups barbecue sauce
½ red onion, sliced
1 cup shredded pepper jack
½ cup scallions, sliced
1 cup shredded cheddar
½ cup sour cream
PREPARATION
Preheat oven to 425° F.
Slice the potatoes into ½-inch slices, then cut the slices into ½-inch strips. Place the sliced potatoes on a baking sheet along with the pork shoulder. Make sure that the potatoes are not touching the pork. Drizzle the olive oil over the potatoes, then sprinkle the pork and the potatoes with the salt and pepper, rubbing them in so that they are all coated evenly. Cover the pork with one cup of the barbecue sauce, then rub it evenly on all sides. Bake for 45 minutes.
Preheat the oven to 350° F.
Remove the fries, then place the pork in the center of the tray. Bake for another two hours.
Transfer the pork to a large bowl, and using two forks, shred the pork. Combine the pulled pork with the remaining one cup of barbecue sauce.
In a skillet or a baking tray, layer half of the fries, half of the bbq pork, half of the red onion, the pepper jack, half of the scallions, then repeat with the remaining fries, pork, red onion, cheddar, and scallions. Bake for 15 minutes, until cheese is melted.
Serve with sour cream!
Want BuzzFeed Tasty right in your inbox? Sign up for our newsletter!