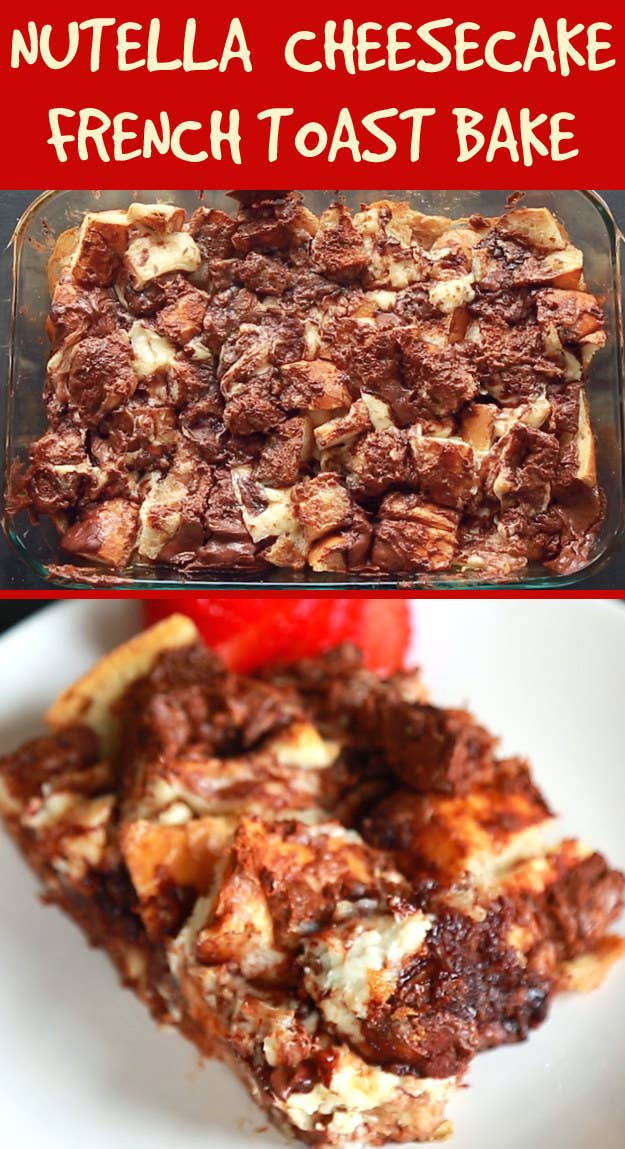 Nutella Cheesecake French Toast Bake
Makes 6 Servings
INGREDIENTS
¾ french bread loaf
8 ounces cream cheese, softened
¾ cup granulated sugar, divided
3 large eggs
1 cup whole milk
1 tablespoon ground cinnamon
1 teaspoon vanilla extract
1 cup Nutella, melted (how would you do this? 30 seconds in the microwave? we should say.)
¼ cup confectioners' sugar
PREPARATION
1. Preheat the oven to 350°F
2. Slice the bread into half-inch chunks, then place in a 9x13 baking dish.
3. In a medium bowl, combine the cream cheese and ½ cup of the sugar, mixing until there are no lumps.
4. In a separate bowl, combine the eggs, milk, remaining ¼ cups sugar, cinnamon, and vanilla, whisking until evenly combined.
5. Pour the egg mixture over the bread chunks, pressing down so the bread can absorb the mixture. Drizzle the Nutella evenly on top. Place spoonfuls of the cream cheese mixture over the Nutella. Use a spoon to gently swirl the cream cheese with the Nutella. Bake for 20-25 minutes, until golden brown and toasty. Serve dusted with confectioners' sugar!
recipe by Alvin Zhou