One-Pan Spinach Artichoke Mac 'N' Cheese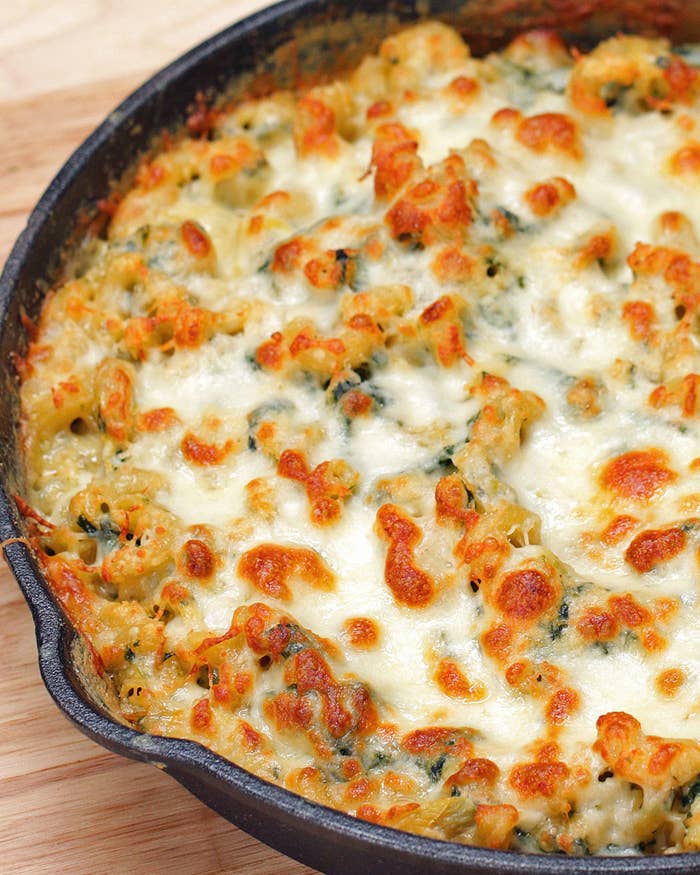 INGREDIENTS
Serves 3–4
2 Tbsp. butter
2 cloves garlic, minced
5 oz spinach
1 cup artichoke hearts, drained
3 cups milk
2 tsp kosher salt
2 tsp freshly ground black pepper
2 cups elbow macaroni
¾ cup shredded cheddar cheese
3 cups shredded mozzarella cheese
PREPARATION
Preheat oven to 450°F.
In a large pan, melt the butter. Add garlic, spinach, and artichoke hearts, cooking until spinach is wilted. Slowly add the milk, salt, and pepper. Stir until milk is boiling. Add the macaroni, cooking until the milk coats the macaroni like a glaze. Add the cheddar and two cups of mozzarella, stirring until the cheese is completely melted.
Sprinkle the remaining mozzarella on top. Bake for seven minutes, until cheese is bubbly and golden brown. Serve!
Want BuzzFeed Tasty right in your inbox? Sign up for our newsletter!