Garlic Shrimp Alfredo Dinner For Two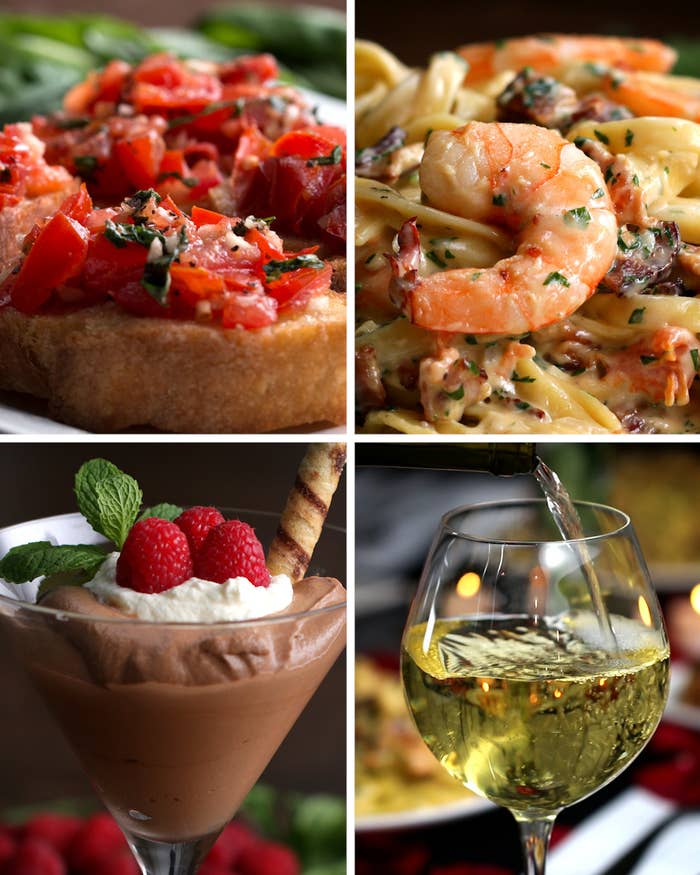 Tomato Basil Bruschetta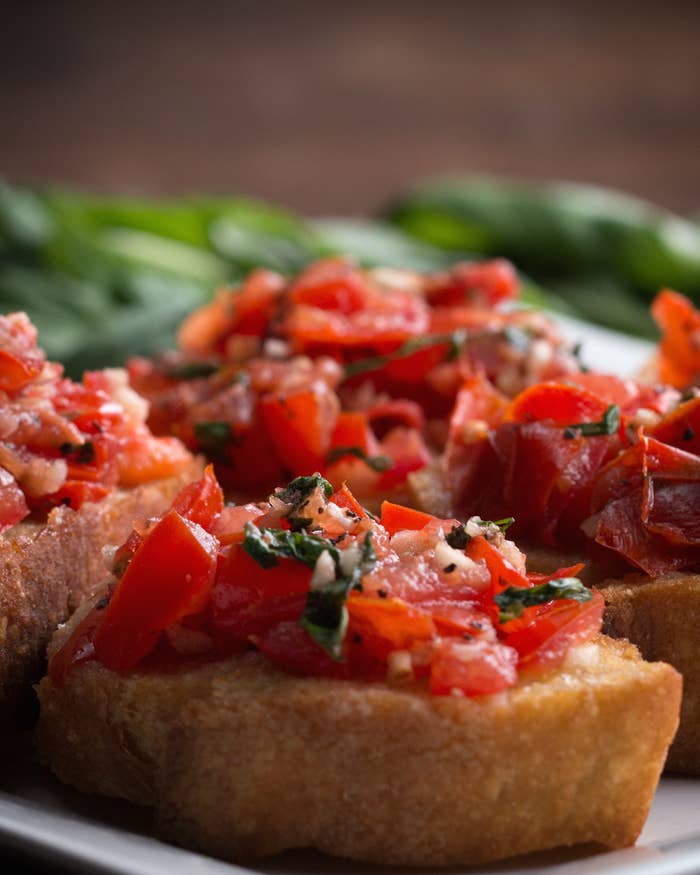 INGREDIENTS
Servings: 2
1 6-inch baguette
¼ cup olive oil
3 medium tomatoes, diced
1 clove garlic, minced
1 teaspoon balsamic vinegar
1 tablespoon basil, chopped
½ teaspoon salt
½ teaspoon pepper
1 clove garlic, whole
PREPARATION
1. Preheat oven to 450°F/230°C.
2. Slice the baguette into ½-inch rounds and place on a baking sheet.
3. Brush both sides of the baguette slices with olive oil.
4. Bake for for 6 minutes until slightly crispy.
5. In a medium bowl, combine the tomatoes, minced garlic, balsamic vinegar, basil, salt, and pepper.
6. Rub the garlic into one side of the baguette slices, then spoon the tomato mixture evenly across the slices.
7. Serve!
Garlic Bacon Shrimp Alfredo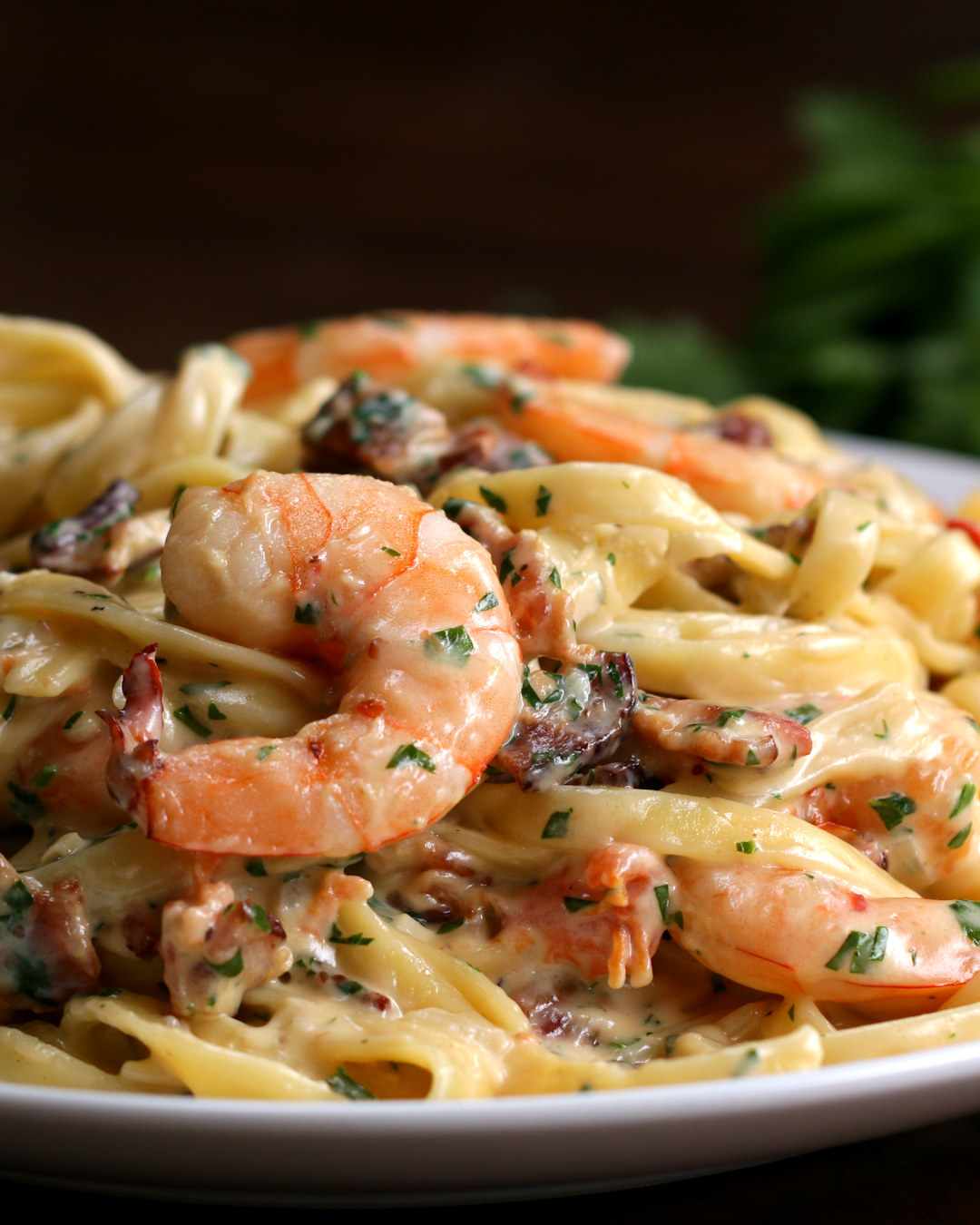 INGREDIENTS
Servings: 2
6 slices bacon, chopped
1 pound shrimp, deveined and peeled
1 teaspoon salt
½ teaspoon black pepper
½ onion, diced
1 medium tomato, diced
3 cloves garlic, minced
2 cups heavy cream
1 pound fettuccine, cooked
1 cup parmesan cheese, grated
½ parsley, chopped
PREPARATION
1. Cook the bacon in a large pot until crispy.
2. Add the shrimp, salt, and pepper, cooking until the shrimp is pink throughout.
3. Remove the shrimp and bacon.
4. Add the onions, tomatoes, and garlic, cooking until the garlic is slightly starting to brown.
5. Add the cream and bring to a boil.
6. Toss in the fettuccine with the shrimp, bacon, parmesan cheese, and parsley, stirring until the cheese has completely melted and the sauce coats the shrimp and pasta nicely.
7. Serve!
Chocolate Mousse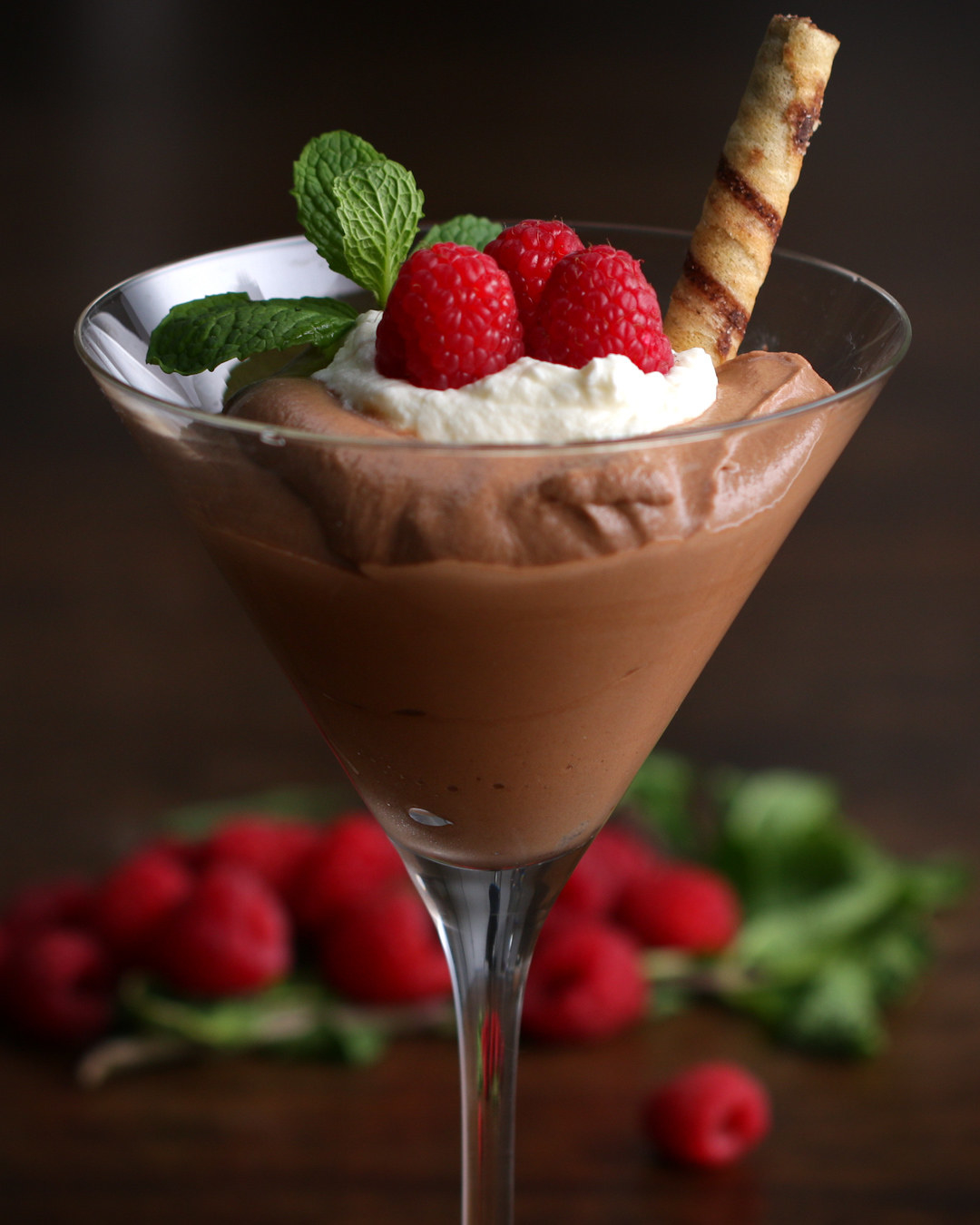 INGREDIENTS
Servings: 2
1 cup heavy cream
3 tablespoons sugar
2 ounces chocolate, broken into small pieces
¼ cup heavy cream, hot
6 raspberries, to garnish
2 sprigs of mint, to garnish
2 tube cookies, to garnish
PREPARATION
1. In a large bowl, combine the heavy cream and the sugar, beating with an electric mixer until soft peaks form when lifted from the bowl. Set aside two large spoonfuls of the whipped cream to garnish with at the end.
2. Whisk the chocolate and hot cream in a separate bowl until smooth, then fold in the mixture into the cream with a spatula until no streaks remain.
3. Split the chocolate cream mixture evenly between two martini glasses or your serving dish of choice, then chill for at least 1 hour.
4. Garnish with a spoonful of whipped cream, raspberries, mint, and the chocolate cookie.
5. Serve immediately!
Editor's note: In order to have everything cooked and served at the perfect time, start by preparing the mousse first, then letting it chill in the refrigerator until ready to serve. Next, prepare the bruschetta but do not place the tomato mixture on top of the bread slices until ready to serve as having them sit will make the bread soggy. Prepare the pasta and serve immediately alongside the finished bruschetta, and take out the mousse from the fridge when ready to serve dessert!