1.
A pair of "miraculous" high-waisted trouser palazzo pants that reviewers say looks good on every body type, with every outfit, and are even comfy enough to nap in. New holy grail alert! 🚨
Promising review: "I have to warn you, I may seem like I'm exaggerating but I am not. Never, in my entire life have pants fit me so well. No need to shorten the hem, no scrunching around the crotch, no scrunching around the butt, no need to tighten the waist, comfortable when I stand, and comfortable when I sit. I bought four+ more in other colors within 10 minutes of trying it on. I hope these last forever because I don't know when or if I'll ever find pants that fit me so perfectly. Note: I'm 5'7" with a 28" waist, 40-41" hips and a long torso. Update: My second pair just came and they fit exactly the same." —Jesse v.
Get it from Amazon for $33.99 (available in sizes XS–2X as well as short sizes, and 27 colors).
2.
A pair of tiered Eloquii palazzo pants (with pockets!) so gorgeous and layered it's almost like you're wearing an amazingly flowy maxi skirt but then BAM! It's pants!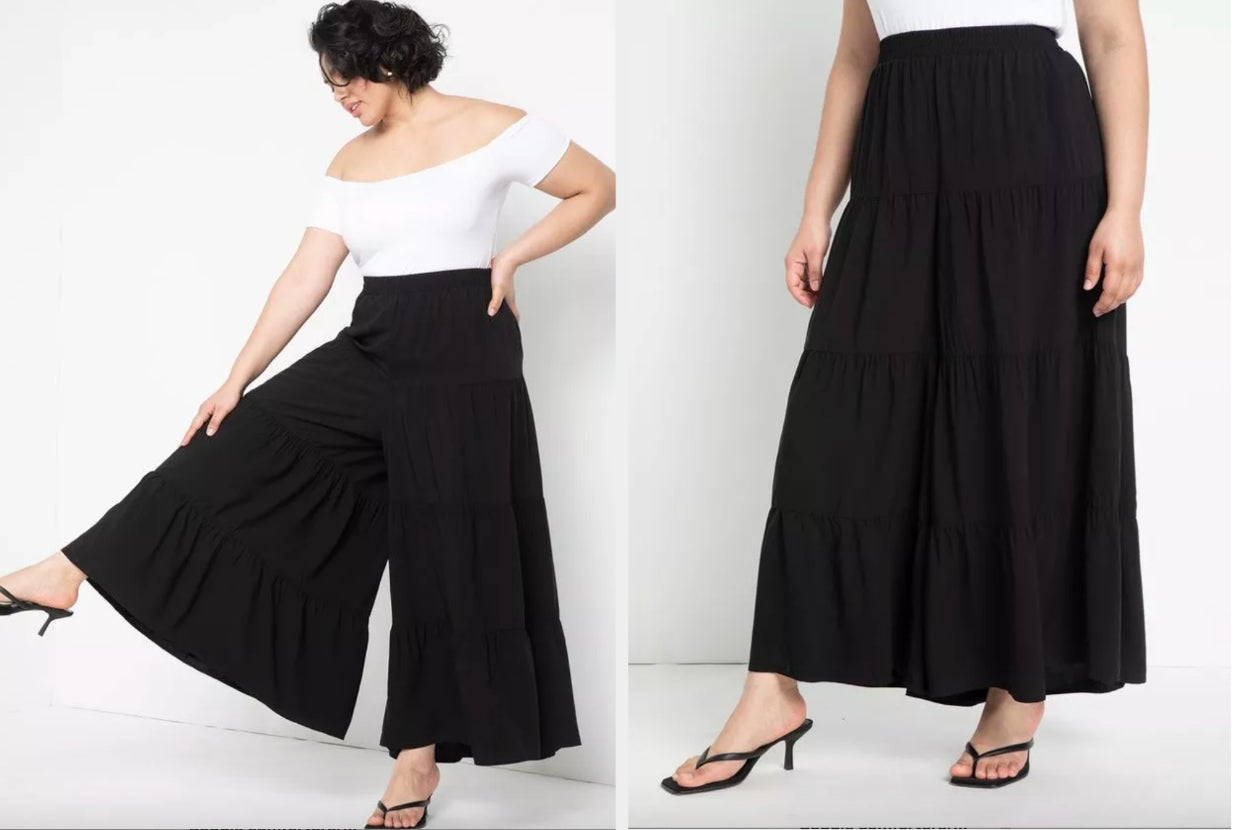 Promising review: "Love the palazzo pant. The solid black color gives a look of elegance or casual chic (depending on what you pair it with). The fabric is light weight and sheer enough to flow well. The generous fabric in the legs gives it the look of a dress until you begin to walk." —Linda A.
Get it from Eloquii for $99.95 (available in sizes 14–28).
3.
A pair of tie-waist palazzo pants made from a recycled silky material, which means your legs will be swimming in a super luxurious fabric without you having to dish out the big bucks.
Promising review: "I am BLOWN away! These pants are not only comfortable and stylish, but the material is amazing and the fit is perfect! I ordered them in black and blue mountain. The material on the blue pair is almost satin feeling. These will be perfect paired with a bodysuit or tank or swimsuit/tied up white shirt. Don't sit on these, order right away! True to size, and if you are in between I would go down. I am normally a medium or large (large in tighter dresses), medium was perfect! They are a little long, I am 5' and need to hem about 3.5" off but I am used to that. Maybe they will make in petite one day?" —Sarah W
Get it from Summersalt for $80 (available in sizes XS–2X and eight colors).
4.
A stretchy palazzo pant that's technically a pajama bottom, but who's paying attention anymore? Pajamas, fancy work clothes, toMAYto, toMAHto...
Promising review: "I LOVE THESE PANTS!!! I've ordered five pairs so far, and I'll be getting more! They fit like a GLOVE. I love the yoga waistband. These are totally wrinkle-free material and I got so many compliments on them! I am 5'6" / 145 lbs., with longer legs. The medium fit, but the large fit just slightly better and gave me the length I prefer for my height, and considering I'll wear these with heels occasionally. Absolutely hands down recommend them!!" —MDF
Get it from Amazon for $18.99+ (available in sizes XS–3X and 38 colors).

Looking for more comfy pants that are still appropriate for work? Look no further.
5.
An Ankara print super wide palazzo pant with pockets for your valuables and a super vibrant and unique design sure to be the highlight of any event you grace with your presence.
Diggin Her Roots Boutique
Diggin Her Roots is a Black woman-owned boutique based in Brooklyn that employs tailors and artisans from all over Africa.
The pants include an adjustable belt and fit up to a size 16.
Get it from Diggin Her Roots Boutique for $65.

6.
A belted palazzo pant that wouldn't look out of place at a business meeting OR a bumping party. And best of all, you can be super comfy at both, because you absolutely deserve to be.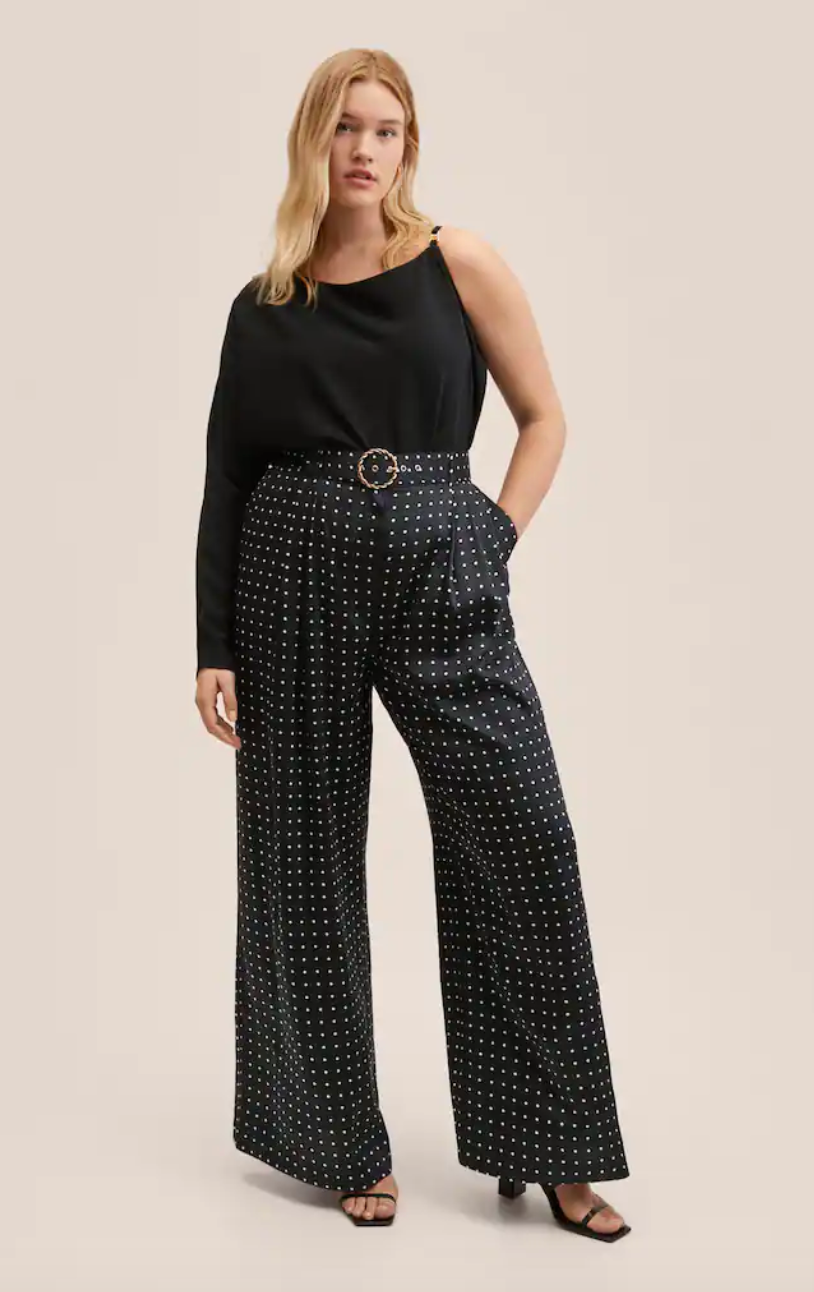 Get it from Mango for $79.99 (available in sizes 1–22, and two colors).

7.
A pair of belted side-split palazzo pants making it so you can have your own personal Angelina Jolie leg-out-on-the-red-carpet moment, all the time! 
Promising review: "Obsessed with these pants, if they had more colors I would purchase all of them for the summer. They are perfect in every way! I am 5'4" and  160 lbs. and I bought a large. The tie is great too so I won't have to take these in ever. I paired these with the a ruffled off the shoulder bell sleeve shirt and I'm obsessed. Will be my go to summer outfit." —Alexandra
Get it from Amazon for $27.99 (available in sizes 4–10 and three designs).
8.
A Free People printed palazzo pant that's the physical definition of "AFK." When you're wearing these pants, it's don't call, don't text. You're on VACATION.
Promising review: "The perfect summer, vacation, lounge, going out, staying in, casual, dress up or down pant! Get them. They're even cuter in person! I'm 5'4" 112 lbs. Got an XS and it's a cute fit, little oversized with the wide leg and I love it with a crop top." —Chanelbell
Get it from Free People for $128 (available in sizes XS–XL and three designs).
9.
A pair of pleated palazzo pants seemingly tailormade to hold a glass of champagne and gaze into the distance on a balcony on an island somewhere. And even if you don't have the island part down, I think you should still get these pants.
Promising review: "Ok, these are the perfect summer pants. They're super flowy and lightweight. I hate wearing shorts, and I don't always feel like wearing a dress in the summer. These are absolutely perfect. I'm currently around a size 8; I bought the One Size and they fit beautifully — could fit someone a little smaller than me, or bigger than me. Both the waistband and the fabric are stretchy, plus they're wide and flowy and there's a functional drawstring so they're very forgiving. They're also super long — I didn't measure, but they were dragging on the ground for me (I'm 5'3"). I cut off about five inches to make them float just above the ground. There are no hems; the bottoms are cut clean across and the fabric doesn't unravel so they make them extra long and you can just cut them to suit you. These are super cute, so comfy, literally perfect summer pants! I usually don't like to buy multiples but I'm getting at least one more pair because I can tell I'm going to live in these all summer." —Mallory
Get it from Amazon for $18.75 (available in one size or S–XL and 22 colors).
For more lightweight pants to keep you cool this summer, check out this list.
10.
A palazzo pant featuring a detachable waist tie and a front split worthy of a photoset taken in 4K portrait mode and a profile picture change you've been putting off for years because you haven't found the right outfit.
11.
A high-rise palazzo pant embodying the physical definition of #girlboss, and whether you like that or not, you simply can't deny that rocking these would be a total power move.
12.
A high-waisted side slit palazzo pant ideal for a breezy day when you just want to let your fancy flag fly, and completely eliminate the feeling of sticky fabric on your legs.
Promising review: "I am so obsessed with these wide-leg pants! They are super  cute with the placement of the tie waist band. They are the perfect amount of stretchy on the waist where they fit to my body but when I sit down I don't feel uncomfortable. I have shorter legs and was nervous that these would be too long on me but they are the perfect length. I absolutely love the pattern too!" —Amanda Charlyn
Get it from Amazon for $26.99+ (available in sizes XS–XXL and 22 colors).
13.
An athletic palazzo pant possessing the rare quality of making you look like a model just off the runway even when you've just sweated your butt off at the gym. 
Promising review: "Perfect Athleta pants. I love everything about them. I would get every color if they were available. I got my usual size. The waist is extra high which means I can wear any length top without my belly showing. I got size 8, regular length. The length is perfect for flat shoes." —Joan F.
Get it from Athleta for $59.99+ (originally $98; available in sizes 00–26, as well as Tall and Petite sizes, and four colors).
14.
A raw elastic palazzo pant featuring a raw hem and elastic waistband everyone in your life will be ragingly jealous over, since it effortlessly embodies class with a rustic edge.
15.
A tie-dye Lane Bryant palazzo pant that yes, looks like a trendy pair of pajamas, but you will be shocked at the sheer amount of wears this baby will rack up over the years.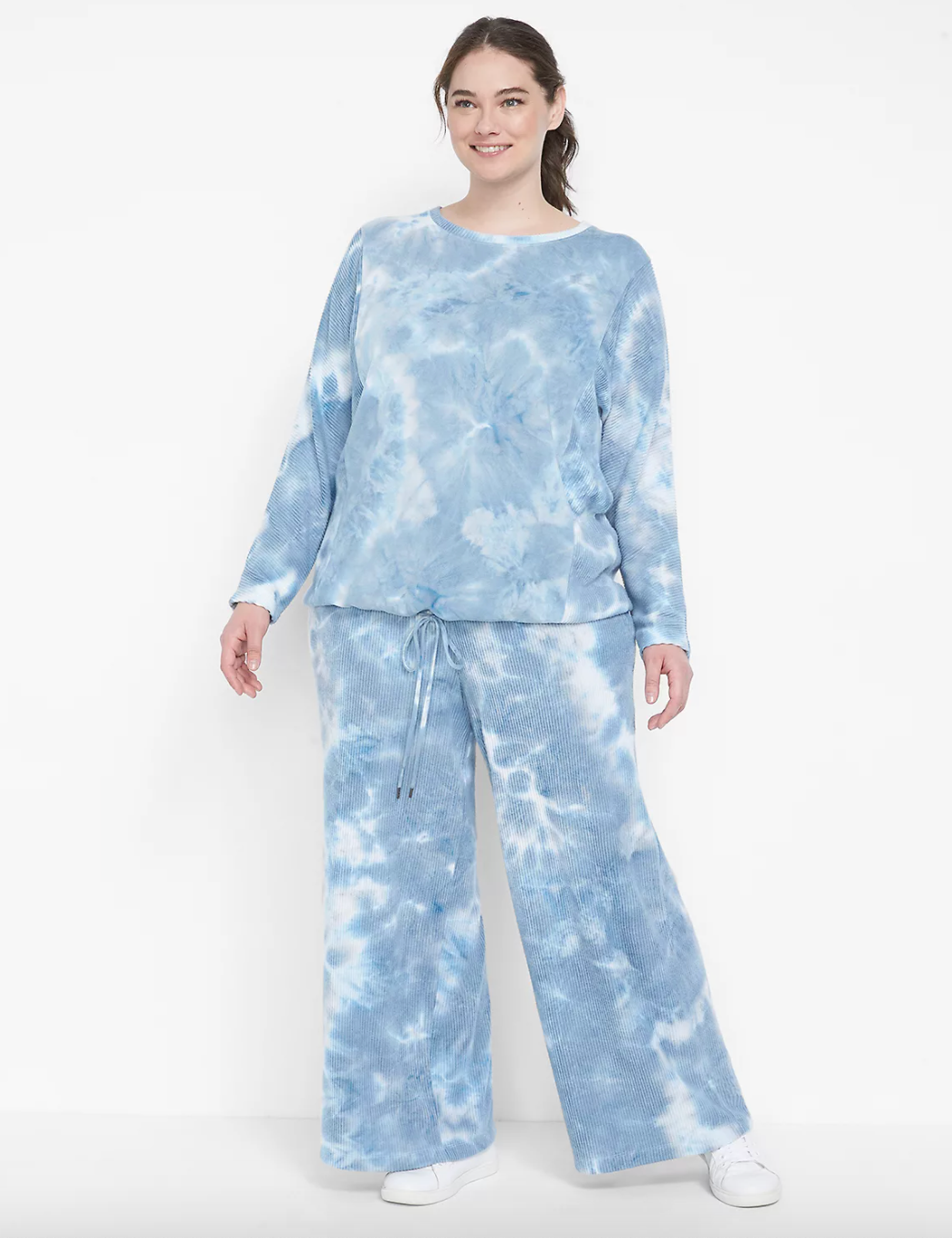 Promising review: "I absolutely LOVE these pants! They are lightweight, soft, flowy, and so comfortable. When I wear them I get so many compliments. Now they have been mistaken for 'really cute jammas', I don't care. They are too comfortable not to wear all the time." —MillsJ38
Get it from Lane Bryant for $29.97+ (originally $59.95; available in sizes 14–28).