1.
A beautiful basic makeup vanity complete with three storage drawers, a classy mirror, and all the clean lines a piece of furniture like that could possibly offer. 

Promising review: "I was looking for a smaller vanity to fit in my room as I did not want one that was too big and overpowering. Read reviews and decided to purchase. For the price I couldn't resist!! Took me about three and a half hours to put together myself (if you have zero patience so I suggest you get someone to help). I am very happy and pleased with the final product. Exactly what I have been wanting. All three drawers are deep and perfect length. You can fit a lot of makeup, a hair dryer or straightener in each; in other words there's plenty of storage. Everything I need is now all in one place." —Liz

Get it from Wayfair for $167.99.
Check out our picks for best vanity mirrors!
2.
A makeup vanity with a sliding mirror, LED lights, and a cushioned stool so you can be absolutely comfortable while observing the absolute gift that is your face.

Promising review: "The simple and slightly industrial look is exactly what I was looking for. The price is very reasonable. Assembly was easy and the sliding mirror is a great feature. I didn't think I would use the lights, seemed overkill, but I ended up installing slightly further back because they are needed when getting ready early in the morning with little sunlight. I am very pleased with this purchase. I rarely take the time to review but this was worth reviewing." —Vásquez

Get it from Amazon for $172.99+ (available in three colors).
3.
A makeup vanity reviewers are saying is nice and compact, because having a small bedroom doesn't mean you don't deserve a hint of professional glamour in your life.

4.
A trifold vanity table with plenty of storage space, and even jewelry hooks on the side, so it can pull double duty as getting-ready space while also reducing clutter in your room.

This comes with a matching stool.
Promising review: "I am loving my new vanity. It has several drawers and cubbies that allow you to organize makeup and accessories to avoid clutter on top of the vanity. The vanity is sturdy, I do wish the legs on the bench were a little bit wider, but hasn't been an issue. The entire set was very easy to put together, essentially you just attach legs, attaching mirror and flipping the handles on the drawers, took me maybe 15 minutes max. The back of the mirrors have hooks so that you can hang long chains and jewelry on the backside out of sight. Overall I'm very happy with my purchase, I would recommend." —AC81

Get it from Amazon for $239.99+ (available in three colors).
5.
A bestselling woven cane makeup vanity for automatically transforming your daily makeup routine into a celebrity Vogue YouTube tutorial. Don't lie, we know you do the voiceover every time you do your makeup anyway... 

Promising review: "This was such a good buy, I love the quality and it was so easy to put together. I use this vanity every single day. It looks exactly as it does in the pictures online, love it so much!" —victoria sky

Get it from Urban Outfitters for $400 (originally $449; available in two colors).
6.
A vanity set if you're looking for a way to make Monday mornings a little less miserable. What better serotonin boost can you think of than peering at your gorgeous mug? 

7.
A seven-drawer makeup vanity equipped with a touch-adjustable LED light so you can find your best angles and lighting like you're in your own personal magazine cover shoot every time.

The mirror has three lighting modes, and it comes with a matching stool.
Promising review: "I loved everything about it! I got the black color and it is so elegant! 😍 I love my new vanity. It has lots of space and holds almost all of my makeup and skincare etc (I have a TON). It's beautiful and sturdy. First day of having it up. So far I love it! So worth the price. The lighted mirror is so big and bright I love it. I love the different light settings. Buying the vanity with a pre-lighted mirror is fantastic, it was cheaper than buying separate. It didn't come damaged at all, and came with all of the parts (and extra)! Easy to assemble. User friendly instructions come with it. It is just such a cute vanity. Buy THIS ONE. Look no further. 😊❤" —Bethany Powell

Get it from Amazon for $209.99+ (available in three colors).
Check out more lighted mirrors for flawless makeup every time you go out.
8.
A bedroom vanity set I can only describe as "sleek" — what with its smooth midcentury modern solid wood exterior and wide mirror which you can simply tilt eeeever so slightly away from the dirty clothes on the floor.

9.
A compact vanity table that's great for small spaces so you can just roll out of bed and have some high-quality me time that will prep you for the rest of the day.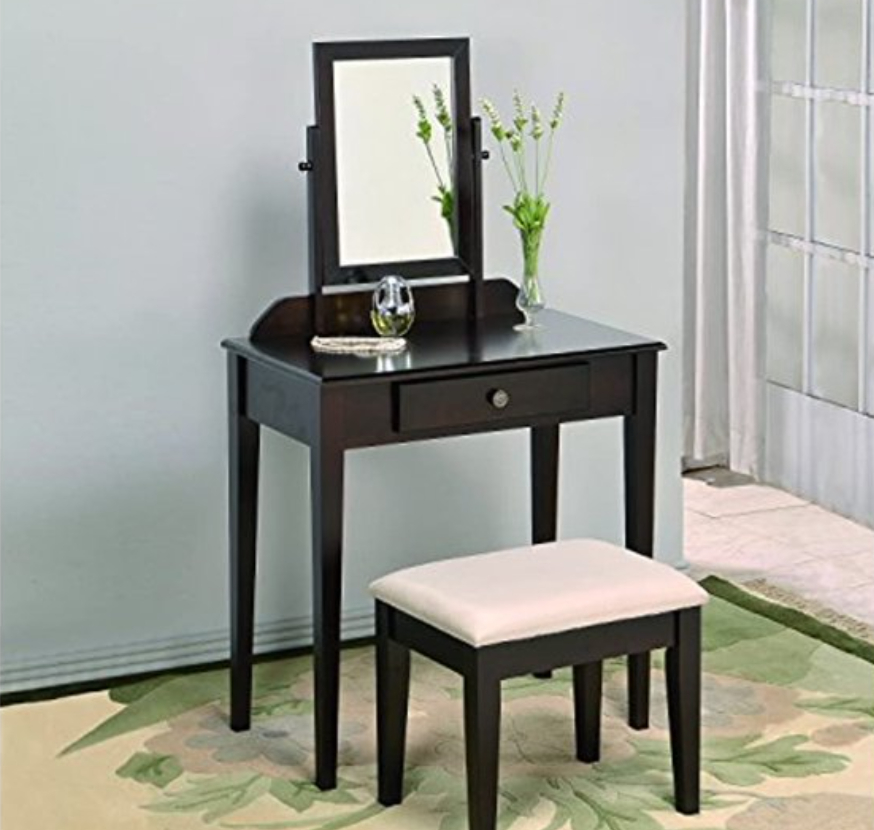 This comes with a matching stool.
Promising review: "Got this for my 13-year-old granddaughter because I was tired of her doing her hair and keeping the bathroom locked up!!! So easy for me to put together. No issues at all and its great. Took me about 10 minutes and the hardest thing was taking the plastic off the set. I highly recommend this piece." —Denise

Get it from Walmart for $110.
10.
A makeup vanity that comes with a three-drawer chest, because sometimes amassing makeup is too much fun even when your collection grows too large to be contained in a single unit. We know.

This comes with the cushioned stool.
Promising review: "The hardest part about putting this together was the lightbulbs. VERY user friendly and easy instructions. Took about three hours. Sturdy and well made materials!!! I went over my original budget, but it is WELL WORTH IT! Exactly like the pictures and extremely beautiful. I also love that they included an extra piece so you can choose if you wanted it a little longer or shorter. Lights have multiple settings and warm and cool options." —Kay O
Get it from Amazon for $259.99 (available in three colors and also with a charging station).
11.
A lighted vanity table destined to become your special zen area within the larger zen area that is your bedroom, because you truly can't have enough of those.

This comes with a stool. Also, the the top is removable, so it can turn into a regular writing desk.
Promising review: "Been looking at this vanity for months now. Finally ordered it, and I love it. Well constructed nice and sturdy, fits perfectly in my bathroom... couldn't have gotten one better. I live in a roommate style apartment, so it's absolutely perfect. Shipping was excellent, very easy to assemble. If you're thinking about getting this product don't hesitate, you won't be disappointed." —Erica

Get it from Amazon for $179.99 (available in two colors).
12.
A unique wide-set vanity table looking like it came straight out of Totally Spies — the mirror is touch-screen dimmable, with adjustable lighting modes, and even slides out, so you get storage space on storage space.

This comes with the stool.
Promising review: "Great vanity! I love everything about it. It has an enormous amount of space, the mirror has three light settings (I keep it on the first one) but overall, recommend. It took me and my mom maybe about three hours to put together, oh and the instructions are a bit hard it's nothing but pictures so that slows you down a bit." —Andrea

Get it from Wayfair for $269.99.
13.
A makeup vanity set so no one can blame you for taking three hours to get ready to go anywhere... it's just too much fun sitting at your own vanity.

14.
A splurge-worthy West Elm hutch vanity desk making your WFH morning routine as easy as possible by combining your get-ready station and desk into one. Plus, it turns into a plain desk if you're getting too distracted by your own beautiful face — just remove the top hutch.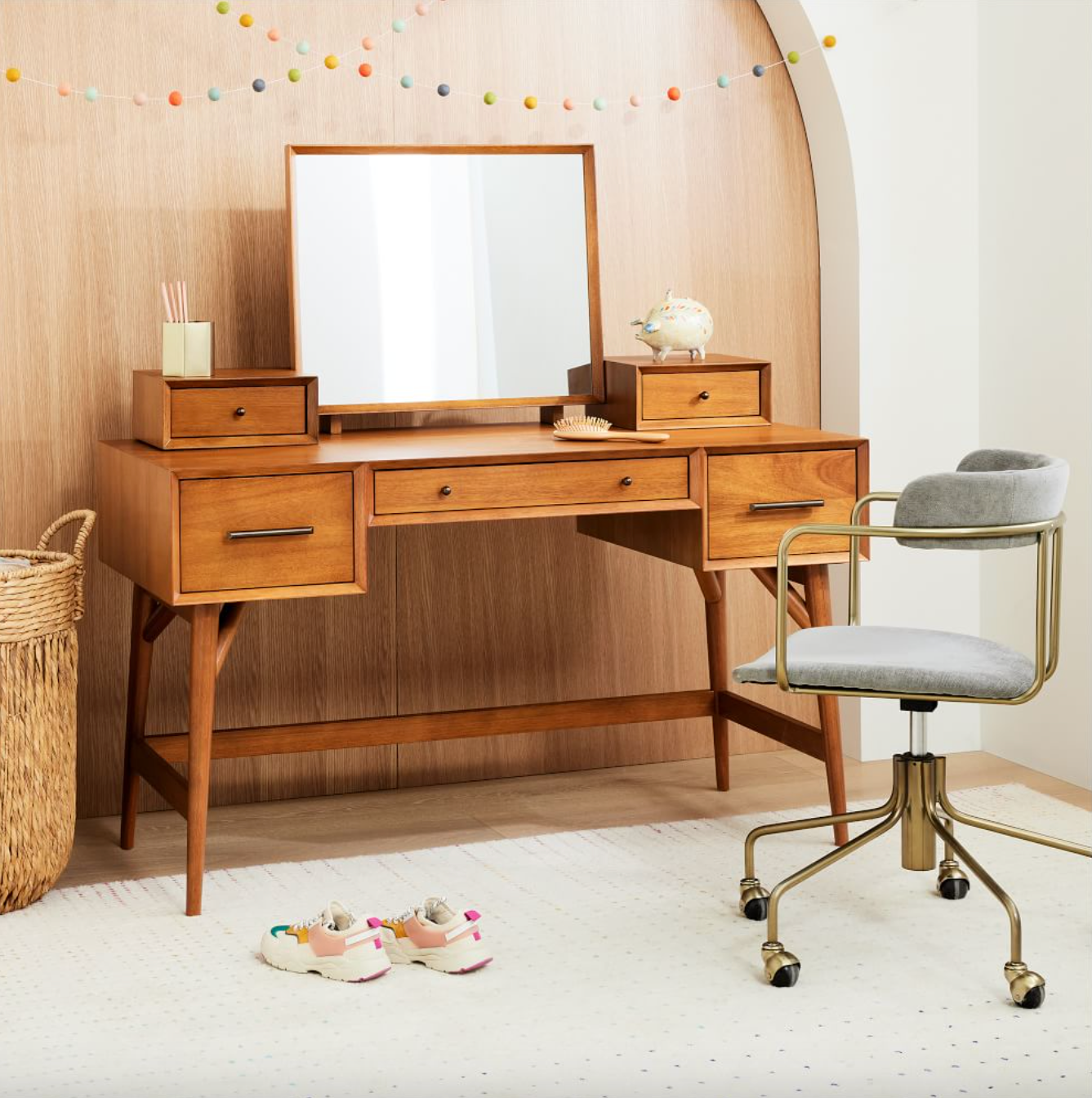 Get it from West Elm for $1,078.20+ (available in three colors).