1.
A colorblock shoe cabinet doubling as an entry dresser and delightful piece of decor — ideal if you're always banging on about sprucing up the apartment but don't know where to start. 

2.
A mini bamboo entryway shoe bench that's simple but does the job, and does it damn well — now you can have somewhere to sit down and wrestle your boots off that's not...the floor.

Promising review: "I have a small room that I converted from an office to a bedroom. Not a lot of room so I bought one to put in the closet for guests to put their bags on. I loved the first one so much. I bought another one and put it by the door for guests to put their purse and other items on as well. It's so cute and sturdy. I highly recommend this product!" —jmcbroom
Get it from Amazon for $37.99+ (available in six colors).
3.
A 15-pair shoe storage bench capable of housing your entire family's most-worn rotation, not to mention multiple bottoms, so maybe you all can leave the house hassle-free for once.

4.
A storage bench with a handy-dandy lift-top to store all the extra goodies lying around in your entryway or foyer, like hats, mittens, scarves, or the occasional furry friend. 

Promising review: "We needed a bench with storage for our loft-like apartment. This bench fit the bill. As others have stated, the instructions were mostly comprised of pictures but we were able to eventually figure it out. I wish the rungs under the bench allowed enough height to store short boots rather just shoes. The storage inside the bench is sufficient to store gloves, ear warmers, and winter hats. Aesthetically, the bench is very appealing and seems to be holding up well." —Jennifer & Sydney Cardy

Get it from Amazon for $89.99+ (available in two sizes and two colors).
Check out our picks for other styles of shoe organizers.
5.
A Yamazaki shoe rack whose convenient top handle and minimalist look will give your home the clean, airy vibe you so crave after scrolling through Pinterest for the umpteenth time.
Promising review: "Its minimalist design is partly why I like it. Anything obtrusive would overwhelm the space. The other reason I like it — it holds all 5 pairs of my most often worn, everyday shoes!! Formerly, I found myself feeling annoyed several times a day for stumbling over shoes at my tiny apartment's entrance (which also happens to be my kitchen). Now the floor is clear AND clean. Assembly? What assembly? I simply took out my screwdriver and installed 4 little screws, connecting the bottom of the rack to its top. Voila! And, as far as I can see, durability shouldn't be an issue for years to come (barring a loose screw, it comes with one spare). I only wish I'd found this little rack months ago. I'm very happy with my purchase." —Pamela
Get it from Amazon for $65+ (available in two colors and in a vertical or horizontal configuration).
6.
A three-drawer shoe cabinet drawer that mounts flush to the wall and is so thin it won't block your way as you hustle out the door, which is super ideal for small spaces.

7.
A sleek modern shoe rack available in gorgeous pastel colors and made from a durable powder-coated steel, so you know it will last as your favorite piece of foyer furniture for years to come.
Promising review: "Obsessed! It turned an unsightly situation (AKA take off your shoes before you go upstairs) in our house to a beautiful station that looks so organized and clean." —Gabriela M.
Get it from Open Spaces for $184 (available in six colors).
8.
An aesthetically pleasing shoe cabinet disguised as a fancy armoire, or perhaps a mysterious china dresser, because no one needs to see your beaten-up sneaker collection that's on the verge of falling apart.
Promising review: "I just LOVE this storage cabinet! Before this purchase, I had a three-tier open shoe rack. It was messy and an eyesore. Now, you're not able to see the shoes within and it's an attractive addition to my living room. The assembly was easy and I did it myself in about 30 minutes or so. It's heavy and sturdy. Definitely a great buy! Thanks again Wayfair for yet another great product!" —Kay
Get it from Wayfair for $149.99 (originally $245.99; available in seven colors).
9.
A shoe tower fitting snugly in the most narrow of entryways, meaning that even if you live in a packed NYC studio, you can manage to keep your doorway mercifully free from tripping hazards. 
Promising review: "This really did go above and beyond. The instructions were so easy. I put it together myself and it was sturdy and fits behind my front door so nicely. It looks clean and even kind of fancy...which let's be honest, who thought anyone could say that about a shoe rack. The bonus of all of this is that my family actually uses it. I haven't tripped over a pair of shoes in days. I am a new person. Did I mention it came with its own screwdriver? It does! And it's not a terrible one either! I used it and it worked. What planet am I even living on right now! 5 stars and I would have given it 6 if that were a choice." —Bobbijean S.
Get it from Amazon for $54.99+ (available in three colors and two sizes).
10.
A metal and natural wood three-tier shoe rack featuring a wide surface and plenty of space in between the tiers so your precious babes can have room to breathe.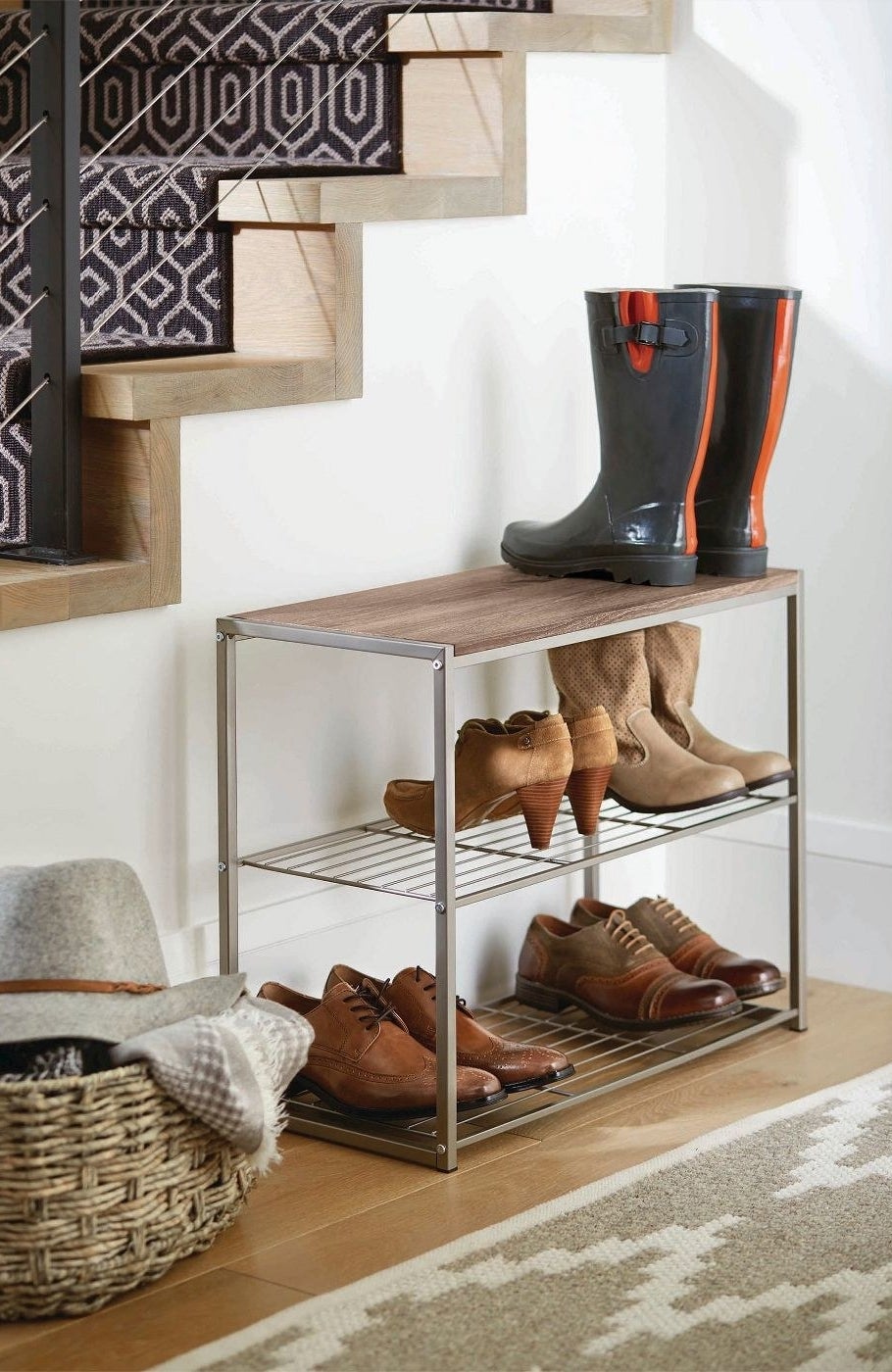 Promising review: "LOVE this shoe rack!! I was looking for something sturdy to be a catchall in our laundry room where we always enter the house and our shoes tended to pile up. But also didn't want it to be tacky because visitors also mostly use this door. This was PERFECT. I used two and was able to secure them together. It holds a lot of shoes and looks as nice as a shoe rack could possibly look. The fact that I can put something decorative on the top of the surface is what makes the biggest difference! Would 100% buy this again!" —Mel
Get it from Target for $44.
11.
A rolling shoe rack with so many nifty features, it's hard to list them all: the double-sided construction can hold up to 30 pairs of shoes, the mesh shelves let them breathe, the steel frame is sturdy and durable, and of course, moving it from place to place couldn't be easier thanks to the casters.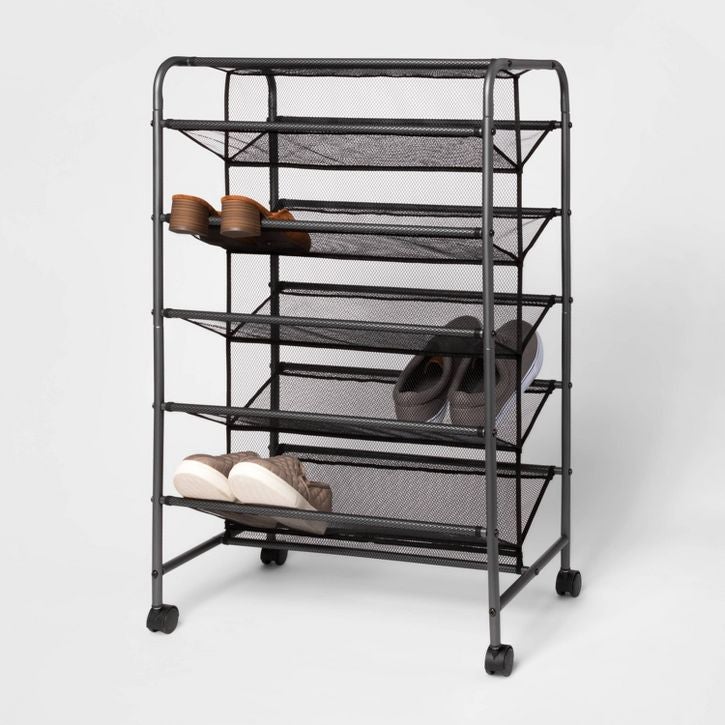 Promising review: "After having a shoe rack where all my shoes slid off, this is just fantastic. I love how it has wheels to easily move if needed. The shoes fit perfectly and I don't have to worry about them sliding off. So far I really like this shoe rack. Great height as well. Easy to put together. Very practical and perfect for my patio area. Would definitely recommend." —Rg7

Get it from Target for $26.
12.
An affordable, space-saving coatrack and storage shelf if you've always wanted to ask somebody, "May I take your coat?" and actually have a place to put it — and two shelves for their shoes.
Promising review: "Super easy to assemble, nice and sturdy. The depth is perfect for the narrow entrance to my house. I'm sick of everybody's shoes just being piled up and hoodies being all over, now there is no excuse!" —Amazon Customer
Get it from Amazon for $68.99+ (available in two sizes and five colors).
Check out more coat racks that double as chic decor!
13.
A compact bamboo shoe cabinet and storage bench promising to not take up too much space in your already cluttered entryway, and look cute as a button too.

Promising review: "I was looking for a smallish bench that could be sat on and be used in a little entryway location. The price was so reasonable that I didn't expect this bench to be the best. WRONG! It is simply lovely and very well made. Don't let the fair price fool you because this is an amazing value on a HIGH quality item! I really appreciate the fact that there are waterproof plastic covers inside of the slots inside the bench. That way muddy boots, wet mittens, dirty dog leashes etc will not damage the beautiful bamboo. If you prefer, the divider is also removable. The stunning, linen cushioned seat is very comfortable also and holds up to 225 pounds I believe. It is a nice place to sit and tie your sneakers on your way out for a run. My cats and dogs also like to sit there. It's just a fabulous piece and I am so glad I got it immediately. If you love it, don't hesitate. It's awesome!" —Customer

Get it from The Container Store for $149.99.
14.
A tilted bamboo shoe rack that's conveniently stackable, so you can transform your mudroom or entryway from a shameful disgrace to a well-organized greeting into the rest of your home.
Promising review: "These shoe racks have changed my daily life in a very good way. I used to root around for my shoe collection that had grown well beyond what my current rack could hold. It was so frustrating which typically meant I'd give up and rarely wear the shoes I could never get to or see. I love that these racks stack so perfectly on top of one another to save space. I was worried because I saw so many reviews writing about how flimsy or fragile they were — they are pretty solid. Take your time, use the key provided, and don't try to speed the process with a drill that could cause the bamboo to split. Give the screws all one final tighten once you've built the rack. Easy to put together, surprisingly sturdy, and worth every penny!!!!!" —Kristy
Get it from Amazon for $43.99.
15.
A floating shoe rack if you don't even want your shoes touching the floor, let alone jumbled on top of each other — reviewers say they love the clean, upgraded look it gives their entryway.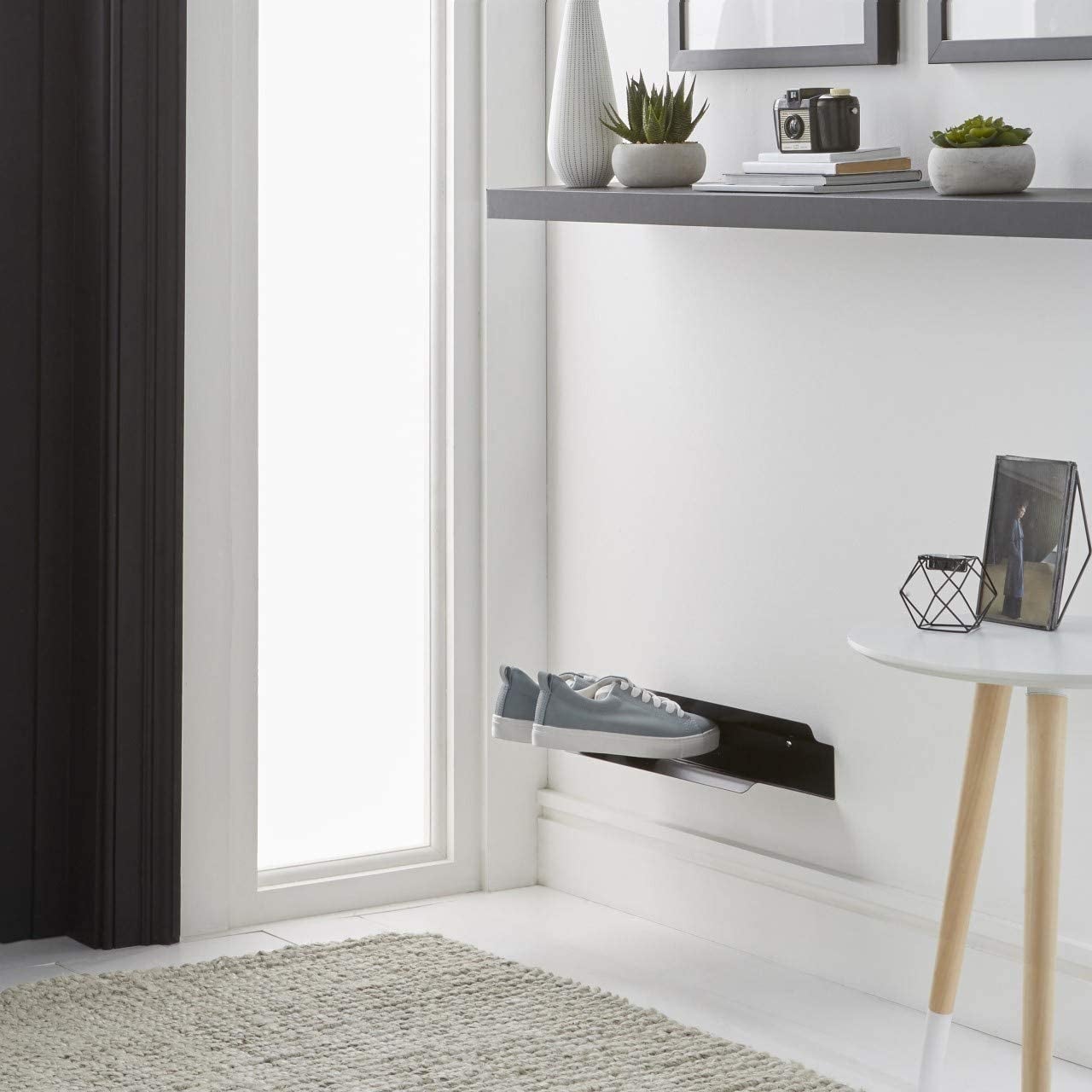 Promising review: "I bought two of these about five years ago and immediately loved how easy they were to install and how they got my shoes off the floor making my entryway look neater. I love the modern clean look. I ordered a new one as my family, and thus the # of shoes in the entryway, has grown. I still love them. The only note is for men's shoes of size 11, only three pairs of leather shoes or running sneakers fit on the smaller of the two lengths. My size 5 women's fits four pairs easily." —Maria Bassett

Get it from Amazon for $49.99+ (available in two sizes and three metal finishes).