1.
A hard-side square Samsonite luggage set that has 1.5 inches of expandability and made from 100% polycarbonate if you've been needing a shiny new set to offset your wanderlust for just a little longer.

Promising review: "I got the medium-size noncarry-on version. It just plain works in every aspect and even makes a decent seat while waiting in line. Everything seems to be purposefully thought out and well made and functional without drama. Zippers, locks, wheels, handles, shell, interior, weight, all are excellent. Saw some reviews about it scratching easily. Just went to Thailand and back and pulled it over the streets and eight airports and it seems fine, no problems with excess wear or scratches. Don't people view well worn luggage as a badge of pride anymore? This stuff seems to be made for the long haul and if you are not using it it'll keep for decades I'd bet." —WY Or Bust!
Get it from Amazon for $137.99+ (available in 20-inch, 24-inch, and 28-inch sizes, 14 colors, and individual or set options).
If you love this brand, check out more of the best Samsonite luggage pieces.
2.
Or a slightly upgraded version of that hard-side luggage equipped with a wider, self-retracting pull handle, in addition to a four-pocket reversible packing panel for max organization.
Promising review: "Durable, easy to use. I travel a lot for work and load up my suitcases quite a bit. I've gone through multiple brands and they all fall apart after a few trips. Been using this one a few months and it still works like new. I wasn't sure if I wanted a hard or soft case but I'm glad now that I went with the hard case. Holds a lot of stuff and is still very easy to roll around. Great suitcase!" —Nick G
Get it from Amazon for $113.36+ (available in 20 inches, 25 inches, 28 inches, eight colors, and individual and set options).
This also got a shoutout in our best hard shell luggage pieces.
3.
An expandable hard-side carry-on suitcase clocking in at less than 20 inches tall, meaning you can either check this or stow it away as a carry-on — either way it'll accommodate your over-packing tendencies and come out the other side unscathed.
Promising review: "This suitcase is hands down worth it. Using packing cubes, I packed for 19 days in Europe (without extending) and it was the perfect carry-on size. I was able to fit a few gifts in there on the way back as well. It has endured miles of airports and cobblestone streets and is still in top shape. I will use this suitcase for every trip!" —Meg E

Get it from Target for $75 (originally $89.99; available in five colors).
Check this out on our list of luggage essentials from Target.
4.
A rolling duffel bag you can wheel along like suitcase or sling over your shoulder like a regular duffel, which is all the more handy when you're gearing up to perform the Olympic-level feat that is exiting a plane.

Promising review: "I got two of these bags for global travel, and they are better than I expected! They meet the airline checked bag size requirements, and you don't lose a lot of your weight allocation to bulky materials or unnecessary bag structure. The roller wheels work great, the handle works great, and the fabric of the bag is holding up well. I like that the inside is just one giant space, and I have found I can pack an outrageous bunch of stuff in there. The pockets all over the outside are good for smaller, random items. The zippers work pretty well, though on one of the bags, the main zipper is kind of sticky, so you have to zip it a certain way. Still works fine. These bags are easy to spot at the airport. When they are empty, they fold down easily for stowing under your bed or in a closet. Bottom line: this is a very affordable, giant bag for travel, and it does its job well!" —supershanno

Get it from Amazon for $52.99+ (available in 22-inch, 26-inch, 29-inch, and 33-inch sizes, and 12 colors).
5.
A three-piece hard-side luggage set including 20-inch, 24-inch, and 28-inch suitcases, which totals out to a great honking deal on each piece for your next family vacation.
Promising review: "I waited to take a few trips with multiple sizes to write a fair review. I travel weekly for work, so I wanted a sturdy set without having to spend a fortune (even the high price big names get bad reviews for breaking easily). I read the reviews for these and decided to give them a shot, I'm SO HAPPY I did. These are AWESOME and worth every penny. Easy to identify at the baggage claim. Easy to maneuver (the handles fold out to the same size so I can roll two with one hand with ease)-Easy to use the built-in lock. The outer shell is pretty sturdy considering these bags have been through major hubs multiple times now and are still in great shape. If you're on the fence, BUY THEM! I would 100% buy these again." —Megan Contino
Get the set of three suitcases from Amazon for $189.99+ (available in four-piece sets and 16 colors).
6.
A gorgeous hard-side suitcase available in a bunch of fun patterns, including holographic ones (!!!), meaning you'll have absolutely no trouble spotting your precious cargo out of the sea of drab equivalents.
Promising review: "I took this suitcase to Europe and it was perfect! I fit everything in and with the expandable zipper I had no trouble expanding to add stuff I picked up on my way. The suitcase easily rolled over even the cobblestoned streets as I walked from trains to hotels. The sturdy outer case allowed me to pack some breakable items without worrying about them being damaged when tossed around. The handle when extended was the only part that didn't feel as sturdy as I would have liked but it held up just fine. I love the color/pattern which made my suitcase instantly identifiable against all of the navy and black cases. I stored extra cash in the small zippered pocket inside and separated dirty from clean clothes with the zippered lining. All in all I was very happy with this suitcase and will be buying two more for future travel with the family." —Karmen Paterson
Get it from Amazon for $75.33+ (available in 21-inch, 24-inch, and 28-inch sizes, six colors, and individual and set options).
7.
A luggage set with a front laptop pocket many reviewers say is a dupe for pricier products from brands like Calpak and Away — which will be an actual lifesaver when it comes time to shuffle for your life on the TSA line.

Promising review: "This is great. I had been looking for a hardcase carry-on with an external pocket and not having much luck aside from something very expensive from AWAY. This is perfect. I like the exterior pocket as a place to put my electronics, and gives me easy access while at the airport without having the open the main section. Multiple pockets in the exterior pocket keeps everything organized. Padded laptop section." —brian
Get it from Amazon for $109.99 (also available in a two-piece set with a 28-inch suitcase, and four colors).
8.
An expandable soft-side suitcase that comes with pockets galore, both inside and outside, to secure your valuables and make sure no vacation ends up marred with tragedy.

Promising review: "This is a compact suitcase with lots of good features. Has handles top and bottom to make it easy to pickup. Wheels roll smoothly and rotate freely. Comes with a small interior moisture-proof bag for toiletries or medicines. The two front zipper pockets are a little small, but functional. Very happy with it." —GA Construction Manager

Get it from Amazon for $89.99+ (available in 21-inch, 25-inch, and 29-inch sizes, 10 colors, and individual and set options).
9.
A geometric-design expandable piece of hard-side luggage destined to be your trusted companion throughout the years, whether you're hopping from one redeye to the next or racking up Amtrak points like it's your job.
Promising review: "The perfect carry-on. This was the perfect size, super-lightweight, easy to maneuver (I loved rolling it right next to or in front of me), the perfect height for me, and super roomy. This never flipped while rolling it around even though I had another heavy bag on top of it. I used it for a five-day, four-night trip and still had room for extra clothes. That said, the trip was in Florida, so no bulky coats, but still I think for most warm places I could use this carry-on with a bag for a full week's worth of clothing. Also, this is random but the handles to lift it up are wicked comfy! I look forward to using this for years to come!" —Marisa
Get it from Amazon for $96.03+ (available in 21.7-inch, 27.2-inch, and 31.3-inch sizes, five colors, and individual and set options).
10.
A 24-inch, rose gold hard-side suitcase for your next checked-luggage trip with over 23,000 5-star ratings on Walmart, double-wheel action, and a spacious interior chock full of compartments.
Promising review: "I absolutely love this bag!! I can't wait to get all of the matching pieces. This bag is so durable, sustaining knocks and scrapes. The one I bought was the perfect size to fit in the overhead bins of the plane cabin and to be stored under my bed at home when not in use. And it's super cute!! I felt like the queen of style walking through the airport! I was confident in its durability to be able to handle all of my luggage, snugly fit inside, and even carry it with my purse on top. The wheels are made of good quality and spin easily with no kinks or hang ups. The zipper glided effortlessly and it was all around easy to use. I would recommend the iFly brand and this line of luggage, in particular the Fibertech, to any of my travelistas!!" —AuthenticallyU
Get it from Walmart for $99.
11.
A hard-side Kenneth Cole suitcase with everything you need to be a pro traveler — two inches of expandability (which is quite a lot), corner guards, eight multi-directional spinny guys, and plenty of interior organization tools — without breaking the bank.

Promising review: "Bought these for an international family vacation and they did fantastic! The amount of available space on the inside of each of these is excellent. Each one has a panel that you can use on one side to hold items in place. They're lightweight and the wheels make movement throughout the airport and customs very easy. They appear to be very durable, made it through multiple connecting flights and don't have any damage at all. Very pleased with this set." —Greg
Get it from Amazon for $85.50+ (available in 20-inch, 24-inch, and 28-inch sizes, 18 colors, and individual and set options).
12.
A heavy-duty hard-side spinner resembling a Transformer, but that's actually deceptively lightweight, so you can run through the airport or hoist it up on the luggage scale with ease.

Promising review: "I was looking for a carry-on sized suitcase to use when I travel for work. This one definitely did the job. I've never been questioned about the size of the bag when boarding the plane. I've only had one seat that it wouldn't fit under, and it's fit in every overhead compartment that I've come across. I like that it's super lightweight (well, depending on what I put in it. I don't waste weight on the suitcase itself). It's held up through several trips over the years and the few times I've checked the bag, it's still been sturdy enough to hang with the larger/heavier bags. I like the fact that it has a zippered side, and elastic restraints on the other side; makes organization easy. The TSA lock that is affixed to the outside ensures that I am not scurrying around looking for my individual locks once it's time to go." —Danielle R

Get it from Amazon for $139.99+ (available in 20-inch, 24-inch, and 28-inch sizes, 10 colors, and individual and set options).
Check out more pieces of luggage from Amazon reviewers love. 
13.
An expandable soft-side spinner made from a woven herringbone material that will make automatically make you the most stylish person on the moving walkway at any given time.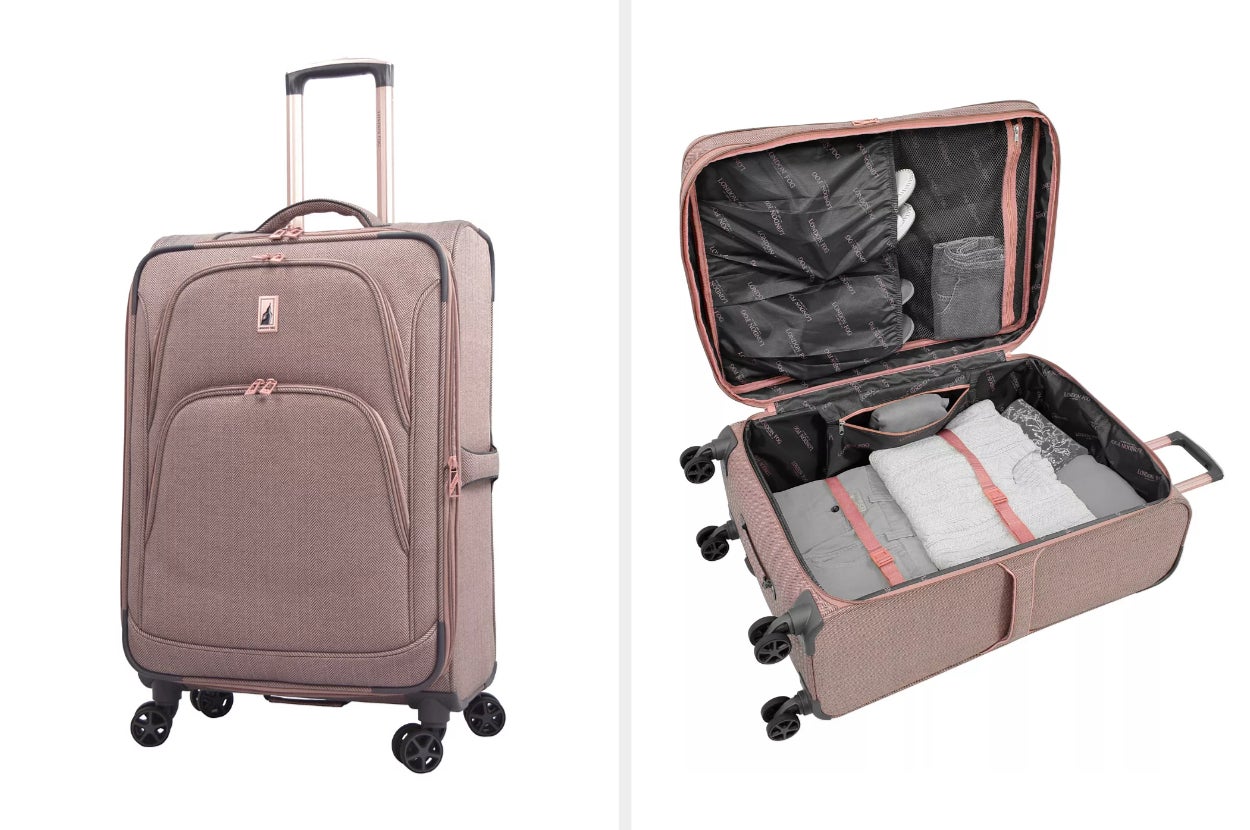 Promising review: "Just got back from a mini vacation and brought this case along. I had another one exactly like it and used it for years. The houndstooth pattern has been discontinued so I ordered the new one in blue. Throughly enjoyed it and the dusty blue color. Glides seamlessly and has plenty of room for a weekend away. Very happy with my purchase." —Torreysmom

Get it from Kohl's for $134.39+ (available in 20-inch, 24-inch, and 28-inch sizes, and three colors).