We hope you love the products we recommend! All of them were independently selected by our editors. Some may have been sent as samples, but all opinions and reviews are our own. Just so you know, BuzzFeed may collect a share of sales or other compensation from the links on this page if you decide to shop from them. Oh, and FYI — prices are accurate and items in stock as of time of publication.
1.
A set of two super bright, battery-powered LED camping lanterns reviewers say are all you need for any outdoor adventure: they're deceivingly small, but pack a humongous glow bright enough to light up your entire campsite.
Six AA batteries are required, and come included with the lantern.
Promising review: "This lantern was a godsend! As someone who is constantly adventuring, whether that be long car rides, camping, hiking, or exploring, this lantern literally does it all. Its compact design makes it fit in your backpack for easy access but don't let its size fool you as this sucker is BRIGHT! The LED lights make this little lantern the best option for a tent as it's small enough to not worry about hitting your head and it's brightness will make it feel like day! Along with being an asset to camping I also keep one in my car in case of emergencies, which came in handy as I had to help a friend jumpstart her car at 8 p.m. in the cold rain and wind in the pitch black! I honestly don't have enough nice things to say about this lantern other than I won't be using any other ones after finding this one!" —Allyson
Get a pack of two from Amazon for $17.97, or a pack fo 8 for $49.99.
2.
A mini camping lantern ideal for little hands, or if you need something small and simple to bring on your next camping trip so you can locate your phone with relative ease.
This lantern has a 70-hour runtime, and you need four AA batteries (not included).
Promising review: "An awesome product! I bought these for my young girls for a backyard camping night. They LOVED them! They give off great light, as other reviews say, and I picked them over other options because they are plastic. My girls have dropped them and there are no cracks or breaks, only a battery slipped out of place — slipped it back in and they were good to go. I'd like to eventually buy more to keep on hand for emergencies. I definitely recommend them!" —Wayne Morris
Get it from Amazon for $9.99.
3.
A rechargeable collapsible camping lantern powered via hand crank to impress your camping party with a truly DIY feel. But if you get tired, fear not — you can secretly plug it into a USB cable and charge it that way too.
Runs for 4.5 hours on low lighting mode and acts as a power bank for your devices, and also a flashlight when it's in collapsed mode!
Promising review: "This is a great find! It was smaller than I expected, but that is actually a good thing because it's such a powerful light and easy for travel. I LOVE that it has USB and hand crank capabilities to charge — no batteries! It practically pays for itself. The light is incredibly bright, I was really surprised. I might get some more to have in case the power goes out. Love love love." —slimes
Get it from Amazon for $17.99 (available in four colors).
4.
A water-resistant camping lantern with a built-in Bluetooth speaker that can connect to your phone, because everyone knows that camping jams are absolutely essential when you're out in the woods and need a little break from the sounds of nature.
This lantern emits 1000 lumens on high and has a 30-hour runtime on low, with five light settings. It's powered by a USB-rechargeable battery.
Promising review: "Love this lantern Bluetooth speaker!!! Used this for the first time. So far, battery life seems good. We forgot to turn off the lights while we were away from the tent, but it's still working fine. Watched a movie on iPad with this bluetooth speaker and it's amazing! Highest setting is very bright. Perfect for camping!" —Marina
"This lantern is amazing! The light is super bright, I use it in my dorm room and it more than lights the entire space up. I've also used it outdoors and it does an excellent job providing light for a campsite. The speaker isn't loud enough for you to throw a rave at your campsite but it's loud enough for you and whoever joins you at your site to enjoy some background jams. I think this is perfect because who wants to be that person disturbing every other campsite around them with obnoxiously loud music. Overall yes five stars! I haven't had it for long so I don't know the longevity of the lantern, but I suggest buying the warranty. Happy camping!" —JuneFernOutdoors
Get it from Walmart for $39.97.
5.
A water-resistant Energizer folding camping lantern with three light modes, a USB port for charging your devices, and 360 degrees of lighting, which means you can get illuminate every little nook and cranny of your tent. 
You need four D batteries for this lantern (not included). It runs for 350 hours on low!
Promising review: "I love these lanterns! I have acquired four of them over the years and it is my go-to flashlight. This lantern has gotten me through countless power outages, nine days without electricity after Hurricane Sandy, and numerous camping trips. The various settings give enough options that this lantern can be used in pretty much any scenario. The nightlight setting is nice to have in a tent while camping. The brightest setting while unfolding the light is perfect for lighting up a campsite, working in a dark space, or lighting up a dark room. The medium setting while the lantern is closed is what I normally use for walking around in the dark outside. The battery life on this lantern is very long too. I always keep a set of extra batteries around for this light but rarely ever have to change them. I think one of the lanterns I have has been running off the same set of batteries for over a year now. I check periodically for corrosion on the batteries but everything is holding up great. The only time I have ever had to replace one of the lanterns is when one got left behind during a camping trip." —xxmissvxx
Get it from Amazon for $23.99 (also available without the power bank function).
6.
A deceptively affordable inflatable camping lantern that's entirely solar powered and packs completely flat. If that's not enough, it's got an astounding 4.8-star rating on Amazon from thousands of people who've been blown away by the sheer power and convenience of this little guy! 
This can provide 24 hours of light on a single charge. It runs on solar power, no batteries needed, but includes a USB port to charge your devices.
Promising review: "This little light is amazing. First of all, it charges in the sun easily. It's practically weightless. Breaks down to a pancake size. It's great to use inside my tent, or hang outside the tent like a little front porch light. Very handy snap strap. Varying brightness. Have had it for three years, outside in the elements almost every day. Still works great." —KingOfTheInternet
"We have taken these on five camping trips and used them for extended power outages. Each light puts out a LOT of light. When camping, we use them for about 5+ hours each evening at full brightness. When fully charged, it uses maybe half the battery each night. They charge up very quickly the next day. These are super lightweight. One of the camping trips I took them on was a backpacking trip—I didn't hesitate to pack them, they take up minimal room and add negligible weight. Super durable also." —QuirkyScribe
Get it from Amazon for $20.
7.
A 2-in-1 solar-powered inflatable camping lantern that packs down to one inch tall (!!!) in addition to being waterproof, charging your phone via solar power, and generally being a miracle of technology you'll be eternally grateful for if you're ever in a bind.
You can recharge this lantern via solar panel or USB. It runs up to 50 hours on low.
Promising review: "I bought two of these for a Boy Scout camping trip back in June. It was recommended by the REI associate who said this was the best light they had and he owns one and always takes his camping and would not take anything else. Now that I have used it, I can see why. This truly is a great light and well worth the money. The solar panel not only works, it is consistent and fast. I used it to charge devices and light up our camp at night. On a full charge these lanterns will stay lit all night long and they provide so much more light than I was expecting. It gives off a nice bright white glow. We hung them from the top of the tent and we hung them along pathways so kids could see where they were going at night. Having the handle come apart makes it easy to attach them places including a backpack, tree, tent, shelter, or even a belt. Since it is a blow-up lantern, it's very lightweight and it folds flat when you let the air out for easy storage. After our camping trip I decided to keep the two I bought in my emergency kit in at home. We lost power during a hurricane a few weeks ago and I used these to keep my house lit at night. Seriously, these are worth every penny and I plan to buy a few more. I cannot recommend these enough and would give this 10 stars if I could." —Elaine
Get it from REI for $49.95.
8.
An owl-tastic kids' camping lantern and headlamp set your camping-obsessed tot will drag everywhere (and you might too) after witnessing its sheer versatility and adorableness.
The headlamp needs two CR2032 lithium button cell batteries, which come included. The lantern needs 3AA batteries (not included).

Promising review: "Purchased as gifts for grandchildren. They absolutely love these lanterns. Lightweight and so cute. Light is bright, especially the headlight. Comes with headlight, can be hands free and just use the headlight or carry the lantern or both! One came with batteries in it, one did not have batteries (non issue). Would definitely purchase again. Great gift for young kids." —Jane In TX
Get it from Amazon for $19.99.
9.
A waterproof rechargeable LED camping lantern that emits up to 1,800 lumens, which is scientific speak for "bright as all hell." What with the added four lighting modes, I think it's safe to say you won't ever have to stumble through the dark to find the "outhouse" again.
This is powered via a USB-rechargeable battery, which lasts for up to 12 hours.
Promising review: "Love these lanterns for lighting the table areas, walking to the bathhouse at the campground, or just using in the backyard or inside when having a power outage. They are lightweight, give off plenty of light, yet aren't blinding, so that when we put the littles to bed in the tent, we could leave one in there for them and they could still go to sleep. They enjoyed using them at the table while having a snack before bed, playing games, and just for walking around at night around the campsite. These lights are definitely worth the price! We charged them fully before we left and they lasted all weekend! We will be getting a few more so everyone can have their own lantern for our next camping/fishing trip and for backyard and neighborhood adventures!" —Anita L. Ballester-Carbah
Get it from Amazon for $33.95.
10.
A Coleman multi-panel LED camping lantern equipped with up to four rechargeable panels to use as mini flashlights, prop up for moderate illumination, or stick to any magnetic surface. Oh, and there's a base light too, in case that's not enough light for you! 
The panel lights are rechargeable, but the base light requires eight D-cell batteries (not included). 

Promising review: "So many things to love about this! The removable light panels can be propped up, pinned up via a magnet, and carried with ease due to the slight handle that pops out. While you are able to take the panels out to wander, the base has more than enough light on its own to still be effective without the side panels installed. Oh — each panel has has a light on its end that can act like a flashlight. Too awesome! Of course all panels and the base have multiple light settings. ONLY downside is that it takes eight D batteries. This can add to the weight of it, but as the base is more likely to stay still (as a base), I don't think this is a real factor. Highly recommend for any camping trip or even just to have in your car/house. It would be excellent to provide light for a family during a power outage." —L.ambent
Get it from Amazon for $46.95+ (available with two, three, or four panels).
11.
A super lightweight solar-powered camping lantern emitting a soft, warm light AND featuring an ambient "candle mode" setting, so you can have a romantic night under the stars with your boo and impress them at the same time.
This lantern has a 35-hour runtime on low. It can be recharged via USB cable or the built-in solar panel.

Promising review: "I don't really know where to begin with how impressed I am with this little light. It comes made out of sturdy materials and the light it puts out is a warmer tinted glow compared to the harsh white light of other lamps. The light disperses over a fairly broad space for such a small piece too! The candle light flicker setting is an awesome touch as it actually does add a bit of ambiance to the environment. Plus, this thing packs down so small it's barely bigger than a couple of drink coasters stacked together. I plan to buy a few more of these because they are much more compact for motorcycle camping or backpacking. I have a two-person tent and it put out more than enough light to cover the entire area on the dimmest setting." —The Seamstress of Misadventure
Get it from Amazon for $19.95 (also available in a Chroma version for $24.95).
12.
A rechargeable camping lantern able to set off a kaleidoscope of colors when you give it a vigorous shake and trigger its internal accelerometer. Functional survival tool or party essential? It's up to you to decide.
This lantern is USB-rechargeable, with a runtime of 200 hours on low.

Promising review: "I love this little guy and so does everyone else in my family. I wasn't sure when I got this exactly how I would use it, but now I end up using it all the time. It is a little bulky, but it's pretty light and easy to keep in any car camping setup. It can recharge your phone, provide light for cooking, and then be the main feature at your post-meal dance party thanks to its fun party light features (my kids love this). My kids use this all the time building forts or staying out late. I love having a piece of gear that can serve multiple functions, and this lantern does just that. And as an added bonus, you can feel good about buying it because BioLite is an environmentally friendly company!" —Harry
Get it from REI for $79.95.
13.
A railroad-style camping lantern if you like a touch of rustic luxury with your adventure. Everyone will think this was a spectacular thrift store find, but little will they know it comes with a rechargeable LED Edison bulb that can run for up to 100 hours.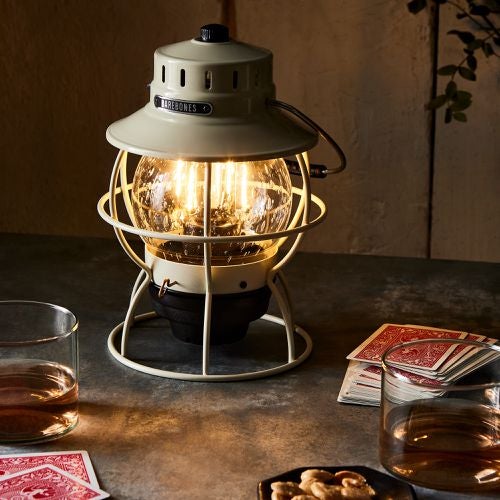 Promising review: "I wanted a rechargeable lamp to keep on hand or in the car for night outings and this was a perfect gift. Beautiful quality and incredibly functional. Has a dimmer on it and seems rather sturdy." —Elizabeth O.
Get it from Food52 for $85 (available in four colors).
These camping lanterns will make having you feeling like the family from the Snuggie commercial:
Reviews have been edited for length and/or clarity.