1.
An incredibly affordable (but reliable!), super-thin silk knit camisole to feel as close to sleeping in the buff as one can get.
Promising review: "The value is incredible. I wanted a thin layer of a camisole for the summer and this fit the bill perfectly. It is made well, silky and soft, and the fit is great, even though I think it runs small — but it didn't bother me because it feels good on. I washed it in the washing machine and it survived without event. I recommend it!" —Mimi K.
Get it from Amazon for $13.19+ (available in sizes XS–L and four colors).
2.
A washable long-sleeve pajama top to ensure that you'll never wake up a sweaty mess again. Silk is a naturally thermoregulating material, which basically means it'll keep you cool on warm nights and warm on cool nights.
Promising review: "I have been looking for a pajama to upgrade my nighttime wear from random T-shirts to something more adulty and luxe while being easy to care for. I am 5'10" with a 32 C1/2 bust and 29-inch waist. A medium fits fine, but for sleeping and for moving around with enough room, the large fit best and still looks great. It keeps me feeling good even in hot humid temps and more refreshing autumn evenings. I don't wake up with sweat like I do with cotton when I wear this. Highly recommend!" —Mariel
Get it from Thirdlove for $99 (originally $125; available in sizes XS–XL and three colors).
3.
A 100% silk cami pajama set in a bird print that you'll squawk with joy over, since it comes with adjustable straps and pockets (!!!). 
Get it from Boden for $90 (originally $180; available in sizes 2–22 and two designs).

4.
An adjustable, ruffle-trim short-sleeve pajama set making you feel like royalty every time you slip into your sheets, decked out in nature's finest. And by nature's finest, I mean high-quality worm spit.
Promising review: "Love these pajamas and just what I had been on the hunt for. Perfect for summer. 100% silk, washable, while much more affordable than other brands, without sacrificing quality. Size down, they do run very large." —jjjjen
Get it from Nordstrom for $89 (available in sizes XXS–XL and three designs).
5.
A gorgeous washable silk tee and short set delivering you the most luxurious, genuine silk vibes for a radically low price. Quince delivers goods straight from the manufacturer to the consumer, so your wallet won't cry after this extremely necessary purchase.
Promising review: "I am in love with these silk pajamas! I'm 5'6", 155 pounds, and I bought the medium in both the pant and short sets in blue. In fact, I loved them so much I bought a set in the light grey as well. They are cool on warm nights, and warm on cold nights. I look forward to getting home at night just to put them on. Quince is my new favorite go to for silk, cashmere, and other basics at a great price point!" —Kimberly G.
"Absolutely in love with this set. The silk is so soft and cozy that I'll probably be living in these PJs year round. Fit is great and true to size. Love the length of the shorts and partial elastic waistband. The stretchy part of the shirt collar adds to the lived-in feel that I wasn't expecting from 100% silk." —Kylie H.
Get it from Quince for $99.90 (available in sizes XS–XL and five colors).
6.
A high-waisted Skims silk sleep pant that will make you want to croon jazz tunes when you slip them on, on account of how smooth the fabric is (and how smooth they make you look).
7.
A pair of silk track shorts that combines the comfort of 100% silk fabric and the versatility of your most worn-out pair of sweats. What else in your drawer can do that?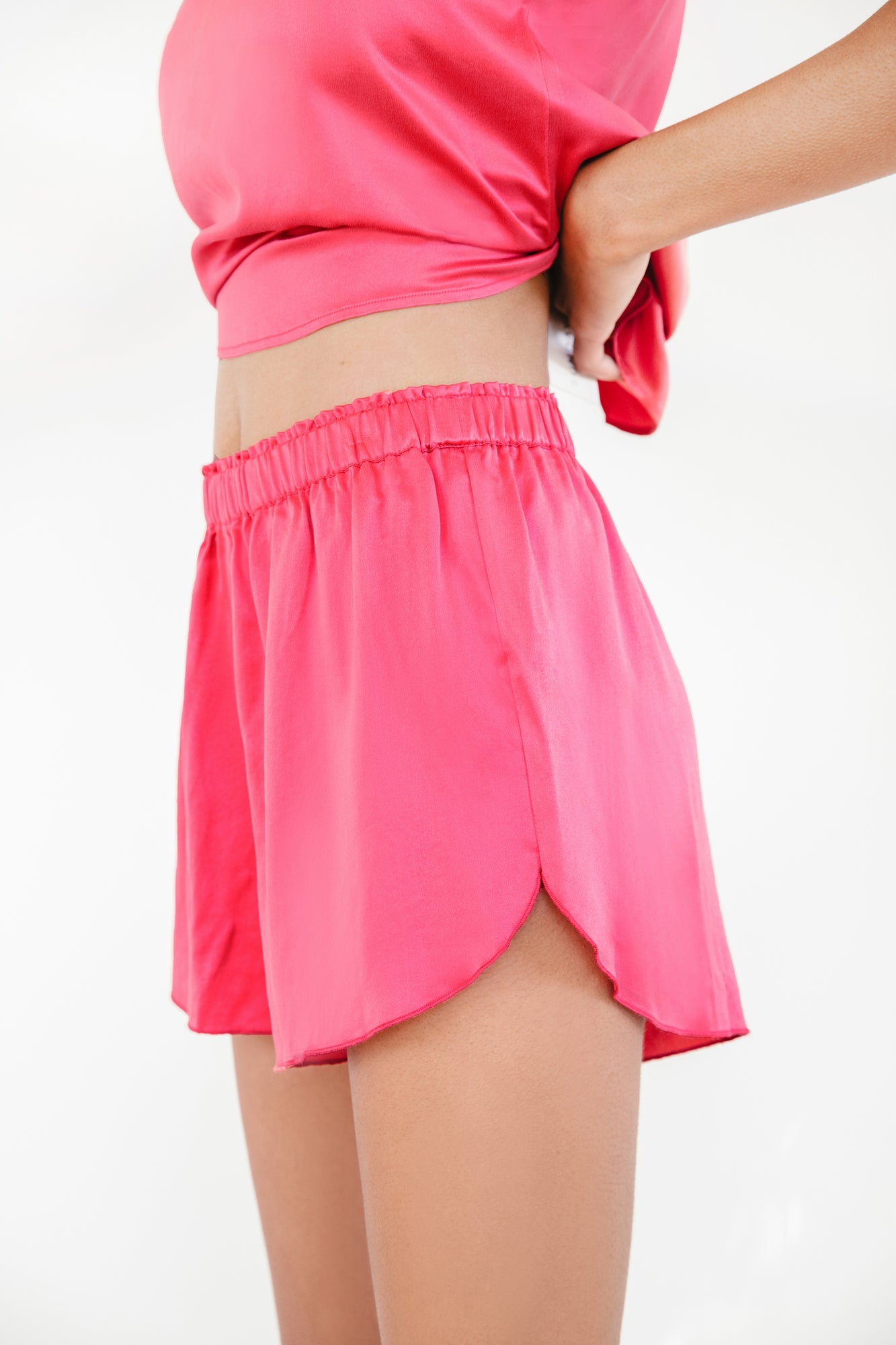 Sunday Citizen is a family-owned textile small biz on a mission to make the softest, coziest things.
Promising review: "I love these shorts. They are so comfortable and soft. Perfect for lounging." —Lecia H.
Get it from Sunday Citizen for $65 (available in sizes S–XL and three colors).
8.
An adorable cami pajama set giving off supreme stay-in-bed vibes, so be careful wearing these if you have early morning plans — it's possible the sheer softness and silkiness will cause you "accidentally" sleep in. Oops!
9.
A long-sleeve pajama set if you've ever wondered if there's a light at the end of the pajama tunnel after years of cold, itchy sets that feel like sandpaper on your skin — never fear, silk is here!
Promising review: "I had not owned silk PJs before and now they are all I want to sleep in! They are so soft and comfortable to sleep in. Well made, love the silk-wrapped buttons. I always worry that the pants won't be long enough since I'm very tall, but these were fine! Dreamy and luxurious!" —Jennifer W.
Get it from Amazon for $159 (available in sizes XS–XL and Petite sizes, and seven colors).
10.
A silk v-neck cami that might make it scientifically impossible to have bad dreams in — slip these on and slip right into dream of eating caviar on a boat somewhere on a loop.
11.
And a matching silk boxer short that will likely be the most lush thing that's ever graced your down-there area, which quite frankly, deserves nothing less than the best.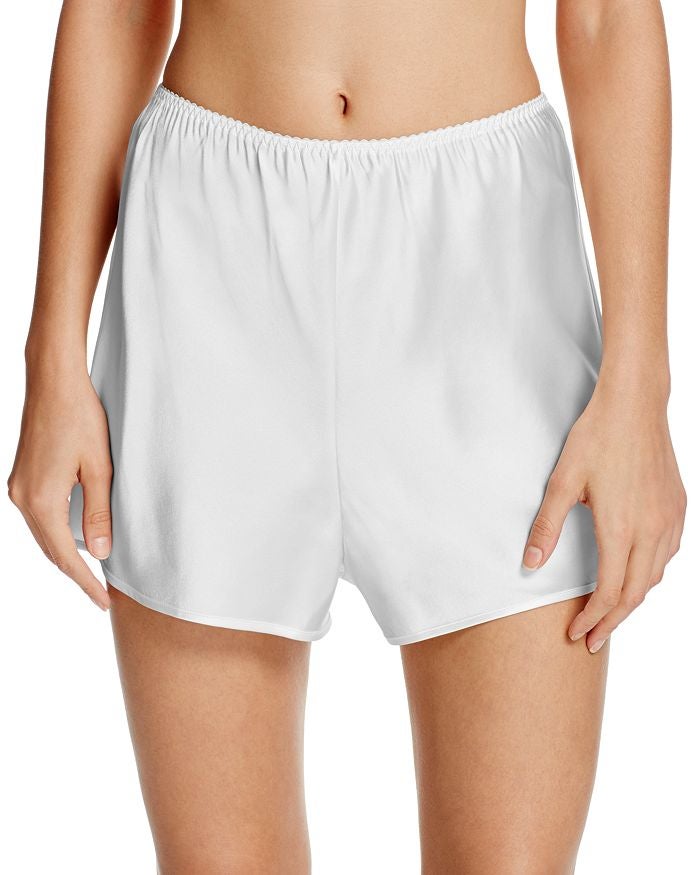 Promising review: "This item is super comfy and a great fit to wear under skirts, dresses, or at bedtime. I was very pleased with the fabric and price." —Bloomingdale's Customer
Get it from Bloomingdale's for $78 (available in sizes S–XL and two colors).
12.
A collared contrast piping longsleeve set destined to be your sleepytime fairy godmother from a princess story, magically granting your wish for a comfy night, every time.
Promising review: "Pleasantly surprised with the quality of the pure silk pajamas. The color is the exactly the same the La Perla powder pink, and when it comes to the quality of the silk it is comparable to La Perla but at 1/3 of the cost." —fashiontechsnob
Get it from Amazon for $139 (available in sizes S–XXL and seven colors).
13.
A classic silk PJ set to cocoon yourself in like the regal little moth that you are, except you'll never want to emerge and become a butterfly because you're just so gosh-dang comfortable.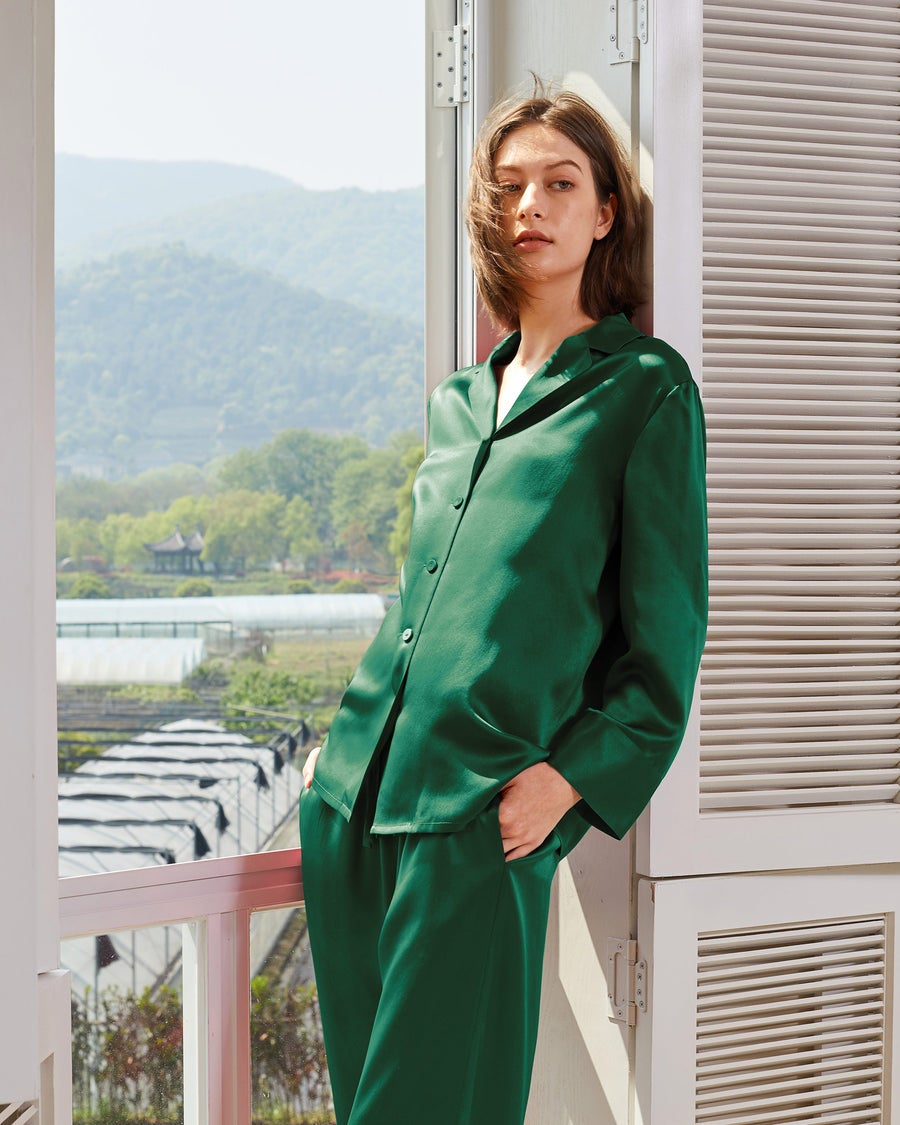 Promising review: "I needed pajamas that made it easy to nurse. Silk is probably not the best option when it comes to material, but I wanted to splurge on something nice and comfortable that wouldn't make me too hot. This definitely did the trick. It is so comfortable and feels so soft on my skin. I can sleep without overheating, which is a huge relief." —Kitten
Get it from Mommesilk for $175 (originally $232; available in sizes XS–XXL and eight colors).
14.
A tiger print Turkish silk cami that will make you positively feral for worldly comforts — putting this on your body will make you understand what it feels become enamored with a piece of clothing and that's completely ok!
15.
A splurgey square-neck pajama set seemingly made to wear while sipping champagne in bed or taking wiping your butt with hundred dollar bills, or whatever else millionaires do.
Get it from Banana Republic for $160 (available in sizes XXS–XXL and three colors).