1.
A pair of bestselling waterproof Columbia hiking boots with tons of rave reviews lauding their ability to truly stay dry and provide superb ankle support from the get go. 
Buzzfeed editor Ciera Velarde loves these boots too; read her review in 31 Boots To Wear To Any Fall Outing You Have This Year.
Promising review: "These hiking boots are absolutely amazing! I am usually between a size 8 and 8.5 with boots and the 8 fit great, even with thick socks. They are incredibly comfortable! I wore them for the first time on a snowy hike in the Rocky Mountains and had no blisters or foot pain at all. They are extremely lightweight and offer great support. I love the bright red laces too. They are also very waterproof! The snow on the hike was deep and slushy, and my feet sunk into the snow often. But these boots kept my feet completely warm and dry for the most part, even after four hours of hiking! I also rented spikes (which help in the snow with traction) and they fit well over the boots and didn't leave any marks on the material. I LOVE THESE BOOTS! If you're considering buying them, you need to!!! Don't hesitate...just buy them!" —Elise Pothoven
Get them from Amazon for $74.34+ (available in women's sizes 5–12, two widths, and five colors).
2.
A pair of box-toe Gore-Tex waterproof hiking boots that will keep your toesies dry, as well as supported, for multiple days of hardcore hiking.

Promising review: "I just hiked about 20 miles up and down muddy/snowy mountains in these and I must say, I am shocked by the comfort. The wide toe is probably the best feature on this boot. It's also warm and definitely waterproof. I'm in love and just bought my boyfriend the same pair. My best friends on the hike also both have a pair. SUPER worth the $$. Thinking about buying another pair just because." —Laura Nicole

Get it from Teva for $175 (available in women's sizes 5–11 and men's sizes 7–14).
Check out even more waterproof boots.
3.
A pair of lightweight Salomon hiking boots featuring a protective mudguard and improved waterproof traction specifically designed for difficult downhill descents.
Promising review: "I owned, loved, and wore out two pairs of the previous edition of these boots, but these boots have exceeded my expectations. Very minimal break-in required, perfectly adjustable fit, and the same breathable, waterproof performance as before. But, with the Ultra 3, I have improved traction, particularly on descents. These are about as light as I can imagine a full-support boot being. I put in lots of miles in the Rockies and the Ozarks and these boots are the best I've worn." —D. Scot Linton

Get it from Amazon for $142.58+ (available in men's sizes 7–13 and women's sizes 5–12).
4.
A waterproof Merrell hiking boot that will last for years and years of impeccable performance, right by your side even through the toughest of hikes.

Promising review: "I bought these specifically for a four-day trek on the Inca Trail in Peru. Very rugged terrain, long hours in the boots, a true test of comfort. With only a week of prior break in, I had no blisters, no soreness, and zero complaints about these boots. They are now a favorite part of my arsenal for hikes and outdoor adventures." —Leslie
"I am absolutely in love with these hiking boots! They are legitimately waterproof, not 'water-resistant' where it superficially keeps the wet out. I used these boots in Costa Rica in the rainy season and never once had to deal with wet feet. Now back in the states, they get daily hard use for my summer internship as a naturalist. I have stepped in puddles and in the lake with water almost to my ankles and still I have had dry feet. Also, the soles of the shoes are naturally super comfortable and fit my feet perfectly. I have not had to buy other insoles for them. The only thing I am disappointed in is that these shoes weren't in my life four years ago." —TShim
Get it from REI for $108.69+ (available in women's sizes 5–12, two widths, and four colors, and men's sizes 7–14).
5.
A pair of Timberland hiking boots that not only have that iconic look, but will also become your most trusted shoe BFF for every outdoor excursion.

Promising review: "Just got done breaking these boots in at the Shenandoah National Park in Virginia. These shoes survived a long and arduous test over the day. Eight miles of hard terrain, plenty of rocks to scramble over, creeks and mud, and even the edges of a waterfall. I broke these things in hard and it would have been a very bad day if they failed to perform...but luckily I'm here to write about how much I like them. These boots worked well, no water got into them, the traction kept me from falling, the rubber soles survived many pointy rocks, and best of all after a day of hiking I had no blisters and my feet were not sore. They fit great and I love these boots. 10/10. Would recommend." —Kyle B.

Get it from Amazon for $99.99 (available in men's sizes 7–15, two widths, and three colors. Also available in women's sizes 5–11).
6.
An Eddie Bauer hiking shoe equipped with waterproof full-grain leather in addition to a super durable construction and snazzy red laces to catch the eyes of passersby on the trail.
Promising review: "Okay, so as my handle suggests, I'm an old backpacker. I grew up in the '70s and these were the boots we wore for backpacking. So when I saw the Eddie Bauer K6 boots I thought 'Now we're talking! These are real hiking boots.' I went full old school and treated them with Sno-Seal and put red laces on like we did back in the day. I've tried the new backpacking boots/shoes and they've struck me as glorified tennis shoes. They don't seem to offer the same support and I got tired of feeling every rock on the trail poke into my feet. In my mind the new boots/shoes have one advantage; they're light. Well, that's all fine and good until you twist your ankle or have a stone bruise. I've hiked Zion National Park and the North Rim of the Grand Canyon. These boots did not disappoint! Fit great. Felt great. And most importantly protected my feet. Yes, they are heavy, but truth is you adapt to the weight and it was no big deal. If a vintage (old) guy like me didn't have a problem, you probably won't either." —Old backpacker
Get it from Amazon for $132+ (available in men's sizes 8–13; see women's sizes 6–11 here).
7.
A durable sneaker-style hiking shoe so you can hit the trails running, literally, and not have to worry about donning a bulky boot every time you need a little nature therapy.

Promising review: "This is my first Altra shoe, and I'm already an Altra fangirl. Most comfortable shoe. They are surprisingly more cushioned than they look like they would be. They took no breaking in, besides easing in to that zero drop coming from a standard shoe. I can hike long distances comfortably, and my knee pain is gone which is incredible. My feet do get tired on longer road walks, but once I hit trail my feet are happy again. They clean up like new after an ankle deep sludgy muddy hike. Water goes in and out easily so you don't have completely waterlogged feet. I've only got about 100 miles on them, but I've abused them, and they have held up beautifully so far. I've tossed my old shoes, and just purchased another pair of everyday Altras because my old athletic shoes and trail runners feel awful after wearing these." —Shan

Get it from Altra Running for $140 (available in women's sizes 5.5–12 and five colors, and men's sizes 7–16).
8.
A tall hiking boot made of breathable leather ensuring you'll pass through all of Mother Nature's challenges with ease and comfort.

Promising review: "I own a few hiking boots and decided to look for a new pair because my big toes hurt so bad the last time I hiked. I decided to go to REI to see what they had there. It led me to pick these pair because I wanted a lot of traction through snow, gravel, rocks, and climbing big boulders. I didn't even have a chance to break them in when I went several hikes in Tucson and Sedona, Arizona. This pair provides cushion and my feet never hurt or got sore. Then back to Maine, continuing to hike here on snow, wet rocks, and leaves. I would not look for another pair. I normally wear 6.5 but bought 7 to allow space for your toes when descending. It's worth the money!" —Malou

Get it from REI for $209 (available in women's EU sizes 37–43, US sizes 6.5–12, and two widths; available in men's sizes 7.5–13).
9.
A Hoka Speedgoat hiking shoe designed for speed — you'll feel like Lightning McQueen on the trail as you scale the terrain with almost superhuman quickness.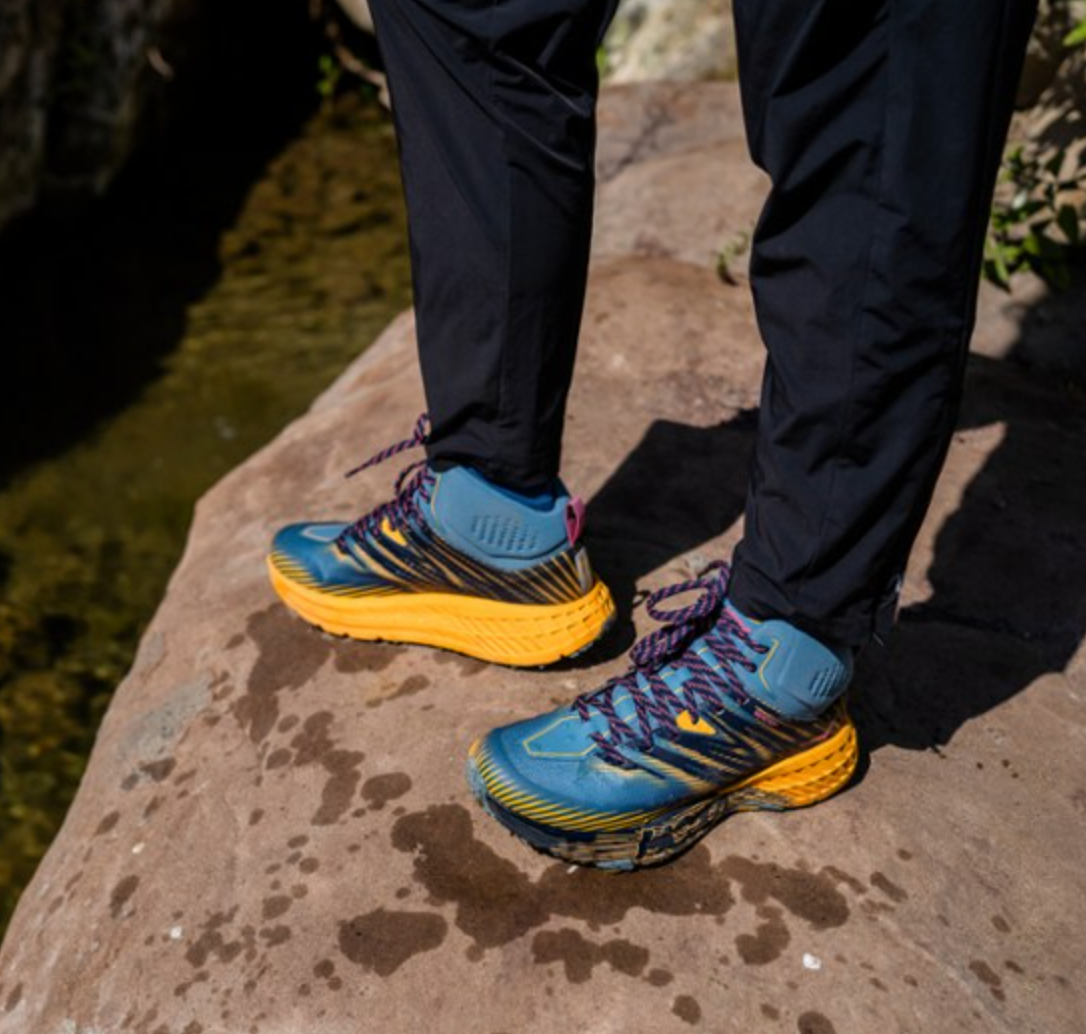 Promising review: "I stumbled across Hokas last fall when I needed new shoes. I've got chronic pain in my foot from an old break years ago, and walking for more than an hour hurt. I bought the SPEEDGOAT 4s and they've been life-changing. In the Hokas, my foot feels like it's in a pillow and I experience no pain, even walking or hiking for hours. I decided to buy the mid Gore-Tex 2 hikers as the shoes were so amazing. I've been able to hike on rough mountainous and coastal terrain all day and experience no pain during or after. They're also incredibly light, unlike other hiking boots that are stiff and heavy. There is no break-in period needed for these hikers. I can't recommend them enough. I'll never buy anything other than Hokas now." —Andrea the hiker

"These are my first shoes since departing from traditional hiking boots and oh my goodness I love them. The stickiest shoes I've ever owned. I could stand on a wall and not fall off. They literally stick to everything. I was walking down a loose rock steep AF hiking trail and it's like I was on concrete. Wet rocks, ice, gravel. Literally doesn't matter, my feet don't go anywhere. And it's like walking on a cloud! So cushy! Would highly recommend." —Meggiemouse
Get it from REI for $170 (available in women's sizes 6–11 and men's sizes 8–14).
10.
A Keene hiking sandal to support you through your light emotional support forest walks. If you're not afraid of a little open-toe action, these moisture-wicking guys are for you.

Promising review: "I was looking for open-toed sandals to wear casually and for light hikes where I didn't need boots. These definitely fit the bill. The footbed is incredibly comfortable. The leather placement is just enough to keep the foot secure on the sole. I like the three strap system and find that if I'm wearing the sandals casually I can just loosen and tighten the rear ankle strap to take off and put on the sandals. I use the other straps for extra stability as needed. Very pleased with these sandals!" —SloanRanger

Get it from Amazon for $80.26+ (available in men's sizes 7–15).
Check out more products for anyone who loves to hike.
11.
A versatile, classic New Balance walking shoe that's a sneaker, everyday walking shoe, and trail shoe all in one, so you can feel the cushy foam midsole wherever you choose to go.

Promising review: "Not being a fan of any type of sneakers, I found that I absolutely love these. Knowing that we would be doing some hiking on a trip to the Poconos, my husband convinced me that I really needed a new pair of sneakers that would work well on rocky, sometimes slippery trails. And he was right. I deliberately ordered 1/2 size larger because I wanted my thicker socks (I hate socks also!) to be comfortable in the shoes. Received the shoes, tried them on, put them on the shelf and never broke them in. When we were ready to hike, I put on a thick pair of socks, laced up the shoes and took off. Zero problems, very grippy on the slippery wet trails, especially going down hill. Second day we hiked a portion of the Appalachian trail and my feet were never sore. This shoe is extremely comfortable and rather cool colors, too. Happy Feet!" —NOLALADY

Get it from Amazon for $84.39+ (available in women's sizes 5–13, including Wide and X-Wide, and three colors, and men's sizes 5–13).
12.
A Keen hiking shoe formulated with performance mesh for optimal airflow, meaning your piggies won't get saturated with sweat, or too hot or too cold during your hike.

Promising review: "I wore these boots for my first real hiking trip through Zion National Park. I had an issue with delivery which I think was more the fault of USPS... long story short I was supposed to get them a week before my trip so I could break them in, but instead they showed up the day before my trip. I was pretty nervous about not having time to break them in but it did not matter at all. These shoes were so comfortable and had such a fantastic grip for the more strenuous hikes. Do not listen to anyone who says you can do this stuff in sneakers. These boots protected my toes, stopped me from falling, and gave me the confidence I needed for Angel's Landing. Can't wait to plan my next hike!!!" —Caitlinjane

Get it from Amazon for $149.95 (available in women's sizes 5–11 and men's sizes 7–17).
13.
A Saucony trail running shoe ideal for the next time you need that serotonin rush of flying down up (or down) a mountain and can't be worried about twisting you ankle on the way.

Promising review: "Ran a trail half-marathon in these pretty much straight out of the box, and then thru-hiked 500 miles in them. Can't say how pleased I was with them. No blisters on runs or on the hike (how?!), dried quickly when wet, and overall extremely nice and pleasant. Enough cushion that rocks and roots don't bother, minimal enough that you still feel in touch with the ground. I have slightly wide feet, which these accommodated just fine. I sized up to a 10 from my usual 9.5 and they worked great. Not too loose, but enough room for feet to swell on long hot days. The soles did start to flap off after about 600 miles of rough terrain, but that seems like a pretty average lifespan. I bought a few more, since I've finally found my favorite trail running + backpacking shoe!" —Meg

Get it from REI for $59.83 (originally $120; available in women's sizes 6–12).
Now you're ready for an outdoor adventure!
Reviews have been edited for length and/or clarity.